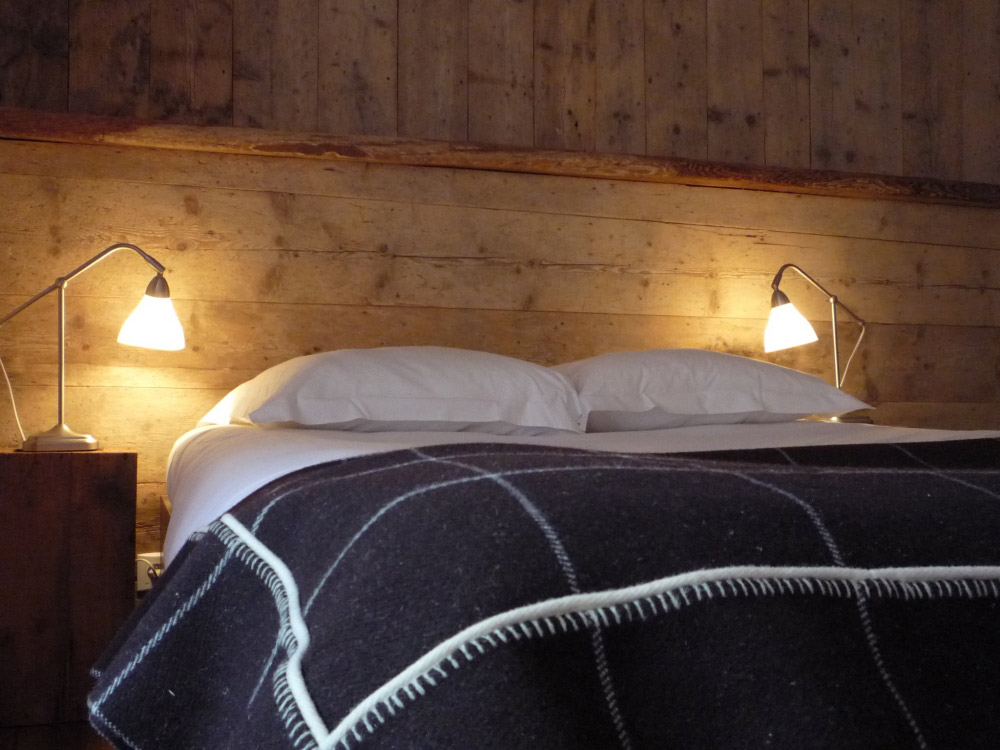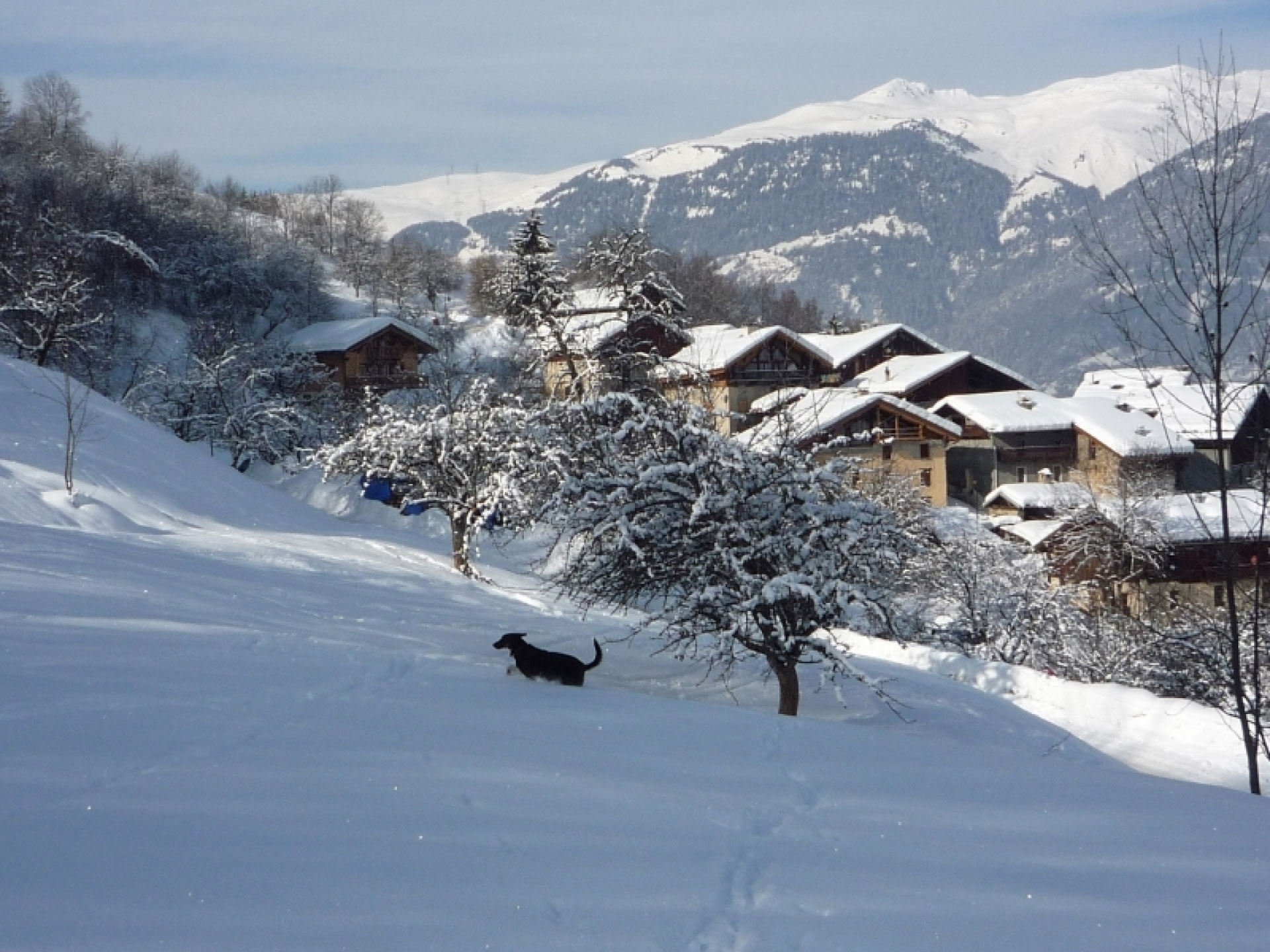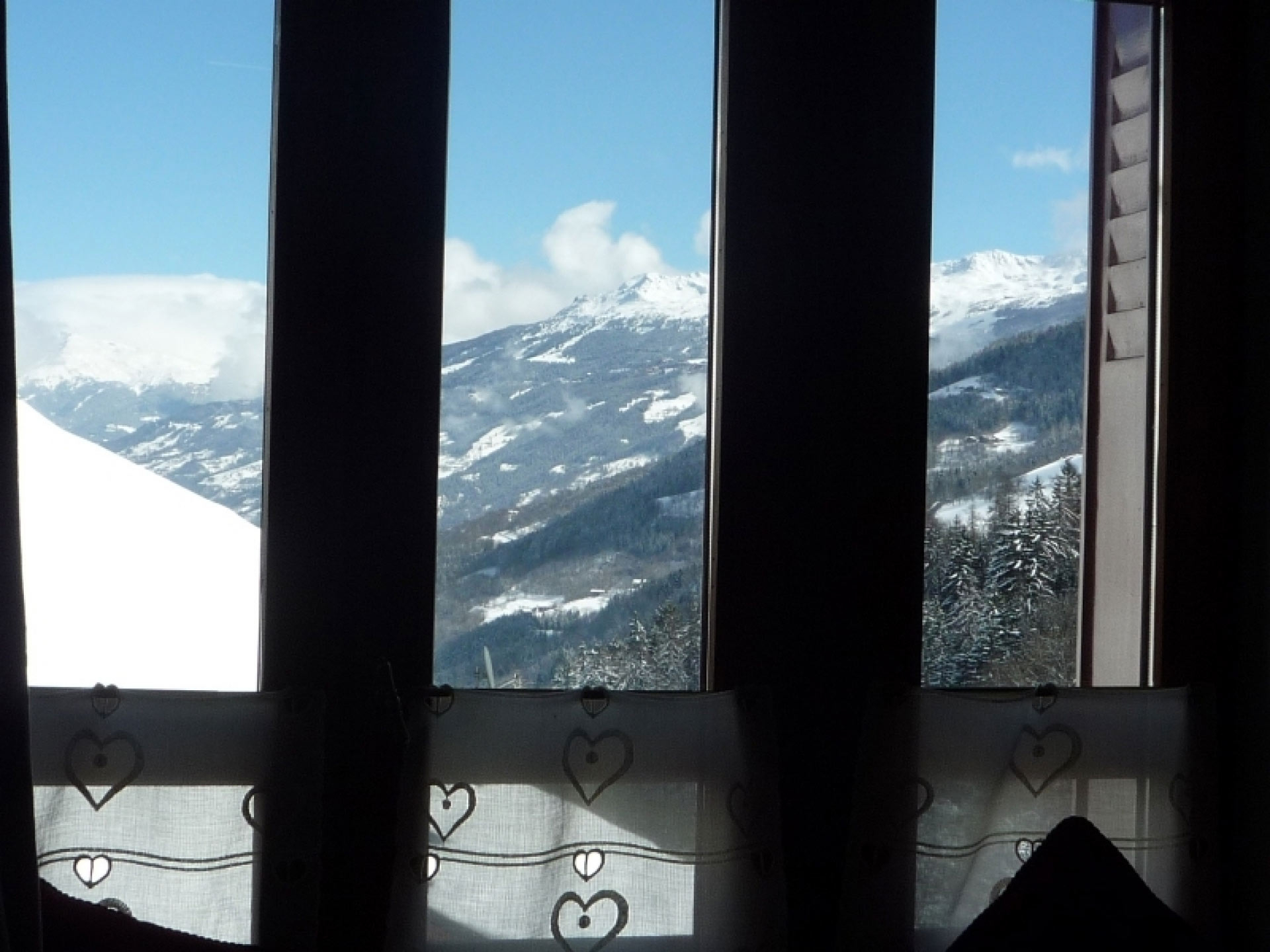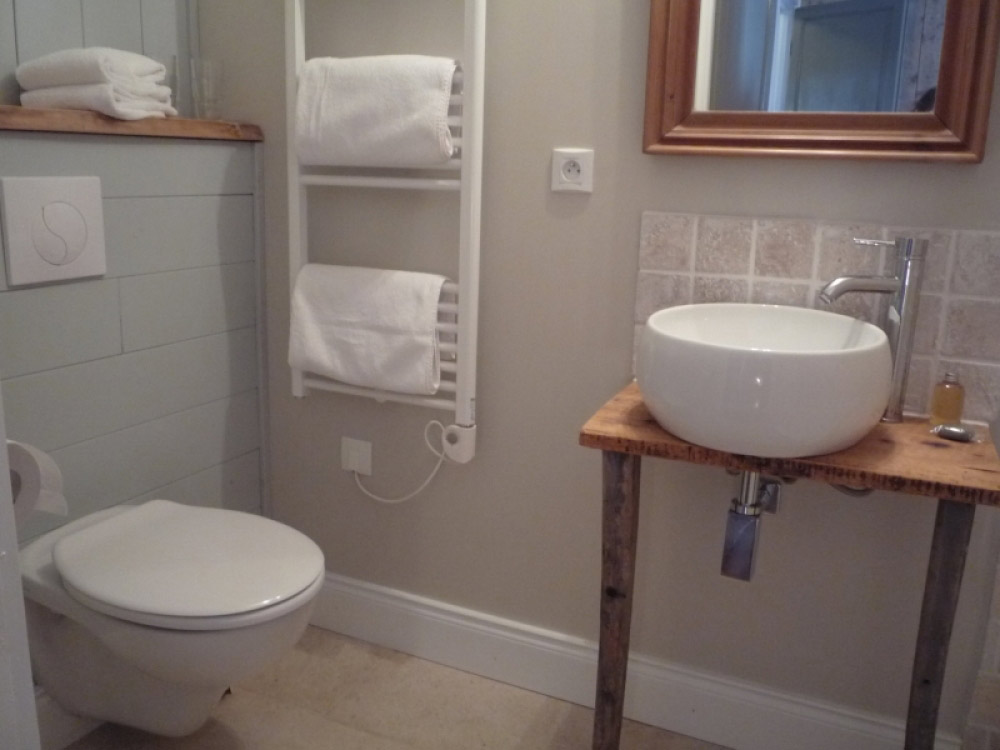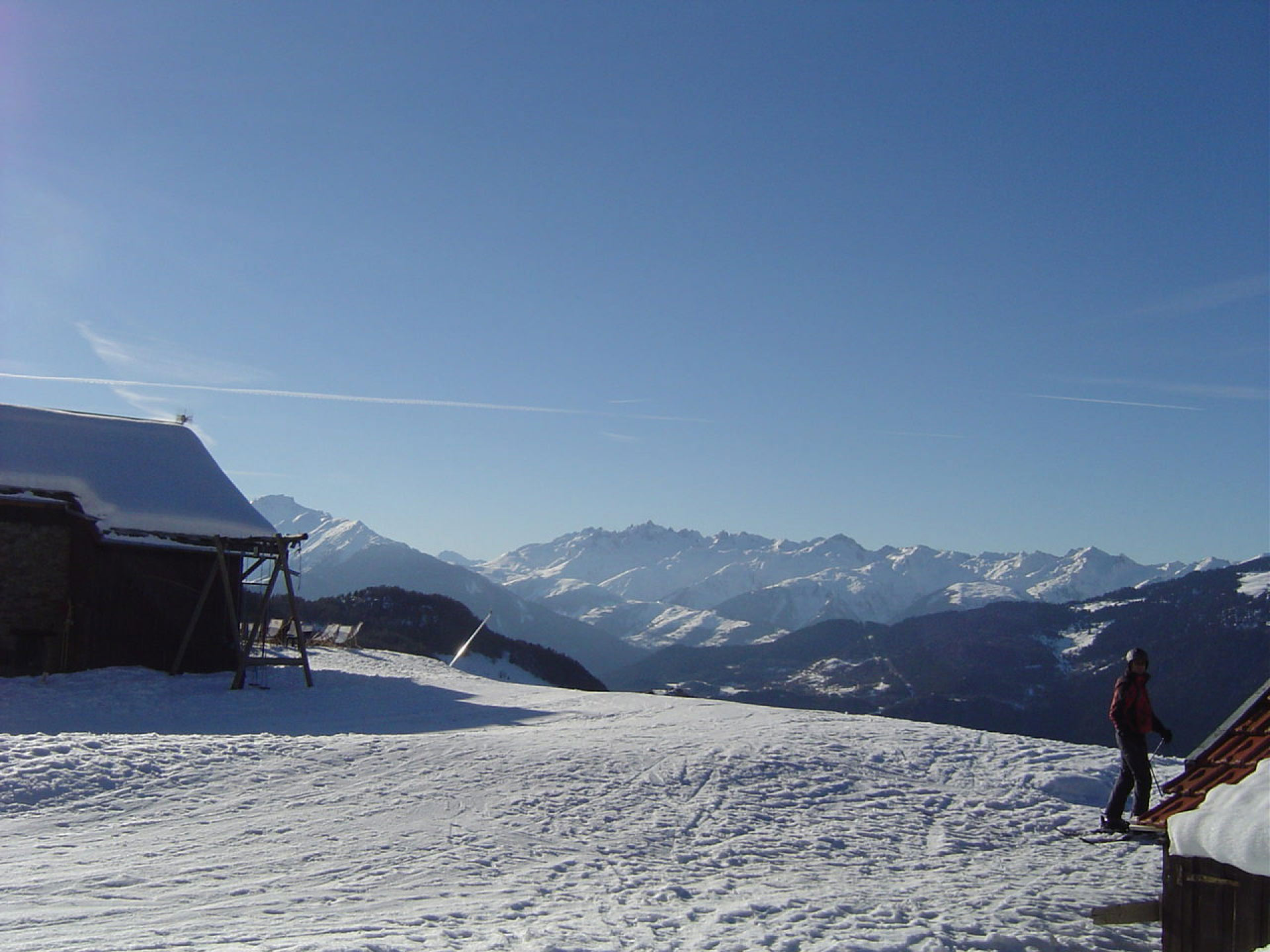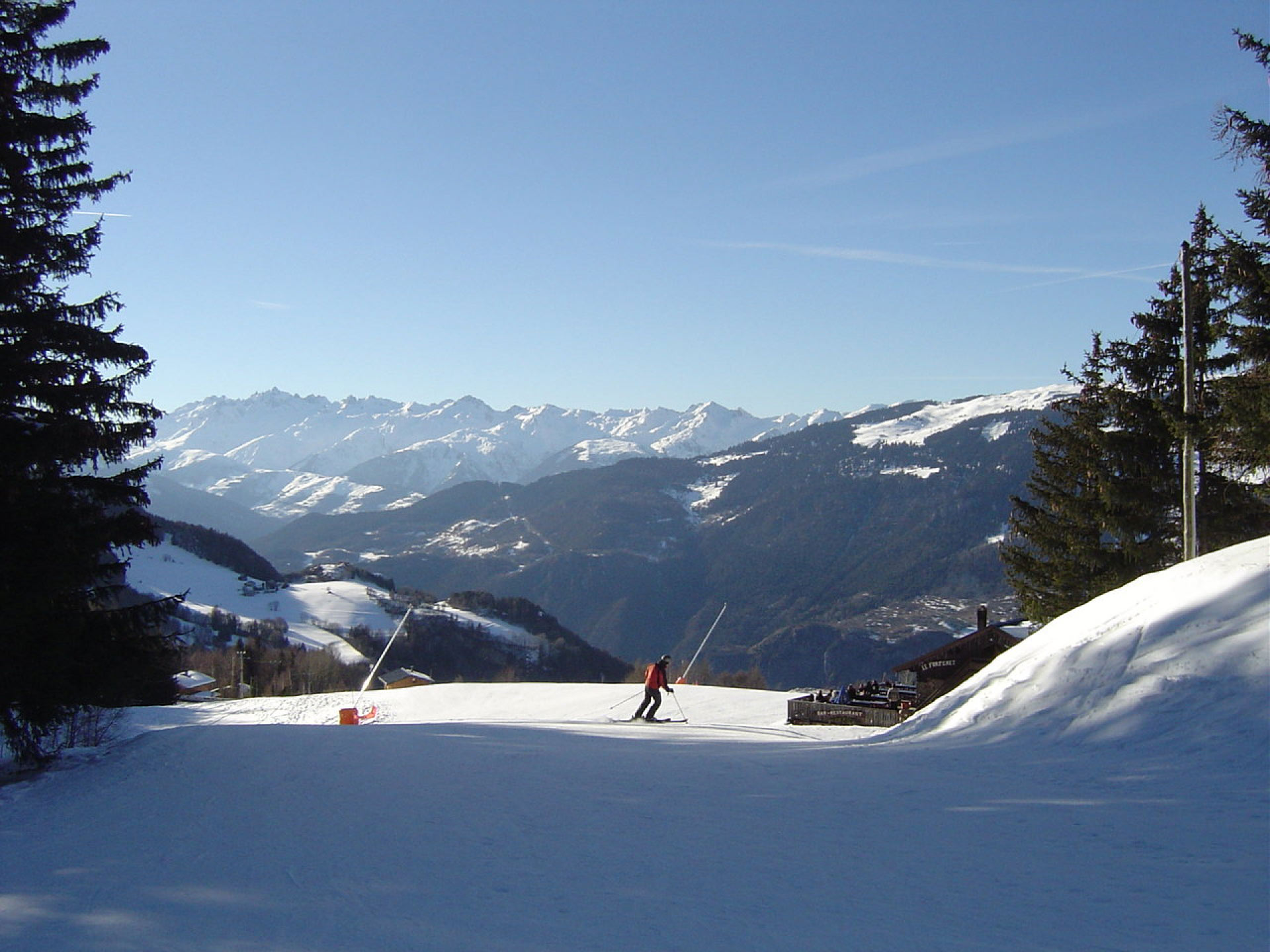 Property Description
Ferme Blanche is a charming ski chalet on the La Plagne side of Paradiski. In an unspoilt mountain hamlet below the resort of Plagne Montalbert, the farmhouse is in an idyllic alpine location yet close to the ski lifts too. Sole occupancy is possible for groups of 6 or more. Stay B&B, catered or self-catered.

The chalet has 3 large ensuite bedrooms and an optional small cabin room in the main house, plus space for a further 6 people in the barn annex (2 bedrooms & mezzanine). The main house has a large comfy sitting room with log stove and a separate dining room. Outside, there's a sunny terrace with stunning mountain views and an enclosed garden ideal for dogs. There's also an outdoor sauna new for winter 17/18.

Recently renovated using eco-friendly and recycled materials, the chalet has lots of rustic alpine charm, including flagstone floors, original timbers, and stone walls nearly a metre thick in places.

Available B&B, catered or self-catered for up to 8 people, with flexible start dates and length of stay. Airport transfers are usually included for catered guests outside peak periods (conditions apply, see our website).

BEDROOMS

The sleeping accommodation comprises:
- Twin / double room (king size bed 180x200cm or 2x 90x200cm), tongue-and-groove panelling, window seat, wood floors and ensuite shower room
- Family room (queen size bed 160x200cm or 2x 80x200cm + bunks) with ensuite shower room, wood floors and balcony
- Double/twin room (queen size bed 160x200cm or 2x 80x200cm) with space for an extra singles, ensuite shower room, juliette balcony, free standing bath
- Optional small cabin room with pull-down double wall bed (140x200cm), WC and sink across the hall (note, when the bed is down it nearly fills the room, so it's only suitable for children, or adults that don't mind being very tight on space)

OPTIONAL CATERED SERVICE

My husband and I own and run the chalet ourselves, and we do our best to create a relaxed and friendly atmosphere. If you stay B&B or catered, all our meals are made from scratch, our meat and dairy is either organic and/or locally sourced, and our chicken and eggs are free range. Groups can upgrade to a fully organic menu for 100€pp. We're happy to adapt our menus for people with special dietary requirements, including gluten-free, and we offer a 15% discount off our standard price for vegetarians and those choosing to eat as vegetarians for the week. See our website for more info about our eco-friendly ethos.
Location
The farmhouse sits on the top edge of Montvilliers, a tiny unspoilt hamlet tucked away on the mountainside under Montalbert (one of the La Plagne ski resort villages). It's a quick 5 minute drive to the lifts (car required for B&B and self-catered guests, chalet shuttle service included for catered guests). You can also ski back off-piste along a wide forest track if conditions and your ability allow.

Facilities
The chalet has WIFI internet, a DVD player and TV (for watching DVDs, no signal), and stereo. There's also a sun terrace with mountain views and an enclosed garden ideal for dogs. New for winter 2017/18, outdoor sauna with mountain views.
House Rules
As Ferme Blanche is a peaceful mountain retreat, we don't accept children aged under 12 on a B&B or catered basis. Children under 12 are welcome in sole occupancy self-catered groups.
Message to Owner

Send an enquiry or booking request directly to this property advertiser.

| | | | | | |
| --- | --- | --- | --- | --- | --- |
| Start | End | B&B (pp per night) | self catered | Catered pp pn (add to B&B rate) | |
| 29 Apr 17 | 06 May 17 | n/a | €750 | n/a | Book |
| 06 May 17 | 13 May 17 | n/a | €750 | n/a | Book |
| 13 May 17 | 20 May 17 | n/a | €750 | n/a | Book |
| 20 May 17 | 27 May 17 | n/a | €750 | n/a | Book |
| 27 May 17 | 03 Jun 17 | n/a | €750 | n/a | Book |
| 03 Jun 17 | 10 Jun 17 | n/a | €750 | n/a | Book |
| 10 Jun 17 | 17 Jun 17 | n/a | €750 | n/a | Book |
| 17 Jun 17 | 24 Jun 17 | n/a | €750 | n/a | Book |
| 24 Jun 17 | 01 Jul 17 | n/a | €750 | n/a | Book |
| 01 Jul 17 | 08 Jul 17 | n/a | €750 | n/a | Book |
| 08 Jul 17 | 15 Jul 17 | n/a | €750 | n/a | Book |
| 15 Jul 17 | 22 Jul 17 | n/a | €850 | n/a | Book |
| 22 Jul 17 | 29 Jul 17 | n/a | €850 | n/a | Book |
| 29 Jul 17 | 05 Aug 17 | n/a | €850 | n/a | Book |
| 05 Aug 17 | 12 Aug 17 | n/a | €850 | n/a | Book |
| 12 Aug 17 | 19 Aug 17 | n/a | €850 | n/a | Book |
| 19 Aug 17 | 26 Aug 17 | n/a | €850 | n/a | Book |
| 26 Aug 17 | 02 Sep 17 | n/a | €850 | n/a | Book |
| 02 Sep 17 | 09 Sep 17 | n/a | €750 | n/a | Book |
| 17 Dec 17 | 24 Dec 17 | €60 | €1500 | €35 | Book |
| 24 Dec 17 | 31 Dec 17 | €70 | €2500 | €45 | Book |
| 31 Dec 17 | 07 Jan 18 | €80 | €4000 | €45 | Book |
| 07 Jan 18 | 14 Jan 18 | €60 | €2500 | €35 | Book |
| 14 Jan 18 | 21 Jan 18 | €60 | €2500 | €35 | Book |
| 21 Jan 18 | 28 Jan 18 | €60 | €2500 | €35 | Book |
| 28 Jan 18 | 04 Feb 18 | €60 | €2500 | €35 | Book |
| 04 Feb 18 | 11 Feb 18 | €70 | €3000 | €35 | Book |
| 11 Feb 18 | 18 Feb 18 | €80 | €3500 | €45 | Book |
| 18 Feb 18 | 25 Feb 18 | €80 | €4000 | €45 | |
| 25 Feb 18 | 04 Mar 18 | €70 | €3500 | €35 | Book |
| 04 Mar 18 | 11 Mar 18 | €70 | €3000 | €35 | Book |
| 11 Mar 18 | 18 Mar 18 | €60 | €2500 | €35 | Book |
| 18 Mar 18 | 25 Mar 18 | €60 | €2500 | €35 | Book |
| 25 Mar 18 | 01 Apr 18 | €70 | €3000 | €35 | Book |
| 01 Apr 18 | 08 Apr 18 | €70 | €3000 | €35 | Book |
| 08 Apr 18 | 15 Apr 18 | €70 | €3000 | €35 | Book |
| 15 Apr 18 | 22 Apr 18 | €60 | €1500 | €35 | Book |

AIRPORT TRANSFERS TO La Plagne