Ferme du Ciel
A gorgeous, luxury catered & self-catered chalet for up to 18 in the traditional conservation village of Samoens as part of the Grand Massif mountain area. Ski, bike, hike or just unwind in the chalets beautiful surroundings.
A truly stunning and luxurious chalet featuring a pool, sauna, jacuzzi and cinematic entertainment suite.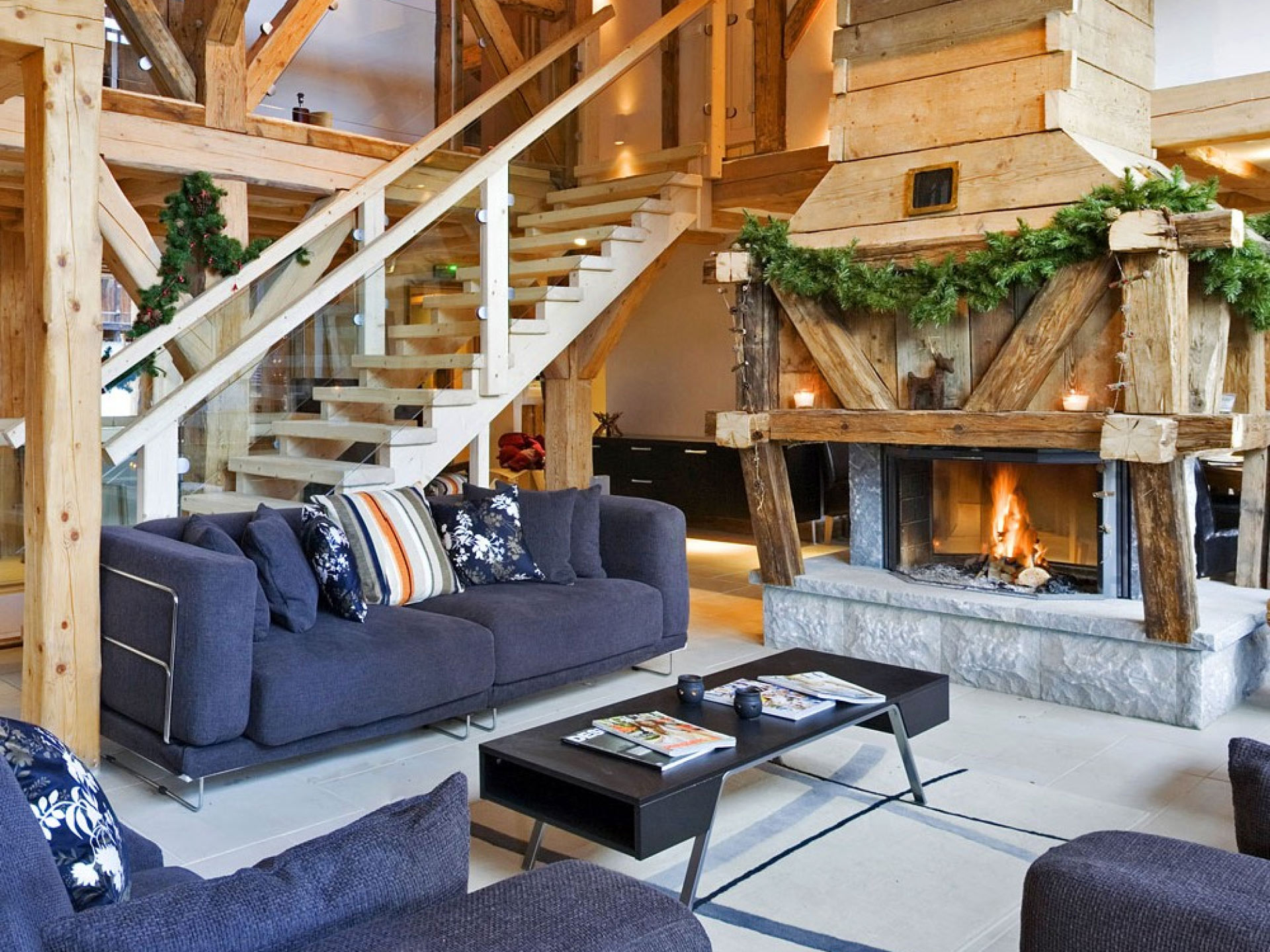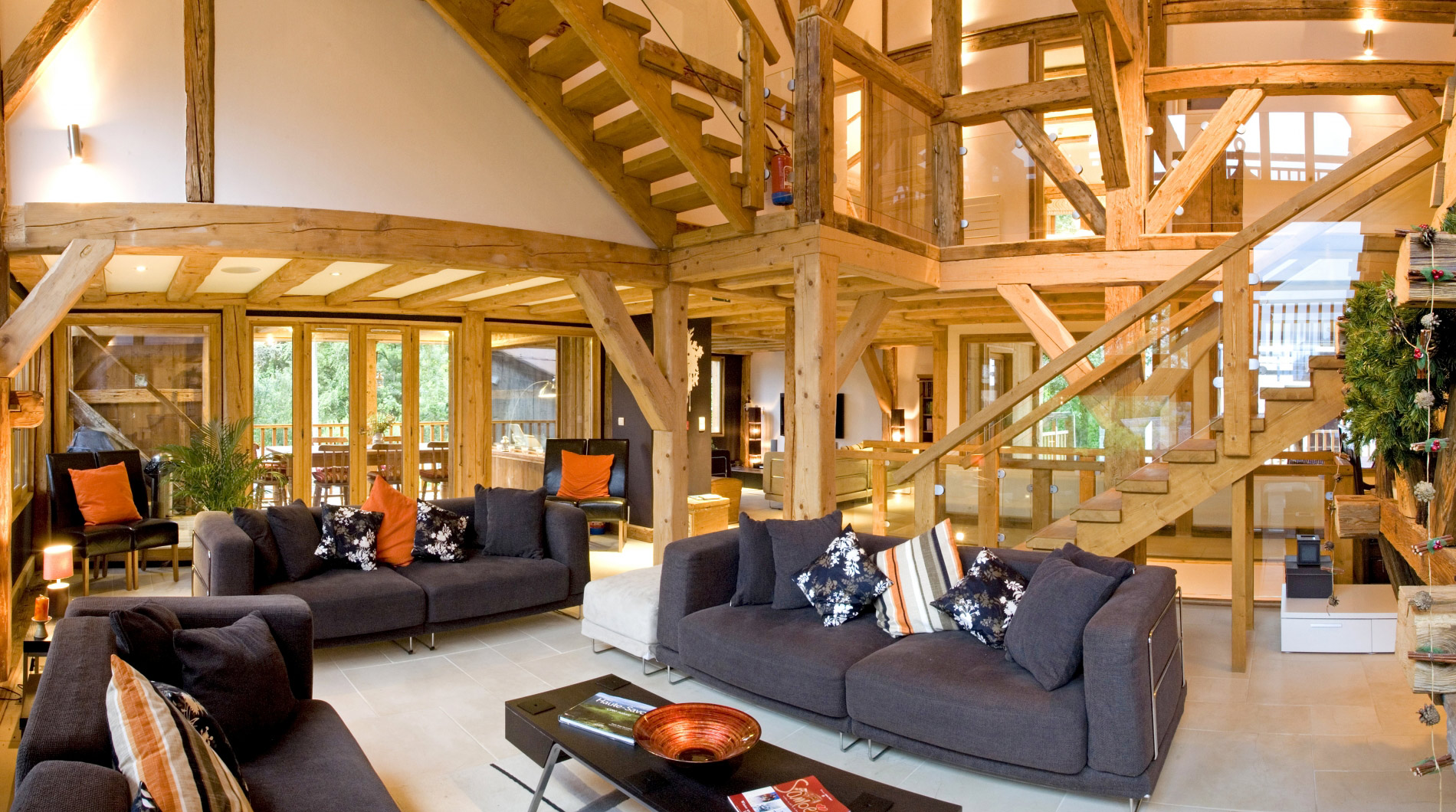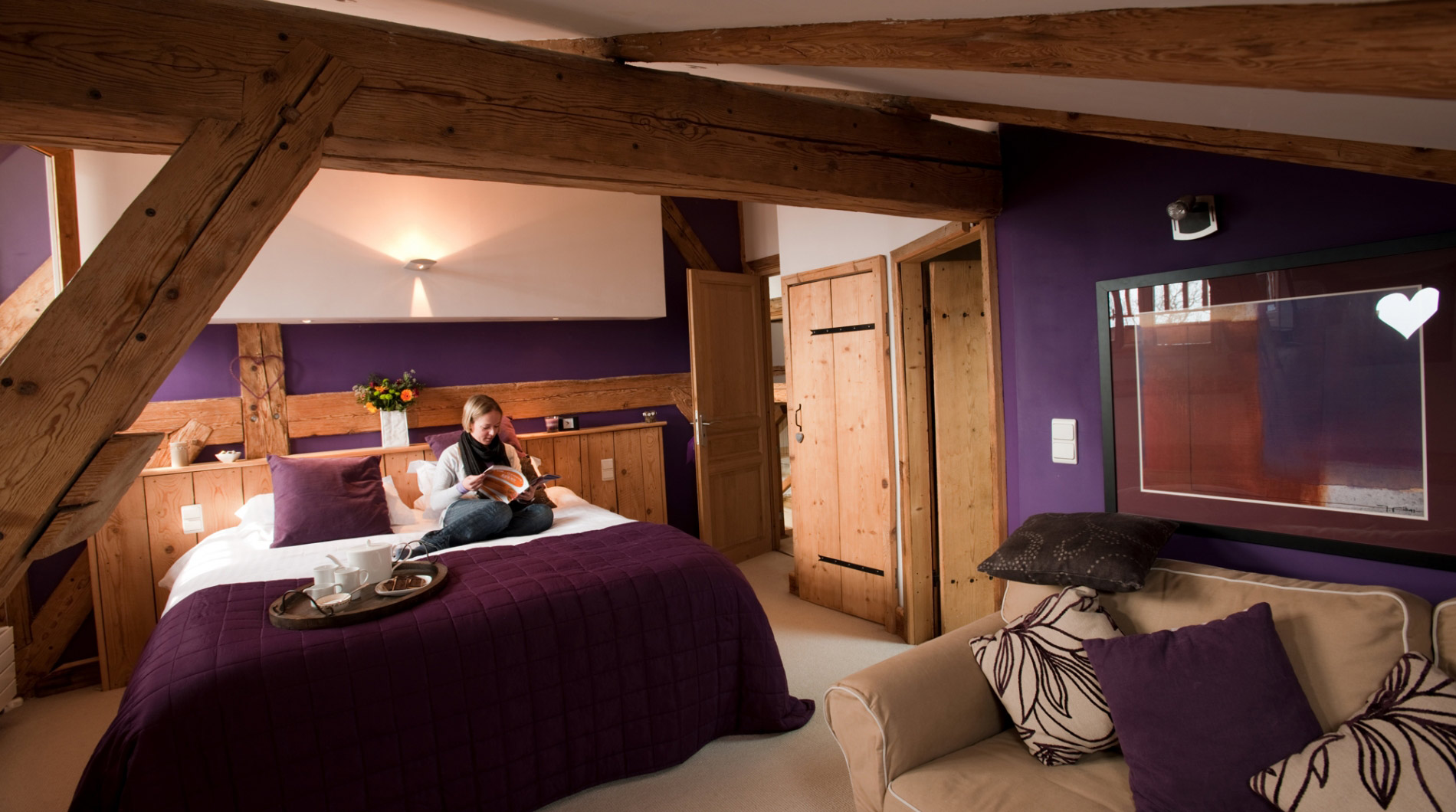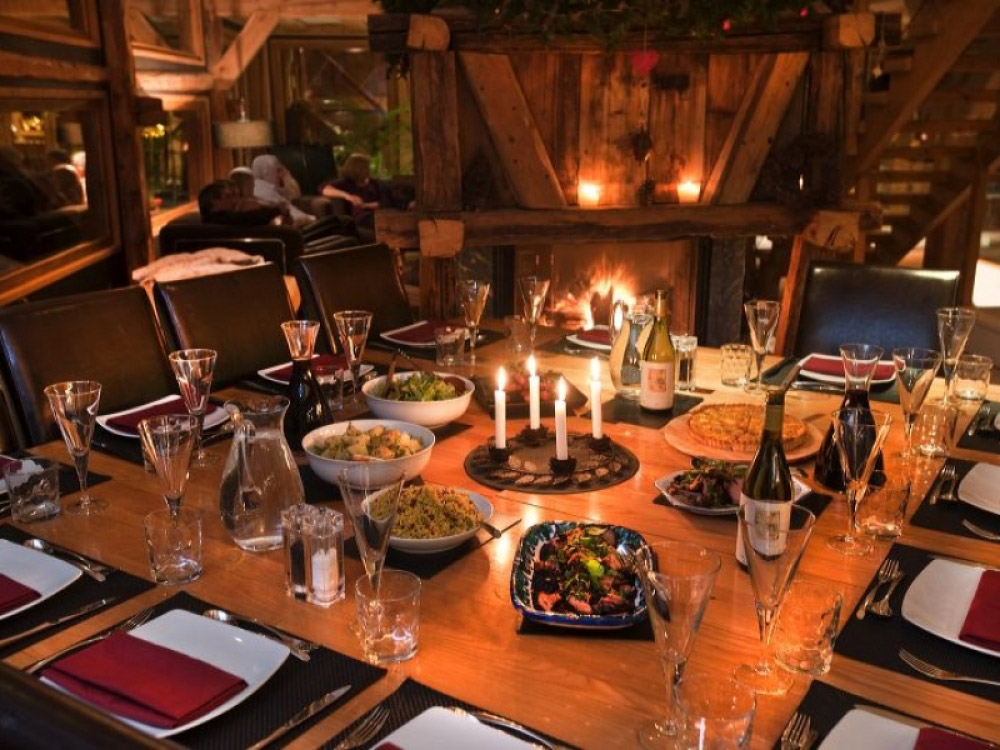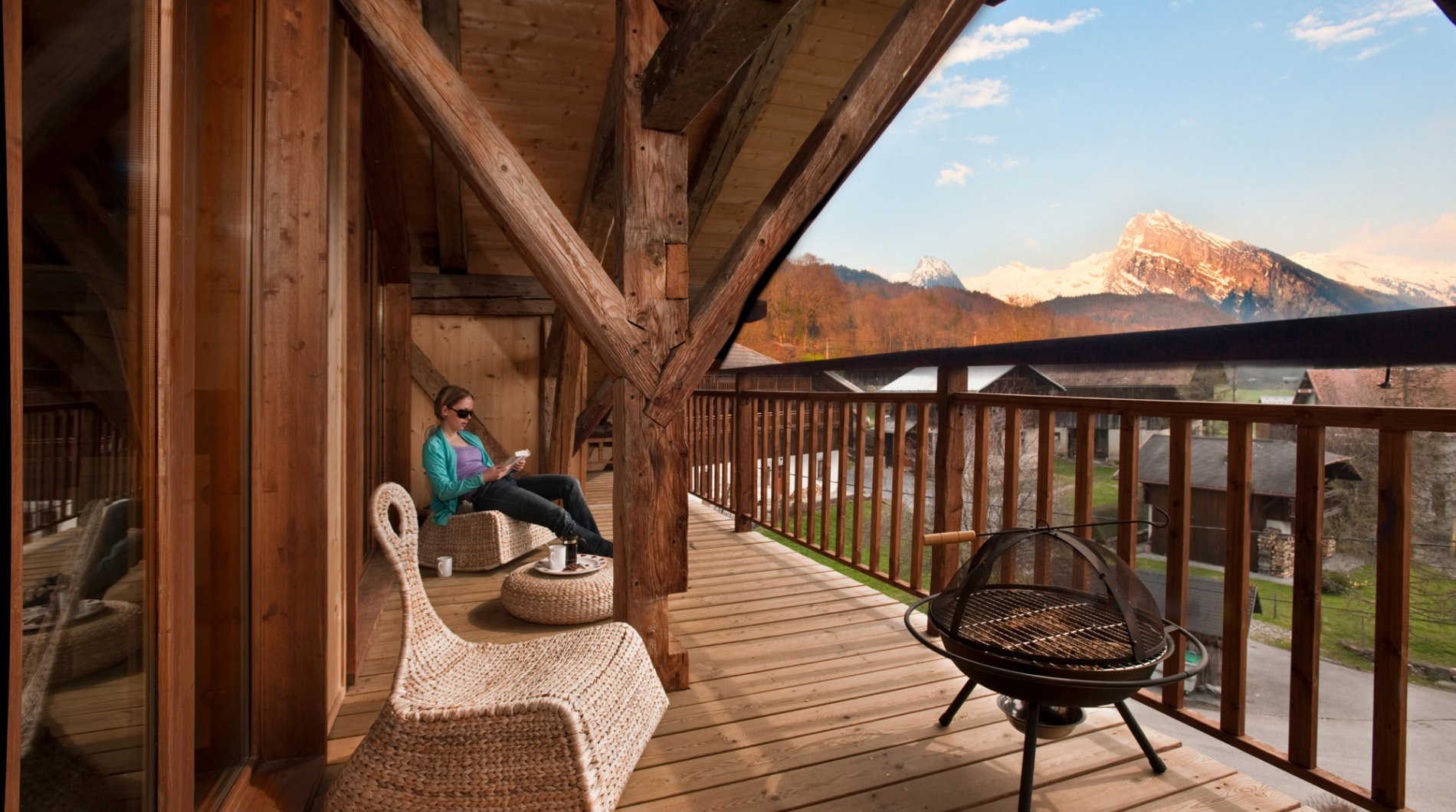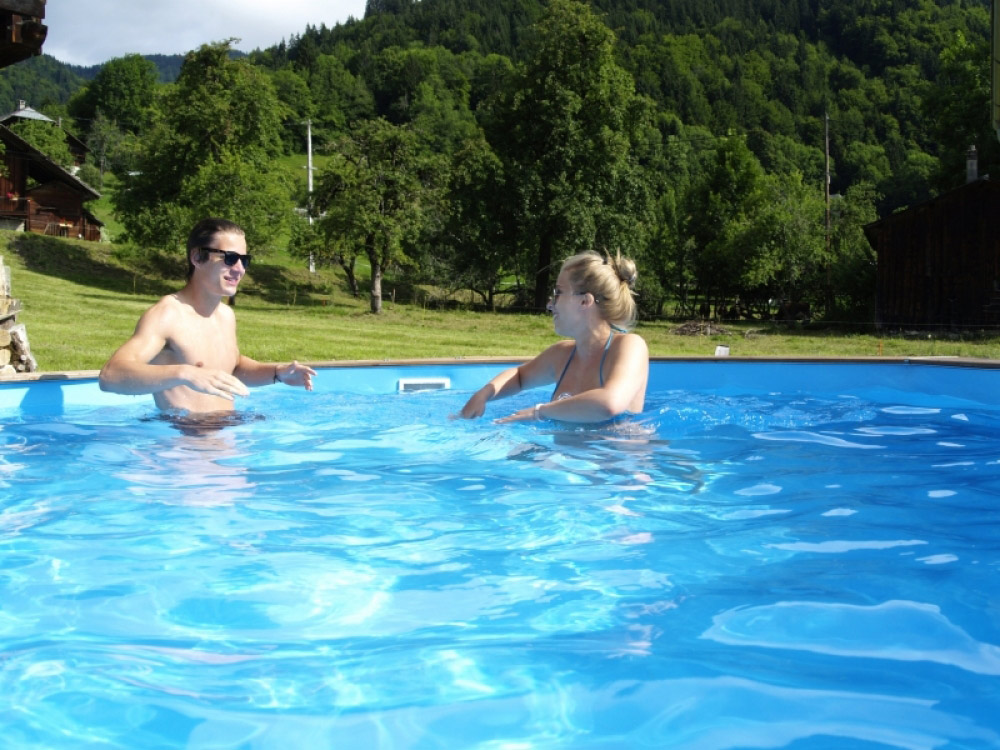 Ferme du Ciel is a stylishly converted traditional Savoyard farmhouse perched above delightfully undiscovered Samoëns. Architecturally stunning, the chalet is effortlessly elegant and easily encompasses a clean, modern aesthetic within the original building's rustic shell.

Newly established and catering to those who enjoy the finer things in life, Ferme du Ciel offers world class skiing by day and superb food and wine by night. Transfers to and from the ski lifts are included. Transfers from Geneva airport can be arranged on request.

Also enjoy Spring, Summer or Autumn in the Alps and relax out of season in style at Ferme du Ciel! Outside the ski season (April to December) we let out the chalet and a separate single bedroom apartment on a self catered or catered basis.

Facilities

Set over three levels, the luxury chalet in Samoens maintains the spaciousness and character of the working barn from which it was converted, with traditional wood features throughout. The heart of our Alpine home is a stunning double-height, open-plan living and dining area, complete with floor-to-ceiling windows and an open fireplace. Perfect for spending time with family and friends.

Privately owned and lovingly run by Su and Andrew, Ferme du Ciel, Samoens has all the features you'd expect from a luxury chalet – and more:

•Huge open-plan living area
•Indoor and outdoor dining areas
•Under-floor heating
•TV snug with 42in plasma screen, Sky TV and Xbox
•Extensive book, DVD and CD library
•Office area with laptop for guest use
•WiFi internet access throughout
•Indoor sauna
•Outdoor Pool and Jacuzzi
•Ski storage with heated boot rack
•Drying room

We cater all year round for up to 18 guests, with five spacious bedrooms and one family suite.

Each bedroom features an indulgent spa-style en-suite bathroom, and is individually styled and furnished, with:

•Super king-size beds (that can also be adapted to singles)
•Generous sofa area
•TV, DVD player and iPod dock
•Fluffy towels and robes
•Walk-in rain shower
•Full-length bathtub
•Molton Brown toiletries
•Hairdryer
•Personal yet discreet service allows you to make the most of our luxury accommodation and truly unwind. For the ultimate pampering experience, we can even arrange for revitalising massage and reflexology in the privacy of your own room.

Heavenly after a day on the slopes.

House Rules

No smoking inside, no pets allowed.

«Delicious cuisine to tempt your tastebuds!»

Getting away from it all means not having to worry about the cooking... Good food is a vital ingredient of any holiday, and we take the greatest pride and care in the quality of our cuisine. We use only the freshest ingredients, locally sourced, and each day our talented chef prepares a tailored, tempting menu. Everything is homemade, and after a day in the great outdoors, you'll have worked up an appetite to do it justice!

On your first evening, a complimentary glass of Champagne and delicious canapés by the roaring log fire set the culinary tone for the week ahead. Each evening, you'll be treated to a fabulous three- course meal, complemented by our free-flowing, excellent house wine. (Other drinks, including champagne, port and brandy, are available from our cellar for a small supplement.)

We have one chalet night off a week, leaving you free to explore Samoëns' excellent restaurants. We're happy to recommend our favourites and make bookings if you wish.

In the mornings we'll prepare you for a day in the great outdoors with a hearty breakfast, including a choice of porridge, cereals, yoghurts, fresh fruit, a special hot dish, and freshly baked croissants and breads, all washed down with fruit juice, fresh coffee or a choice of teas. And when you return exhausted in the afternoons, you'll be welcomed with afternoon tea, complete with irresistible freshly baked cakes.

«Special Requests»
For vegetarians and young diners, we are pleased to offer a varied menu. Please tell us in advance if you have any special dietary requirements – or if there's anything you just don't like – and we'll do our very best to accommodate you.

«Sample Dinner Menu»
Chilled melon and walnut Salad with a Roquefort dressing
Butterfly lamb marinated in sherry and soy sauce, served with fondant potatoes and oven-roasted Mediterranean vegetables

OR

For vegetarians, vegetable, chestnut, Stilton and ale pie

Sticky chocolate pudding with white chocolate sauce, served with cream or homemade ice-cream
A selection of local cheeses, served with freshly baked bread
Freshly ground coffee and mints

We escaped our hectic lives in the UK for Samoëns because we love the scenery, the lifestyle, the skiing, the food… and we hope you'll feel the same way. We want you to enjoy a luxury chalet holiday in relaxed surroundings, and to feel as comfortable as you do in your own home – without the work!

We scoured the French mountains and valleys in search of the perfect spot, and soon settled on Samoëns, mainly because of its unspoilt charm and its central location in the fantastic Grand-Massif ski area. After a year of property hunting, we found the farm, in the middle of a small hamlet, surrounded by breathtaking mountain views and bathed in sunshine. So we finally swapped our hectic lives in the UK for our new one in France.

Su started her career in hotels and restaurants. She loved the buzz and mixing with so many different people, but after 10 years decided it was time for a change, and moved into helping other people do the work instead – in management development, then management consultancy, which she still combines with running Ferme du Ciel.

Andy spent 25 years as an engineer in the RAF before taking early retirement (he thought!) five years ago. On leaving the RAF he bravely undertook hotel work for a while – to learn how not to do it…

How did a management consultant and an RAF engineer end up here? Well, we decided to treat ourselves to a gap year (and a half – it was so good) and spent a winter running a ski chalet in Chamonix. We had such fun that we decided to buy one and do it ourselves. So here we are – looking forward to our sixth season, and to welcoming you for a fun-filled, memorable holiday.

Compared to other alpine destinations, you'll find getting to Ferme du Ciel a breeze. The pretty, traditional village of Samoëns is located just an hour's drive from Geneva International Airport, on easy-to-navigate roads, so you'll be off the plane and in the chalet before you know it. Wherever your journey begins, you can be sure it will end with a welcome glass of champagne in beautifully invigorating surroundings…

Ferme du Ciel is the revived hub of Mathonex, a tiny hamlet of Samoëns in the Haute Savoie region of the French Alps. Less than an hour from Geneva but miles away from reality, it's an easily accessible luxury alpine escape.

Centrally located in the Grand Massif area, the ski domaine incorporates Samoëns, Flaine, Morillon, Les Carroz and Sixte. There is something for everyone with 265 km of interconnected pistes, where you can ski from resort to resort without taking your skis off! There are 75 lifts, 53 blue runs, 51 red runs, 14 black runs, and stacks of off-piste.

Local Area

Samoens is a commune of the Haute-Savoie département in France and is only 1 hour from Geneva. The town of Samoens is located in the Vallee du Giffre in the French Alps and carries the designation of a "ville fleurie" distinguishing it as one of the most beautiful towns in France. It is a popular summer destination as well as the site of a ski resort that departs from a new lift at the edge of town linking up to Samoens 1600 also known as the Plateau de Saix, this resort is part of the larger five town Grand Massif which includes Flaine and Morillon. In terms of the slopes, there is 265km of piste, not to mention the extensive off piste!

During the winter months this valley and the Haute Savoie in general are at the heart of the French skiing experience, Samoens links up to the Grande Massif ski area with its 100+ lifts and wide variety of terrain.

| | | | | | |
| --- | --- | --- | --- | --- | --- |
| Start | End | Catered pppw | catered whole chalet | Self catered whole chalet | |
| 23 Jul 17 | 30 Jul 17 | n/a | n/a | £3250 | Book |
| 30 Jul 17 | 06 Aug 17 | n/a | n/a | £3250 | |
| 06 Aug 17 | 13 Aug 17 | n/a | n/a | £3250 | Book |
| 13 Aug 17 | 20 Aug 17 | n/a | n/a | £3250 | |
| 20 Aug 17 | 27 Aug 17 | n/a | n/a | £3250 | Book |
| 27 Aug 17 | 03 Sep 17 | n/a | n/a | £3250 | Book |
| 03 Sep 17 | 10 Sep 17 | n/a | n/a | £2500 | Book |
| 10 Sep 17 | 17 Sep 17 | n/a | n/a | £2500 | Book |
| 17 Sep 17 | 24 Sep 17 | n/a | n/a | £2500 | Book |
| 24 Sep 17 | 01 Oct 17 | n/a | n/a | £2500 | Book |
| 01 Oct 17 | 08 Oct 17 | n/a | n/a | £2500 | Book |
| 08 Oct 17 | 15 Oct 17 | n/a | n/a | £2500 | Book |
| 15 Oct 17 | 22 Oct 17 | n/a | n/a | £2500 | Book |
| 22 Oct 17 | 29 Oct 17 | n/a | n/a | £2500 | Book |
| 29 Oct 17 | 05 Nov 17 | n/a | n/a | £2500 | Book |
| 05 Nov 17 | 12 Nov 17 | n/a | n/a | £2500 | Book |
| 12 Nov 17 | 19 Nov 17 | n/a | n/a | £2500 | Book |
| 19 Nov 17 | 26 Nov 17 | n/a | n/a | £2500 | Book |
| 26 Nov 17 | 03 Dec 17 | n/a | n/a | £2500 | Book |

Brilliant winter transfers to and from the airport!

In the winter, we offer private transfers to and from Geneva airport at competitive rates. We will be waiting to collect you and your luggage at the airport, and we will have you at the Chalet in an hour!

In the summer we strongly recommend you bring a car, so that you can fully explore all the delights the area has to offer.

In Resort Transfers - Our flexible winter service takes you where you want to go!

In the winter we provide flexible transport to and from the ski area. This service runs at times to suit you, meaning you never have to hang around in the cold!. No lugging your skis onto ski buses, just pure comfort and convenient transfers, making your stay hassle free, allowing you to enjoy your holiday!