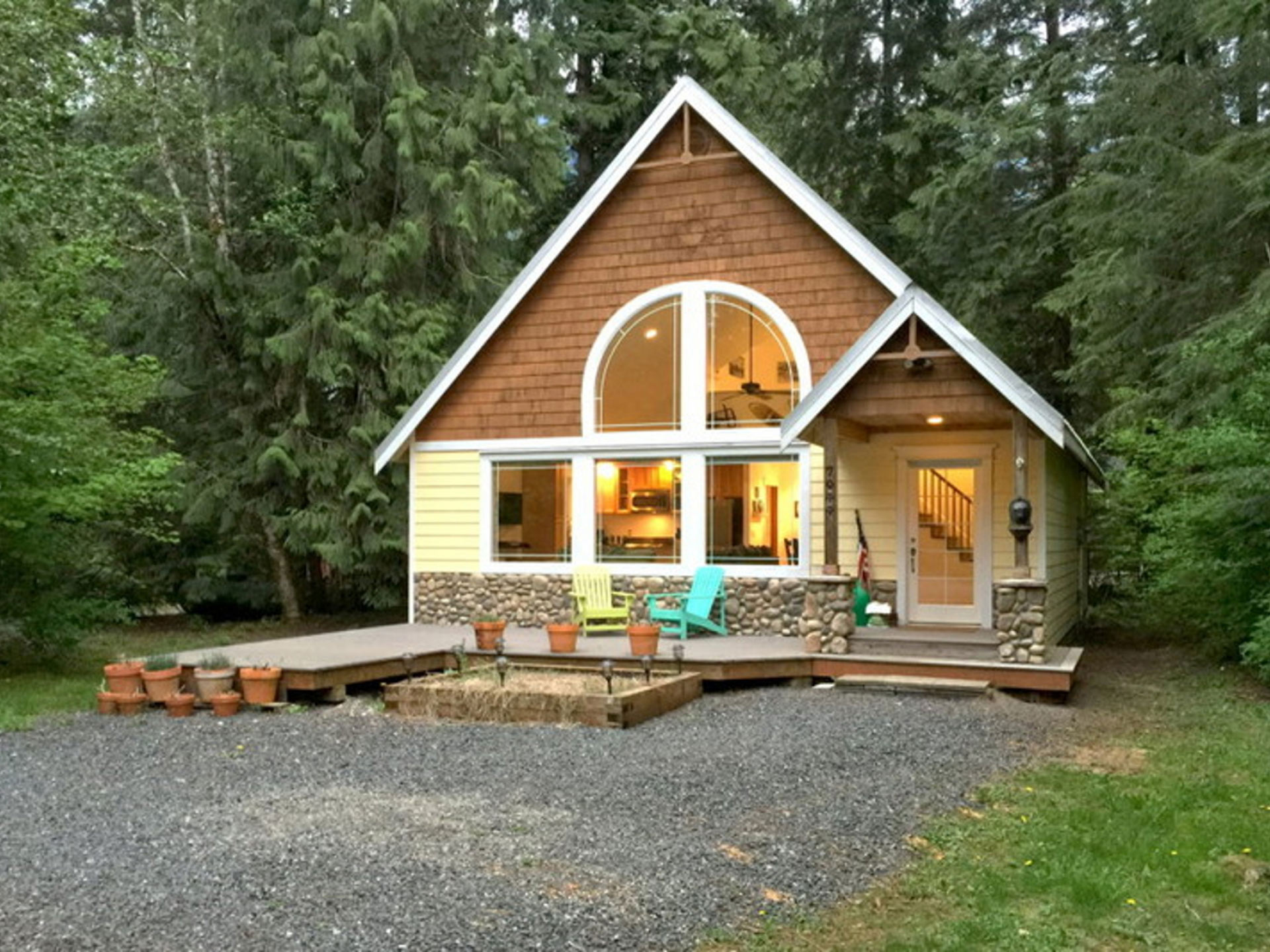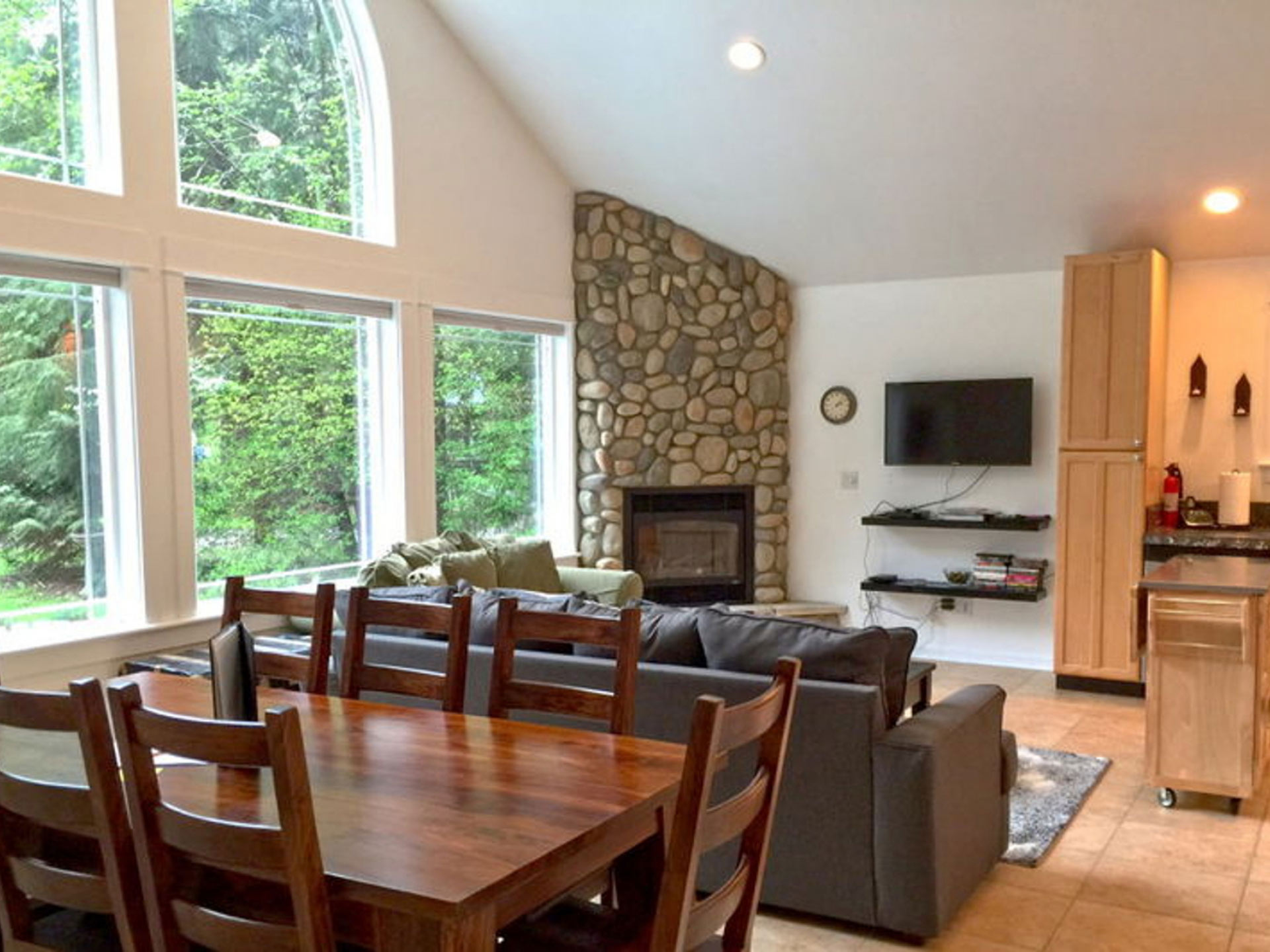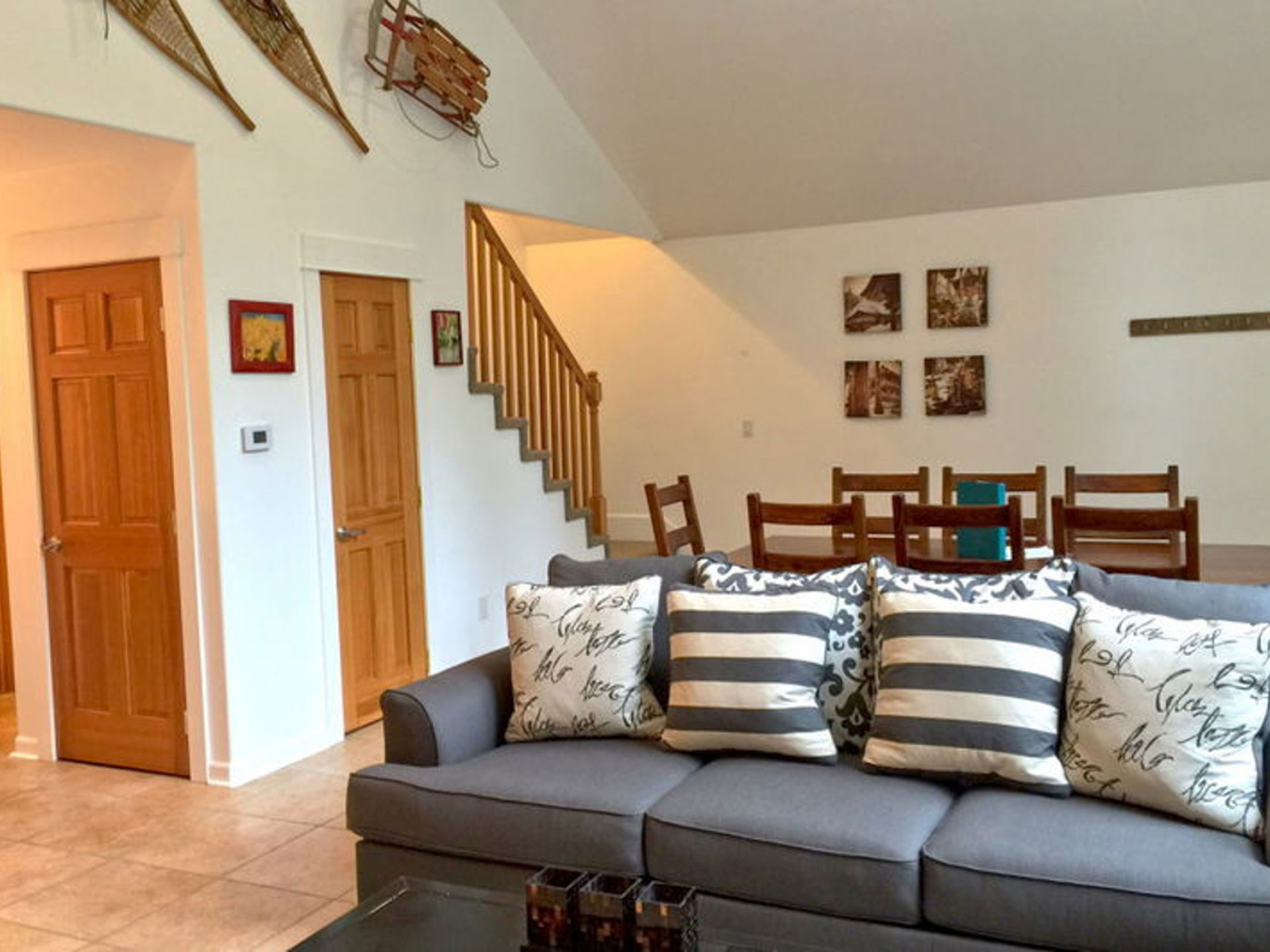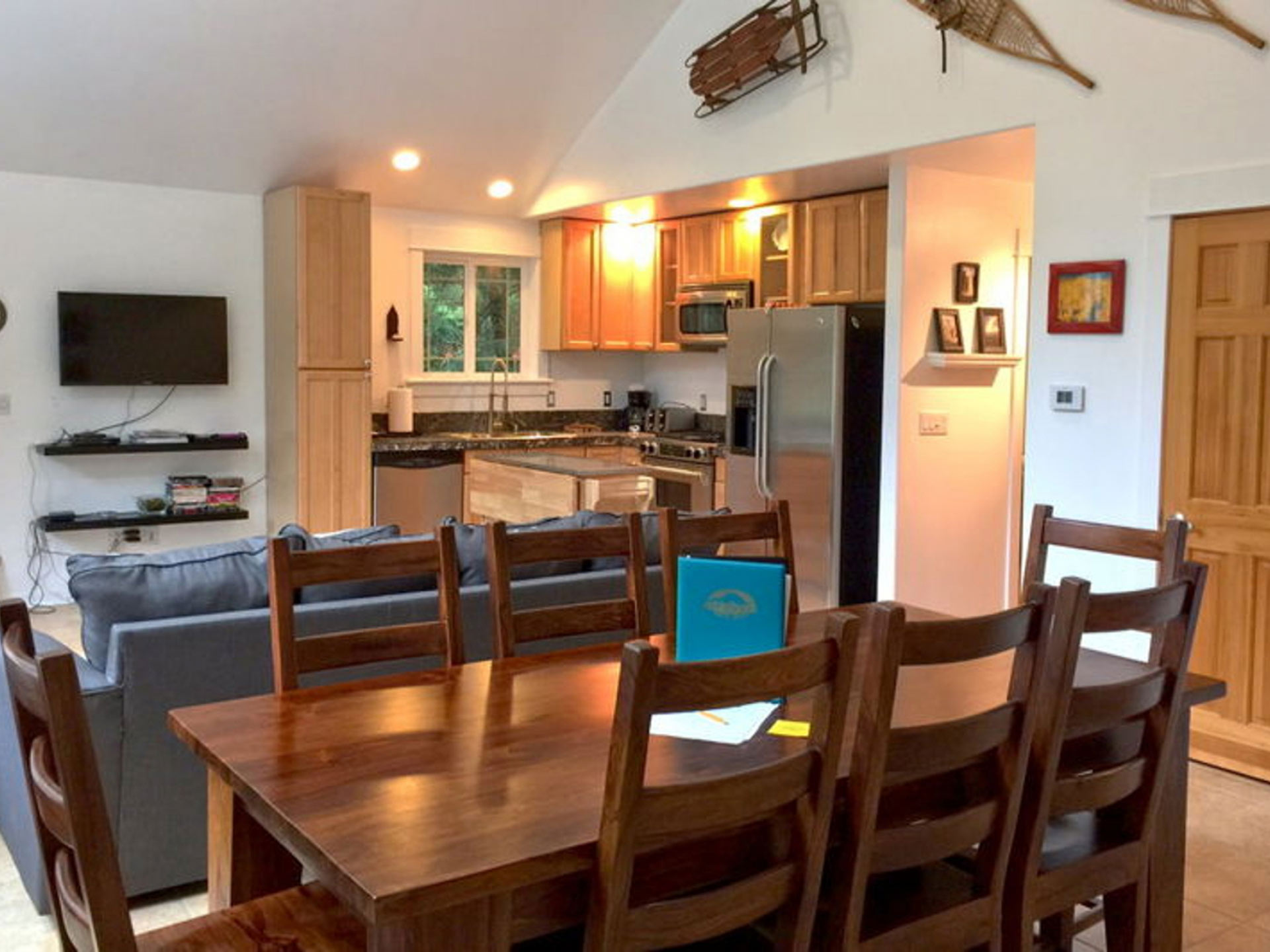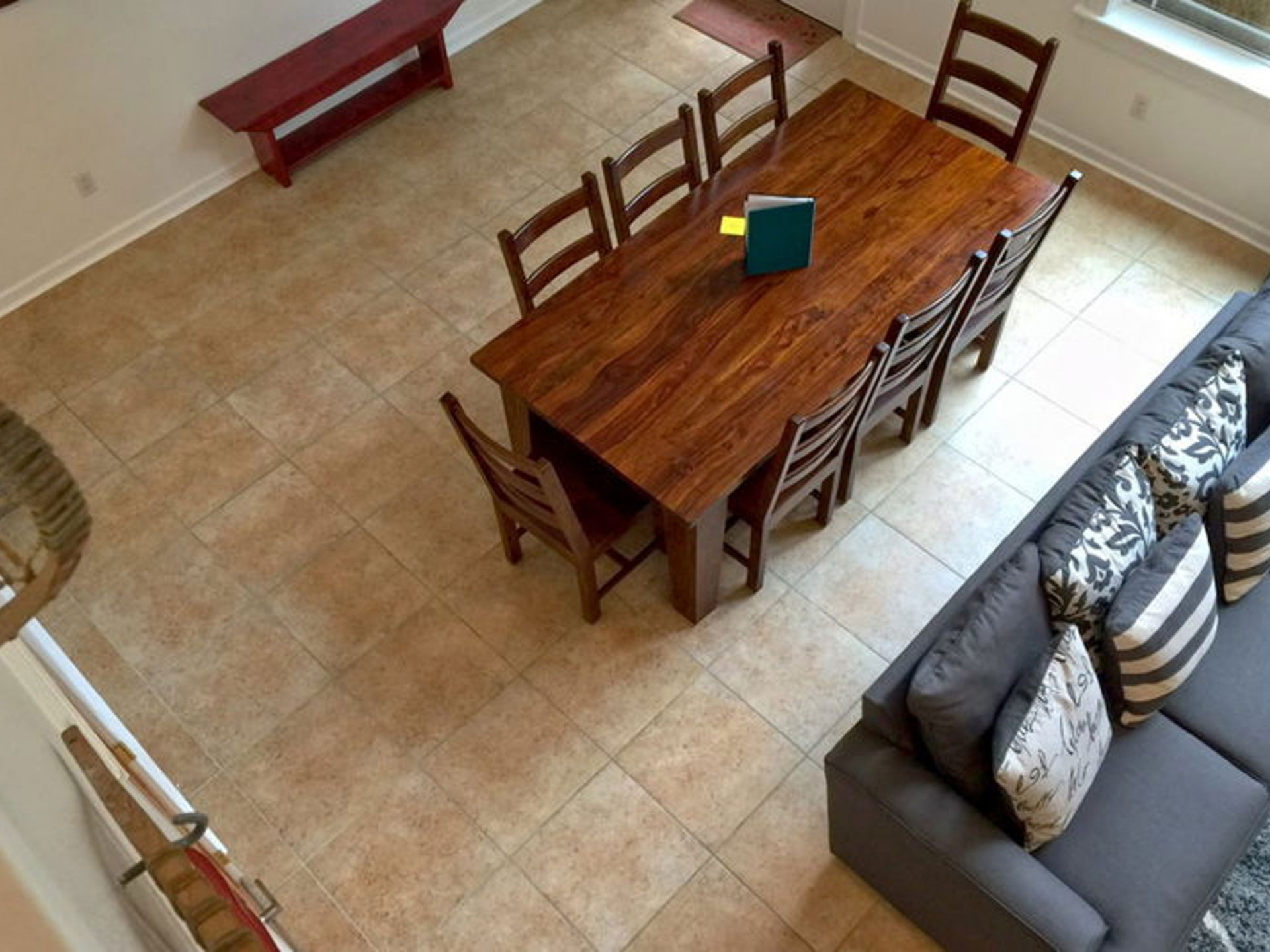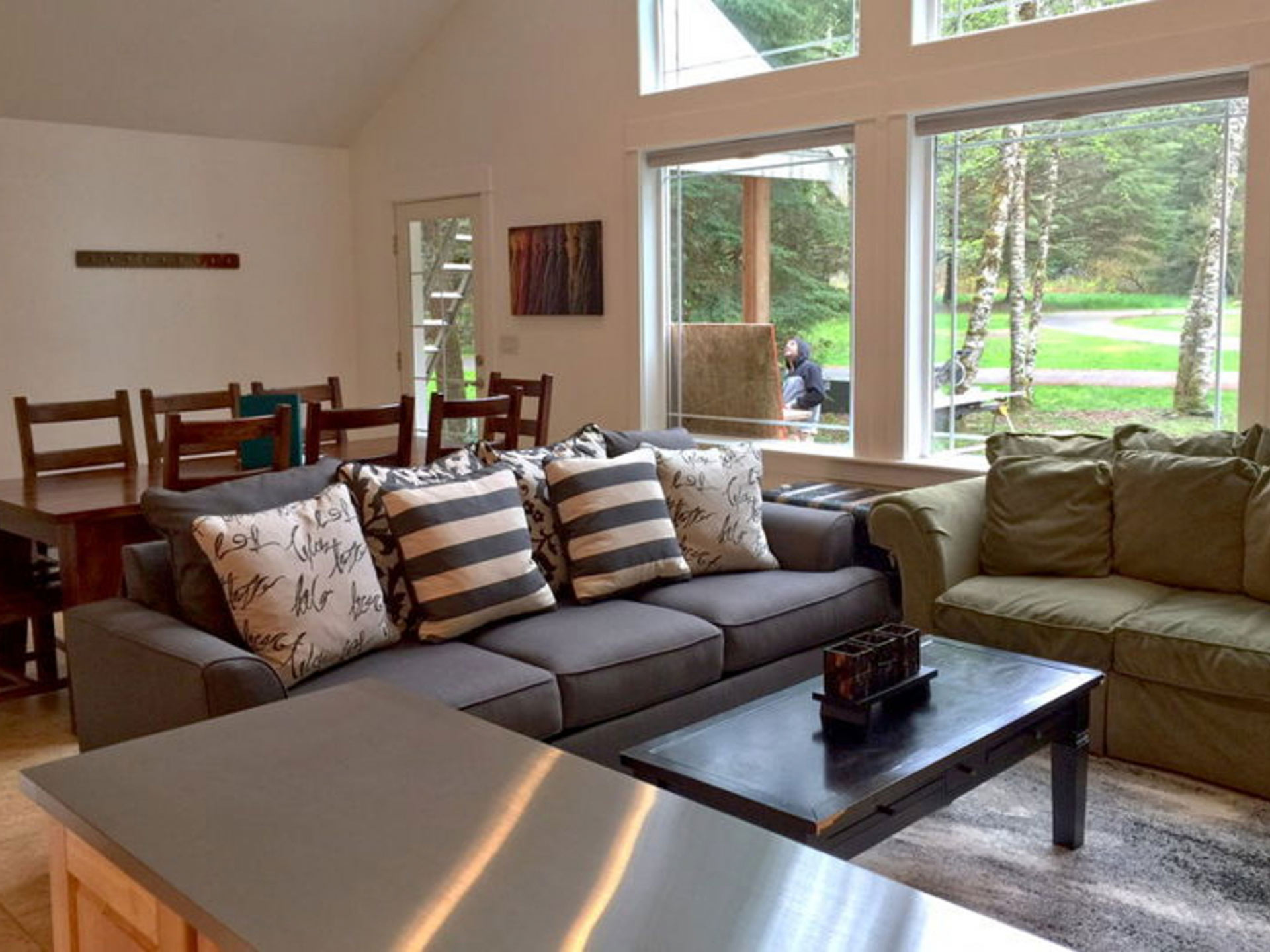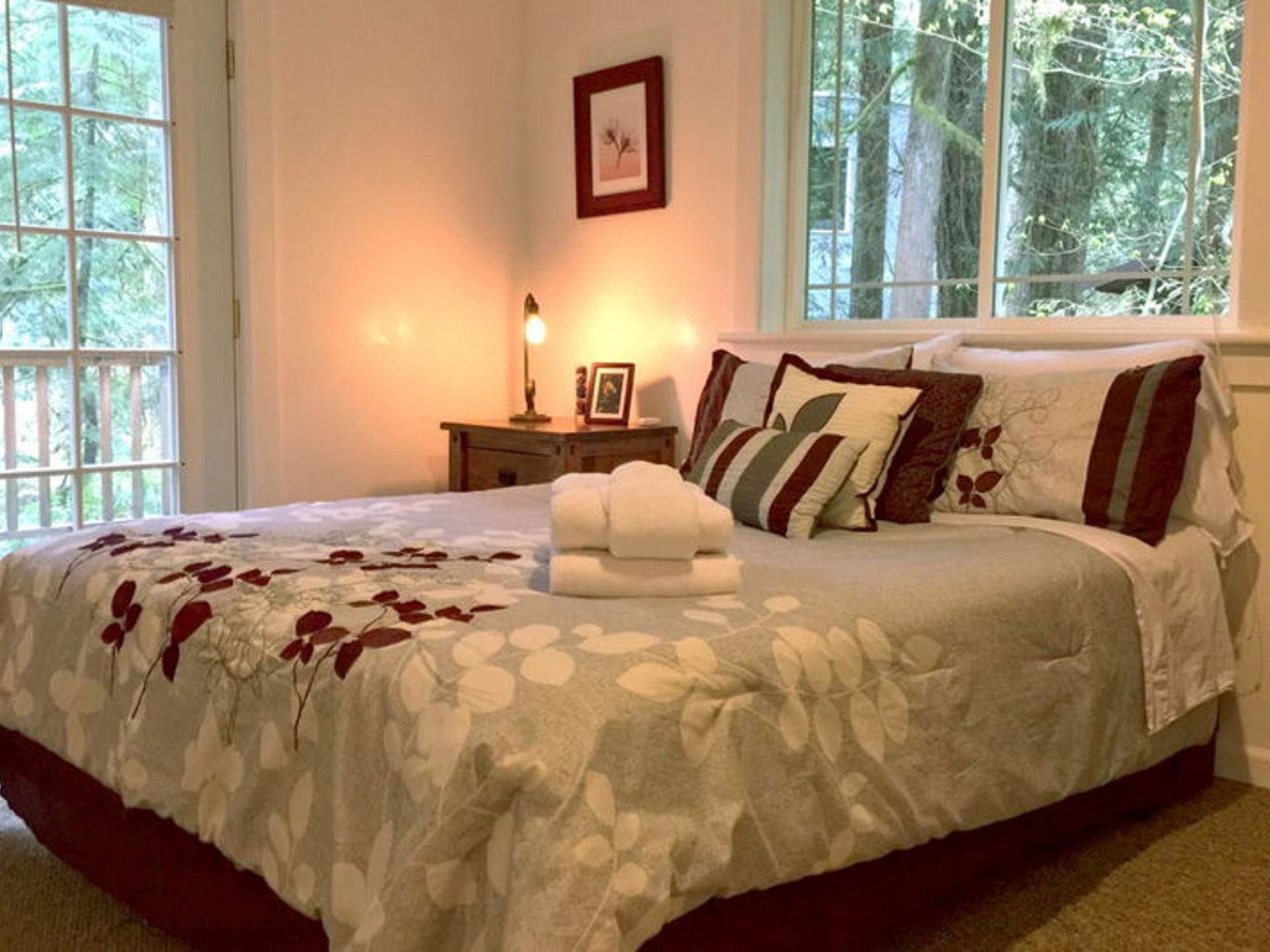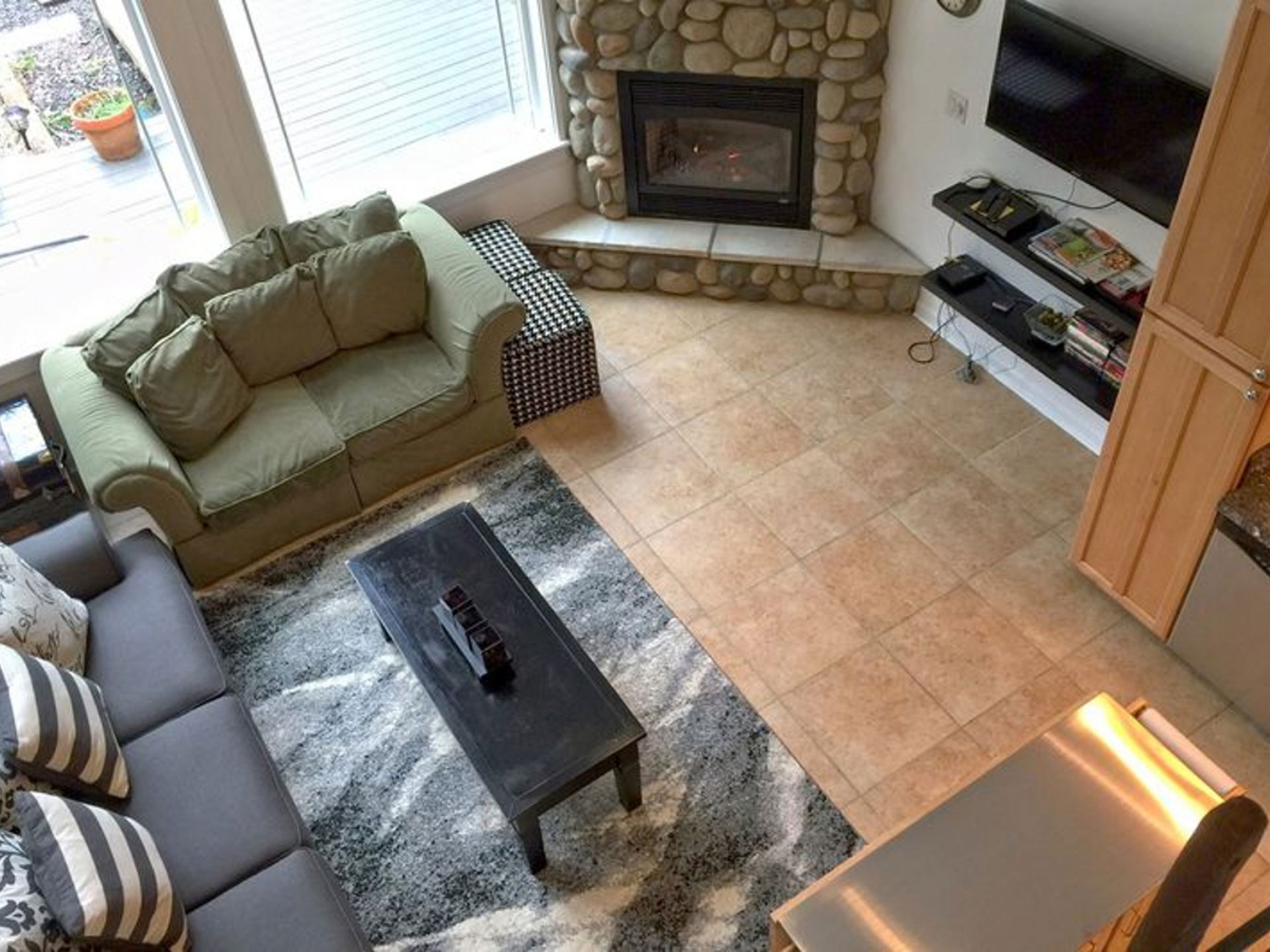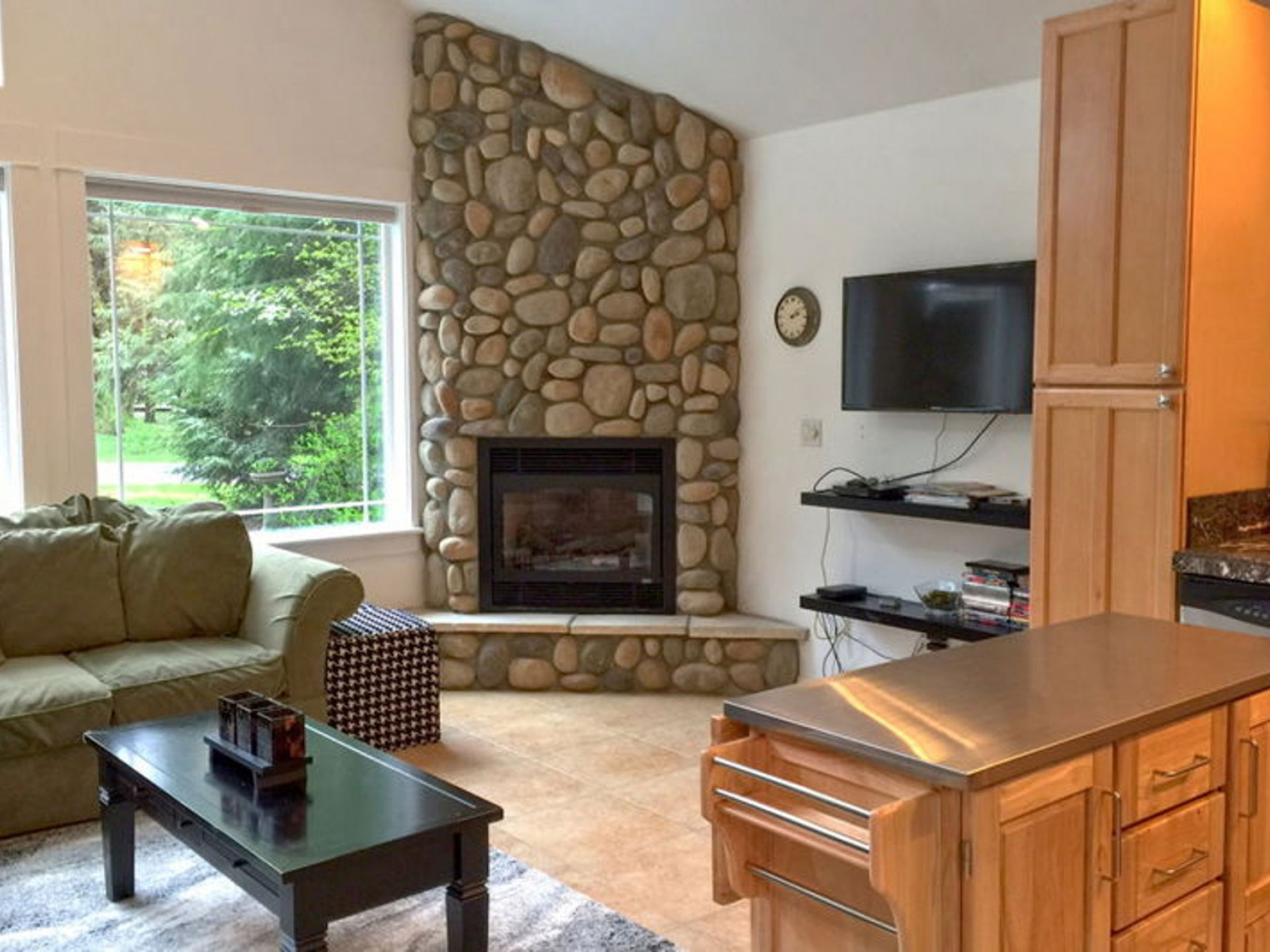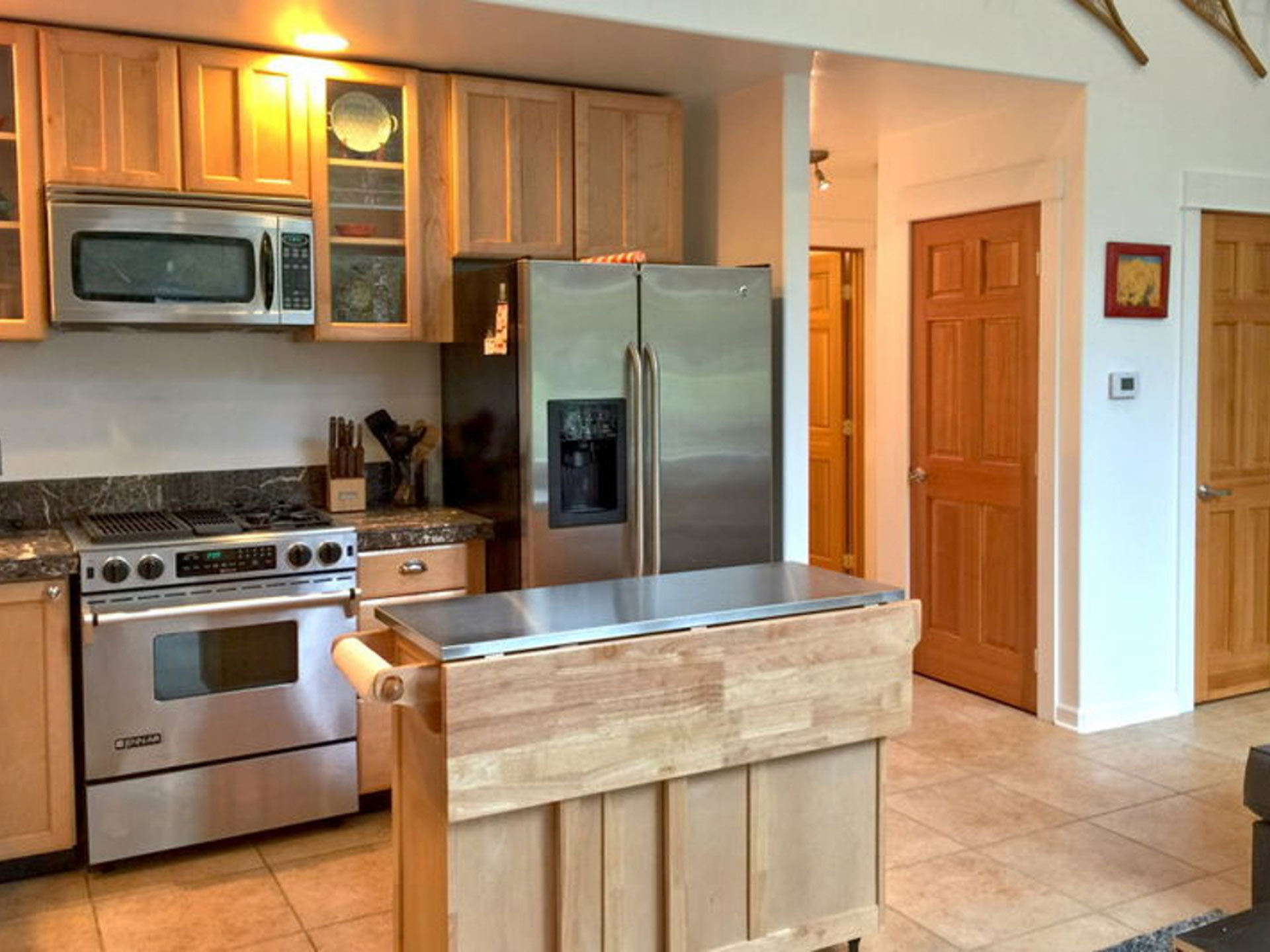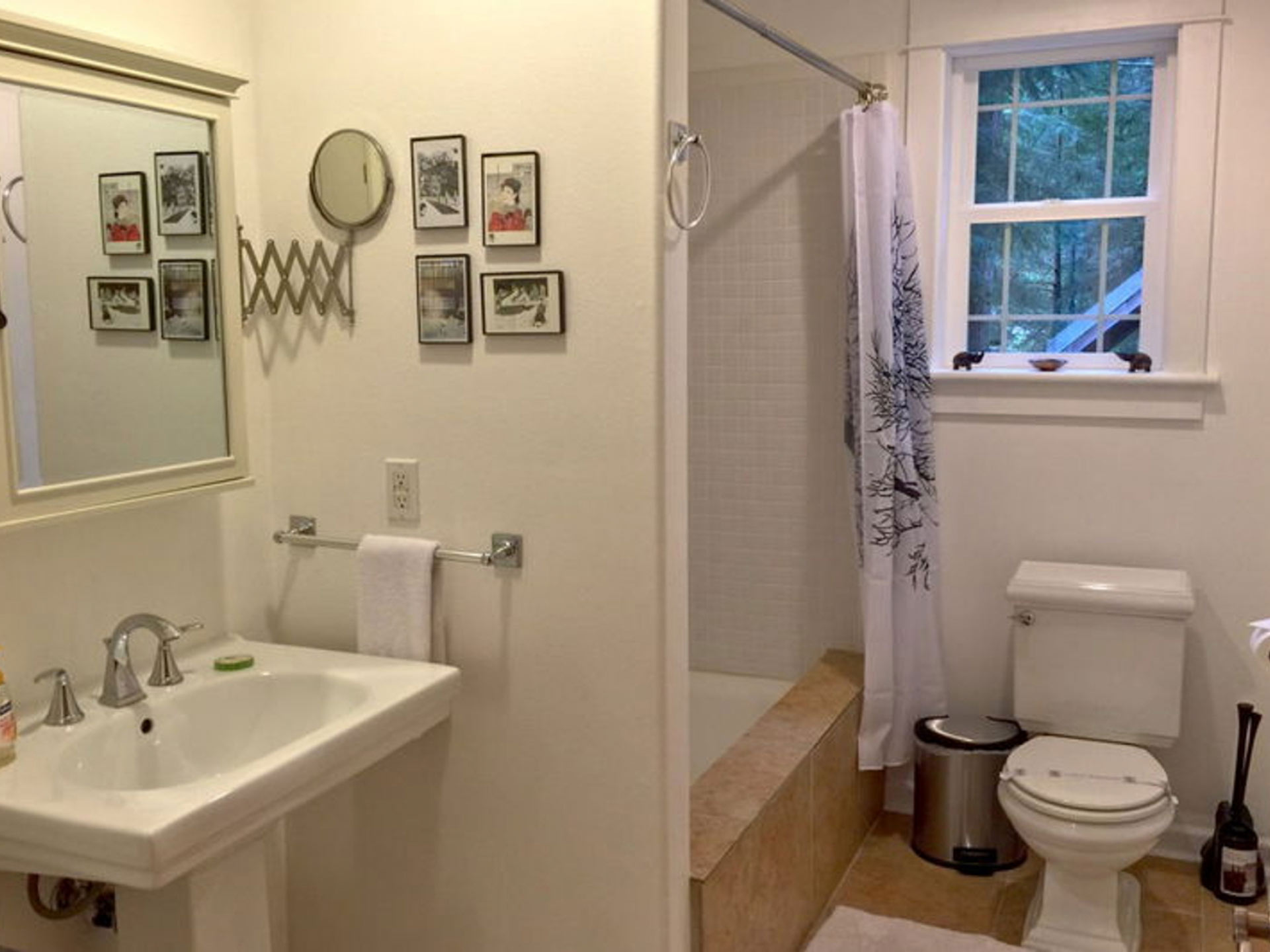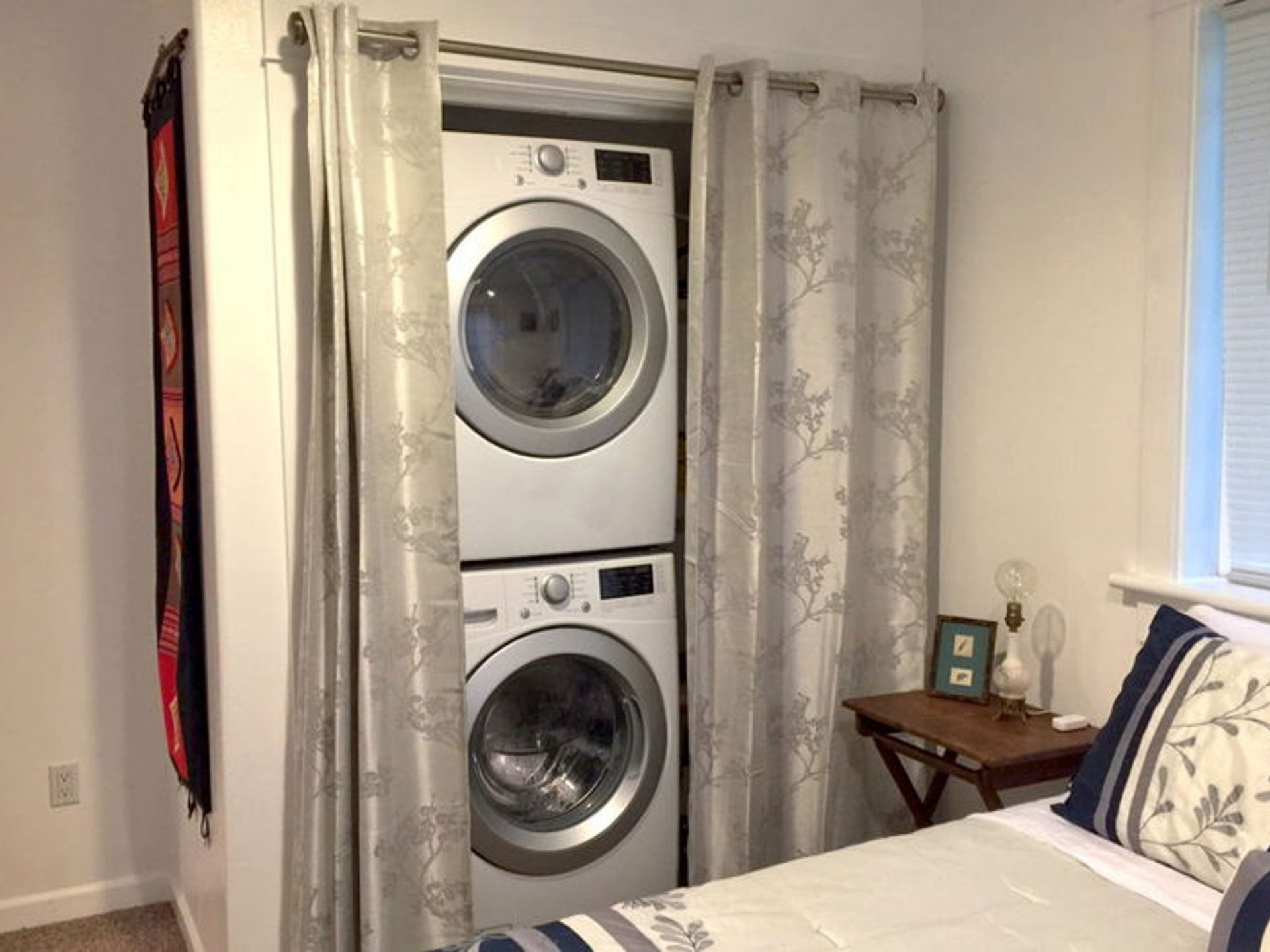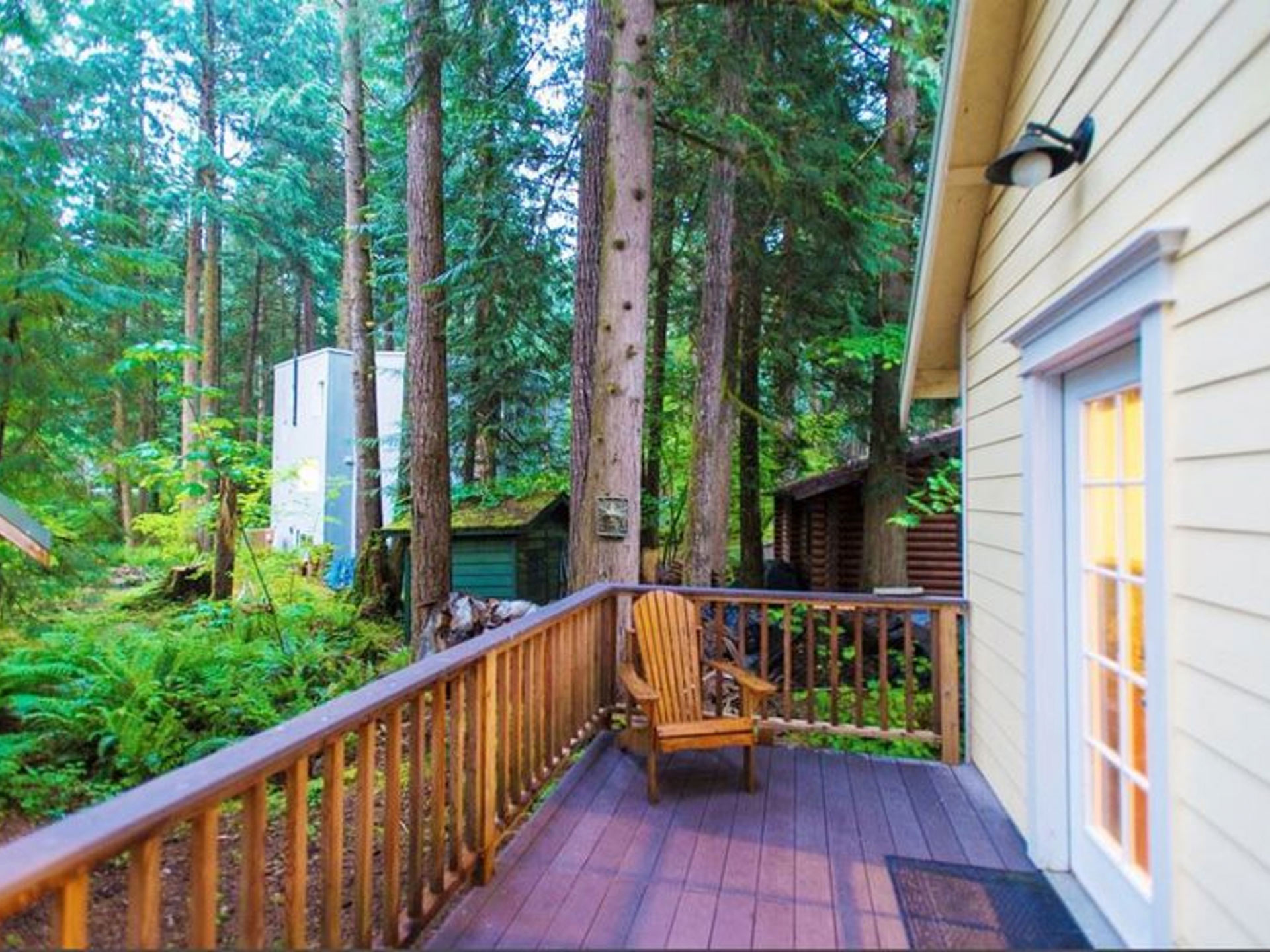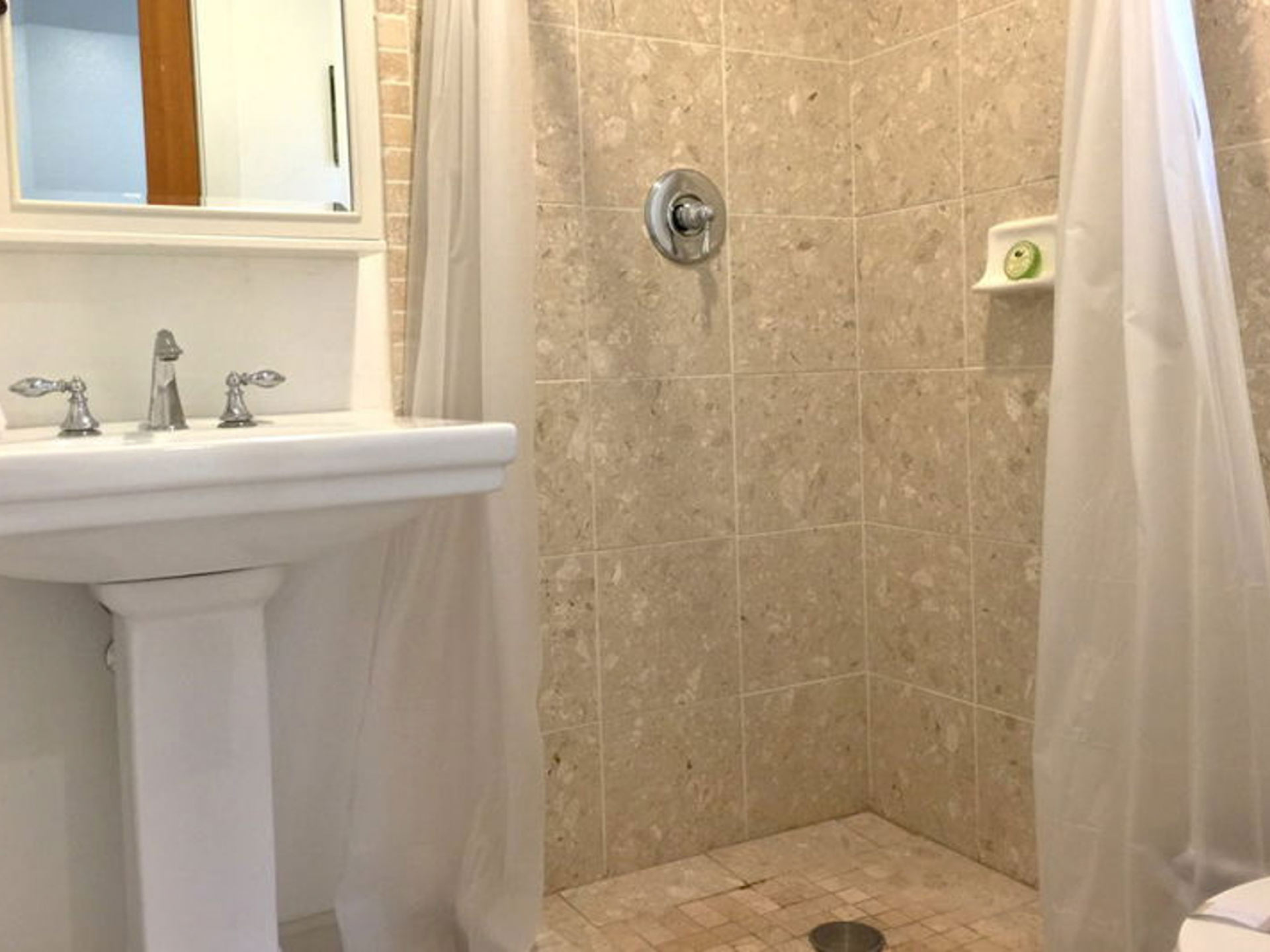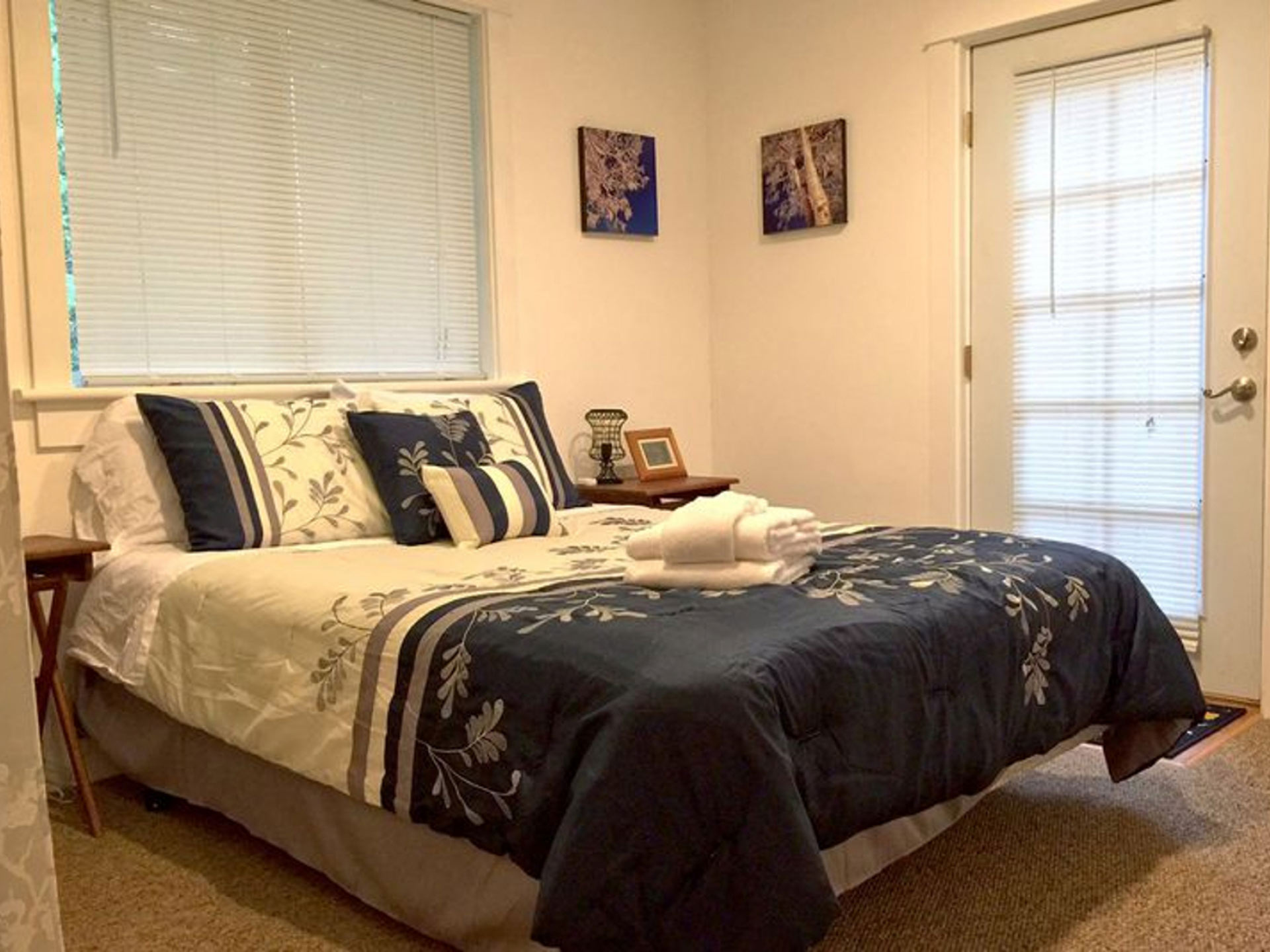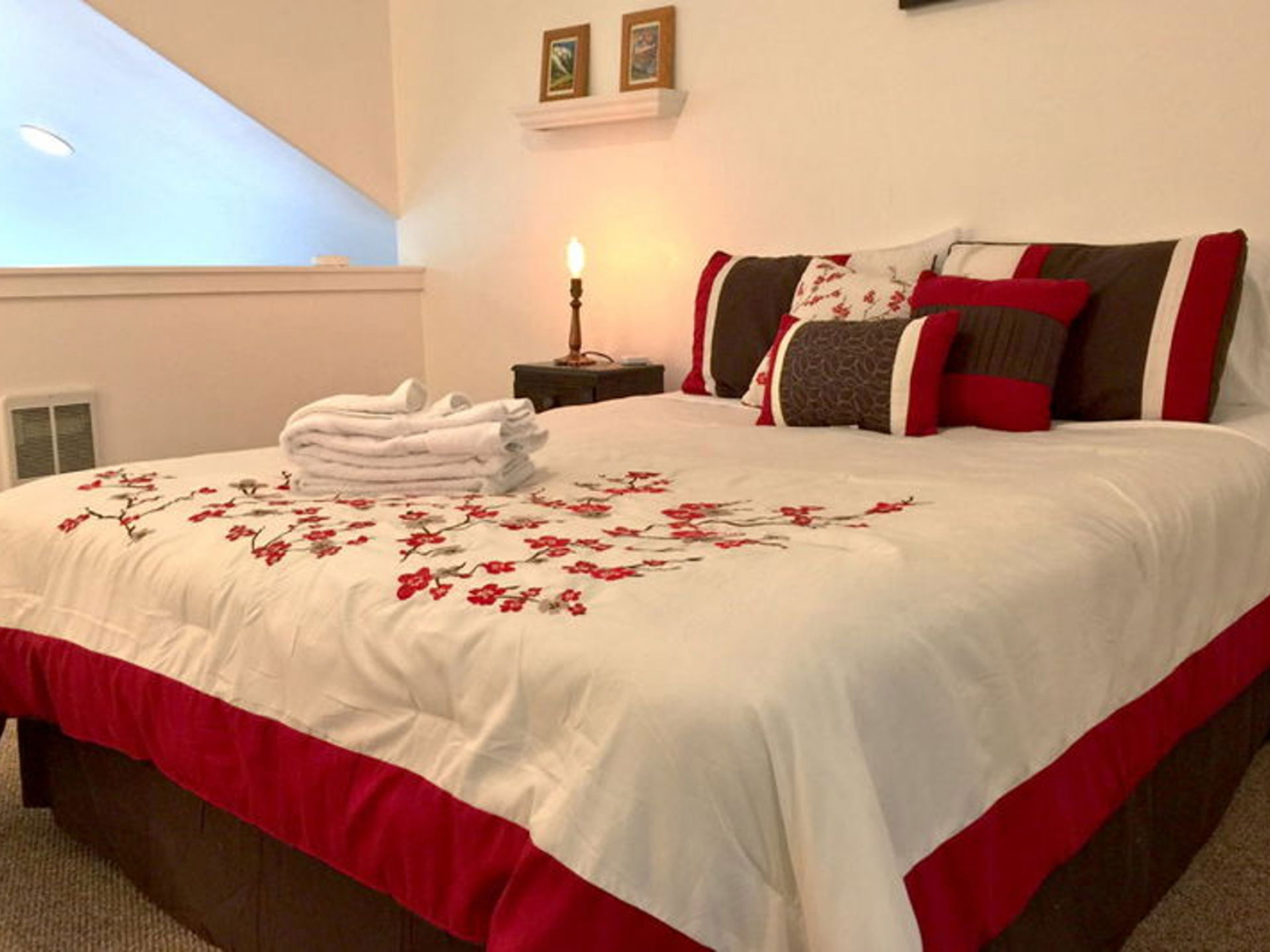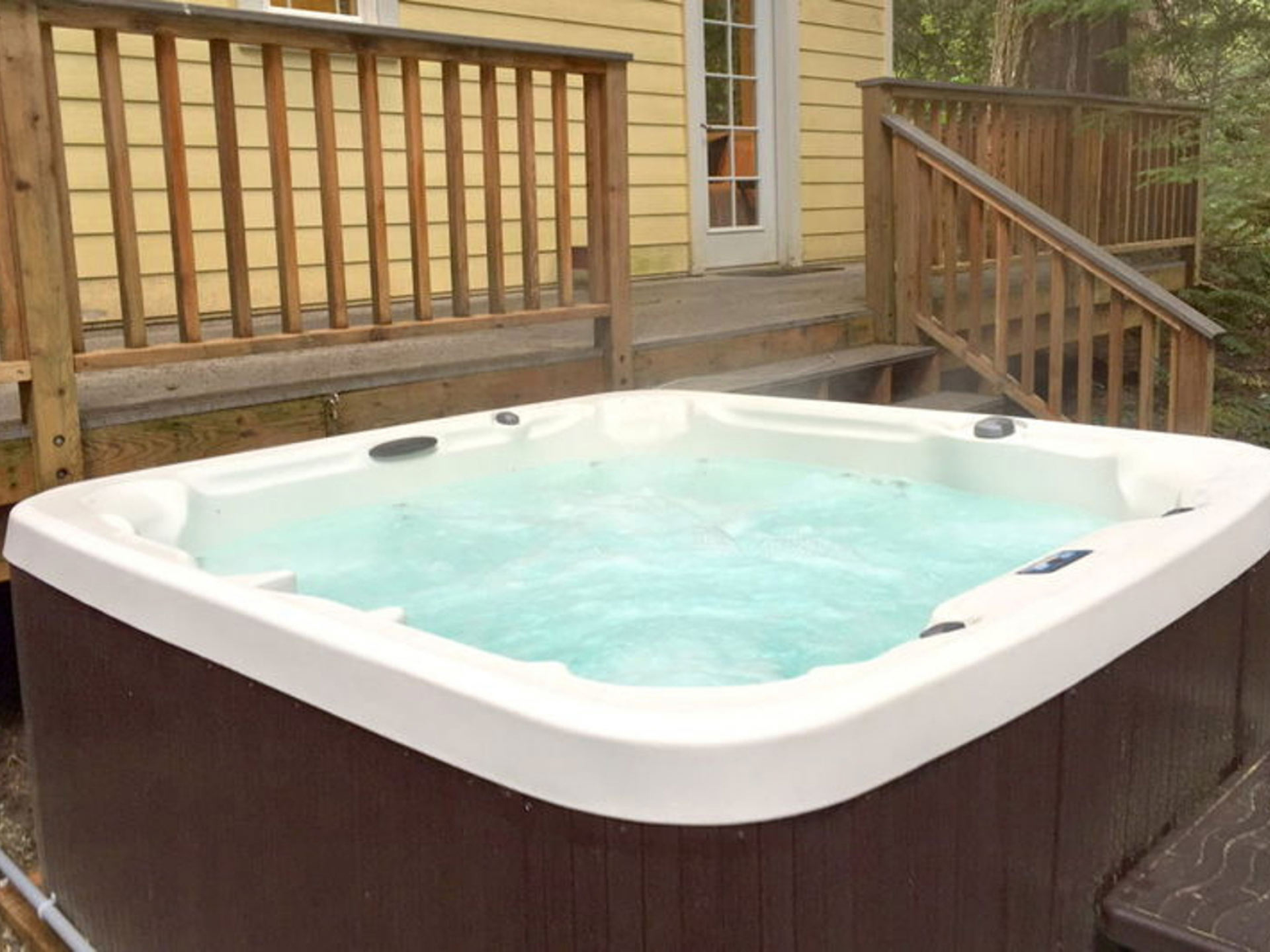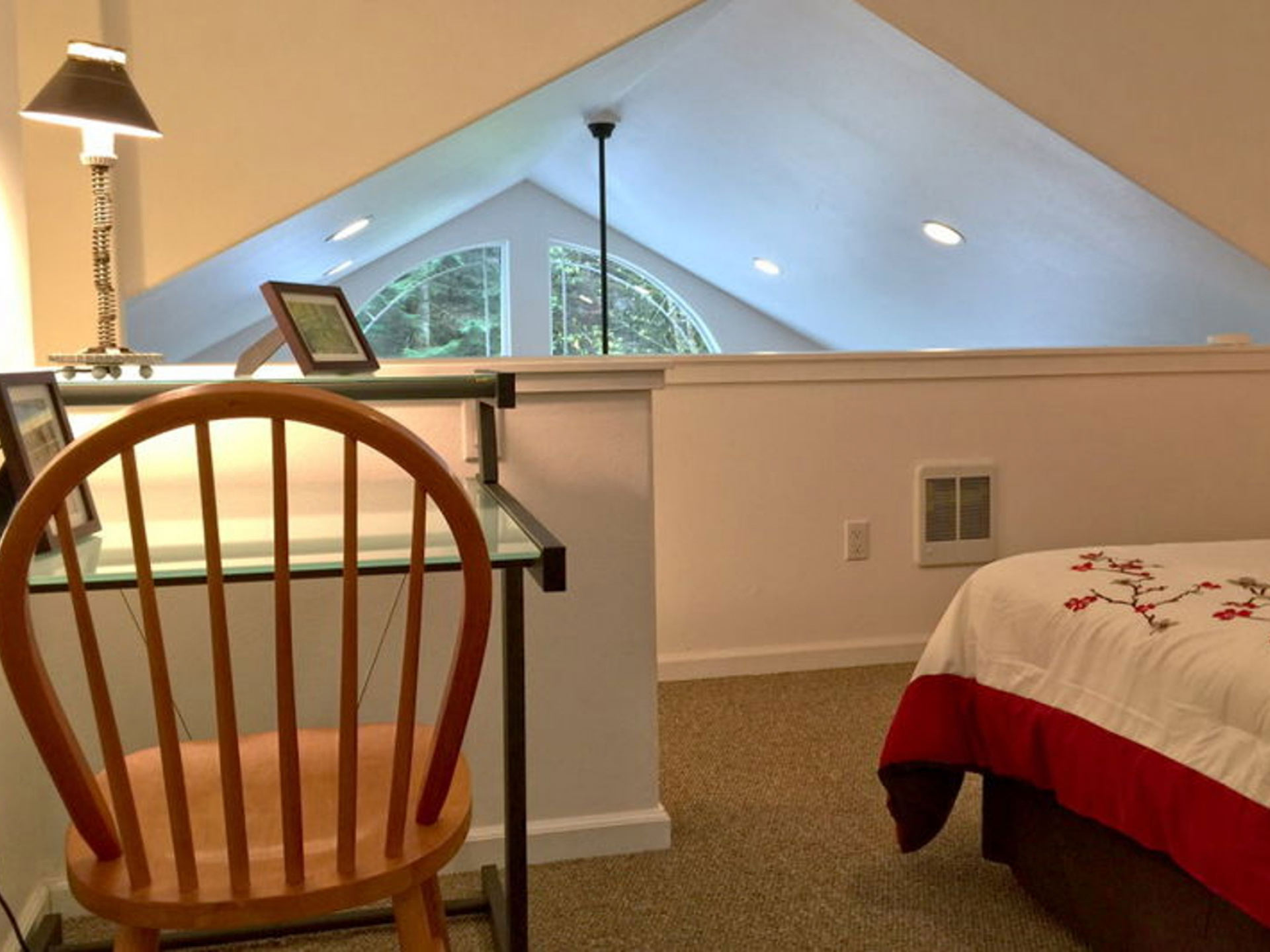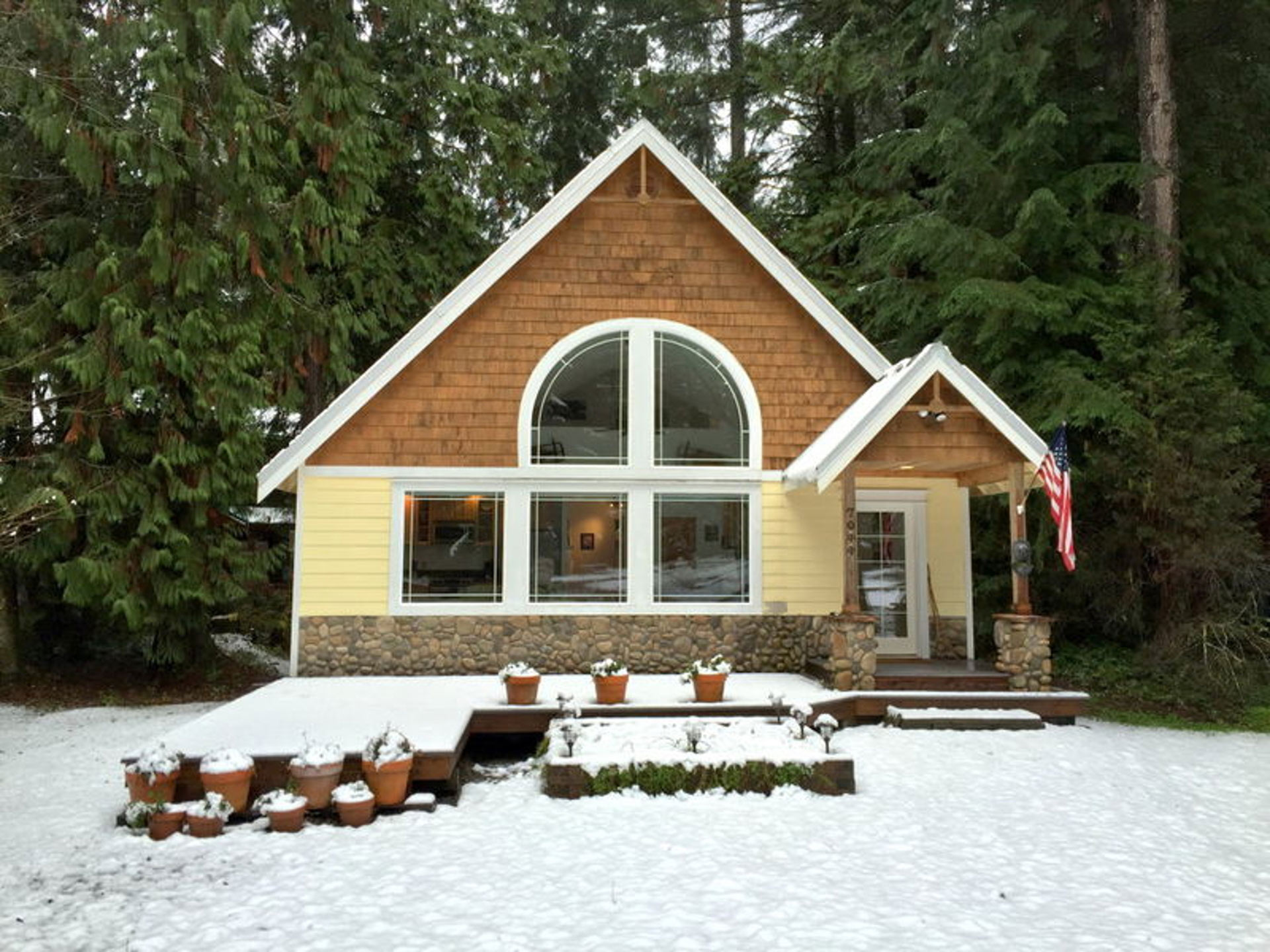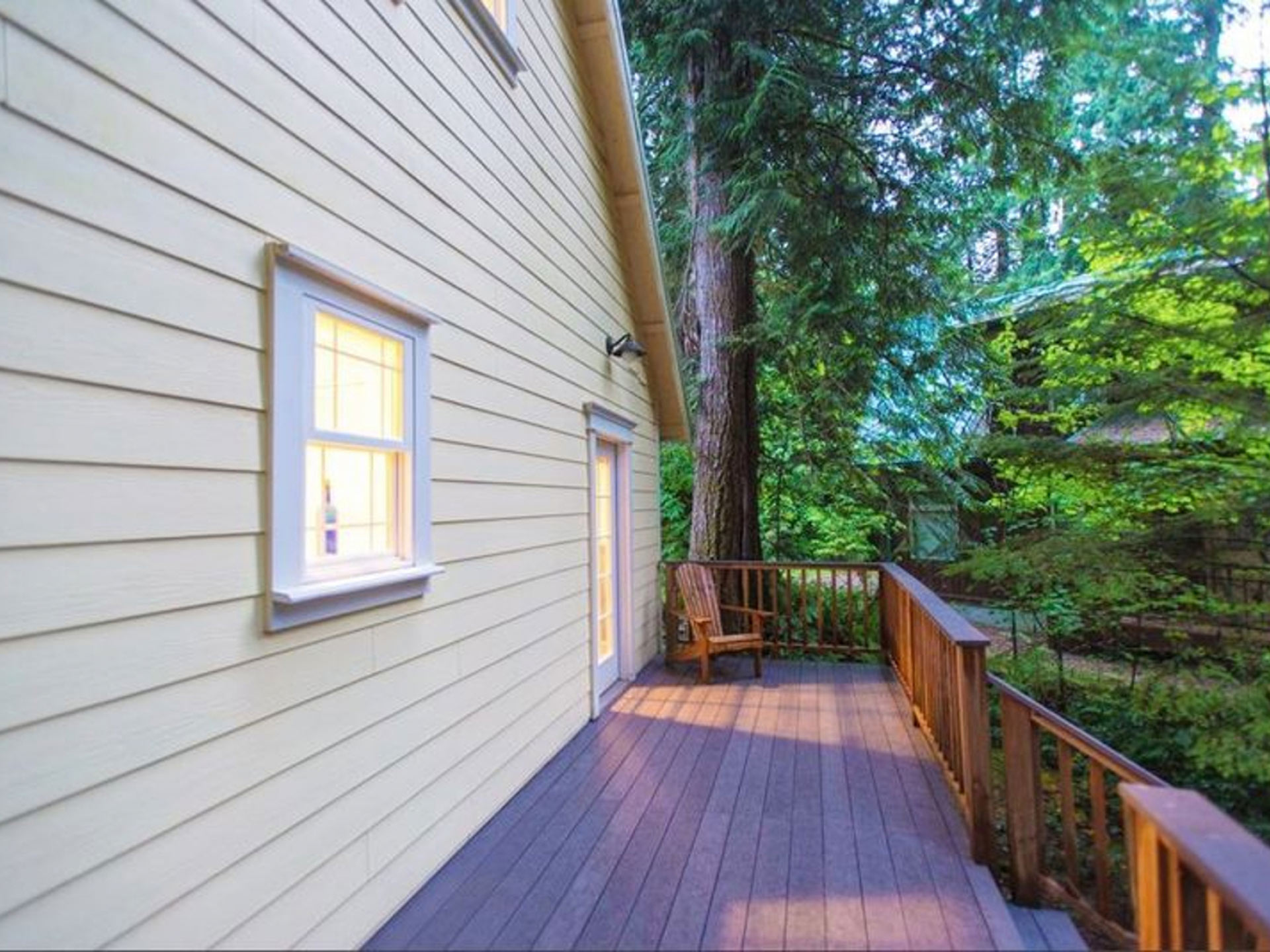 Property Description
Hot Tub - Pet Friendly - BBQ - Sleeps 8

This new contemporary 2-story, 2+ bedroom, 1 3/4-bath home is the perfect retreat for your family vacation! The first floor features an open floor plan with vaulted ceilings, a spacious living area with a gas fireplace and a hide-a-bed, a generous dining area, and a gourmet kitchen equipped with upscale appliances and granite countertops. There are two bedrooms...one of which includes a laundry cubby with a stack washer/dryer, and both of which include 1-queen size bed, monitors with wireless for streaming Netflix, Pandora, and Amazon Prime*, (*on your account) and separate doors to access the adjoining rear deck. Sandwiched between the two lower bedrooms is 1-full bath. The second floor features an open loft sleeping area with 1-queen size bed, and an adjoining 3/4-bath. An expansive window area combined with a westerly exposure lets lots of sunlight into this bright and cheery home. Just outside is your own private hot tub, newly installed! This pet-friendly vacation property will sleep 6 to 8-persons (ENFORCED MAXIMUM OCCUPANCY).

PLEASE NOTE: WiFi service is now available to our area, and provided FREE OF CHARGE for Guest use. Having said this, the service is currently subject to failure, as the service provider is in the process of dialling everything in. Intermittent service failures are a circumstance that is beyond our control, and no sleeping accommodation refunds are provided if the FREE WiFi SERVICE fails to function properly.

HOT TUB/ PET FRIENDLY/ NON-SMOKING/ WI-FI
Mountain Adventures/Romantic Getaway
Location
Snowline is a family focused community with plenty of recreational activities. Amenities include a seasonal outdoor heated pool, fishing pond for kids 12 and under, tennis, basketball and volleyball courts, children's playground, and a large playing field. There are plenty of trails throughout the community along with access to the Nooksack River. Snowline is located at the edge of the Snoqualmie National Forest, close to the Mt. Baker Ski Area and spectacular old growth forests, an area rich in history and outdoor opportunities.
Facilities
- Basic Cookware
- Microwave
- Toaster
- Coffee Maker
- Dishwasher
- Hot Tub
- Gas Grill
- Wireless Internet
- Gas Insert Fireplace
- Washer and Dryer
- Kitchen Dining Table
- Pet Friendly
- Parking for 3 Vehicles
- DVD Player
House Rules
Please note that all Mt. Baker Lodging vacation properties are designated non-smoking.
Message to Owner

Send an enquiry or booking request directly to this property advertiser, to ensure you receive their reply check the spam filters on your email settings.

Pricing Type: Per Lodge Per Night

| | | | | | | | |
| --- | --- | --- | --- | --- | --- | --- | --- |
| Start | End | Regular Season | Low Season | Public Holiday | Christmas | New Year | |
| 14 Jan 19 | 21 Jan 19 | $239 | n/a | $269 | n/a | n/a | Book |
| 21 Jan 19 | 28 Jan 19 | $239 | n/a | $269 | n/a | n/a | Book |
| 28 Jan 19 | 04 Feb 19 | $239 | n/a | n/a | n/a | n/a | Book |
| 04 Feb 19 | 11 Feb 19 | $239 | n/a | $269 | n/a | n/a | Book |
| 11 Feb 19 | 18 Feb 19 | $239 | n/a | $269 | n/a | n/a | Book |
| 18 Feb 19 | 25 Feb 19 | $239 | n/a | $269 | n/a | n/a | Book |
| 25 Feb 19 | 04 Mar 19 | $239 | n/a | n/a | n/a | n/a | Book |
| 04 Mar 19 | 11 Mar 19 | $239 | n/a | n/a | n/a | n/a | Book |
| 11 Mar 19 | 18 Mar 19 | $239 | n/a | n/a | n/a | n/a | Book |
| 18 Mar 19 | 25 Mar 19 | $239 | n/a | n/a | n/a | n/a | Book |
| 25 Mar 19 | 01 Apr 19 | $239 | n/a | n/a | n/a | n/a | Book |
| 01 Apr 19 | 08 Apr 19 | $239 | n/a | n/a | n/a | n/a | Book |
| 08 Apr 19 | 15 Apr 19 | $239 | n/a | n/a | n/a | n/a | Book |
| 15 Apr 19 | 22 Apr 19 | $239 | n/a | n/a | n/a | n/a | Book |
| 22 Apr 19 | 29 Apr 19 | $239 | $209 | n/a | n/a | n/a | Book |
| 29 Apr 19 | 06 May 19 | n/a | $209 | n/a | n/a | n/a | Book |
| 06 May 19 | 13 May 19 | n/a | $209 | n/a | n/a | n/a | Book |
| 13 May 19 | 20 May 19 | n/a | $209 | n/a | n/a | n/a | Book |
| 20 May 19 | 27 May 19 | n/a | $209 | $269 | n/a | n/a | Book |
| 27 May 19 | 03 Jun 19 | n/a | $209 | $269 | n/a | n/a | Book |
| 03 Jun 19 | 10 Jun 19 | n/a | $209 | n/a | n/a | n/a | Book |
| 10 Jun 19 | 17 Jun 19 | n/a | $209 | n/a | n/a | n/a | Book |
| 17 Jun 19 | 24 Jun 19 | n/a | $209 | n/a | n/a | n/a | Book |
| 24 Jun 19 | 01 Jul 19 | $239 | $209 | n/a | n/a | n/a | Book |
| 01 Jul 19 | 08 Jul 19 | $239 | n/a | n/a | n/a | n/a | Book |
| 08 Jul 19 | 15 Jul 19 | $239 | n/a | n/a | n/a | n/a | Book |
| 15 Jul 19 | 22 Jul 19 | $239 | n/a | n/a | n/a | n/a | Book |
| 22 Jul 19 | 29 Jul 19 | $239 | n/a | n/a | n/a | n/a | Book |
| 29 Jul 19 | 05 Aug 19 | $239 | n/a | n/a | n/a | n/a | Book |
| 05 Aug 19 | 12 Aug 19 | $239 | n/a | n/a | n/a | n/a | Book |
| 12 Aug 19 | 19 Aug 19 | $239 | n/a | n/a | n/a | n/a | Book |
| 19 Aug 19 | 26 Aug 19 | $239 | n/a | n/a | n/a | n/a | Book |
| 26 Aug 19 | 02 Sep 19 | $239 | n/a | $269 | n/a | n/a | Book |
| 02 Sep 19 | 09 Sep 19 | $239 | n/a | $269 | n/a | n/a | Book |
| 09 Sep 19 | 16 Sep 19 | $239 | n/a | n/a | n/a | n/a | Book |
| 16 Sep 19 | 23 Sep 19 | $239 | n/a | n/a | n/a | n/a | Book |
| 23 Sep 19 | 30 Sep 19 | $239 | n/a | n/a | n/a | n/a | Book |
| 30 Sep 19 | 07 Oct 19 | $239 | $209 | n/a | n/a | n/a | Book |
| 07 Oct 19 | 14 Oct 19 | n/a | $209 | n/a | n/a | n/a | Book |
| 14 Oct 19 | 21 Oct 19 | n/a | $209 | n/a | n/a | n/a | Book |
| 21 Oct 19 | 28 Oct 19 | n/a | $209 | n/a | n/a | n/a | Book |
| 28 Oct 19 | 04 Nov 19 | n/a | $209 | n/a | n/a | n/a | Book |
| 04 Nov 19 | 11 Nov 19 | n/a | $209 | n/a | n/a | n/a | Book |
| 11 Nov 19 | 18 Nov 19 | n/a | $209 | n/a | n/a | n/a | Book |
| 18 Nov 19 | 25 Nov 19 | n/a | $209 | n/a | n/a | n/a | Book |
| 25 Nov 19 | 02 Dec 19 | $239 | $209 | $269 | n/a | n/a | Book |
| 02 Dec 19 | 09 Dec 19 | $239 | n/a | n/a | n/a | n/a | Book |
| 09 Dec 19 | 16 Dec 19 | $239 | n/a | n/a | $299 | n/a | Book |
| 16 Dec 19 | 23 Dec 19 | n/a | n/a | n/a | $299 | n/a | Book |
| 23 Dec 19 | 30 Dec 19 | n/a | n/a | n/a | $299 | $419 | Book |