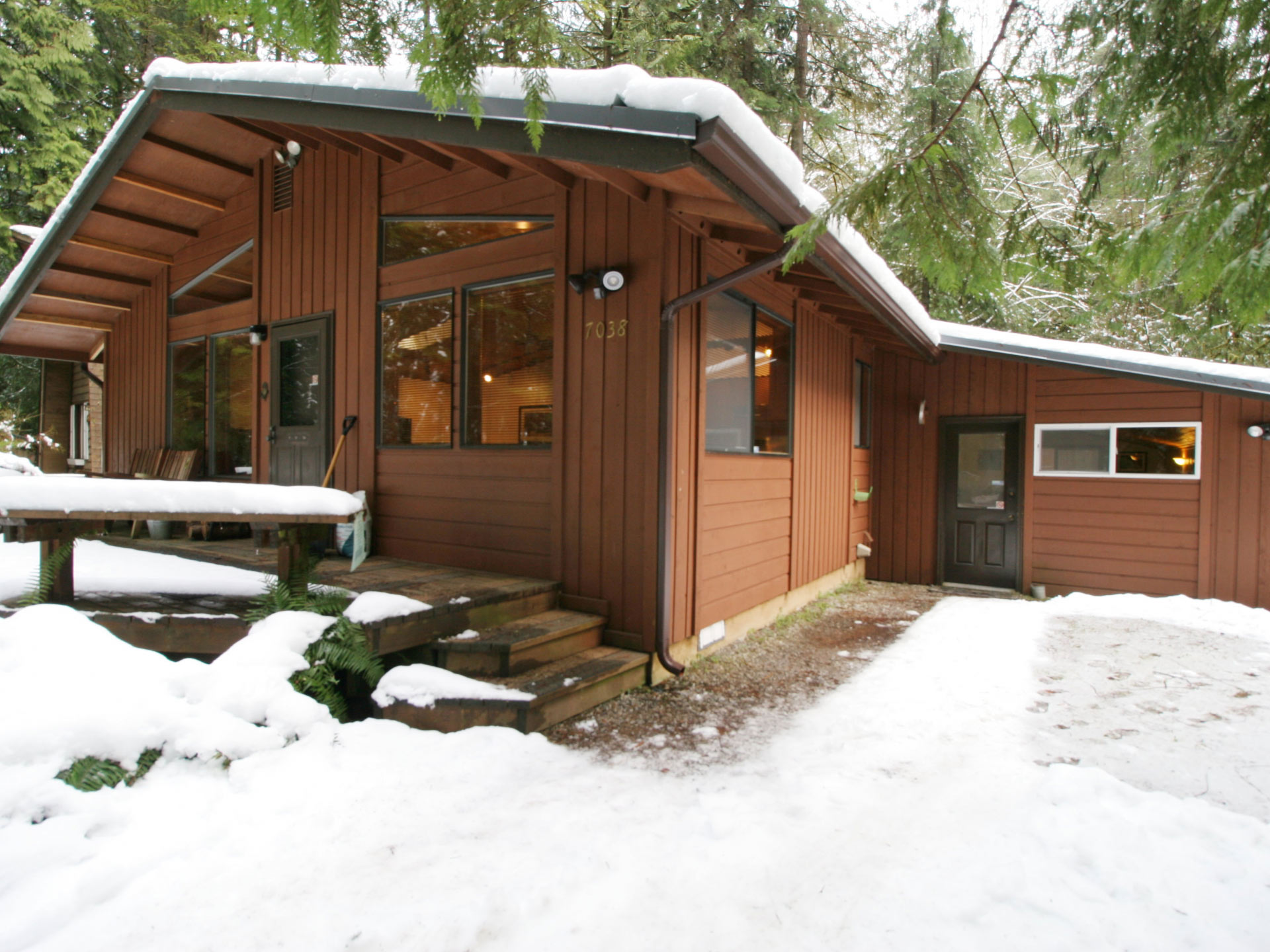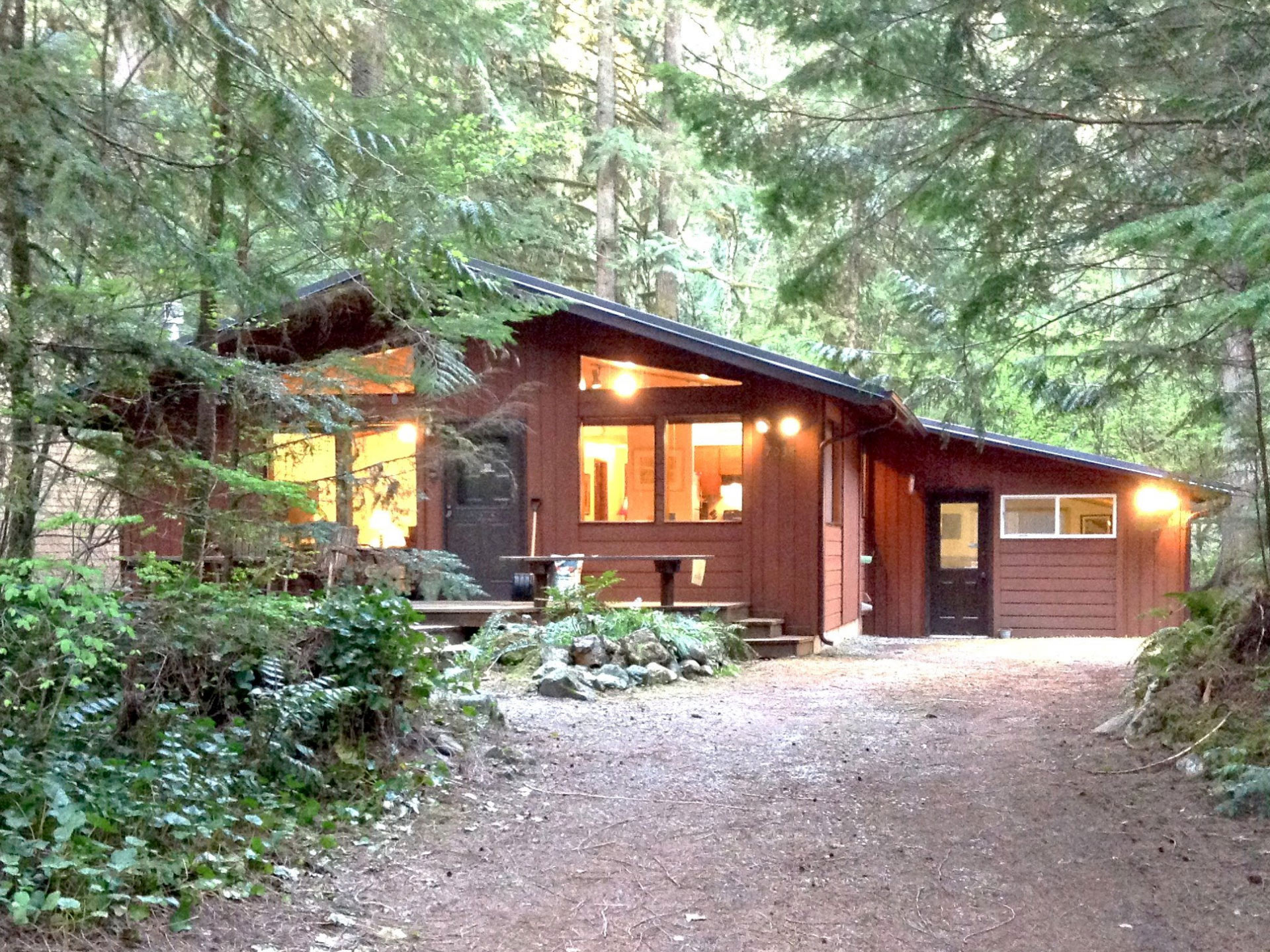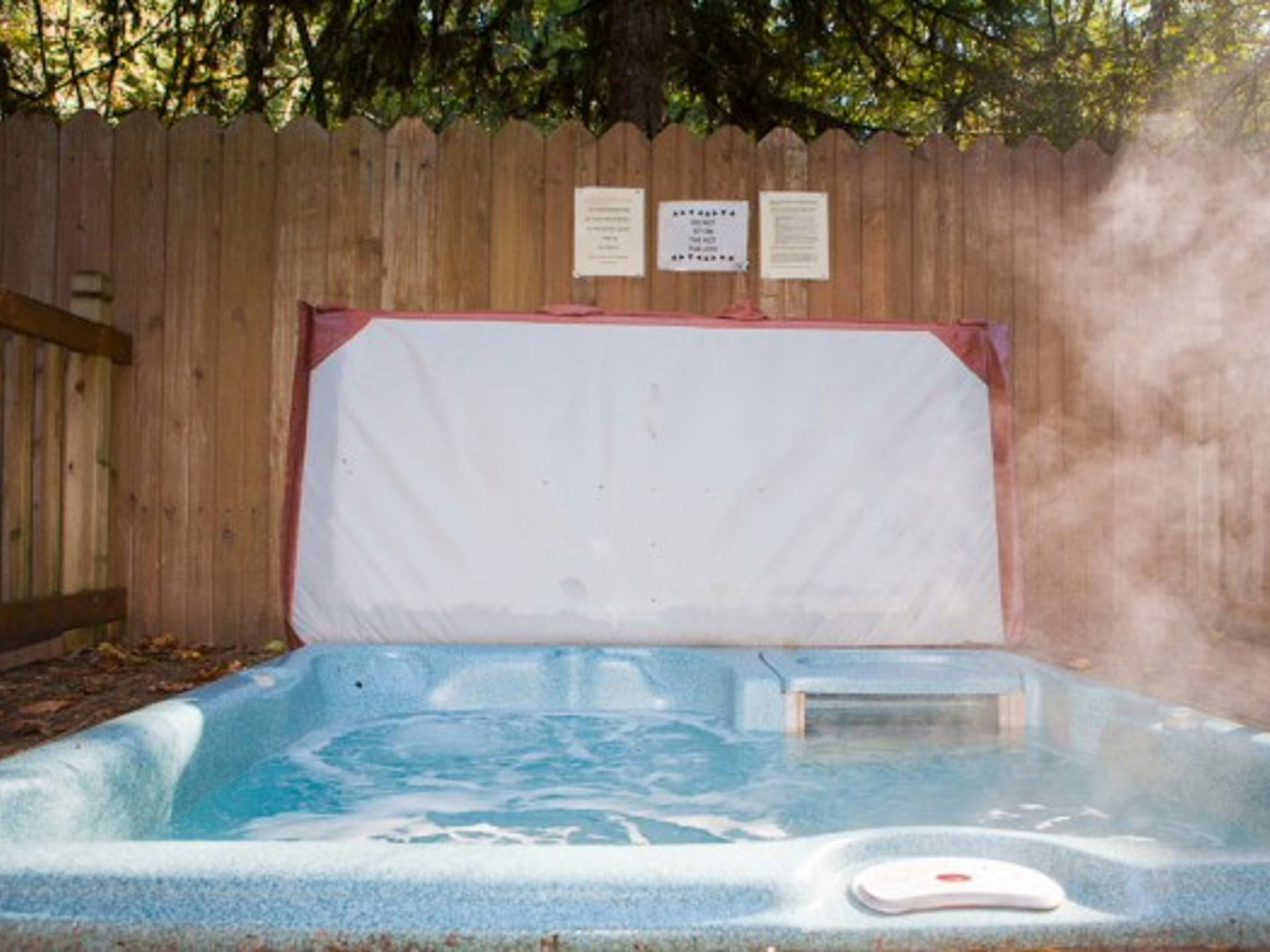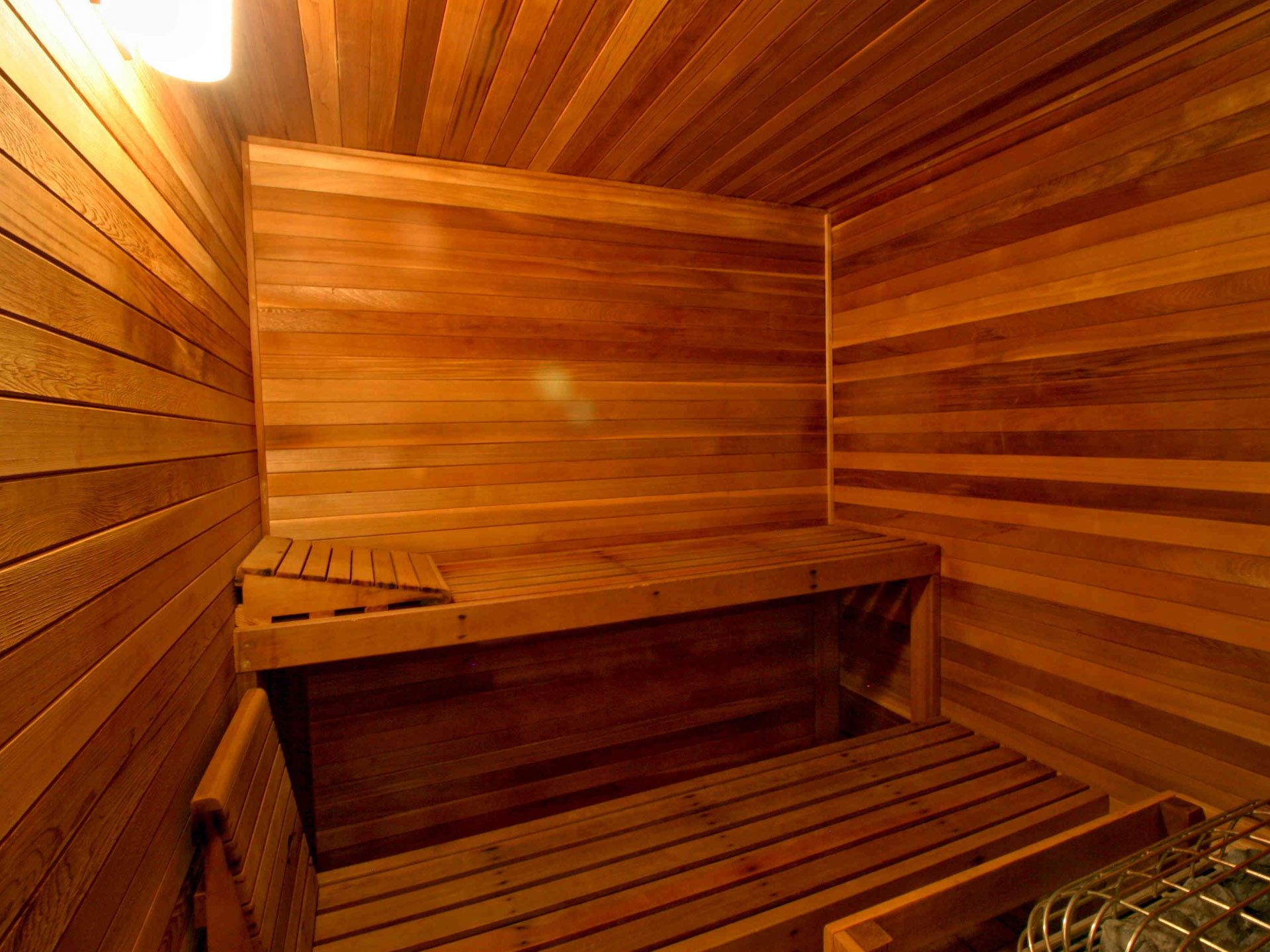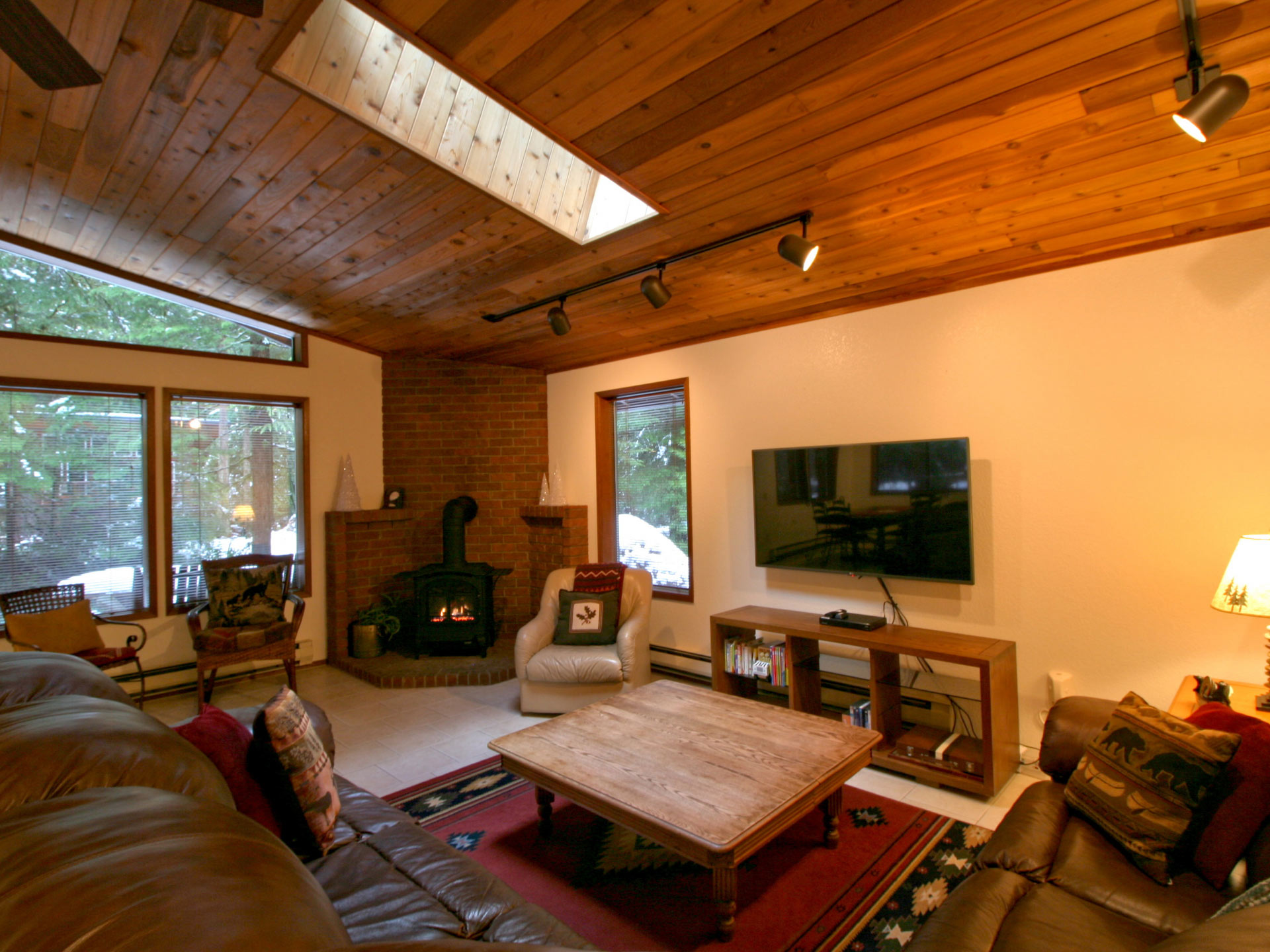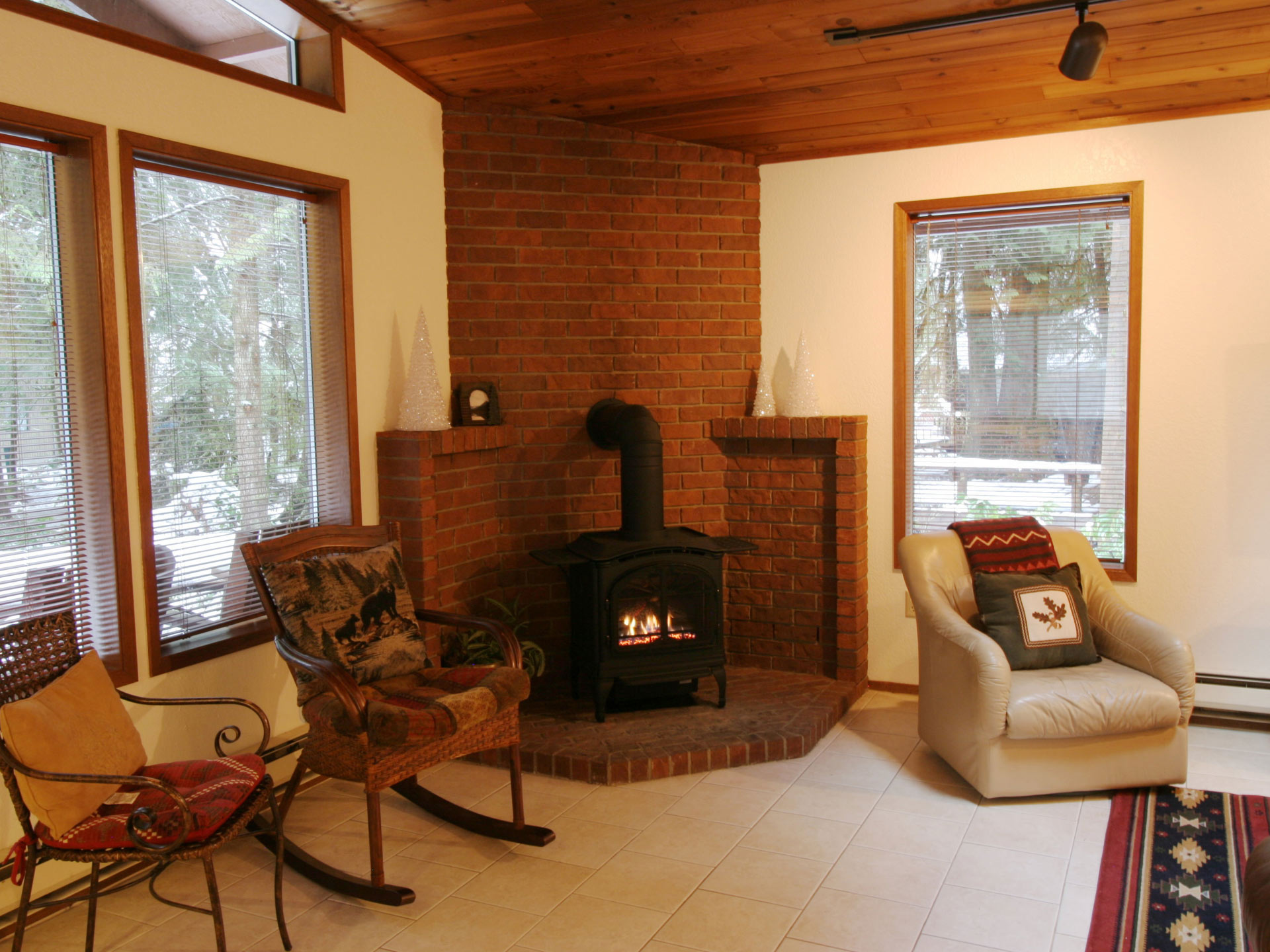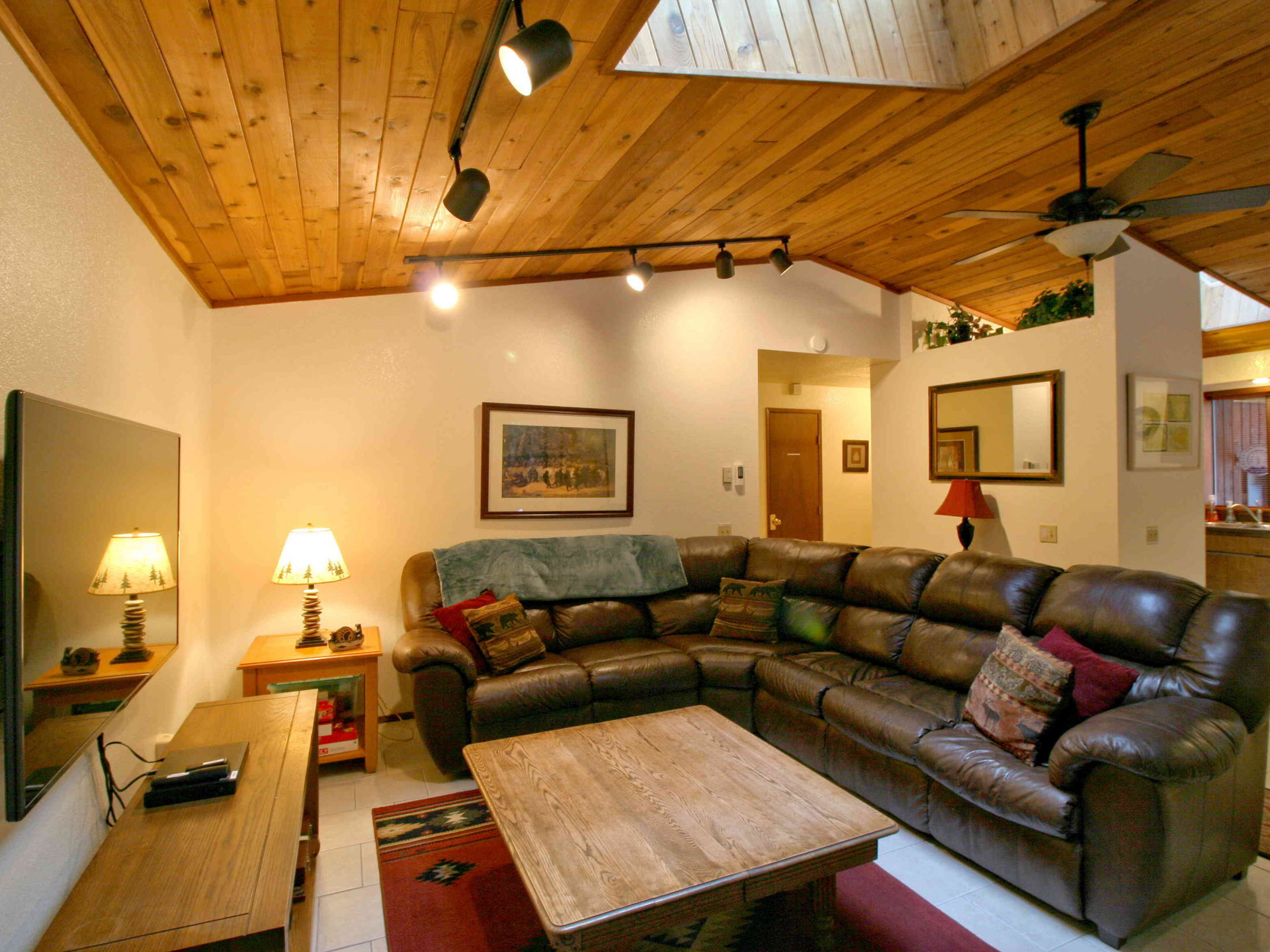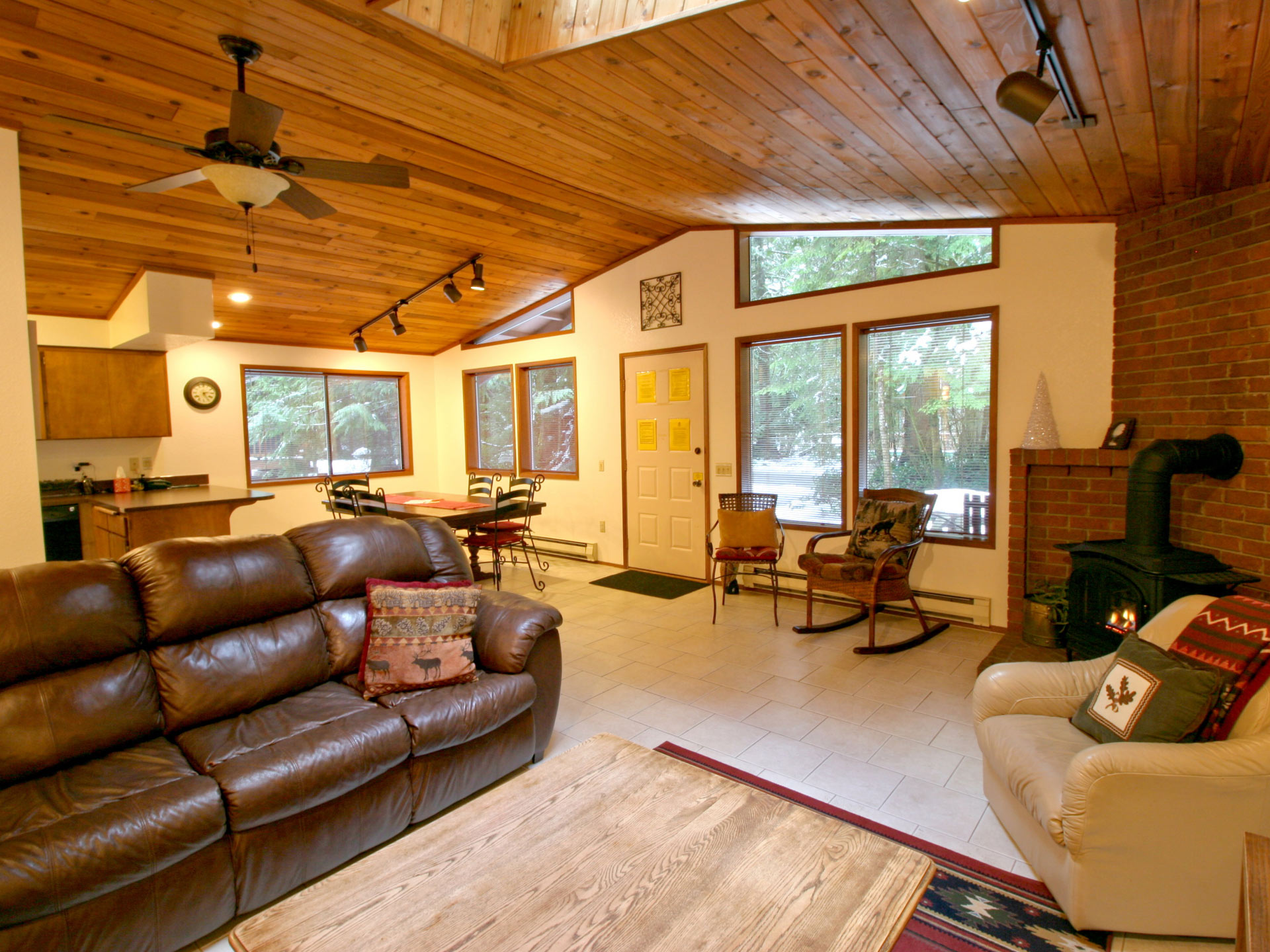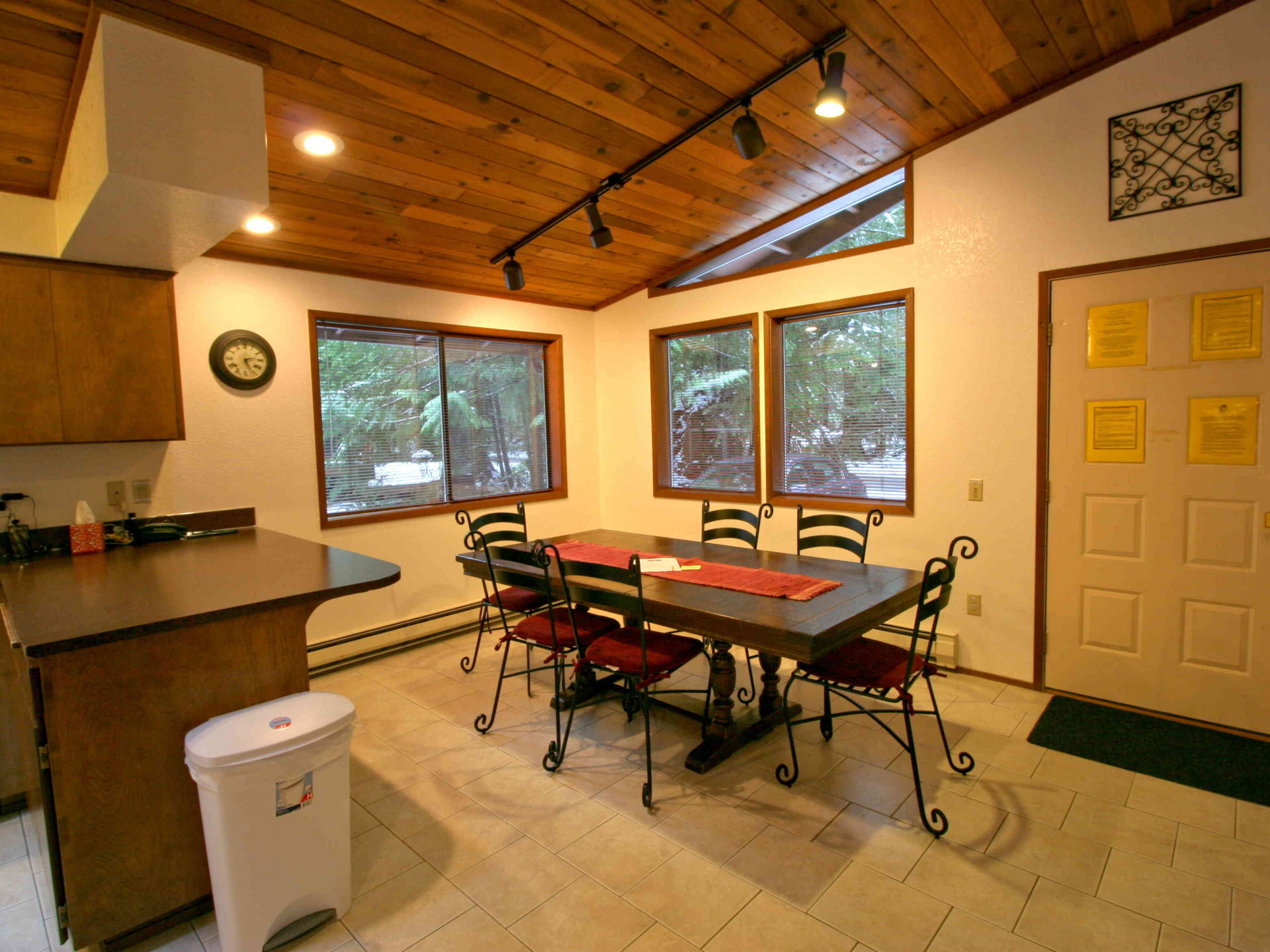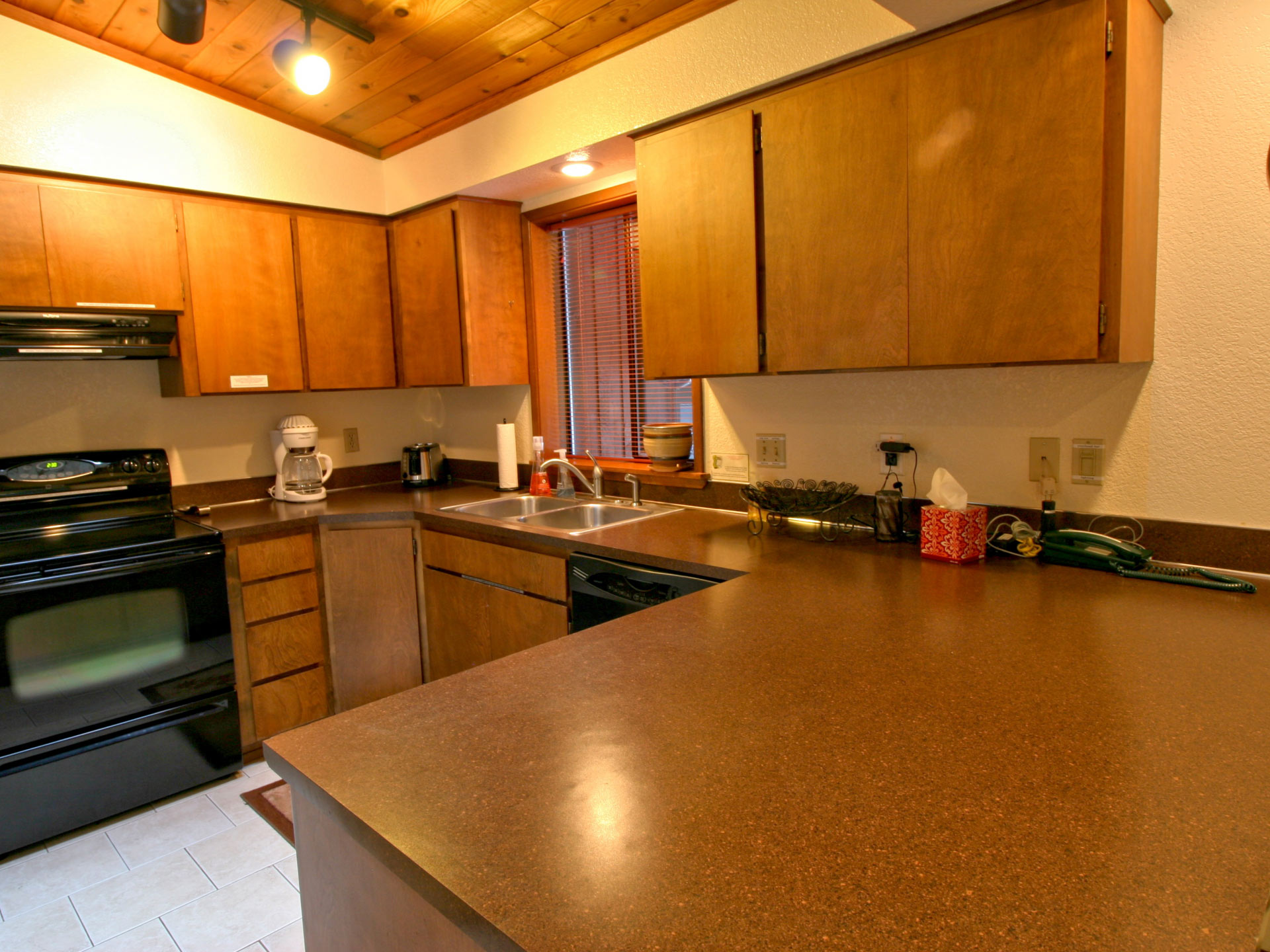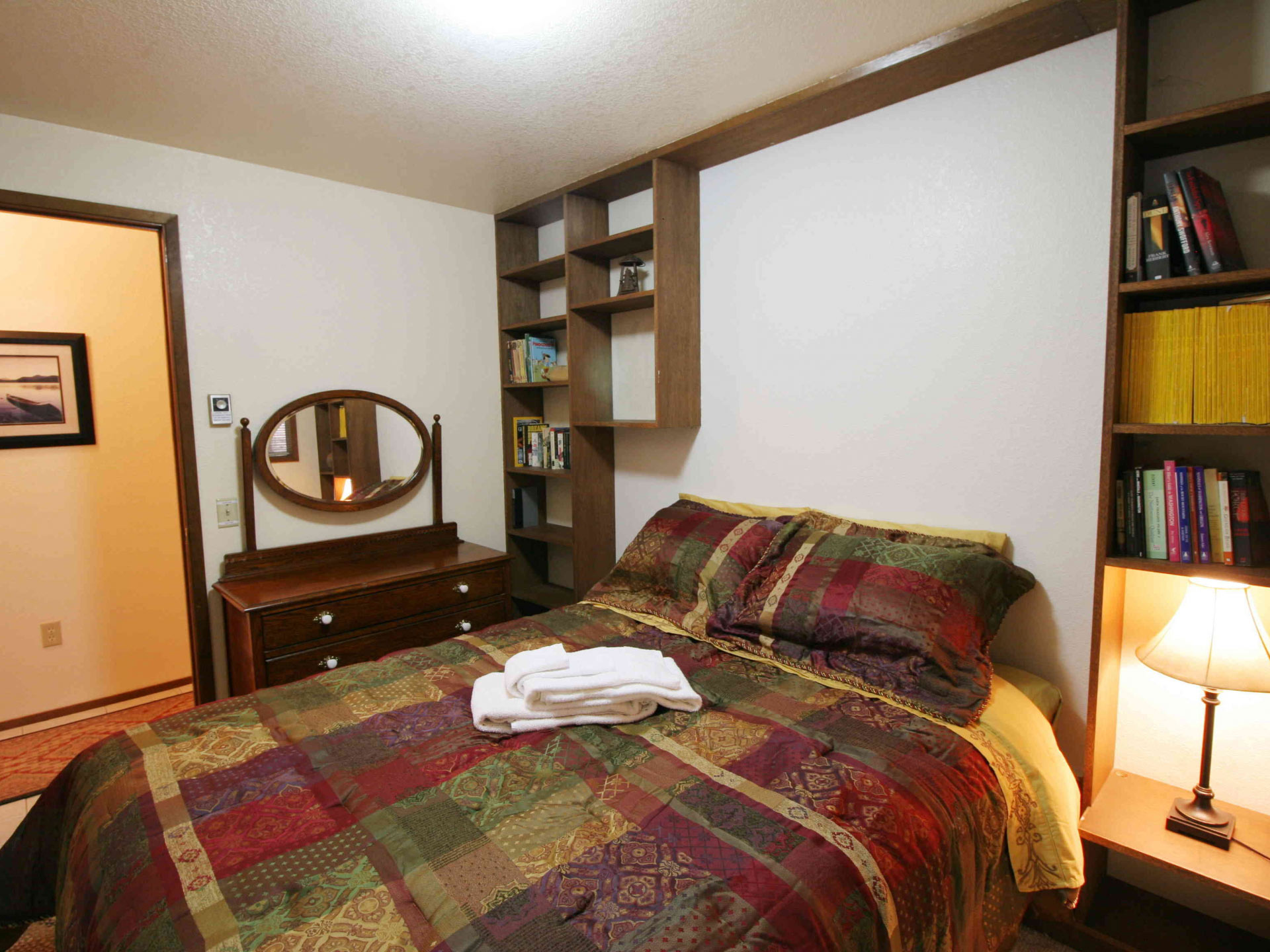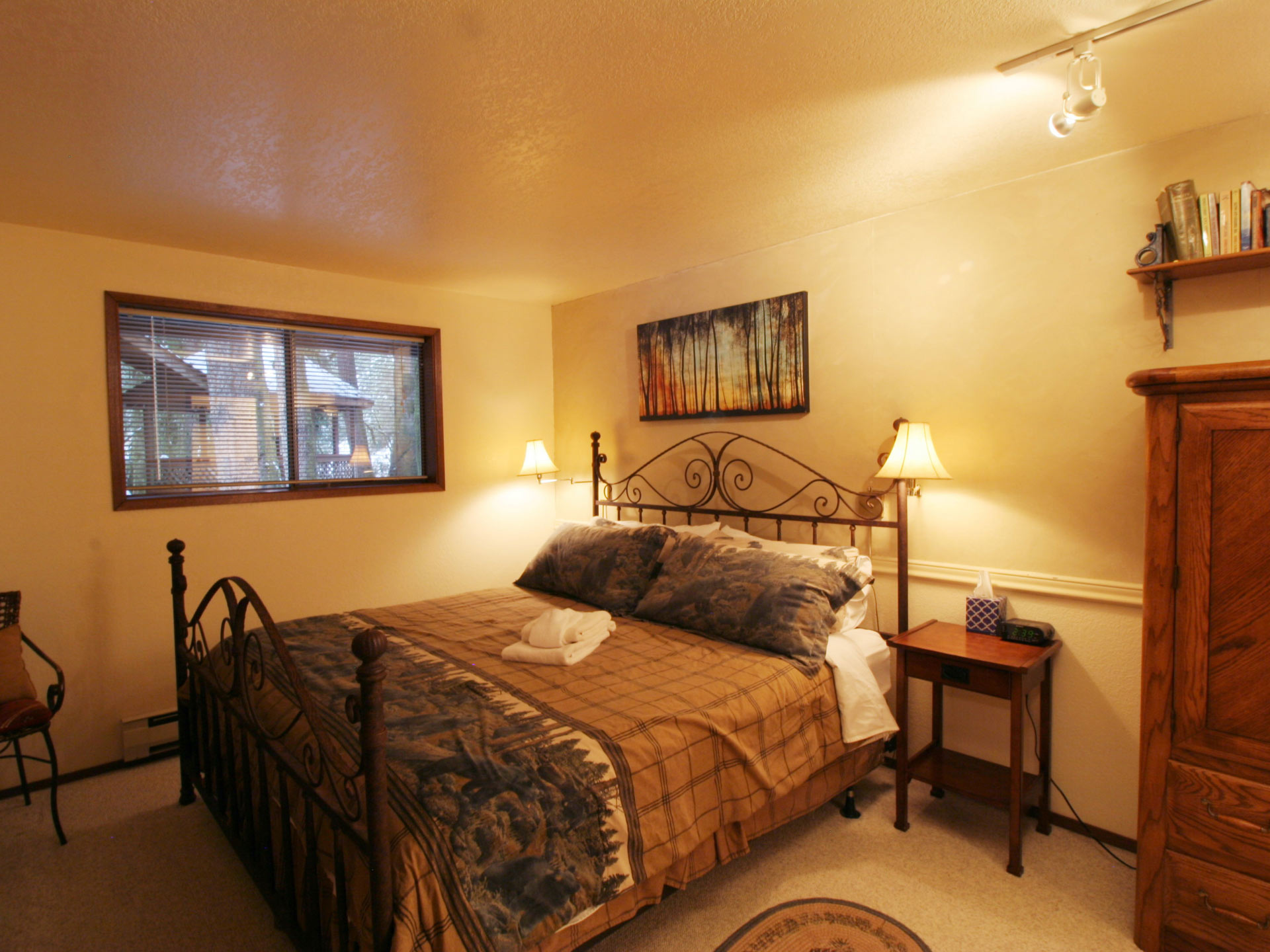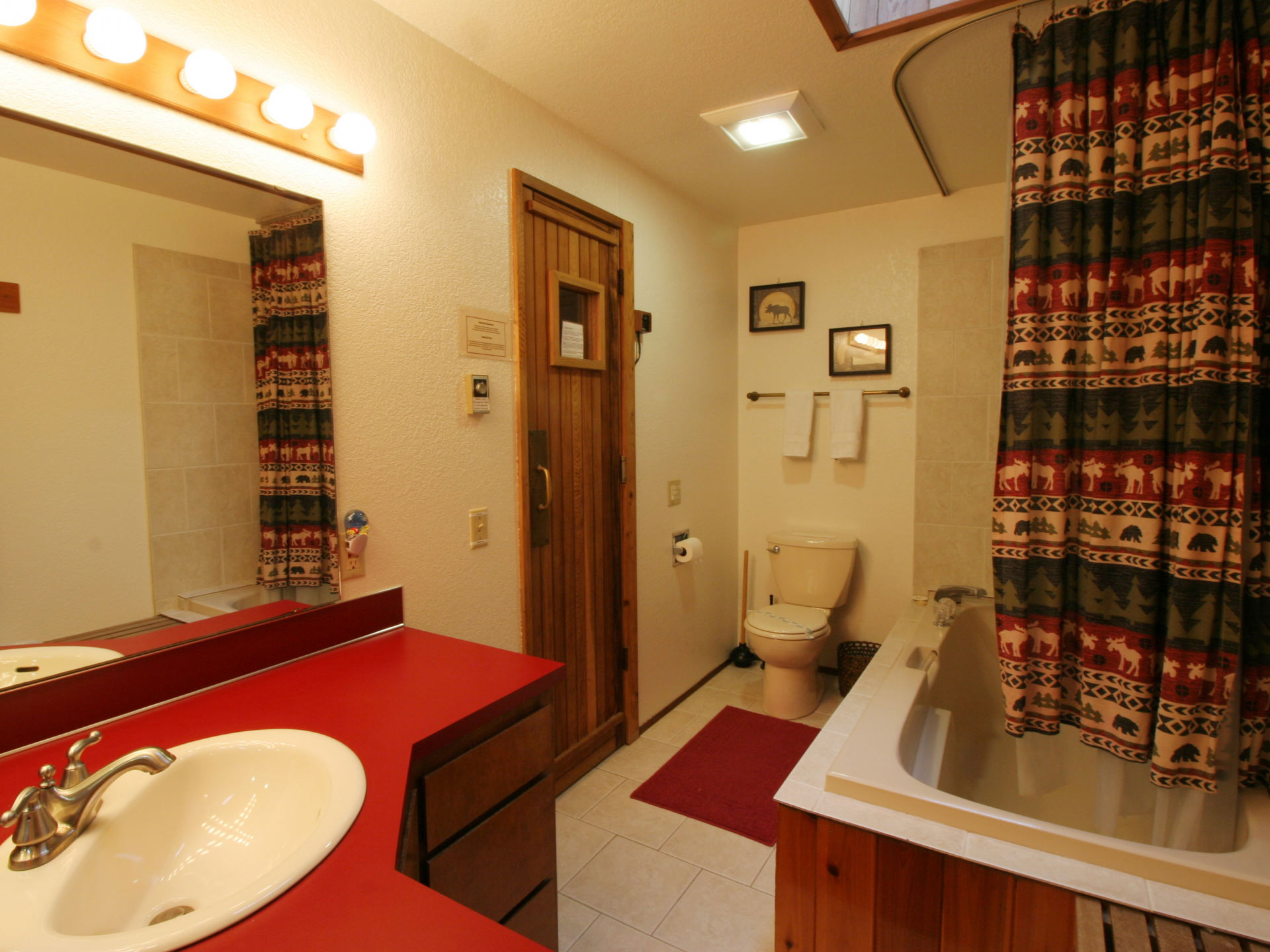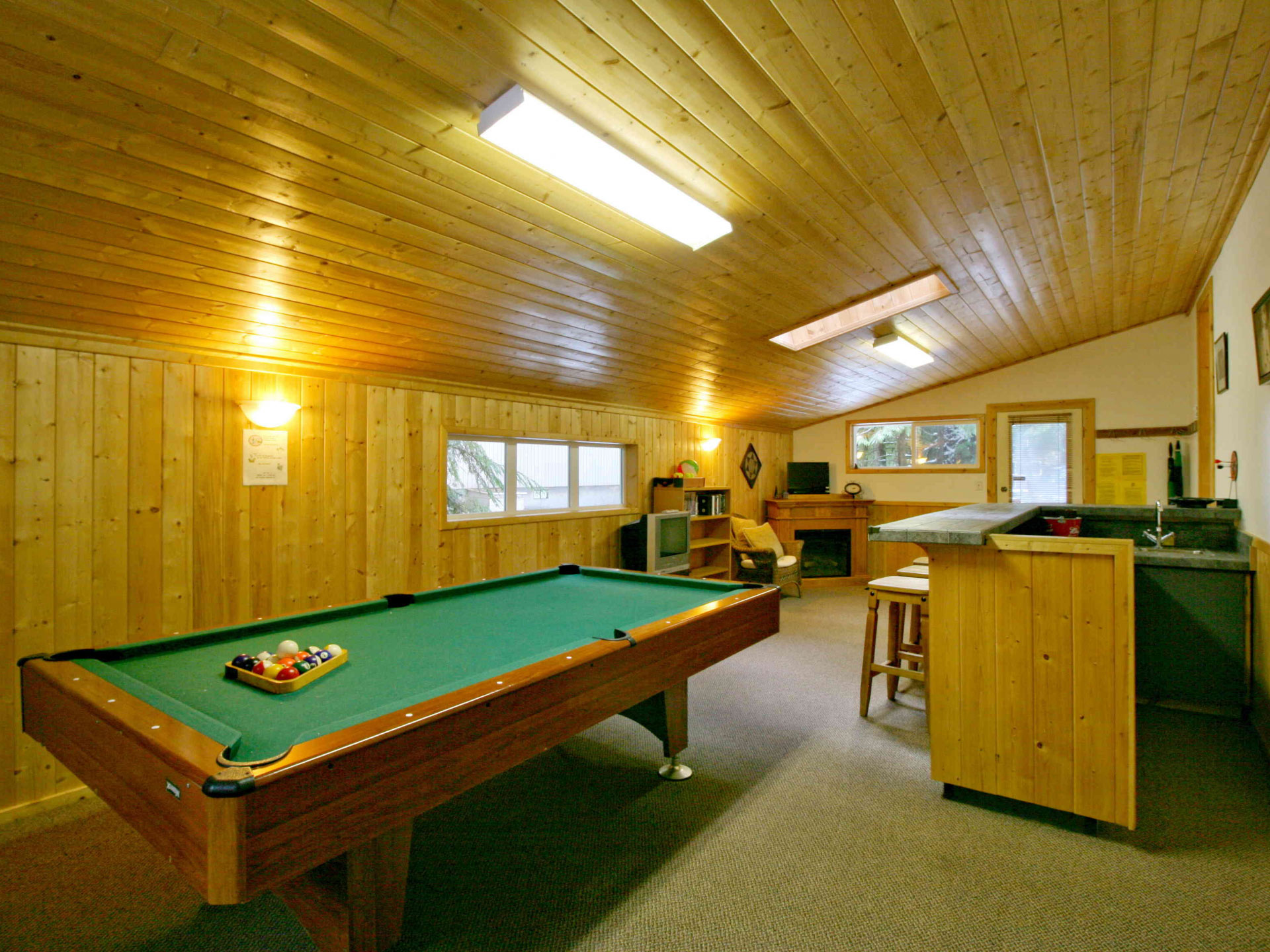 Property Description
Hot Tub - Sauna - Pool Table - WiFi - Sleeps 6

This private 1-story, 2-bedroom, 1 1/2-bath ranch style cedar cabin includes lots of features in a smaller package. Outside, you will find a fenced patio and deck area with an outdoor gas grill and a private hot tub! Inside features abound! Start with a large living/dining area that includes a freestanding propane stove, large flat screen TV with blue-ray player, and a hide-a-bed. Add a fully equipped kitchen, one bedroom with 1-queen bed, 1-full bath with a large soaker tub, a sauna, and a separate laundry area with a full-size washer/dryer. Top it all off with a master bedroom that includes 1-king sized bed and a 1/2-bath. An added bonus of this home is the game room which features a pool table, wet bar. This vacation property will sleep 4 to 6-persons (ENFORCED Maximum Occupancy!).
Location
Snowline is a family focused community with plenty of recreational activities. Amenities include a seasonal outdoor heated pool, fishing pond for kids 12 and under, tennis, basketball and volleyball courts, children's playground, and a large playing field. There are plenty of trails throughout the community along with access to the Nooksack River. Snowline is located at the edge of the Snoqualmie National Forest, close to the Mt. Baker Ski Area and spectacular old growth forests, an area rich in history and outdoor opportunities.
Facilities
Basic Cookware
Microwave
Toaster
Coffee Maker
Dishwasher
Hot Tub
Gas Grill
Wireless Internet
Freestanding Gas Fireplace
Washer and Dryer
Game Room
Kitchen
Dining Table
Parking for 2 Vehicles
Hide-A-Bed
Sauna
DVD Player
House Rules
HOT TUB/ SAUNA/ NO PETS/ NON SMOKING/ HAS WI-FI
Message to Owner

Send an enquiry or booking request directly to this property advertiser, to ensure you receive their reply check the spam filters on your email settings.

Pricing Type: Per Lodge Per Night

| | | | | | | | |
| --- | --- | --- | --- | --- | --- | --- | --- |
| Start | End | Regular Season | Low Season | Public Holiday | Christmas | New Year | |
| 14 Jan 19 | 21 Jan 19 | $229 | n/a | $259 | n/a | n/a | Book |
| 21 Jan 19 | 28 Jan 19 | $229 | n/a | $259 | n/a | n/a | Book |
| 28 Jan 19 | 04 Feb 19 | $229 | n/a | n/a | n/a | n/a | Book |
| 04 Feb 19 | 11 Feb 19 | $229 | n/a | $259 | n/a | n/a | Book |
| 11 Feb 19 | 18 Feb 19 | $229 | n/a | $259 | n/a | n/a | Book |
| 18 Feb 19 | 25 Feb 19 | $229 | n/a | $259 | n/a | n/a | Book |
| 25 Feb 19 | 04 Mar 19 | $229 | n/a | n/a | n/a | n/a | Book |
| 04 Mar 19 | 11 Mar 19 | $229 | n/a | n/a | n/a | n/a | Book |
| 11 Mar 19 | 18 Mar 19 | $229 | n/a | n/a | n/a | n/a | Book |
| 18 Mar 19 | 25 Mar 19 | $229 | n/a | n/a | n/a | n/a | Book |
| 25 Mar 19 | 01 Apr 19 | $229 | n/a | n/a | n/a | n/a | Book |
| 01 Apr 19 | 08 Apr 19 | $229 | n/a | n/a | n/a | n/a | Book |
| 08 Apr 19 | 15 Apr 19 | $229 | n/a | n/a | n/a | n/a | Book |
| 15 Apr 19 | 22 Apr 19 | $229 | n/a | n/a | n/a | n/a | Book |
| 22 Apr 19 | 29 Apr 19 | $229 | $199 | n/a | n/a | n/a | Book |
| 29 Apr 19 | 06 May 19 | n/a | $199 | n/a | n/a | n/a | Book |
| 06 May 19 | 13 May 19 | n/a | $199 | n/a | n/a | n/a | Book |
| 13 May 19 | 20 May 19 | n/a | $199 | n/a | n/a | n/a | Book |
| 20 May 19 | 27 May 19 | n/a | $199 | $259 | n/a | n/a | Book |
| 27 May 19 | 03 Jun 19 | n/a | $199 | $259 | n/a | n/a | Book |
| 03 Jun 19 | 10 Jun 19 | n/a | $199 | n/a | n/a | n/a | Book |
| 10 Jun 19 | 17 Jun 19 | n/a | $199 | n/a | n/a | n/a | Book |
| 17 Jun 19 | 24 Jun 19 | n/a | $199 | n/a | n/a | n/a | Book |
| 24 Jun 19 | 01 Jul 19 | $229 | $199 | n/a | n/a | n/a | Book |
| 01 Jul 19 | 08 Jul 19 | $229 | n/a | n/a | n/a | n/a | Book |
| 08 Jul 19 | 15 Jul 19 | $229 | n/a | n/a | n/a | n/a | Book |
| 15 Jul 19 | 22 Jul 19 | $229 | n/a | n/a | n/a | n/a | Book |
| 22 Jul 19 | 29 Jul 19 | $229 | n/a | n/a | n/a | n/a | Book |
| 29 Jul 19 | 05 Aug 19 | $229 | n/a | n/a | n/a | n/a | Book |
| 05 Aug 19 | 12 Aug 19 | $229 | n/a | n/a | n/a | n/a | Book |
| 12 Aug 19 | 19 Aug 19 | $229 | n/a | n/a | n/a | n/a | Book |
| 19 Aug 19 | 26 Aug 19 | $229 | n/a | n/a | n/a | n/a | Book |
| 26 Aug 19 | 02 Sep 19 | $229 | n/a | $259 | n/a | n/a | Book |
| 02 Sep 19 | 09 Sep 19 | $229 | n/a | $259 | n/a | n/a | Book |
| 09 Sep 19 | 16 Sep 19 | $229 | n/a | n/a | n/a | n/a | Book |
| 16 Sep 19 | 23 Sep 19 | $229 | n/a | n/a | n/a | n/a | Book |
| 23 Sep 19 | 30 Sep 19 | $229 | n/a | n/a | n/a | n/a | Book |
| 30 Sep 19 | 07 Oct 19 | $229 | $199 | n/a | n/a | n/a | Book |
| 07 Oct 19 | 14 Oct 19 | n/a | $199 | n/a | n/a | n/a | Book |
| 14 Oct 19 | 21 Oct 19 | n/a | $199 | n/a | n/a | n/a | Book |
| 21 Oct 19 | 28 Oct 19 | n/a | $199 | n/a | n/a | n/a | Book |
| 28 Oct 19 | 04 Nov 19 | n/a | $199 | n/a | n/a | n/a | Book |
| 04 Nov 19 | 11 Nov 19 | n/a | $199 | n/a | n/a | n/a | Book |
| 11 Nov 19 | 18 Nov 19 | n/a | $199 | n/a | n/a | n/a | Book |
| 18 Nov 19 | 25 Nov 19 | n/a | $199 | n/a | n/a | n/a | Book |
| 25 Nov 19 | 02 Dec 19 | $229 | $199 | $259 | n/a | n/a | Book |
| 02 Dec 19 | 09 Dec 19 | $229 | n/a | n/a | n/a | n/a | Book |
| 09 Dec 19 | 16 Dec 19 | $229 | n/a | n/a | $299 | n/a | Book |
| 16 Dec 19 | 23 Dec 19 | n/a | n/a | n/a | $299 | n/a | Book |
| 23 Dec 19 | 30 Dec 19 | n/a | n/a | n/a | $299 | $369 | Book |