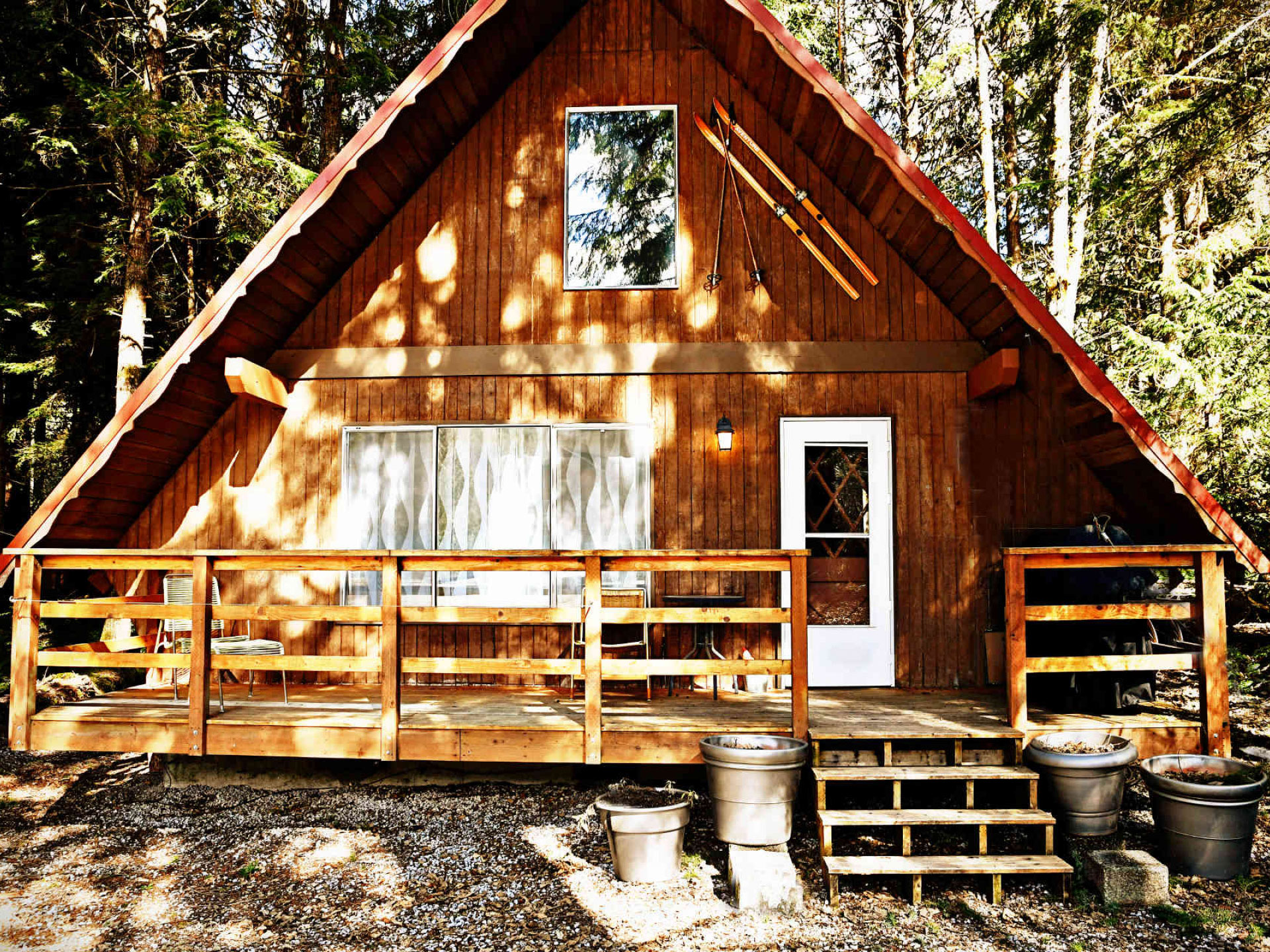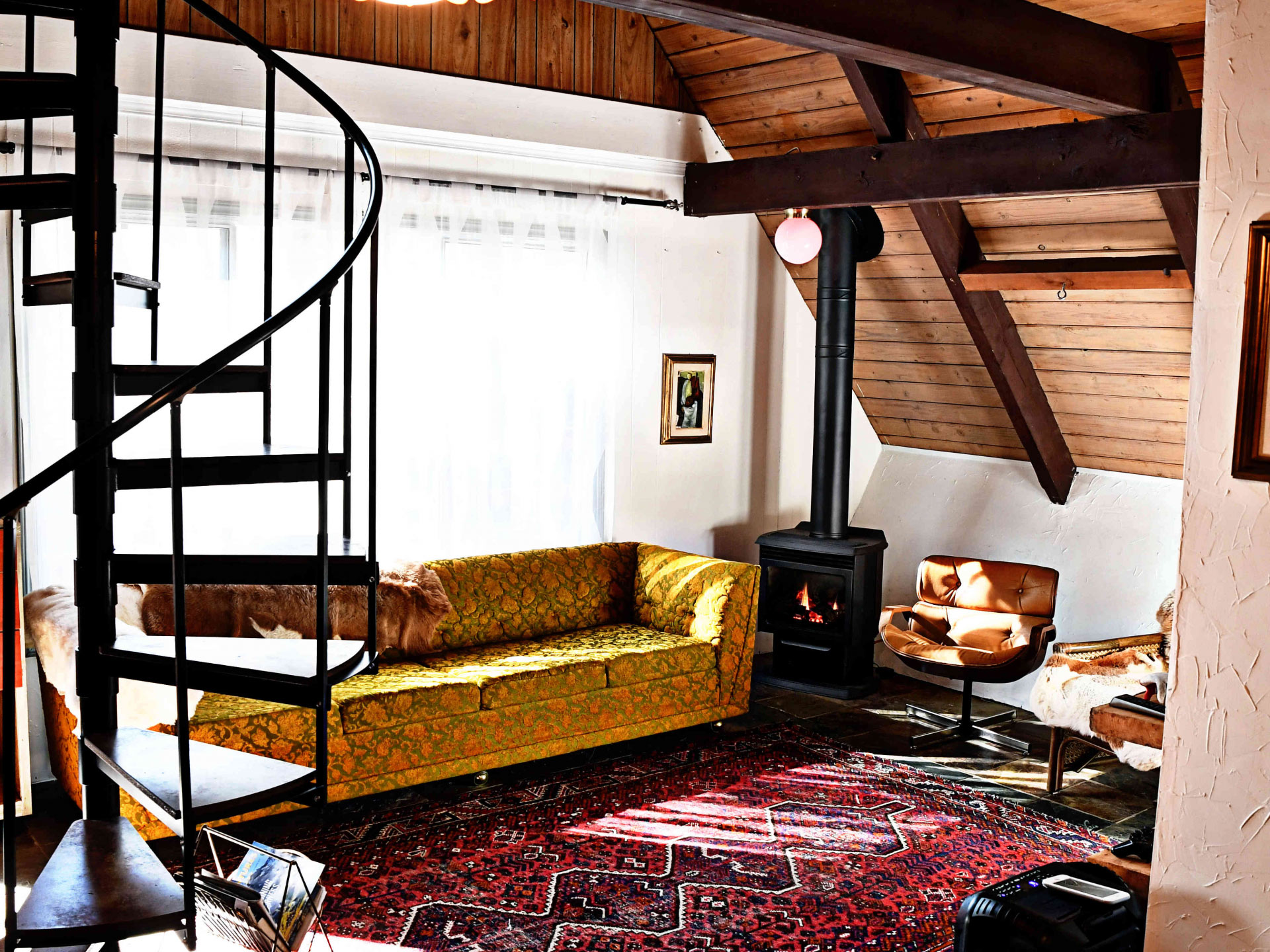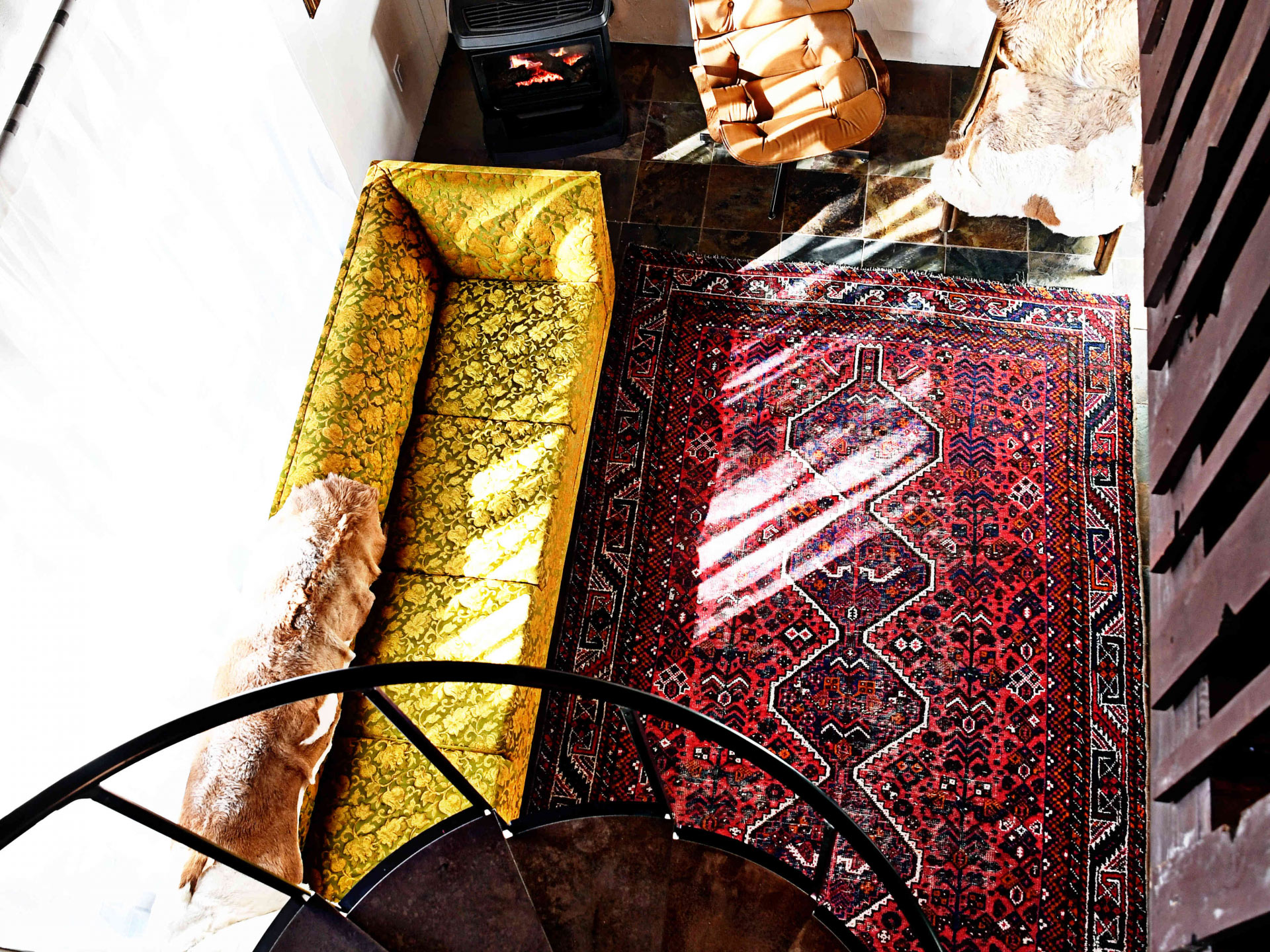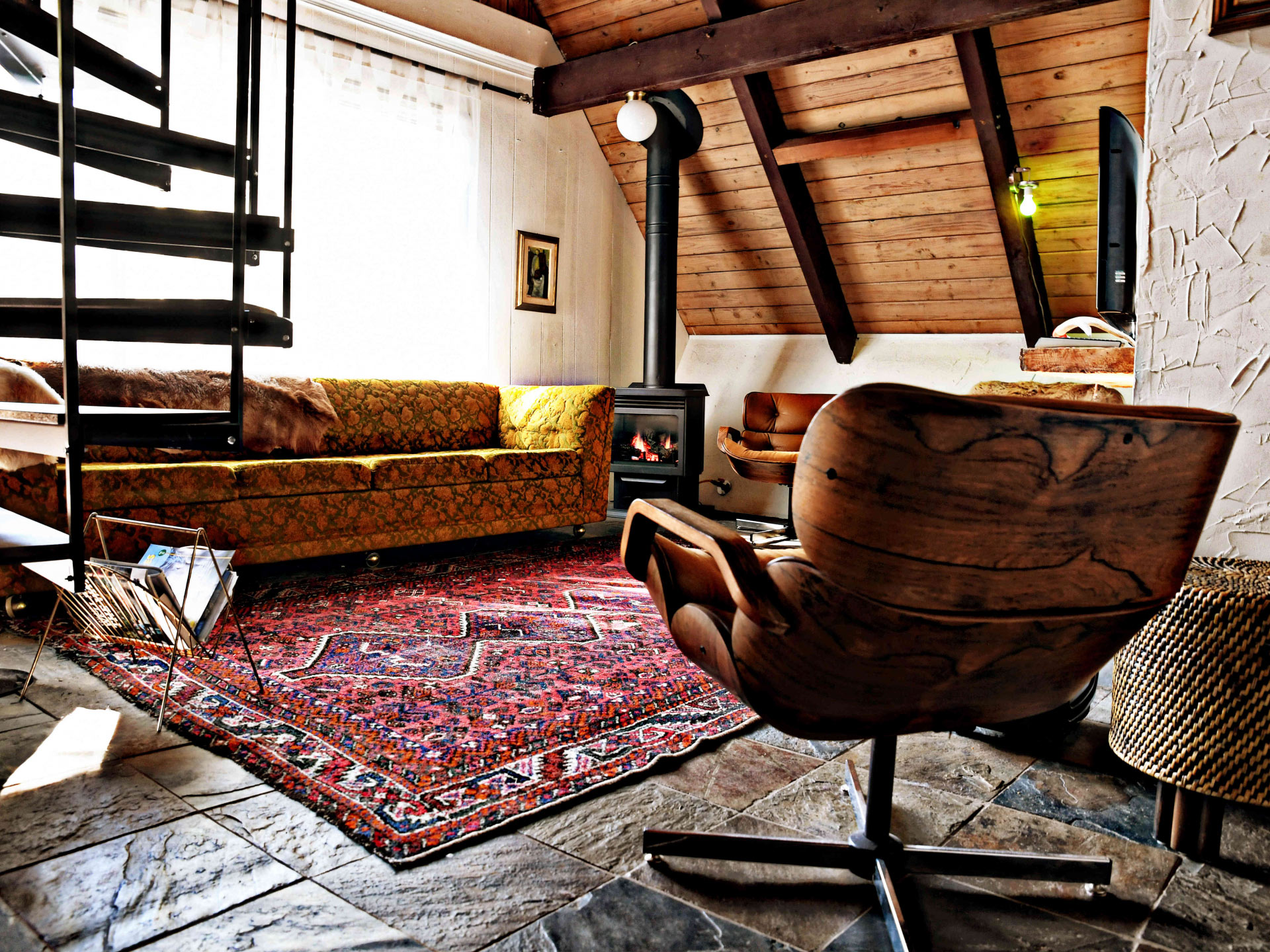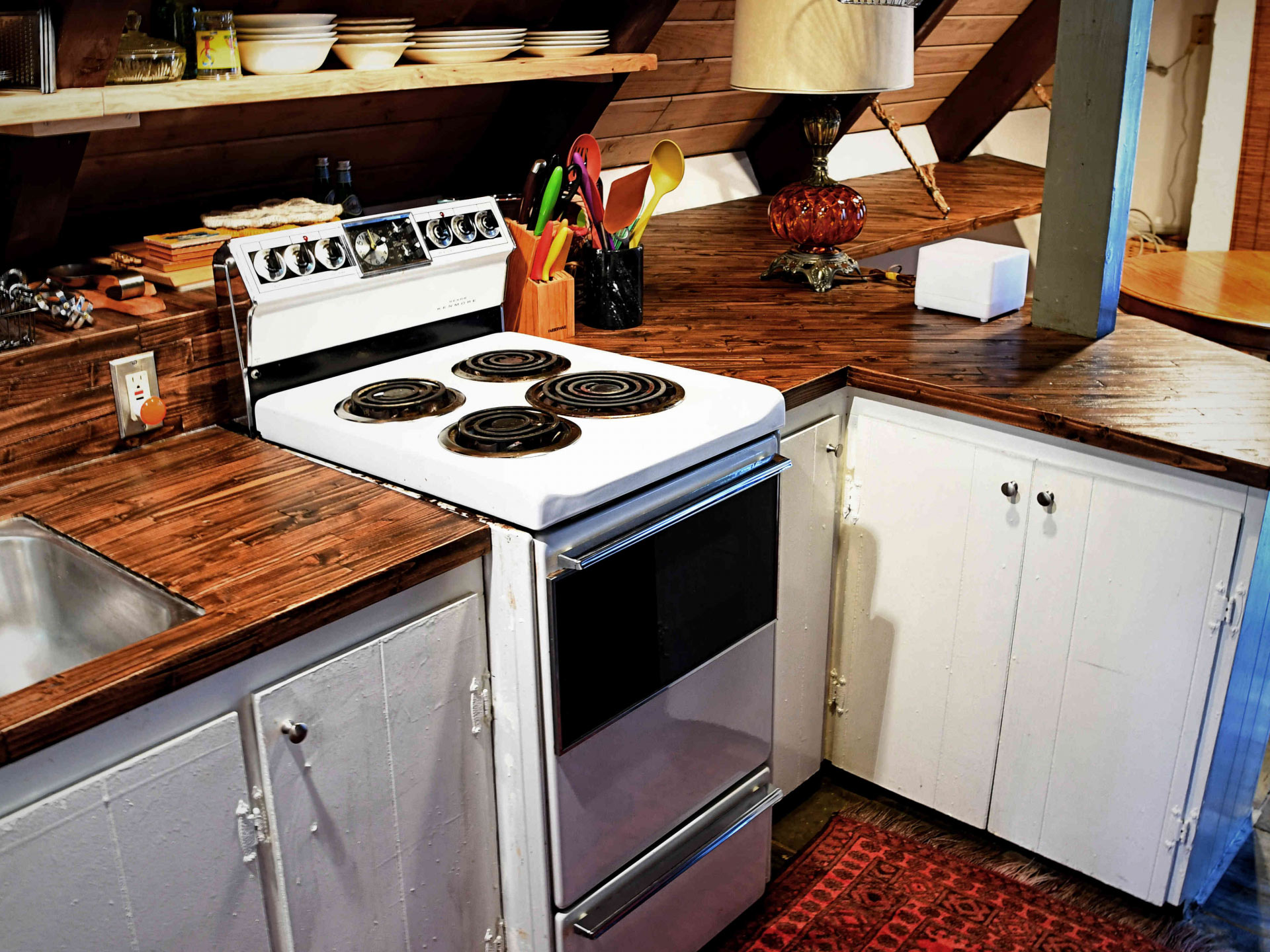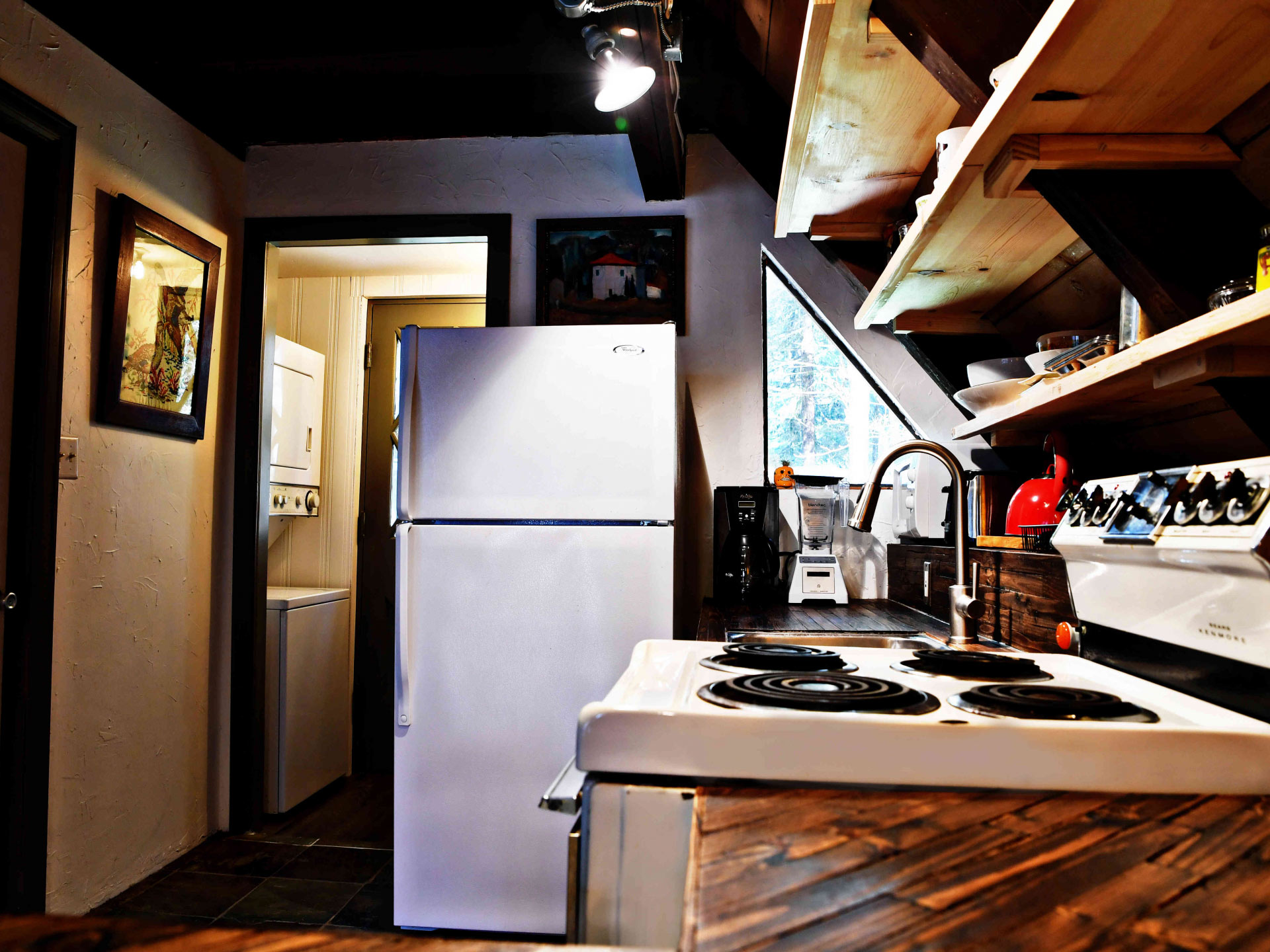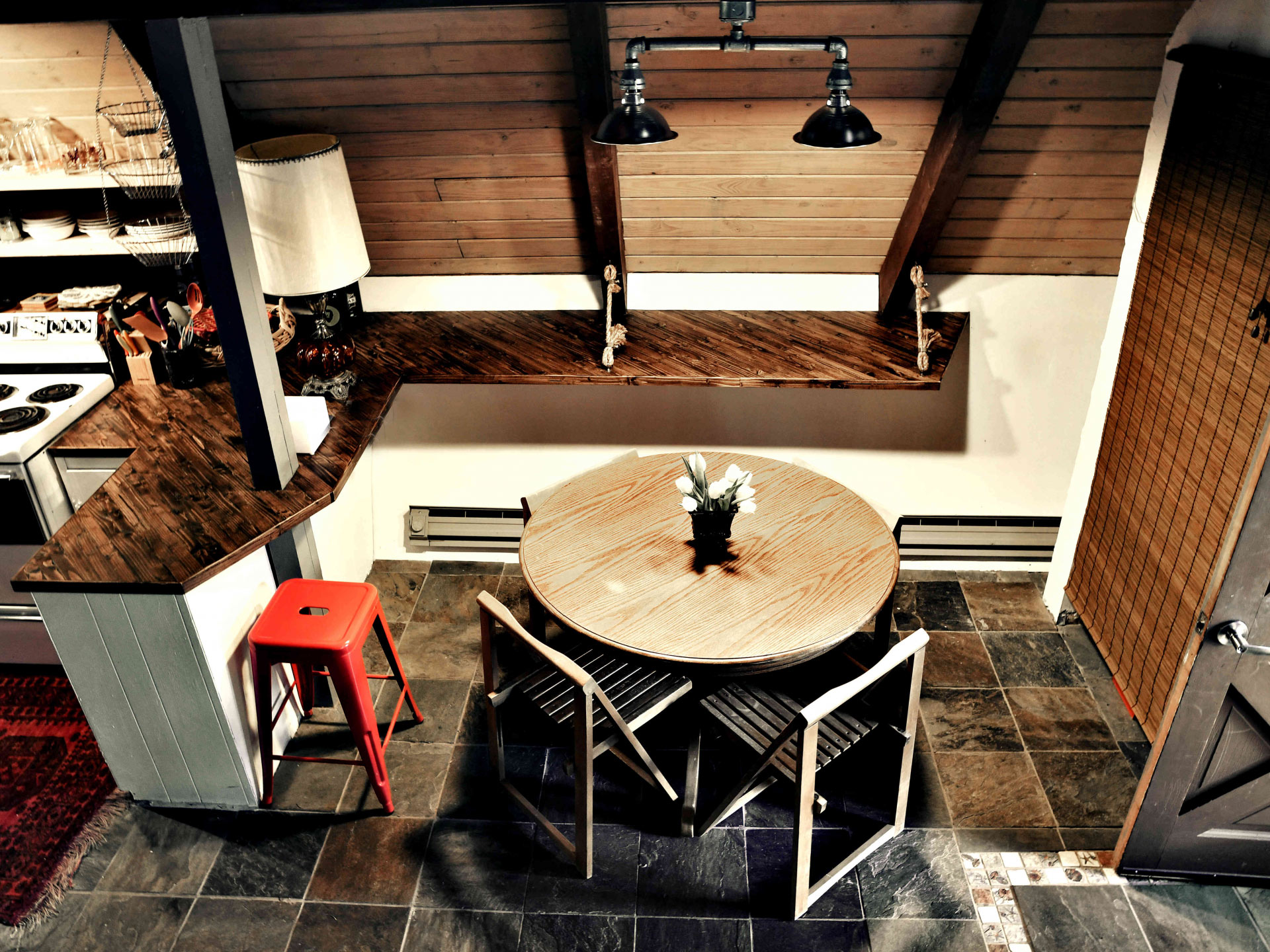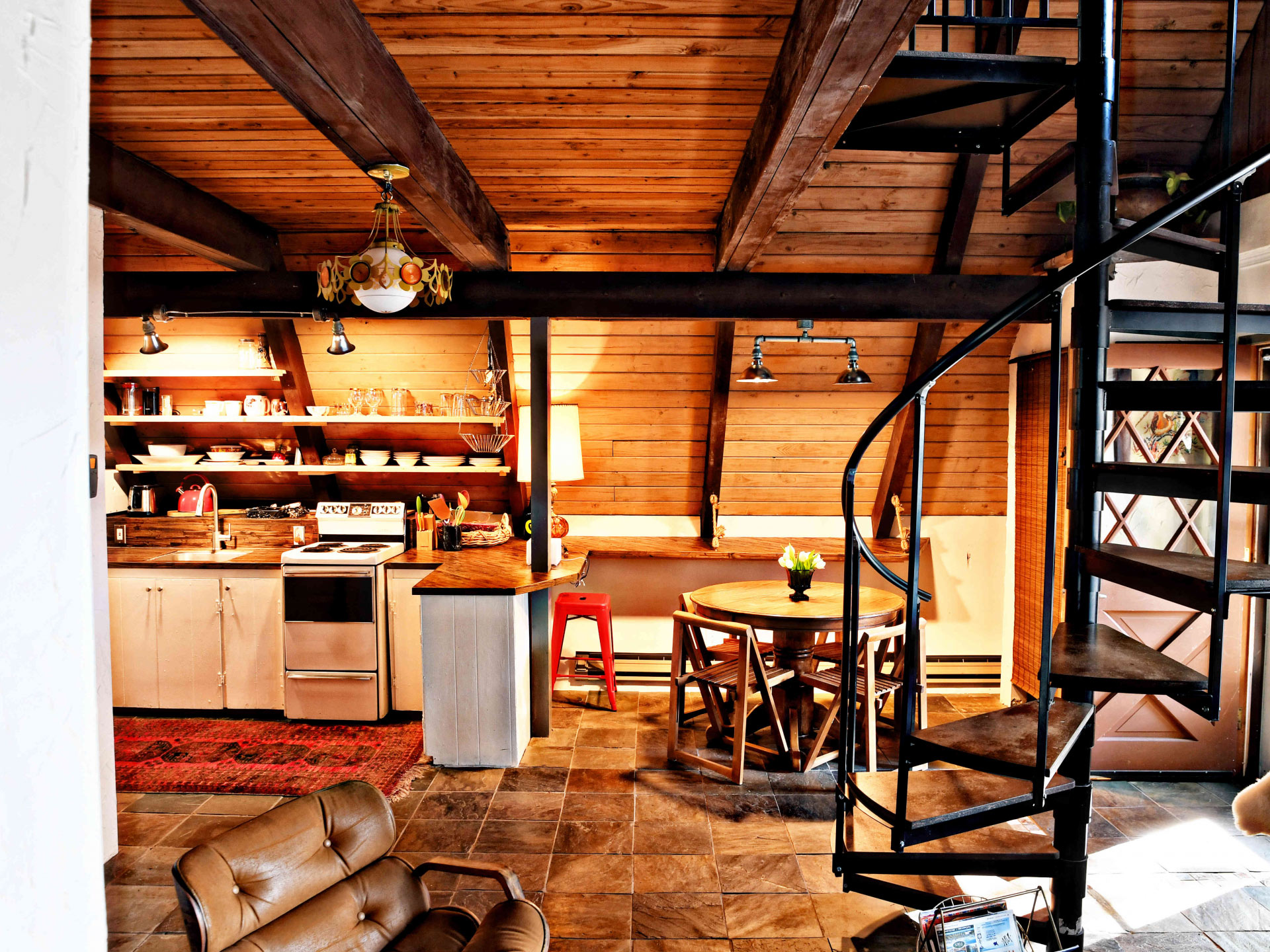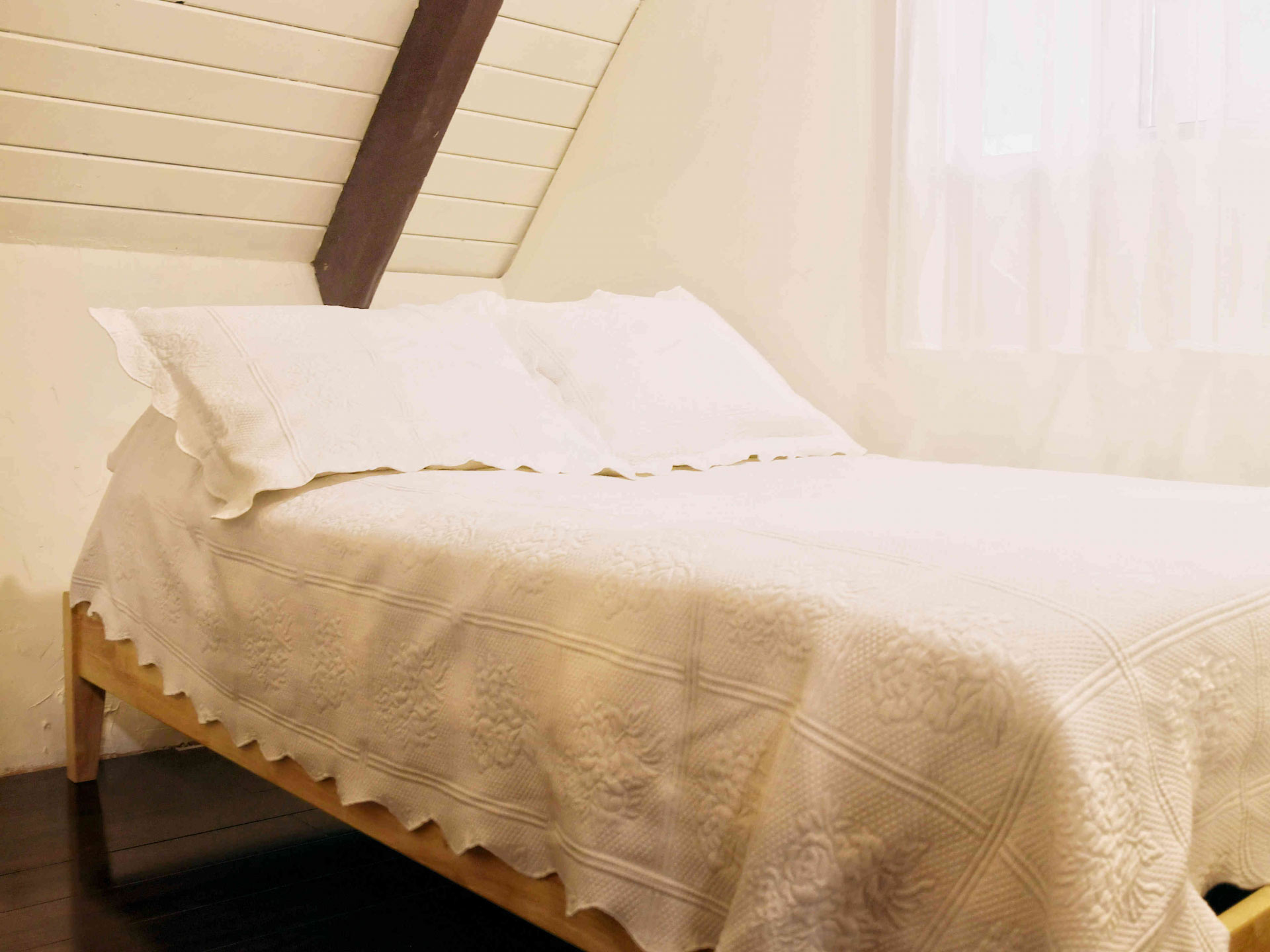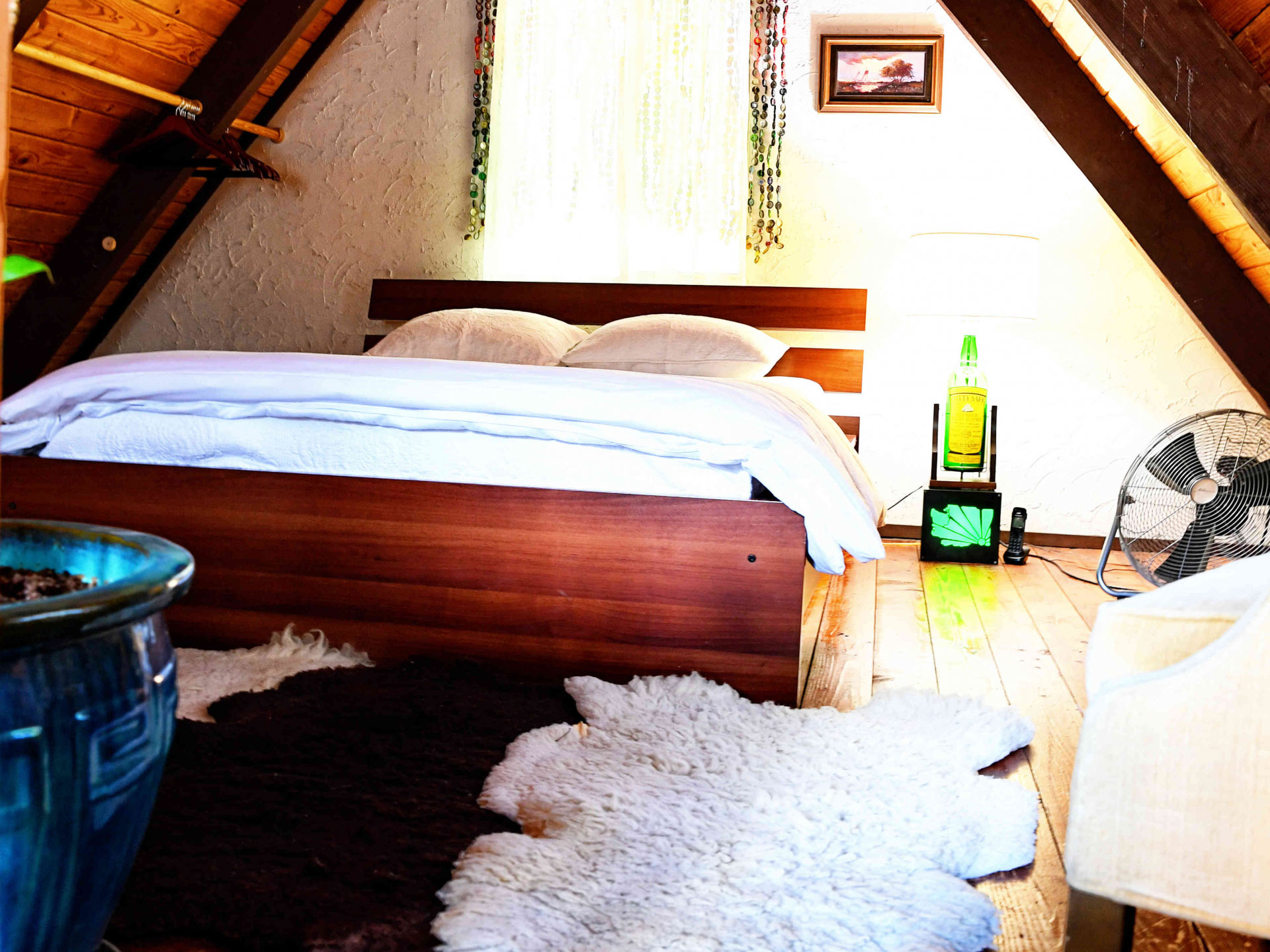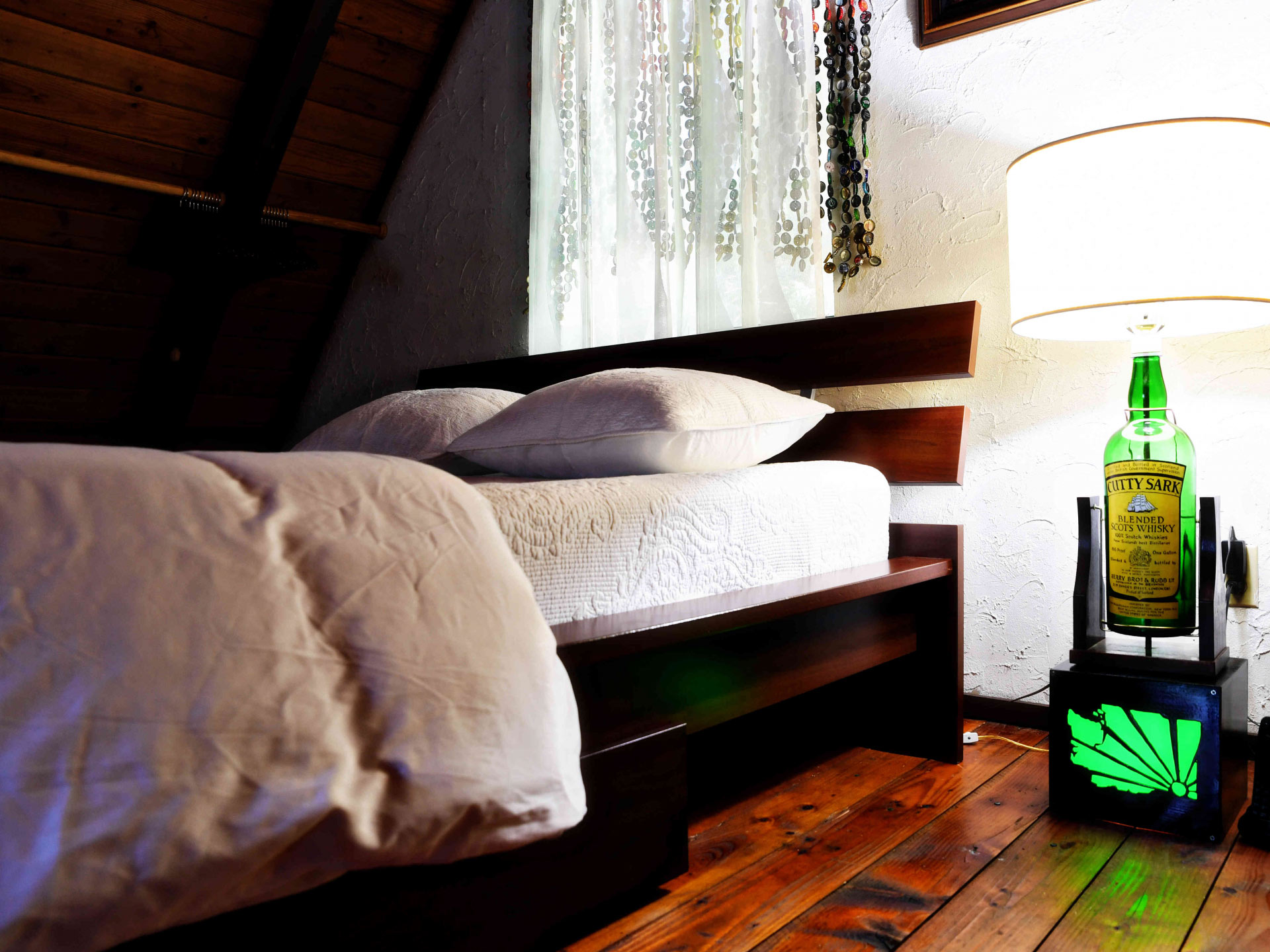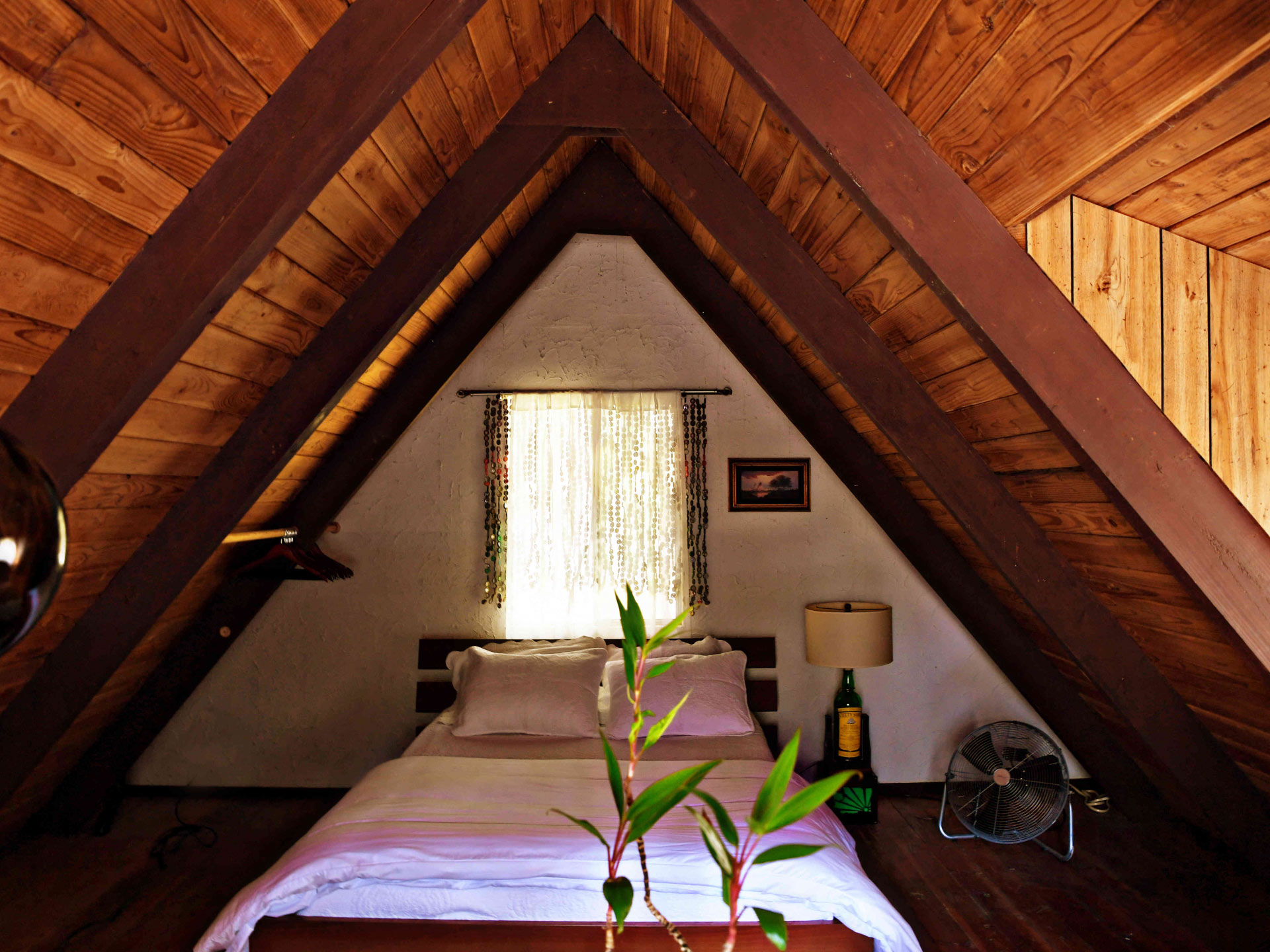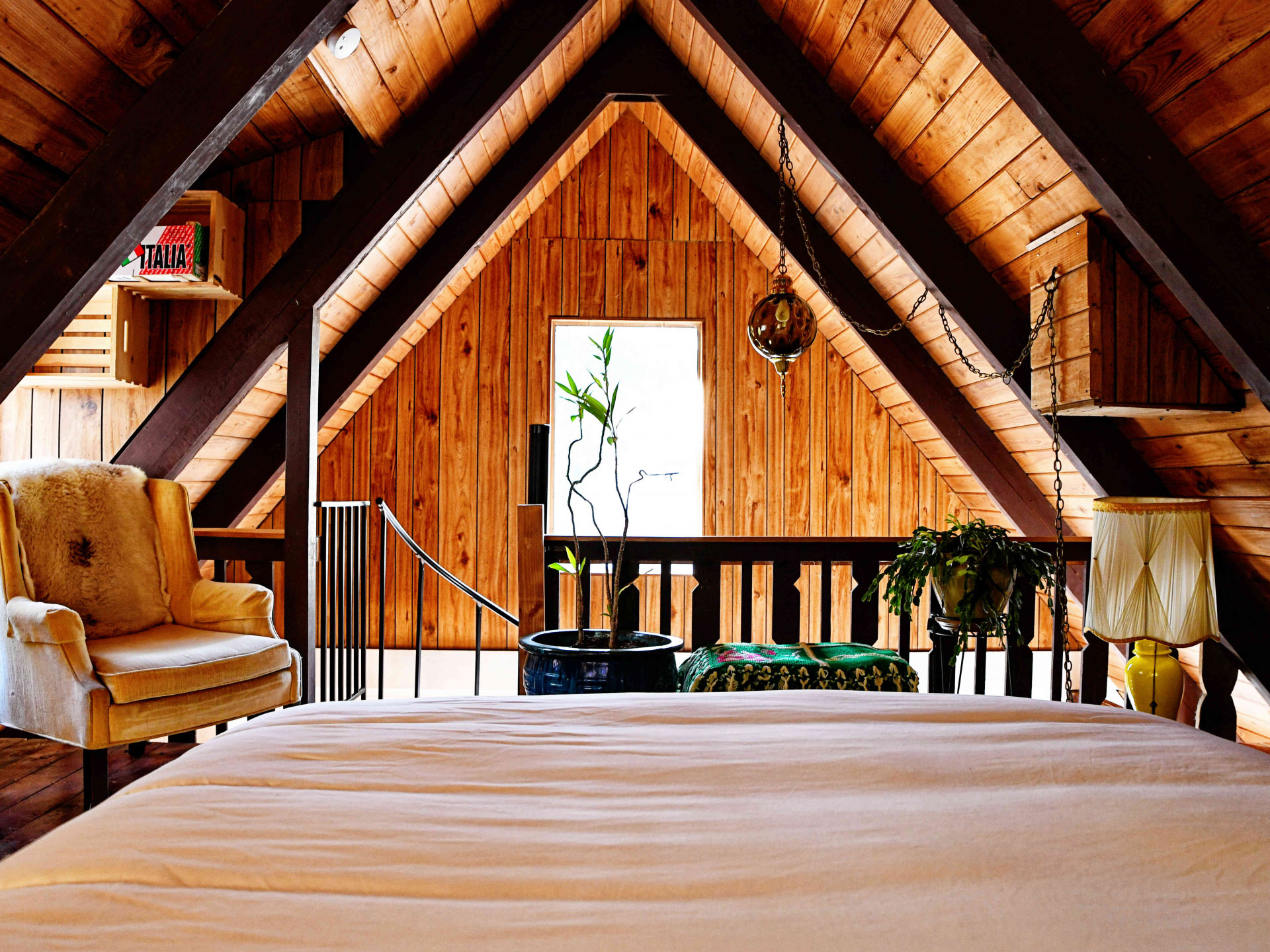 Property Description
BBQ - WiFi - Fireplace - Sleeps 4

A quiet country cabin. This 2-story, 1+ bedroom, 1-bath cabin is the perfect country escape. The first floor features an open living, dining, kitchen area with new slate floors, an apartment sized range / oven, a full size refrigerator / freezer, one bedroom with 1-full size bed, one full bathroom, a laundry cubby with a stack washer / dryer, and a free standing gas fireplace in the living room to cozy up to. Ascending the spiral staircase leads to a large open loft sleeping area with 1-queen sized bed. Just outside is a full length deck with an outdoor gas grill...perfect for relaxing with your favorite beverage while taking in the spectacular mountain views. This vacation property will sleep up to 4-persons (ENFORCED Maximum Occupancy).


Facilities
Basic Cookware
Microwave
Toaster
Coffee Maker
Gas Grill
Wireless Internet
Freestanding Gas Fireplace
Washer and Dryer
Kitchen
Dining Table
House Rules
YES: Wi-Fi
NO: Cell Service / Hot Tub / Pets / Smoking

Need additional space for a larger group? Consider adding family Cabin 63. Located right next door, these cabins will collectively accommodate up to 10-persons.
Message to Owner

Send an enquiry or booking request directly to this property advertiser, to ensure you receive their reply check the spam filters on your email settings.

Pricing Type: Per Lodge Per Night

| | | | | | | | |
| --- | --- | --- | --- | --- | --- | --- | --- |
| Start | End | Regular Season | Low Season | Public Holiday | Christmas | New Year | |
| 14 Jan 19 | 21 Jan 19 | $159 | n/a | $189 | n/a | n/a | Book |
| 21 Jan 19 | 28 Jan 19 | $159 | n/a | $189 | n/a | n/a | Book |
| 28 Jan 19 | 04 Feb 19 | $159 | n/a | n/a | n/a | n/a | Book |
| 04 Feb 19 | 11 Feb 19 | $159 | n/a | $189 | n/a | n/a | Book |
| 11 Feb 19 | 18 Feb 19 | $159 | n/a | $189 | n/a | n/a | Book |
| 18 Feb 19 | 25 Feb 19 | $159 | n/a | $189 | n/a | n/a | Book |
| 25 Feb 19 | 04 Mar 19 | $159 | n/a | n/a | n/a | n/a | Book |
| 04 Mar 19 | 11 Mar 19 | $159 | n/a | n/a | n/a | n/a | Book |
| 11 Mar 19 | 18 Mar 19 | $159 | n/a | n/a | n/a | n/a | Book |
| 18 Mar 19 | 25 Mar 19 | $159 | n/a | n/a | n/a | n/a | Book |
| 25 Mar 19 | 01 Apr 19 | $159 | n/a | n/a | n/a | n/a | Book |
| 01 Apr 19 | 08 Apr 19 | $159 | n/a | n/a | n/a | n/a | Book |
| 08 Apr 19 | 15 Apr 19 | $159 | n/a | n/a | n/a | n/a | Book |
| 15 Apr 19 | 22 Apr 19 | $159 | n/a | n/a | n/a | n/a | Book |
| 22 Apr 19 | 29 Apr 19 | $159 | $129 | n/a | n/a | n/a | Book |
| 29 Apr 19 | 06 May 19 | n/a | $129 | n/a | n/a | n/a | Book |
| 06 May 19 | 13 May 19 | n/a | $129 | n/a | n/a | n/a | Book |
| 13 May 19 | 20 May 19 | n/a | $129 | n/a | n/a | n/a | Book |
| 20 May 19 | 27 May 19 | n/a | $129 | $189 | n/a | n/a | Book |
| 27 May 19 | 03 Jun 19 | n/a | $129 | $189 | n/a | n/a | Book |
| 03 Jun 19 | 10 Jun 19 | n/a | $129 | n/a | n/a | n/a | Book |
| 10 Jun 19 | 17 Jun 19 | n/a | $129 | n/a | n/a | n/a | Book |
| 17 Jun 19 | 24 Jun 19 | n/a | $129 | n/a | n/a | n/a | Book |
| 24 Jun 19 | 01 Jul 19 | $159 | $129 | n/a | n/a | n/a | Book |
| 01 Jul 19 | 08 Jul 19 | $159 | n/a | n/a | n/a | n/a | Book |
| 08 Jul 19 | 15 Jul 19 | $159 | n/a | n/a | n/a | n/a | Book |
| 15 Jul 19 | 22 Jul 19 | $159 | n/a | n/a | n/a | n/a | Book |
| 22 Jul 19 | 29 Jul 19 | $159 | n/a | n/a | n/a | n/a | Book |
| 29 Jul 19 | 05 Aug 19 | $159 | n/a | n/a | n/a | n/a | Book |
| 05 Aug 19 | 12 Aug 19 | $159 | n/a | n/a | n/a | n/a | Book |
| 12 Aug 19 | 19 Aug 19 | $159 | n/a | n/a | n/a | n/a | Book |
| 19 Aug 19 | 26 Aug 19 | $159 | n/a | n/a | n/a | n/a | Book |
| 26 Aug 19 | 02 Sep 19 | $159 | n/a | $189 | n/a | n/a | Book |
| 02 Sep 19 | 09 Sep 19 | $159 | n/a | $189 | n/a | n/a | Book |
| 09 Sep 19 | 16 Sep 19 | $159 | n/a | n/a | n/a | n/a | Book |
| 16 Sep 19 | 23 Sep 19 | $159 | n/a | n/a | n/a | n/a | Book |
| 23 Sep 19 | 30 Sep 19 | $159 | n/a | n/a | n/a | n/a | Book |
| 30 Sep 19 | 07 Oct 19 | $159 | $129 | n/a | n/a | n/a | Book |
| 07 Oct 19 | 14 Oct 19 | n/a | $129 | n/a | n/a | n/a | Book |
| 14 Oct 19 | 21 Oct 19 | n/a | $129 | n/a | n/a | n/a | Book |
| 21 Oct 19 | 28 Oct 19 | n/a | $129 | n/a | n/a | n/a | Book |
| 28 Oct 19 | 04 Nov 19 | n/a | $129 | n/a | n/a | n/a | Book |
| 04 Nov 19 | 11 Nov 19 | n/a | $129 | n/a | n/a | n/a | Book |
| 11 Nov 19 | 18 Nov 19 | n/a | $129 | n/a | n/a | n/a | Book |
| 18 Nov 19 | 25 Nov 19 | n/a | $129 | n/a | n/a | n/a | Book |
| 25 Nov 19 | 02 Dec 19 | $159 | $129 | $189 | n/a | n/a | Book |
| 02 Dec 19 | 09 Dec 19 | $159 | n/a | n/a | n/a | n/a | Book |
| 09 Dec 19 | 16 Dec 19 | $159 | n/a | n/a | $219 | n/a | Book |
| 16 Dec 19 | 23 Dec 19 | n/a | n/a | n/a | $219 | n/a | Book |
| 23 Dec 19 | 30 Dec 19 | n/a | n/a | n/a | $219 | $289 | Book |