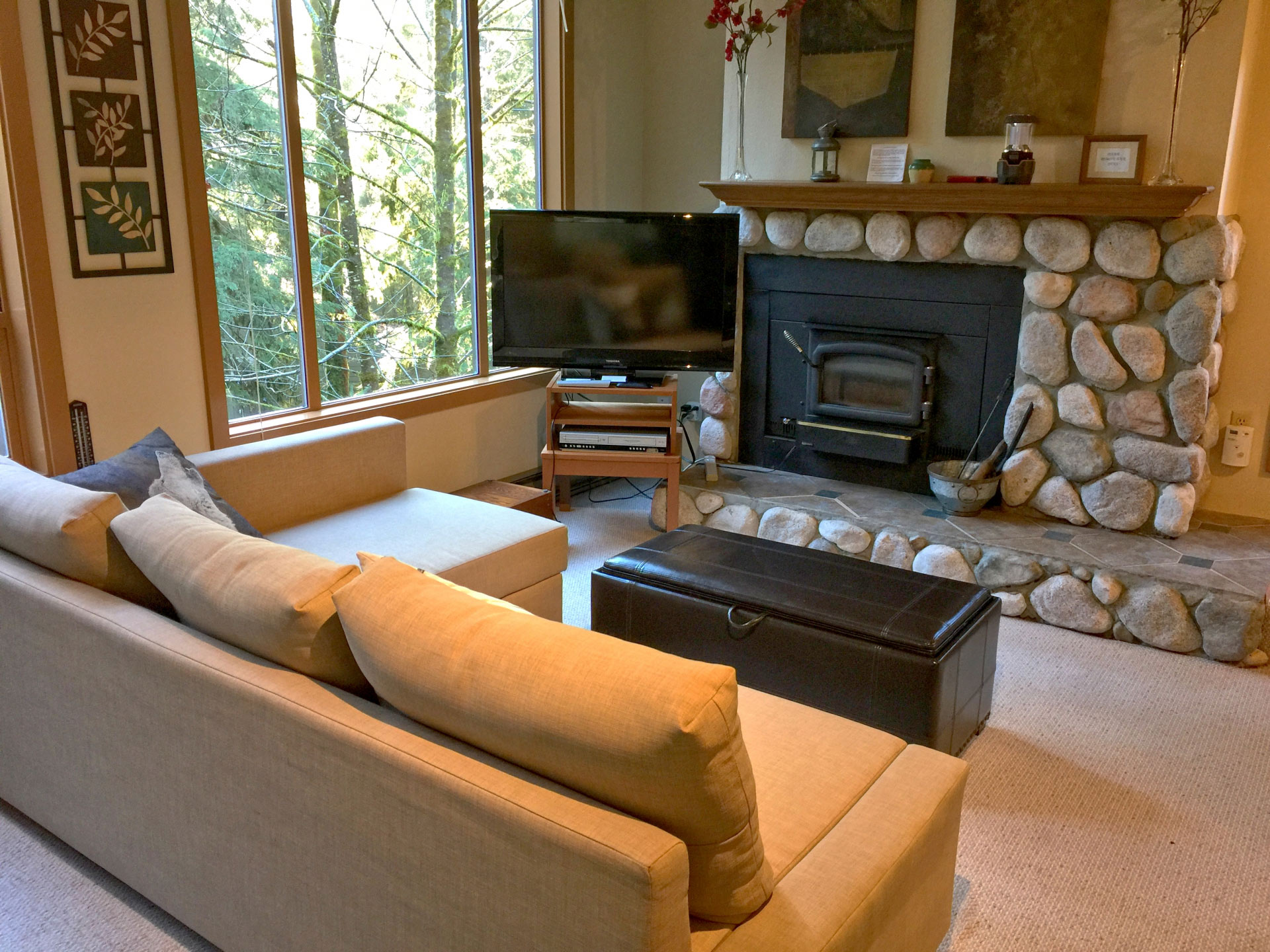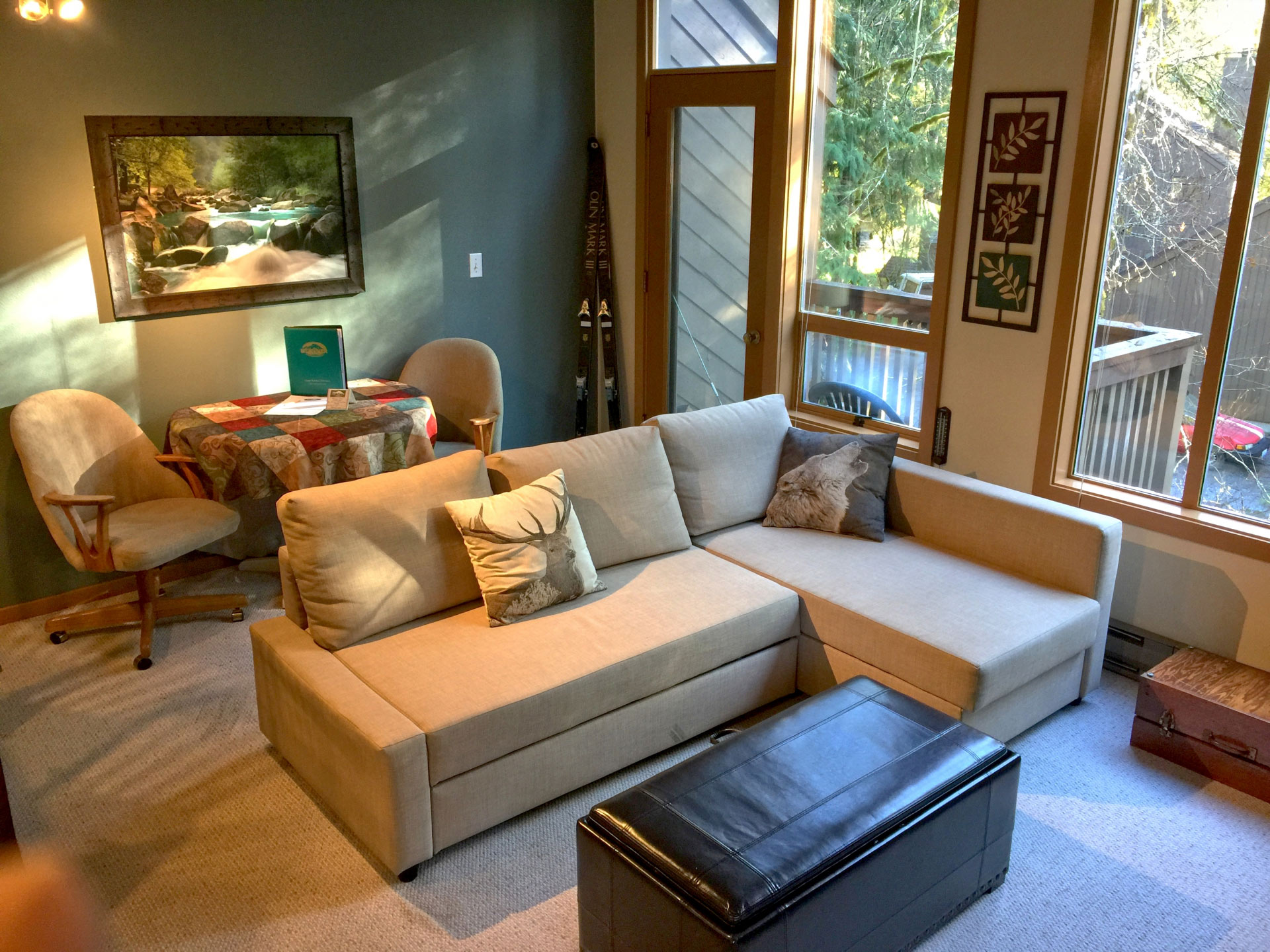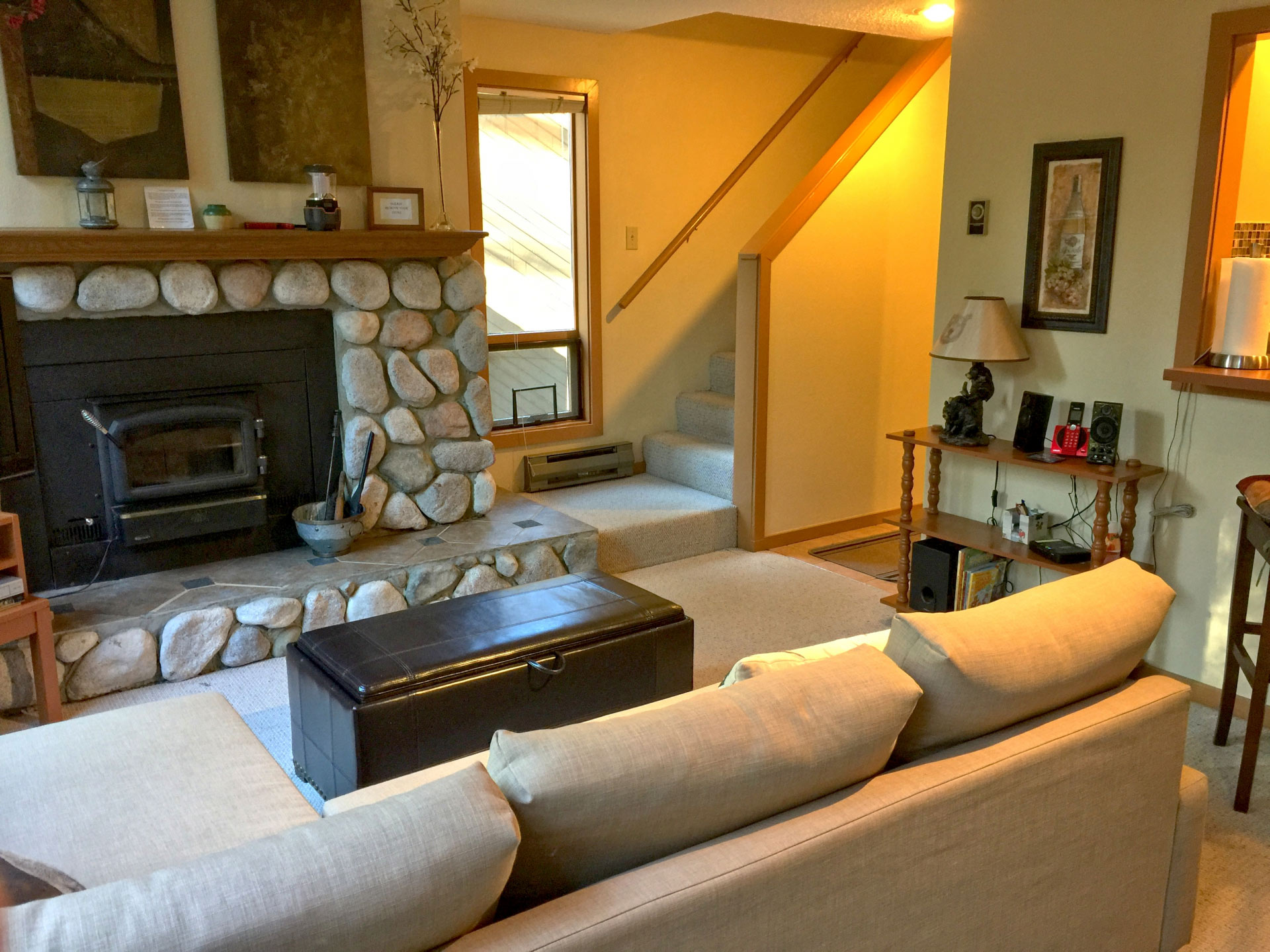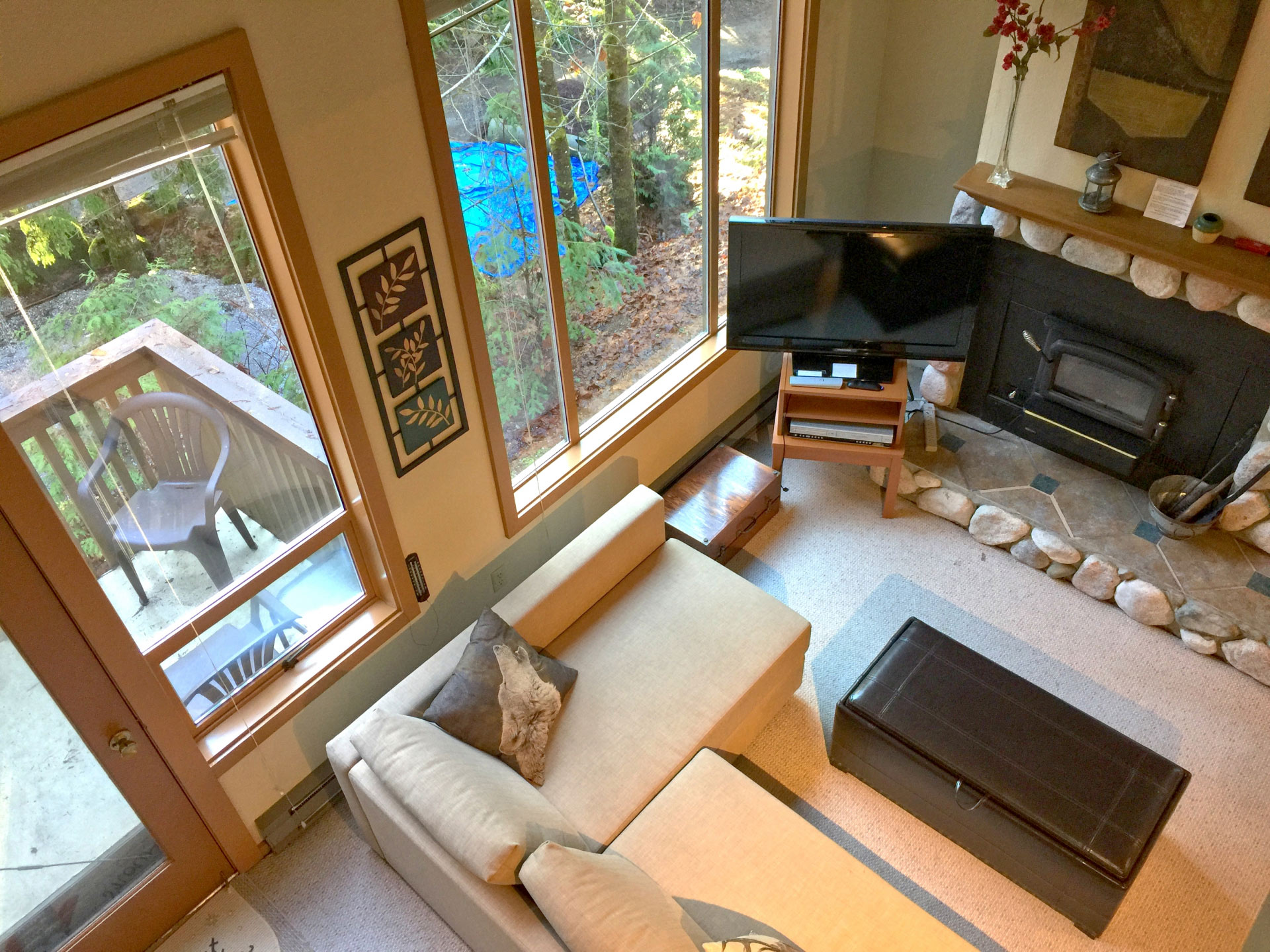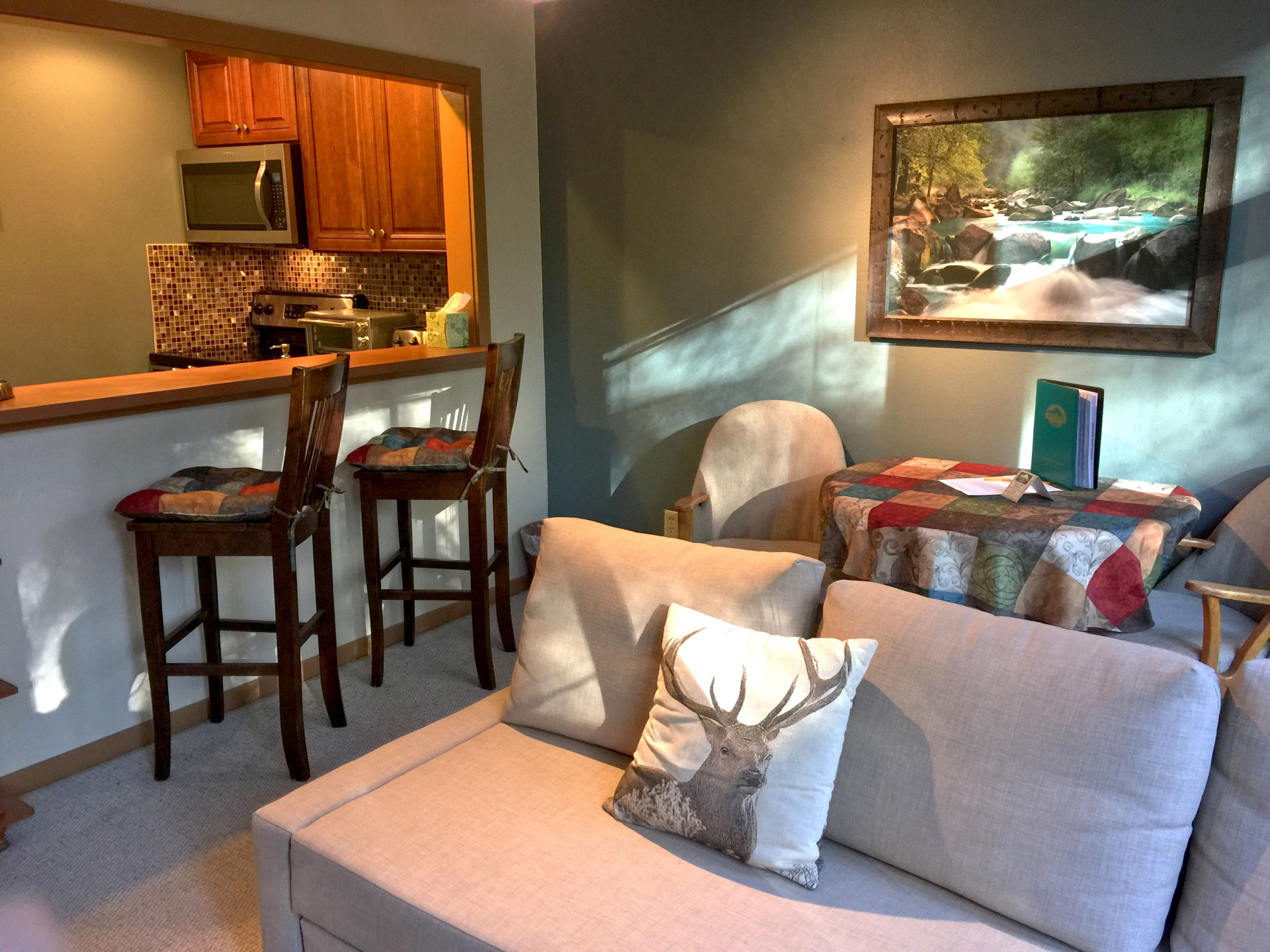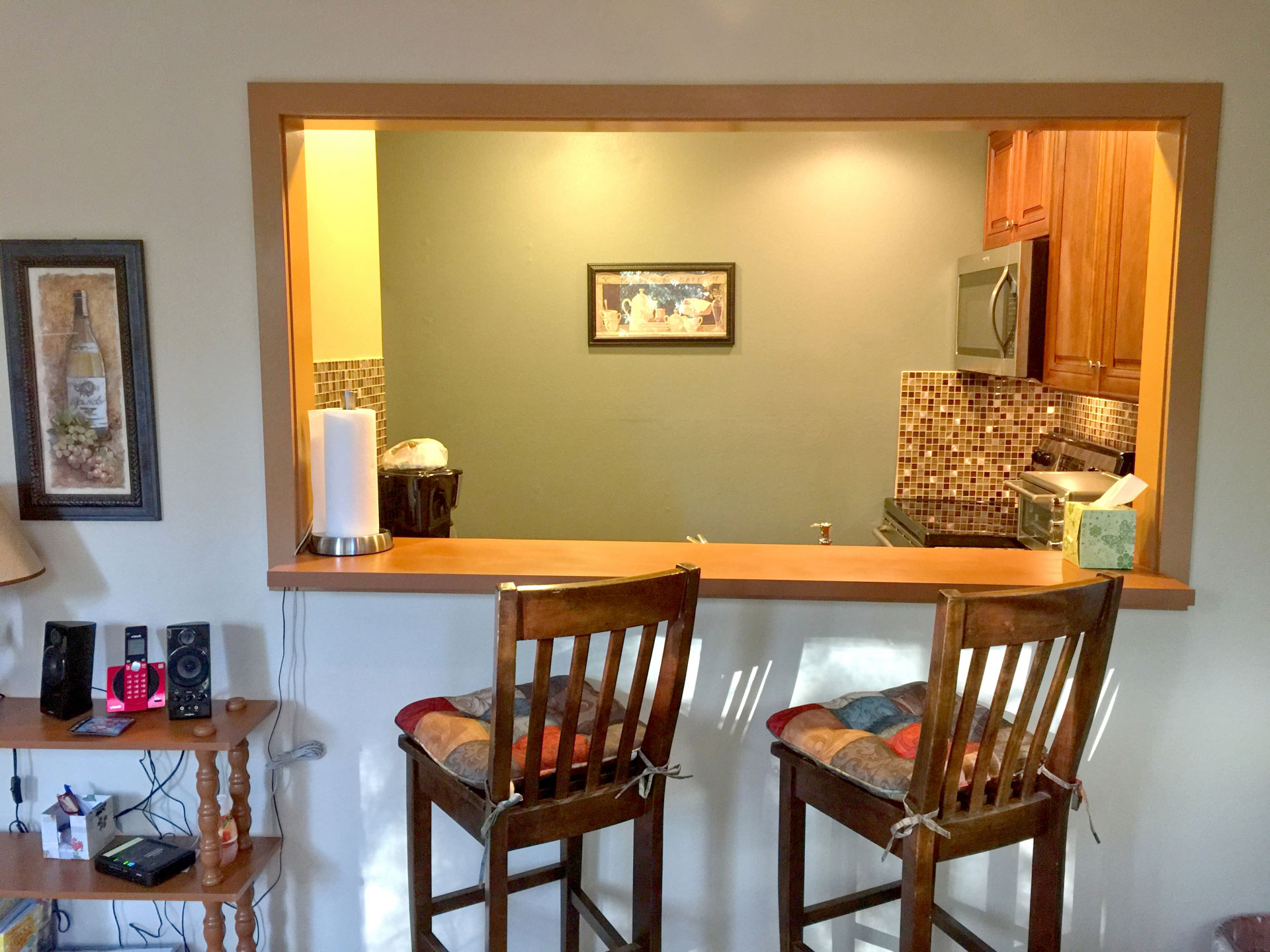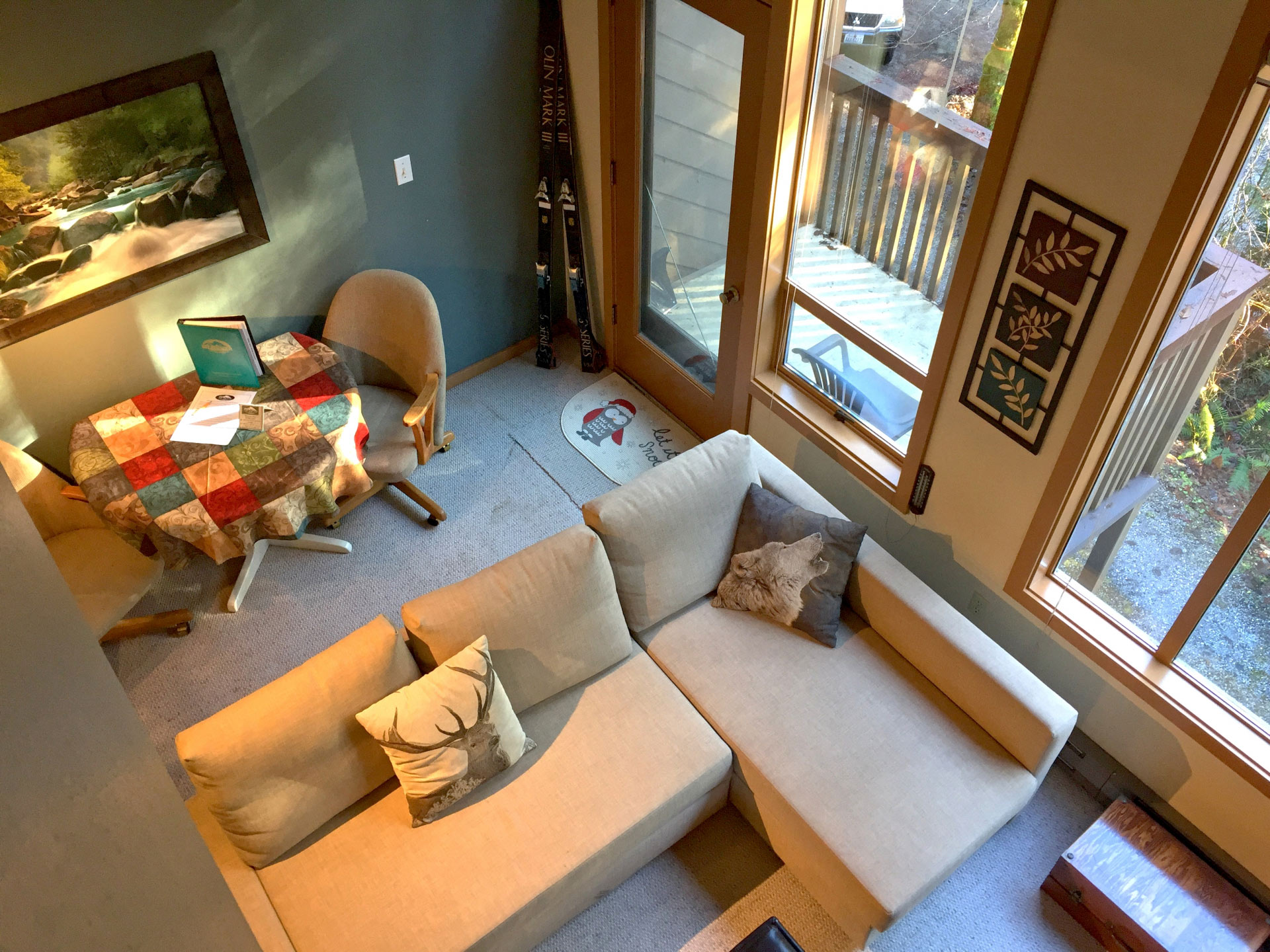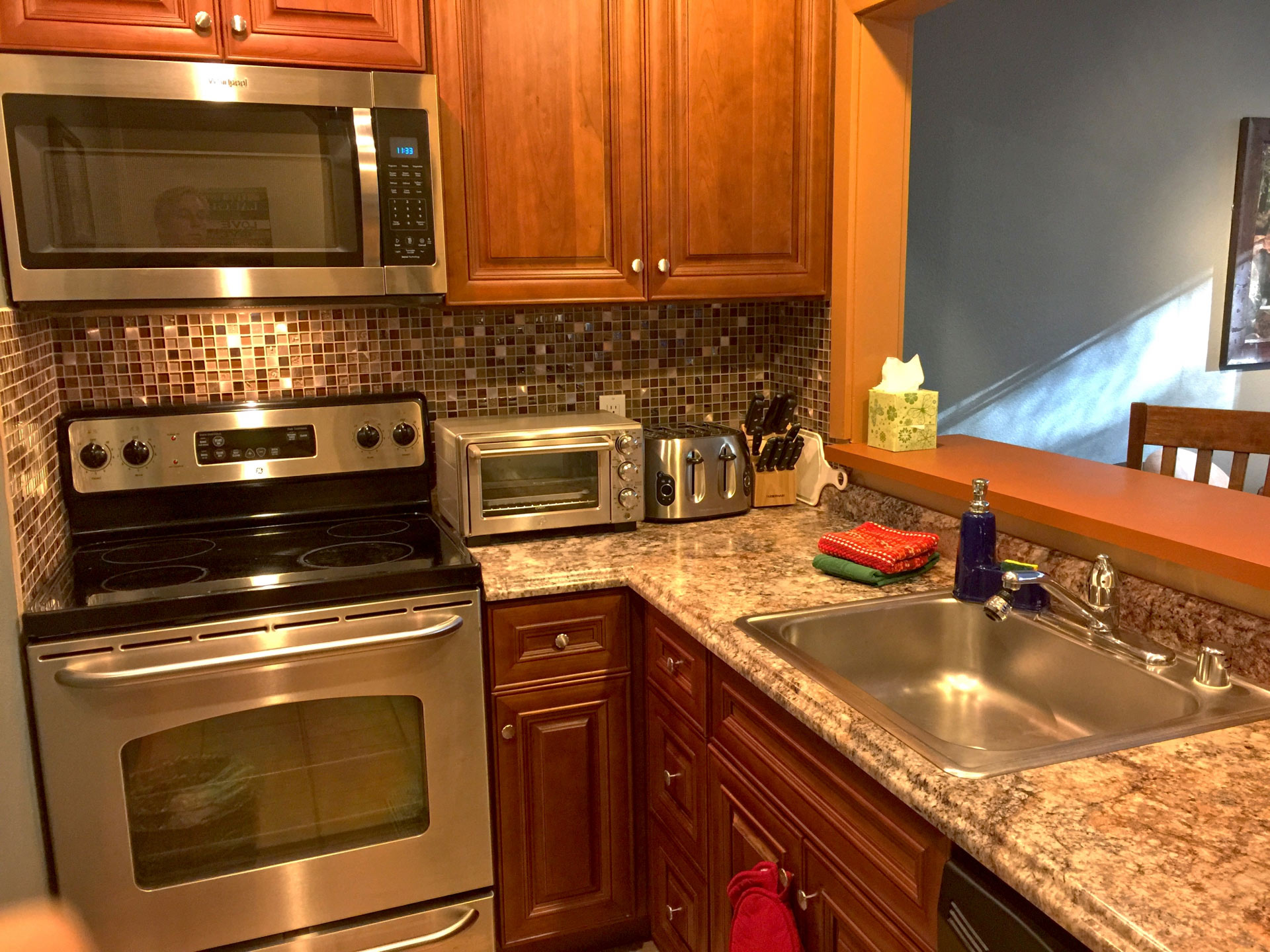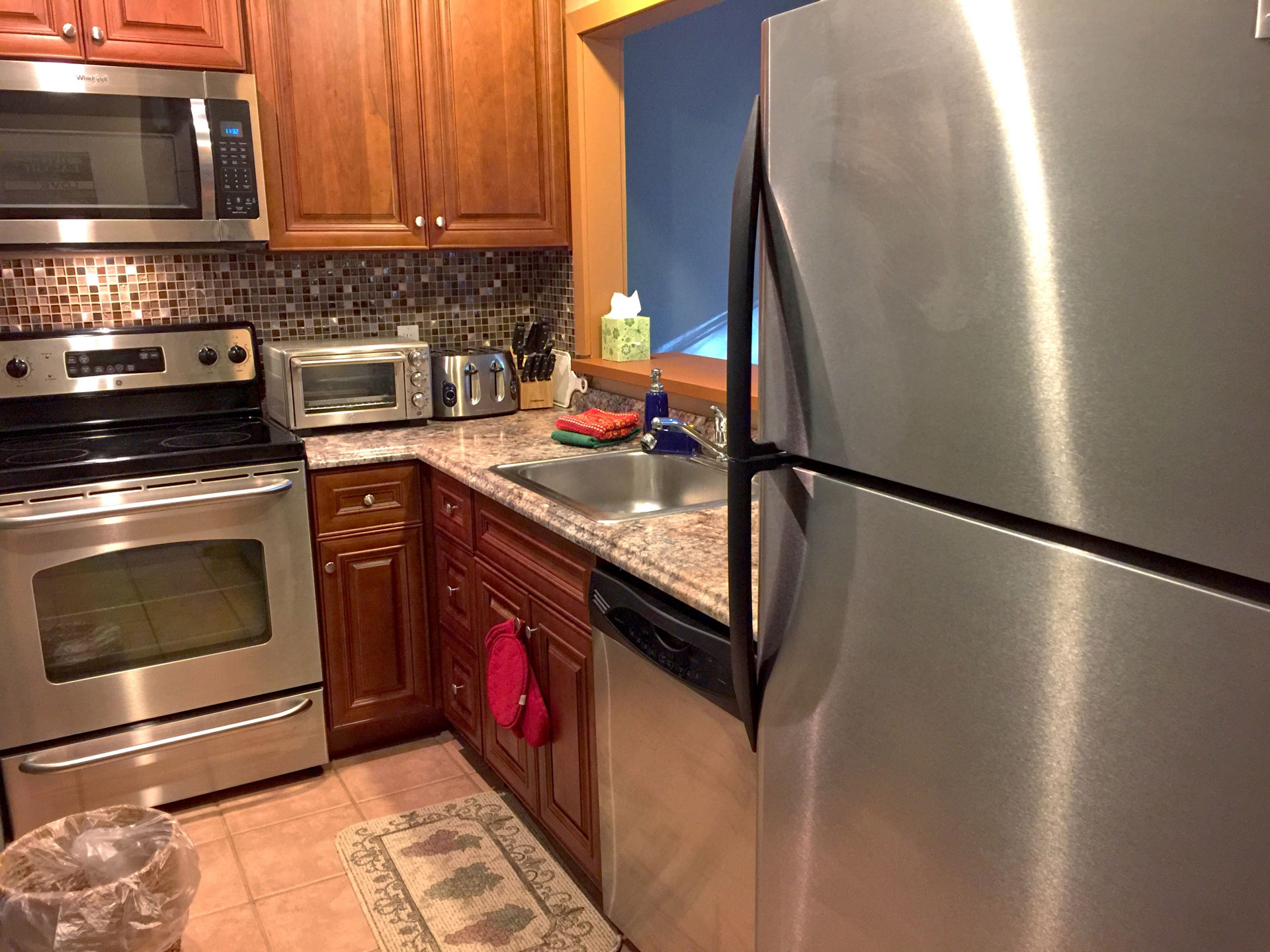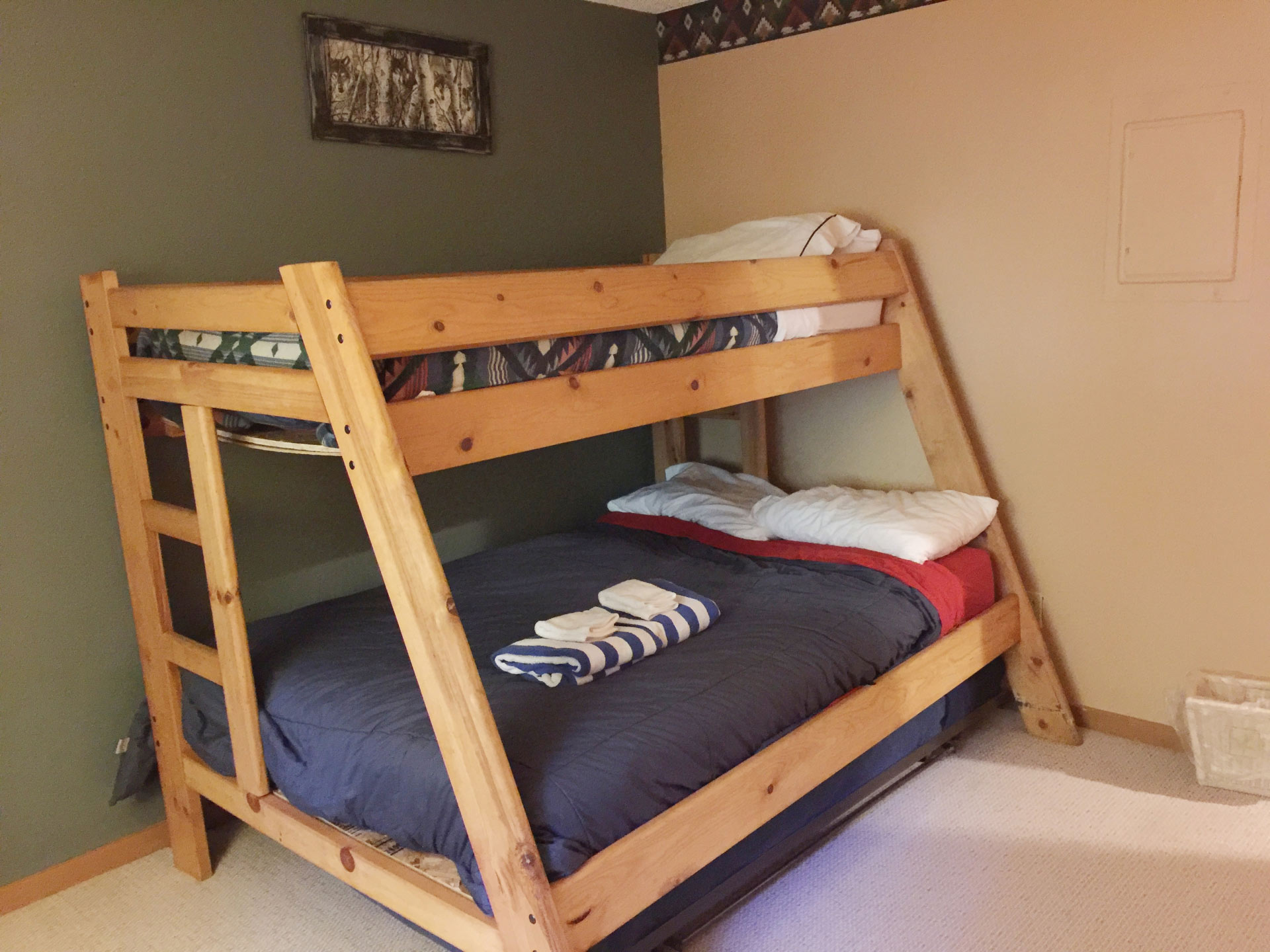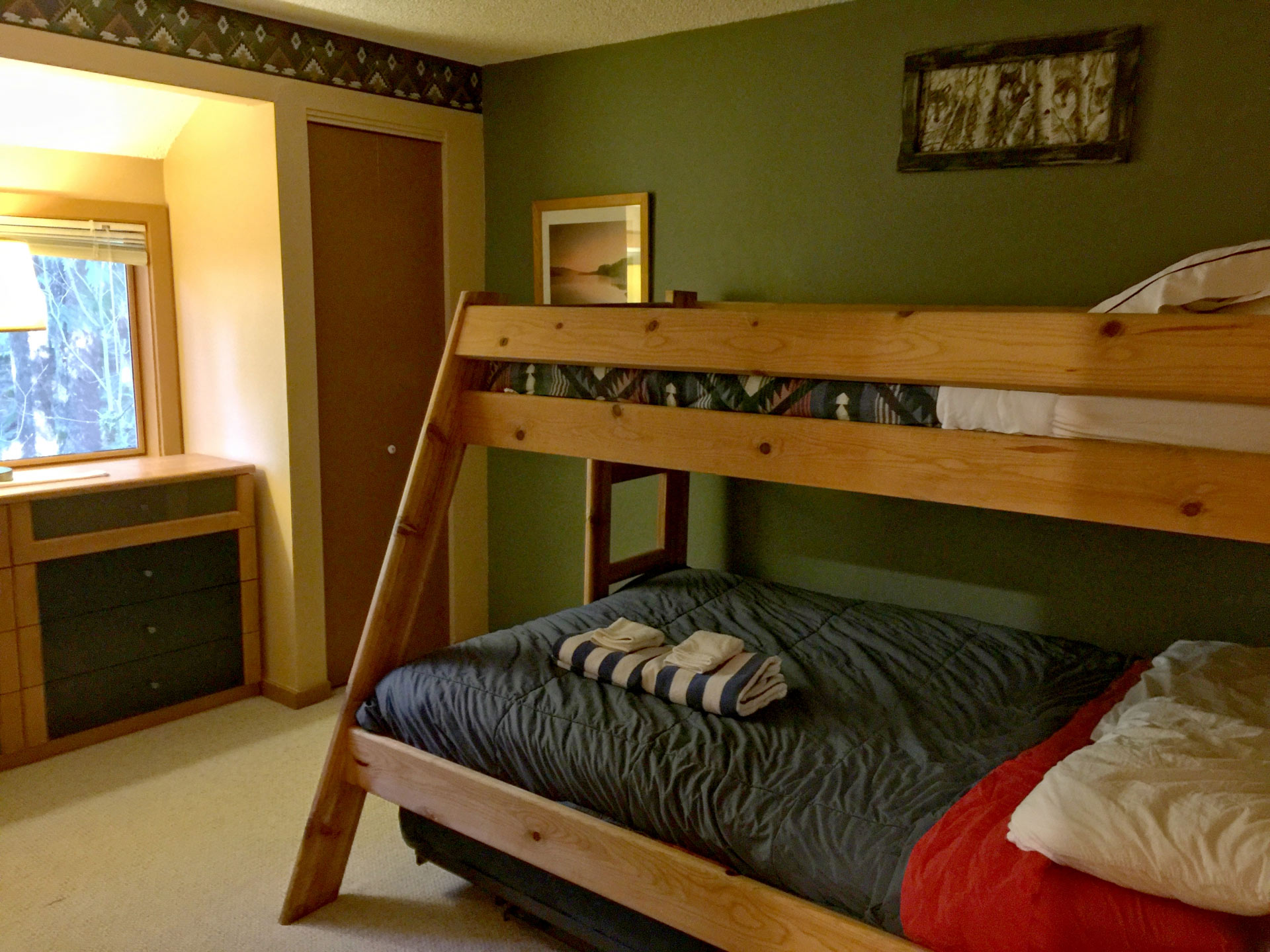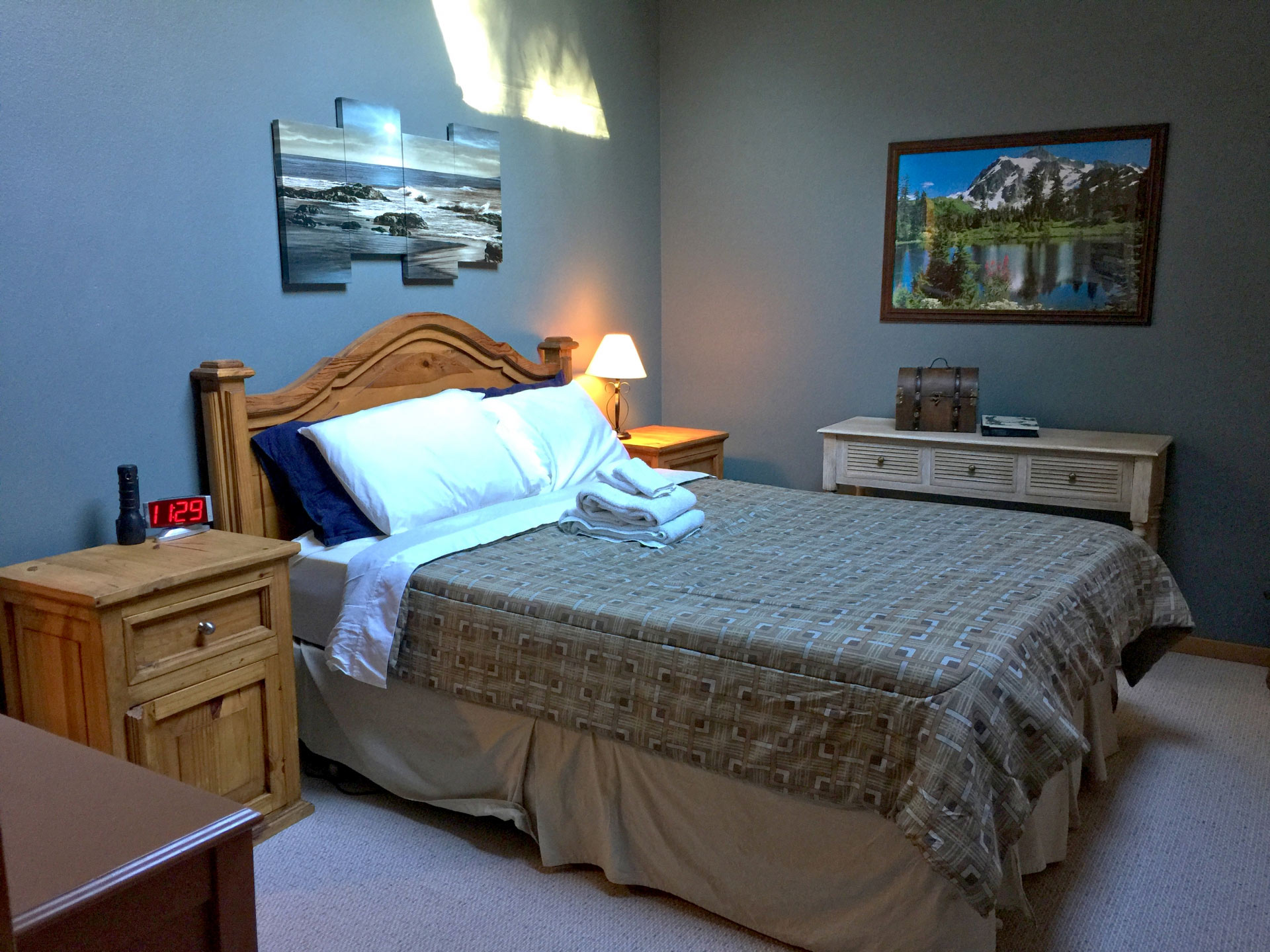 Property Description
WiFi - Fireplace - Washer/Dryer - Sleeps 7

This deluxe 2-story, 2-bedroom, 1 ¾-bath townhouse style end unit condo is a great family value with WiFi! The 1st floor features one bedroom with 1-set of bunk beds…the lower bunk being full size, a 3/4-bath, a nicely equipped galley style kitchen, and an open living/dining area with a hide-a-bed, a wood burning fireplace (firewood not provided), a dinette, and a nice little balcony. The 2nd floor features a master bedroom with 1-full bed, 1-full bath, and a laundry cubby. This vacation property will sleep 5 to 7-persons (ENFORCED Maximum Occupancy).
Location
Snowater is positioned on 20 acres of magnificent forest on the banks of the Nooksack River which runs on 3 sides of the property. At an elevation of 1000 feet, Snowater is accessible year round. Amenities include two full recreational buildings with two heated swimming pools, hot tubs, a sauna, four tennis courts, basketball, squash/racquetball courts and an adult fitness center. There is a lounge area with free wifi, a pool table, ping pong table and a separate toddler play room. The grounds have bbq/picnic areas as well as a children's play structure and trails along the river. Snowater is located at the edge of the Snoqualmie National Forest, close to the Mt. Baker Ski Area and spectacular old growth forests, an area rich in history and outdoor opportunities.
Facilities
Basic Cookware
Microwave
Toaster
Coffee Maker
Dishwasher
Snowater Amenities
Wireless Internet
Wood Burning Fireplace
Washer and Dryer
Kitchen
Dining Table
Parking for 2 Vehicles
Hide-A-Bed
DVD Player
House Rules
NO PETS/ NON SMOKING/ WI-FI

PLEASE NOTE: This vacation property is currently For Sale, and could be sold at any time. Please reserve accordingly.
Message to Owner

Send an enquiry or booking request directly to this property advertiser, to ensure you receive their reply check the spam filters on your email settings.

Pricing Type: Per Lodge Per Night

| | | | | | | | |
| --- | --- | --- | --- | --- | --- | --- | --- |
| Start | End | Regular Season | Low Season | Public Holiday | Christmas | New Year | |
| 14 Jan 19 | 21 Jan 19 | $189 | n/a | $219 | n/a | n/a | Book |
| 21 Jan 19 | 28 Jan 19 | $189 | n/a | $219 | n/a | n/a | Book |
| 28 Jan 19 | 04 Feb 19 | $189 | n/a | n/a | n/a | n/a | Book |
| 04 Feb 19 | 11 Feb 19 | $189 | n/a | $219 | n/a | n/a | Book |
| 11 Feb 19 | 18 Feb 19 | $189 | n/a | $219 | n/a | n/a | Book |
| 18 Feb 19 | 25 Feb 19 | $189 | n/a | $219 | n/a | n/a | Book |
| 25 Feb 19 | 04 Mar 19 | $189 | n/a | n/a | n/a | n/a | Book |
| 04 Mar 19 | 11 Mar 19 | $189 | n/a | n/a | n/a | n/a | Book |
| 11 Mar 19 | 18 Mar 19 | $189 | n/a | n/a | n/a | n/a | Book |
| 18 Mar 19 | 25 Mar 19 | $189 | n/a | n/a | n/a | n/a | Book |
| 25 Mar 19 | 01 Apr 19 | $189 | n/a | n/a | n/a | n/a | Book |
| 01 Apr 19 | 08 Apr 19 | $189 | n/a | n/a | n/a | n/a | Book |
| 08 Apr 19 | 15 Apr 19 | $189 | n/a | n/a | n/a | n/a | Book |
| 15 Apr 19 | 22 Apr 19 | $189 | n/a | n/a | n/a | n/a | Book |
| 22 Apr 19 | 29 Apr 19 | $189 | $159 | n/a | n/a | n/a | Book |
| 29 Apr 19 | 06 May 19 | n/a | $159 | n/a | n/a | n/a | Book |
| 06 May 19 | 13 May 19 | n/a | $159 | n/a | n/a | n/a | Book |
| 13 May 19 | 20 May 19 | n/a | $159 | n/a | n/a | n/a | Book |
| 20 May 19 | 27 May 19 | n/a | $159 | $219 | n/a | n/a | Book |
| 27 May 19 | 03 Jun 19 | n/a | $159 | $219 | n/a | n/a | Book |
| 03 Jun 19 | 10 Jun 19 | n/a | $159 | n/a | n/a | n/a | Book |
| 10 Jun 19 | 17 Jun 19 | n/a | $159 | n/a | n/a | n/a | Book |
| 17 Jun 19 | 24 Jun 19 | n/a | $159 | n/a | n/a | n/a | Book |
| 24 Jun 19 | 01 Jul 19 | $189 | $159 | n/a | n/a | n/a | Book |
| 01 Jul 19 | 08 Jul 19 | $189 | n/a | n/a | n/a | n/a | Book |
| 08 Jul 19 | 15 Jul 19 | $189 | n/a | n/a | n/a | n/a | Book |
| 15 Jul 19 | 22 Jul 19 | $189 | n/a | n/a | n/a | n/a | Book |
| 22 Jul 19 | 29 Jul 19 | $189 | n/a | n/a | n/a | n/a | Book |
| 29 Jul 19 | 05 Aug 19 | $189 | n/a | n/a | n/a | n/a | Book |
| 05 Aug 19 | 12 Aug 19 | $189 | n/a | n/a | n/a | n/a | Book |
| 12 Aug 19 | 19 Aug 19 | $189 | n/a | n/a | n/a | n/a | Book |
| 19 Aug 19 | 26 Aug 19 | $189 | n/a | n/a | n/a | n/a | Book |
| 26 Aug 19 | 02 Sep 19 | $189 | n/a | $219 | n/a | n/a | Book |
| 02 Sep 19 | 09 Sep 19 | $189 | n/a | $219 | n/a | n/a | Book |
| 09 Sep 19 | 16 Sep 19 | $189 | n/a | n/a | n/a | n/a | Book |
| 16 Sep 19 | 23 Sep 19 | $189 | n/a | n/a | n/a | n/a | Book |
| 23 Sep 19 | 30 Sep 19 | $189 | n/a | n/a | n/a | n/a | Book |
| 30 Sep 19 | 07 Oct 19 | $189 | $159 | n/a | n/a | n/a | Book |
| 07 Oct 19 | 14 Oct 19 | n/a | $159 | n/a | n/a | n/a | Book |
| 14 Oct 19 | 21 Oct 19 | n/a | $159 | n/a | n/a | n/a | Book |
| 21 Oct 19 | 28 Oct 19 | n/a | $159 | n/a | n/a | n/a | Book |
| 28 Oct 19 | 04 Nov 19 | n/a | $159 | n/a | n/a | n/a | Book |
| 04 Nov 19 | 11 Nov 19 | n/a | $159 | n/a | n/a | n/a | Book |
| 11 Nov 19 | 18 Nov 19 | n/a | $159 | n/a | n/a | n/a | Book |
| 18 Nov 19 | 25 Nov 19 | n/a | $159 | n/a | n/a | n/a | Book |
| 25 Nov 19 | 02 Dec 19 | $189 | $159 | $219 | n/a | n/a | Book |
| 02 Dec 19 | 09 Dec 19 | $189 | n/a | n/a | n/a | n/a | Book |
| 09 Dec 19 | 16 Dec 19 | $189 | n/a | n/a | $239 | n/a | Book |
| 16 Dec 19 | 23 Dec 19 | n/a | n/a | n/a | $239 | n/a | Book |
| 23 Dec 19 | 30 Dec 19 | n/a | n/a | n/a | $239 | $309 | Book |