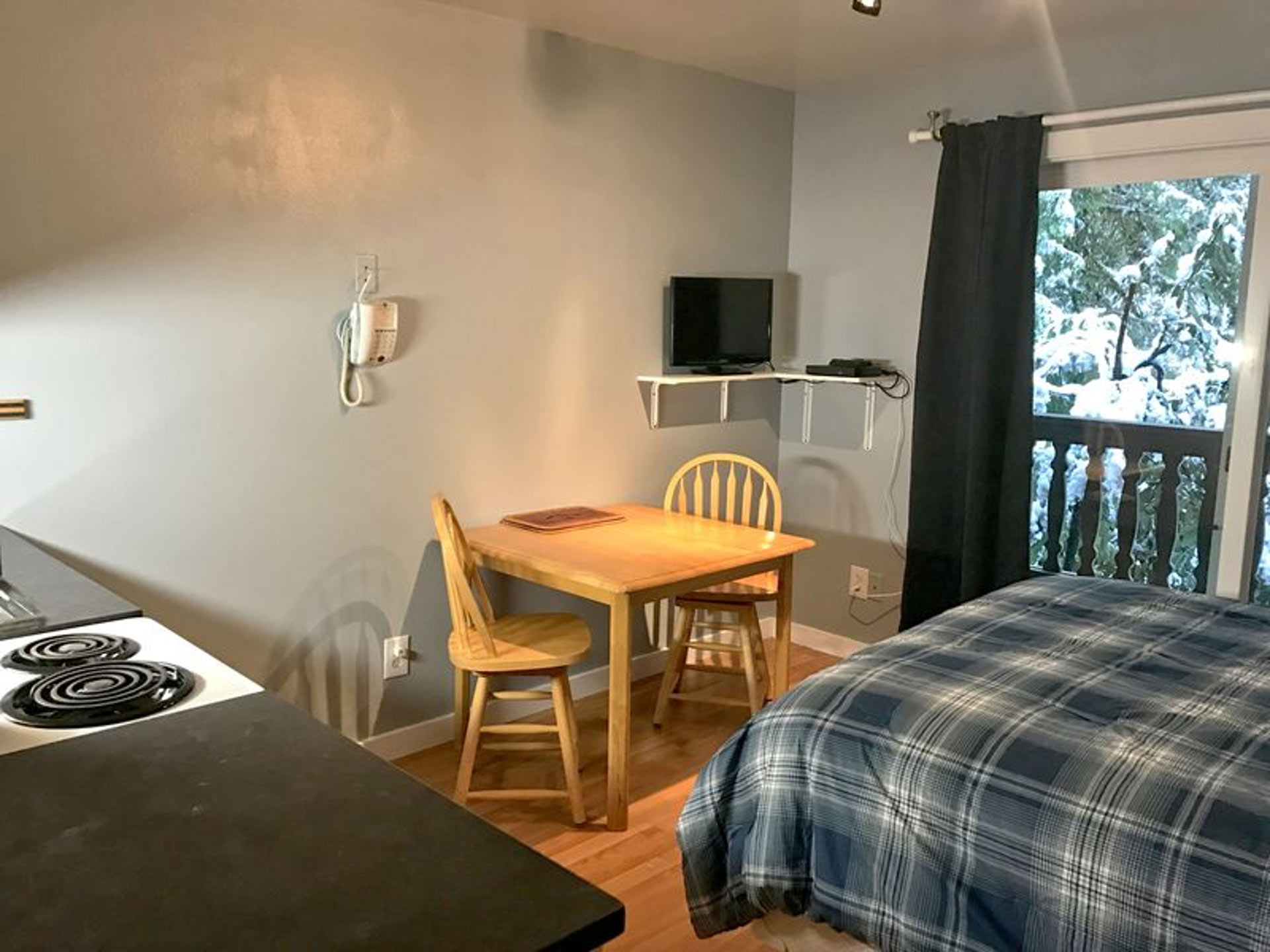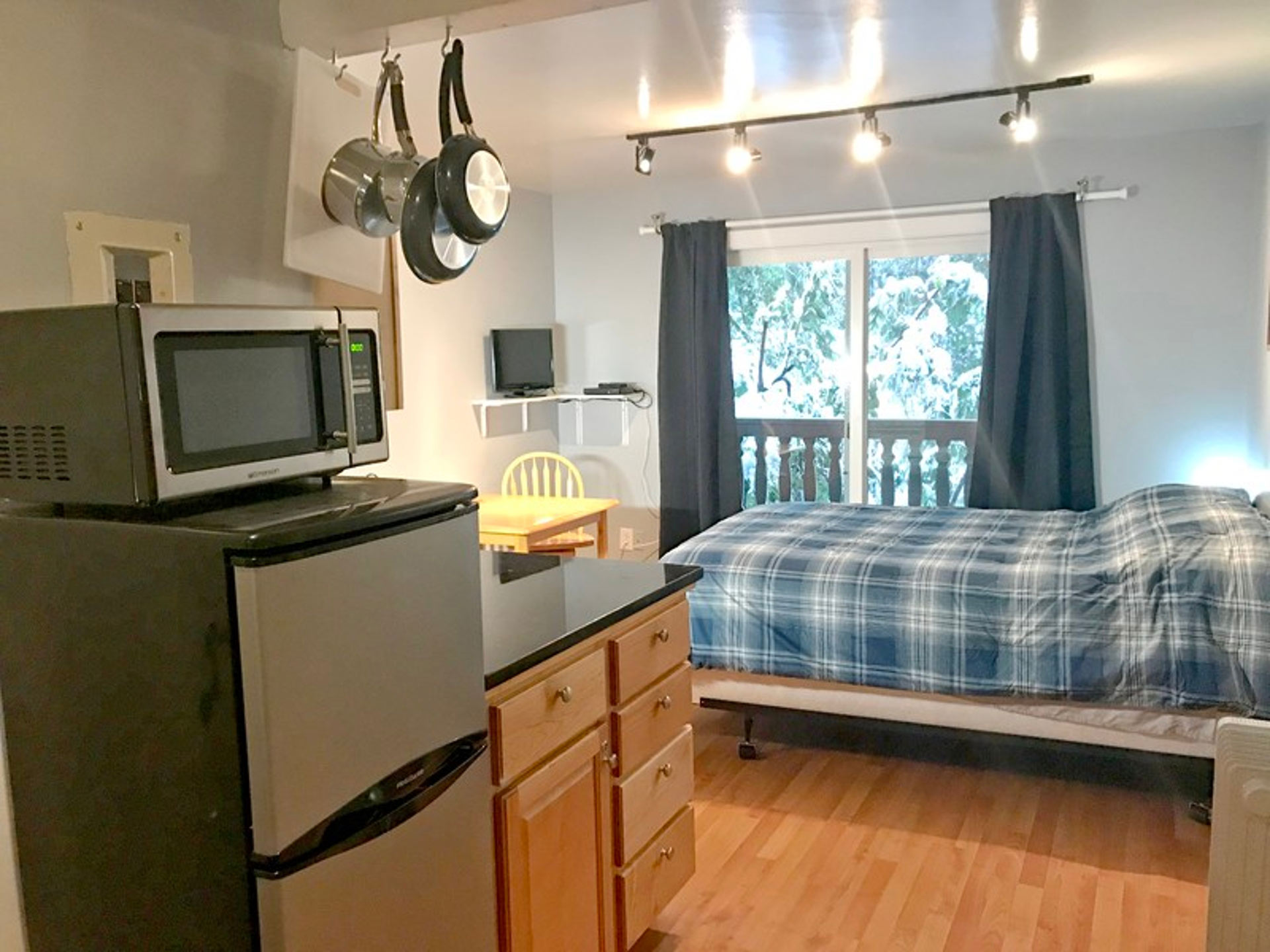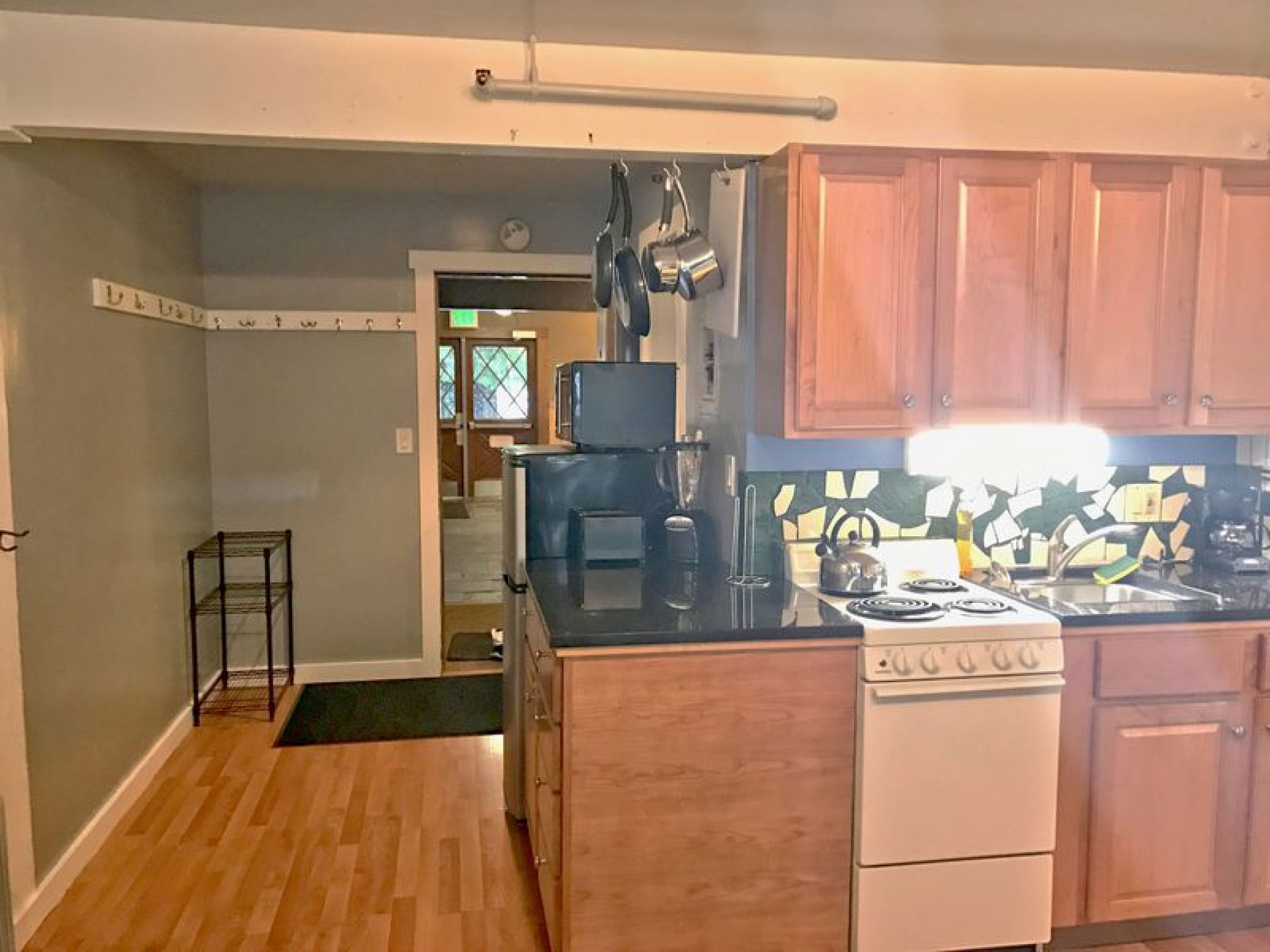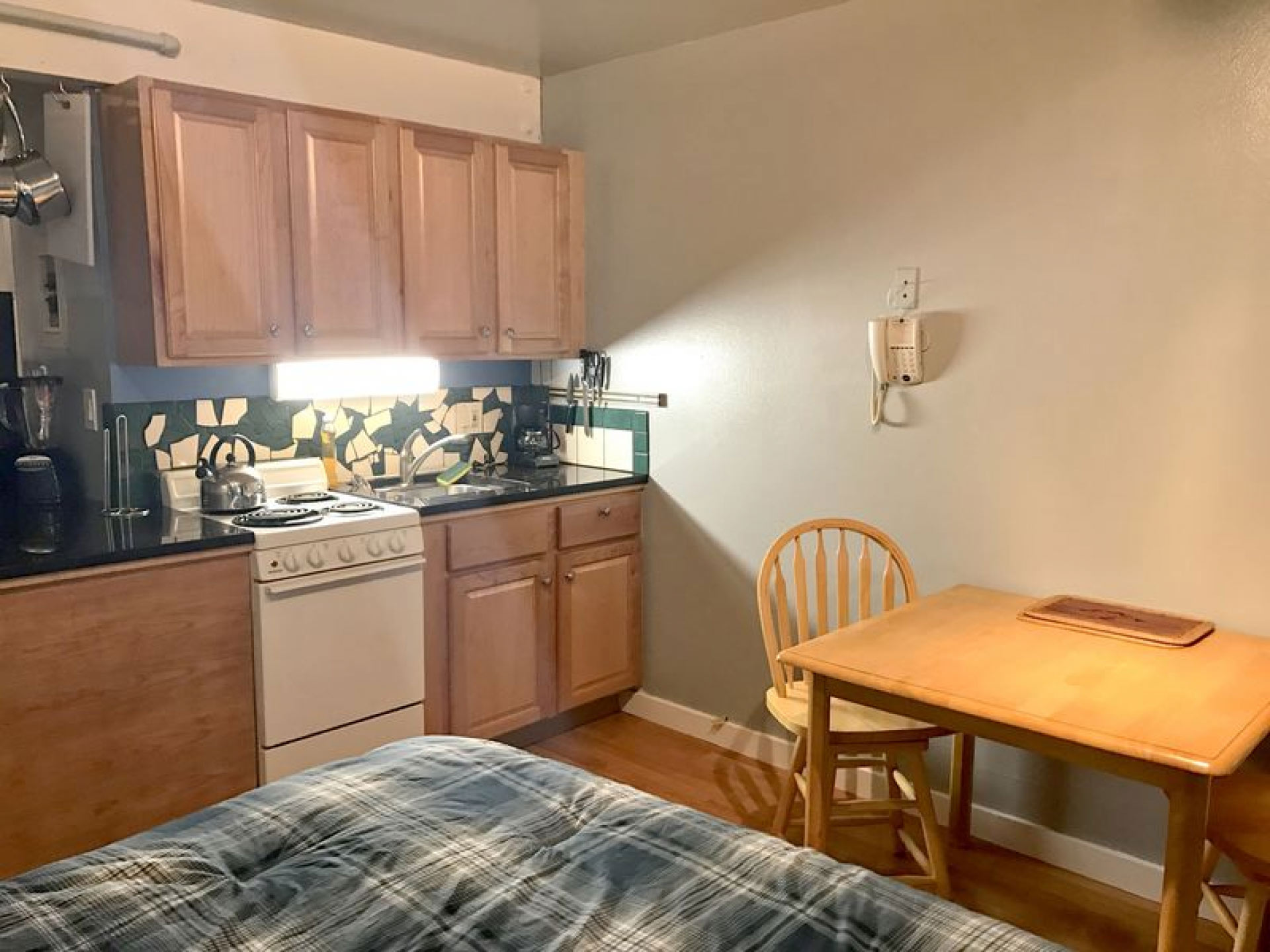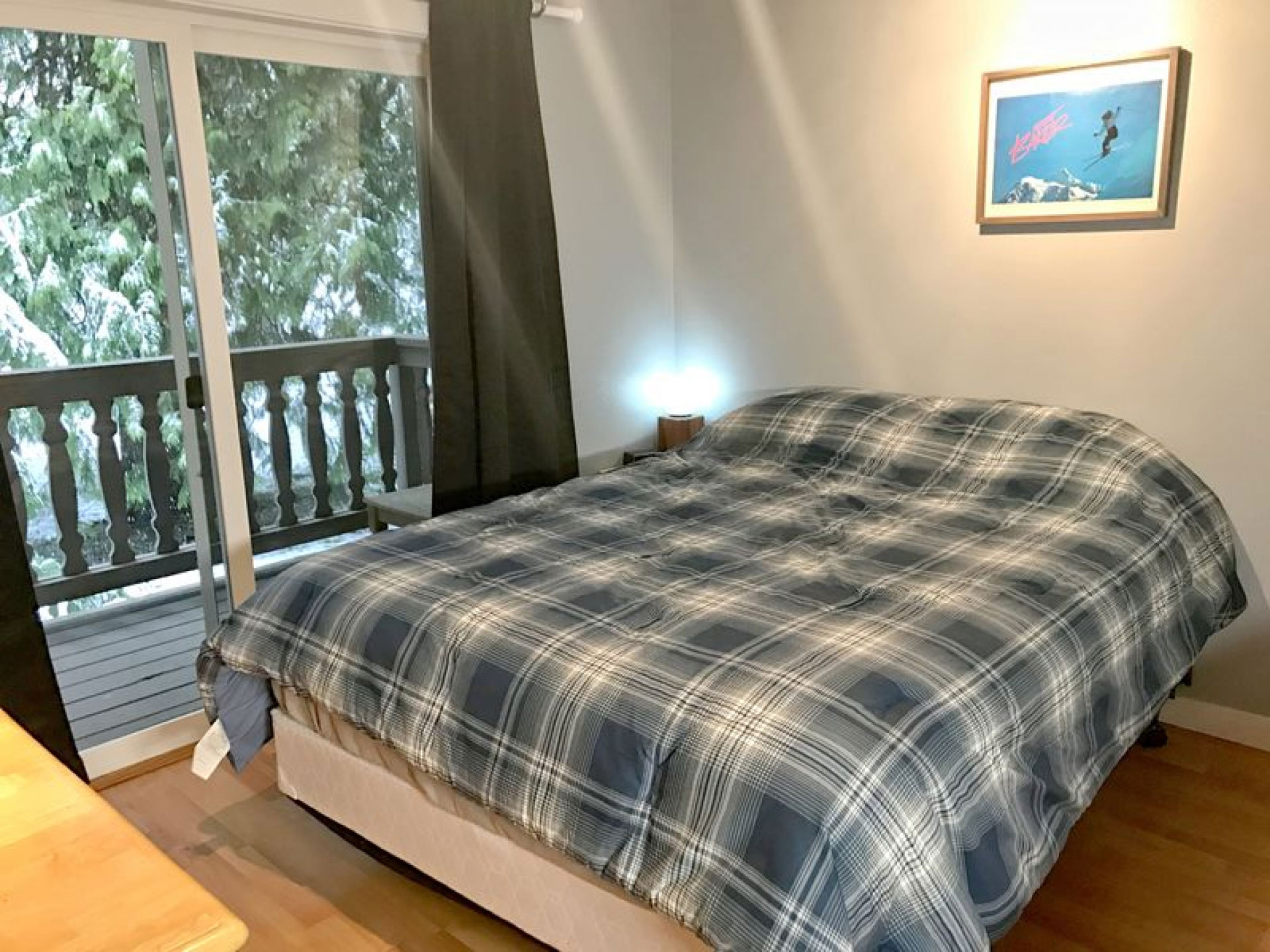 Property Description
Economical - Convenient - Kitchenette - Sleeps 2

From the hardwood floors to the granite countertops, this recently updated studio condo has everything that you need! Features include a kitchenette with an apartment size range/oven and refrigerator/freezer, a dinette, 1-queen size bed, a DVD/monitor, 1-full bath, and a nice outdoor balcony for taking in all that Mother Nature has to offer. This budget-minded condo will sleep up to 2-persons (ENFORCED Maximum Occupancy).
Location
The Snowline Lodge features a game room downstairs with a ping pong table, pool table and air hockey. It has a great lounge area with free internet and tv. There is a laundry facility with coin-op laundry, and shared wifi. Condos are within walking distance to Chair 9 Restaurant and Lounge, a premier ski hangout and family dining destination. The Snowline Lodge is located at the edge of the Snoqualmie National Forest, close to the Mt. Baker Ski Area and spectacular old growth forests, an area rich in history and outdoor opportunities.
Facilities
Basic Cookware
Microwave
Toaster
Coffee Maker
Wireless Internet
Kitchen
Dining Table
DVD Player
House Rules
NO HOT TUB/ NO PETS/ NON SMOKING/ SHARED WI-FI
Message to Owner

Send an enquiry or booking request directly to this property advertiser, to ensure you receive their reply check the spam filters on your email settings.

Pricing Type: Per Lodge Per Night

| | | | | | | | |
| --- | --- | --- | --- | --- | --- | --- | --- |
| Start | End | Regular Season | Low Season | Public Holiday | Christmas | New Year | |
| 18 Feb 19 | 25 Feb 19 | $99 | n/a | $119 | n/a | n/a | Book |
| 25 Feb 19 | 04 Mar 19 | $99 | n/a | n/a | n/a | n/a | Book |
| 04 Mar 19 | 11 Mar 19 | $99 | n/a | n/a | n/a | n/a | Book |
| 11 Mar 19 | 18 Mar 19 | $99 | n/a | n/a | n/a | n/a | Book |
| 18 Mar 19 | 25 Mar 19 | $99 | n/a | n/a | n/a | n/a | Book |
| 25 Mar 19 | 01 Apr 19 | $99 | n/a | n/a | n/a | n/a | Book |
| 01 Apr 19 | 08 Apr 19 | $99 | n/a | n/a | n/a | n/a | Book |
| 08 Apr 19 | 15 Apr 19 | $99 | n/a | n/a | n/a | n/a | Book |
| 15 Apr 19 | 22 Apr 19 | $99 | n/a | n/a | n/a | n/a | Book |
| 22 Apr 19 | 29 Apr 19 | $99 | $99 | n/a | n/a | n/a | Book |
| 29 Apr 19 | 06 May 19 | n/a | $99 | n/a | n/a | n/a | Book |
| 06 May 19 | 13 May 19 | n/a | $99 | n/a | n/a | n/a | Book |
| 13 May 19 | 20 May 19 | n/a | $99 | n/a | n/a | n/a | Book |
| 20 May 19 | 27 May 19 | n/a | $99 | $119 | n/a | n/a | Book |
| 27 May 19 | 03 Jun 19 | n/a | $99 | $119 | n/a | n/a | Book |
| 03 Jun 19 | 10 Jun 19 | n/a | $99 | n/a | n/a | n/a | Book |
| 10 Jun 19 | 17 Jun 19 | n/a | $99 | n/a | n/a | n/a | Book |
| 17 Jun 19 | 24 Jun 19 | n/a | $99 | n/a | n/a | n/a | Book |
| 24 Jun 19 | 01 Jul 19 | $99 | $99 | n/a | n/a | n/a | Book |
| 01 Jul 19 | 08 Jul 19 | $99 | n/a | n/a | n/a | n/a | Book |
| 08 Jul 19 | 15 Jul 19 | $99 | n/a | n/a | n/a | n/a | Book |
| 15 Jul 19 | 22 Jul 19 | $99 | n/a | n/a | n/a | n/a | Book |
| 22 Jul 19 | 29 Jul 19 | $99 | n/a | n/a | n/a | n/a | Book |
| 29 Jul 19 | 05 Aug 19 | $99 | n/a | n/a | n/a | n/a | Book |
| 05 Aug 19 | 12 Aug 19 | $99 | n/a | n/a | n/a | n/a | Book |
| 12 Aug 19 | 19 Aug 19 | $99 | n/a | n/a | n/a | n/a | Book |
| 19 Aug 19 | 26 Aug 19 | $99 | n/a | n/a | n/a | n/a | Book |
| 26 Aug 19 | 02 Sep 19 | $99 | n/a | $119 | n/a | n/a | Book |
| 02 Sep 19 | 09 Sep 19 | $99 | n/a | $119 | n/a | n/a | Book |
| 09 Sep 19 | 16 Sep 19 | $99 | n/a | n/a | n/a | n/a | Book |
| 16 Sep 19 | 23 Sep 19 | $99 | n/a | n/a | n/a | n/a | Book |
| 23 Sep 19 | 30 Sep 19 | $99 | n/a | n/a | n/a | n/a | Book |
| 30 Sep 19 | 07 Oct 19 | $99 | $99 | n/a | n/a | n/a | Book |
| 07 Oct 19 | 14 Oct 19 | n/a | $99 | n/a | n/a | n/a | Book |
| 14 Oct 19 | 21 Oct 19 | n/a | $99 | n/a | n/a | n/a | Book |
| 21 Oct 19 | 28 Oct 19 | n/a | $99 | n/a | n/a | n/a | Book |
| 28 Oct 19 | 04 Nov 19 | n/a | $99 | n/a | n/a | n/a | Book |
| 04 Nov 19 | 11 Nov 19 | n/a | $99 | n/a | n/a | n/a | Book |
| 11 Nov 19 | 18 Nov 19 | n/a | $99 | n/a | n/a | n/a | Book |
| 18 Nov 19 | 25 Nov 19 | n/a | $99 | n/a | n/a | n/a | Book |
| 25 Nov 19 | 02 Dec 19 | $99 | $99 | $119 | n/a | n/a | Book |
| 02 Dec 19 | 09 Dec 19 | $99 | n/a | n/a | n/a | n/a | Book |
| 09 Dec 19 | 16 Dec 19 | $99 | n/a | n/a | $129 | n/a | Book |
| 16 Dec 19 | 23 Dec 19 | n/a | n/a | n/a | $129 | n/a | Book |
| 23 Dec 19 | 30 Dec 19 | n/a | n/a | n/a | $129 | $149 | Book |