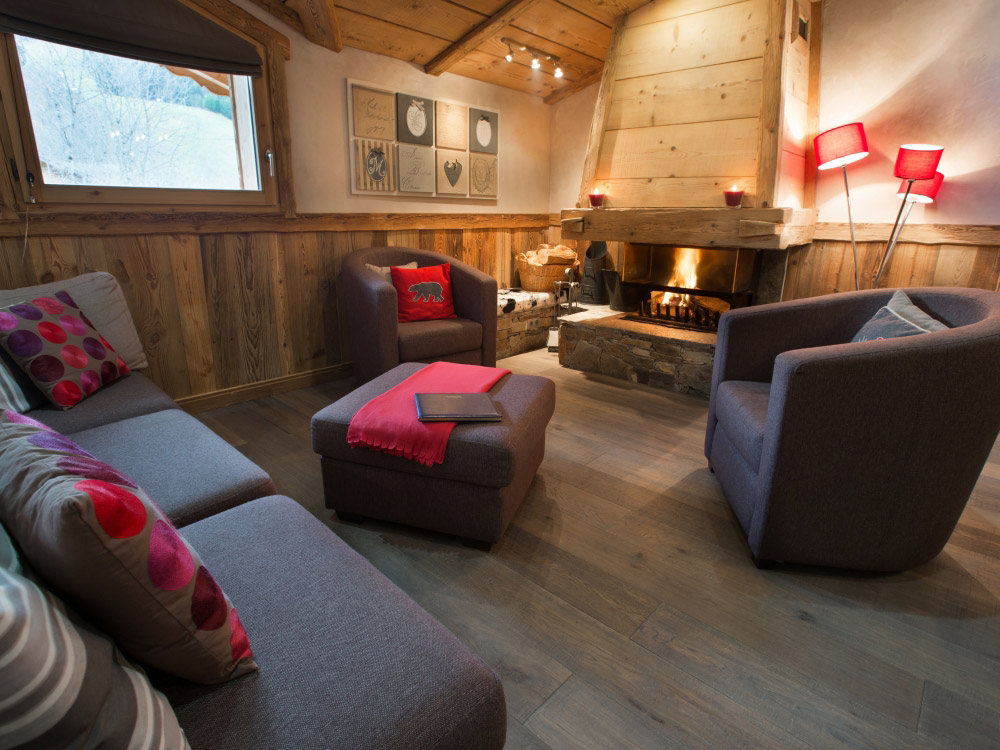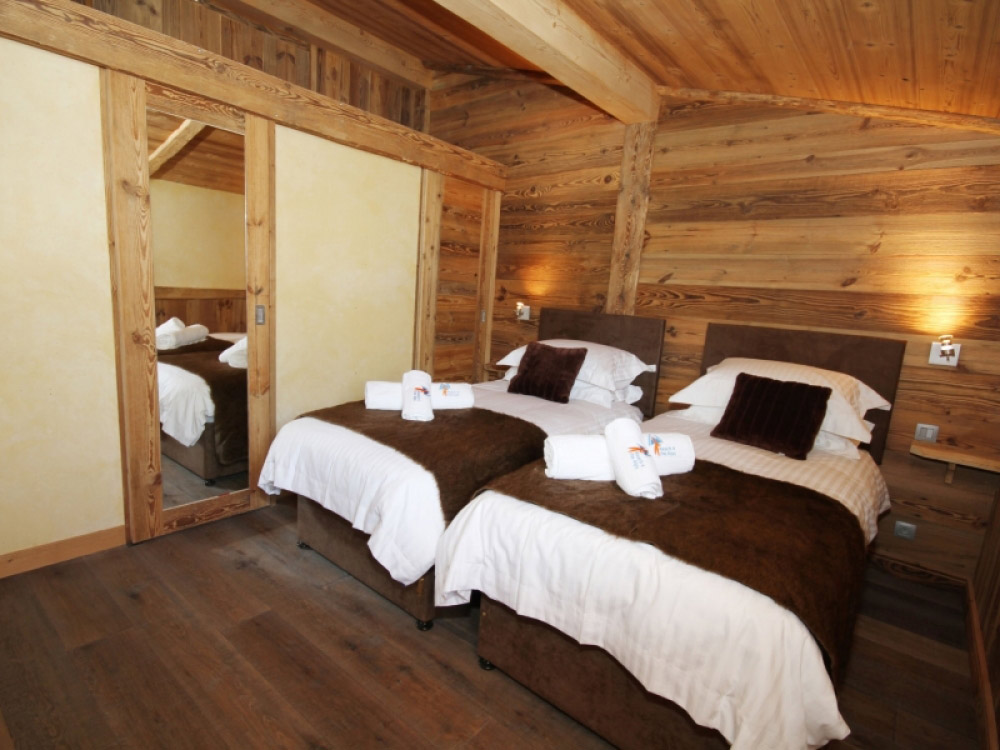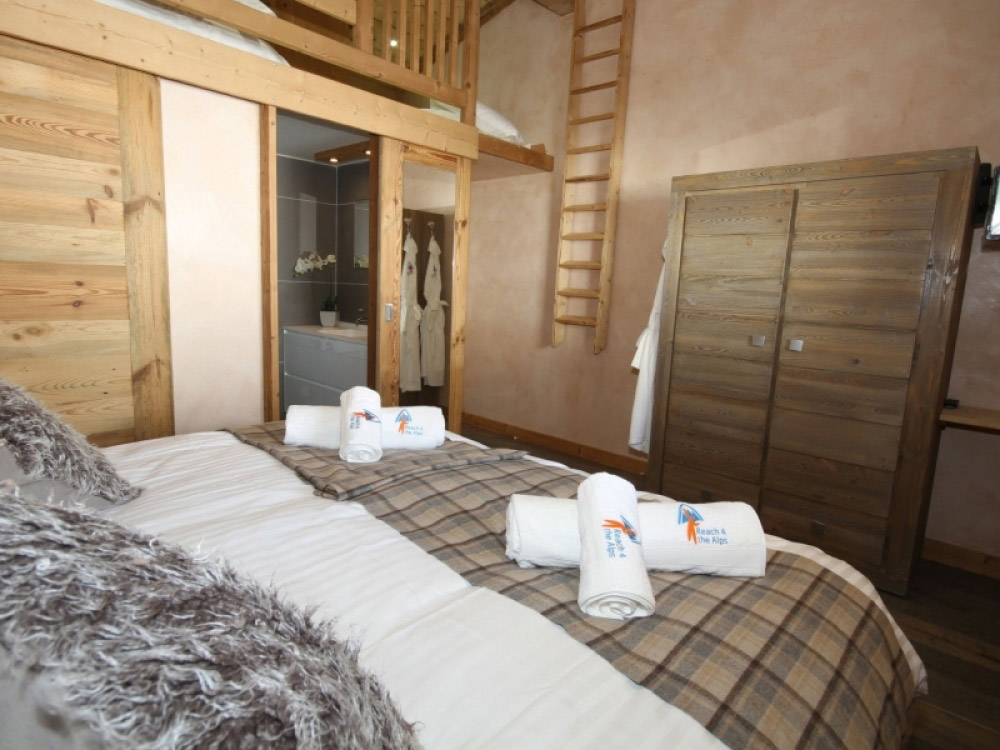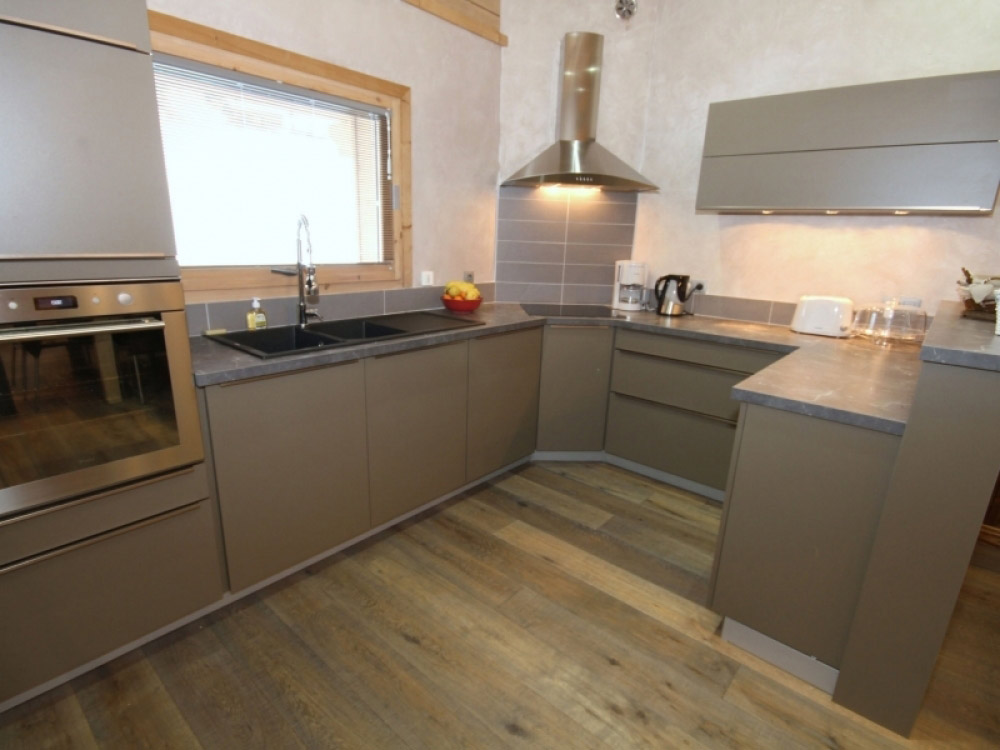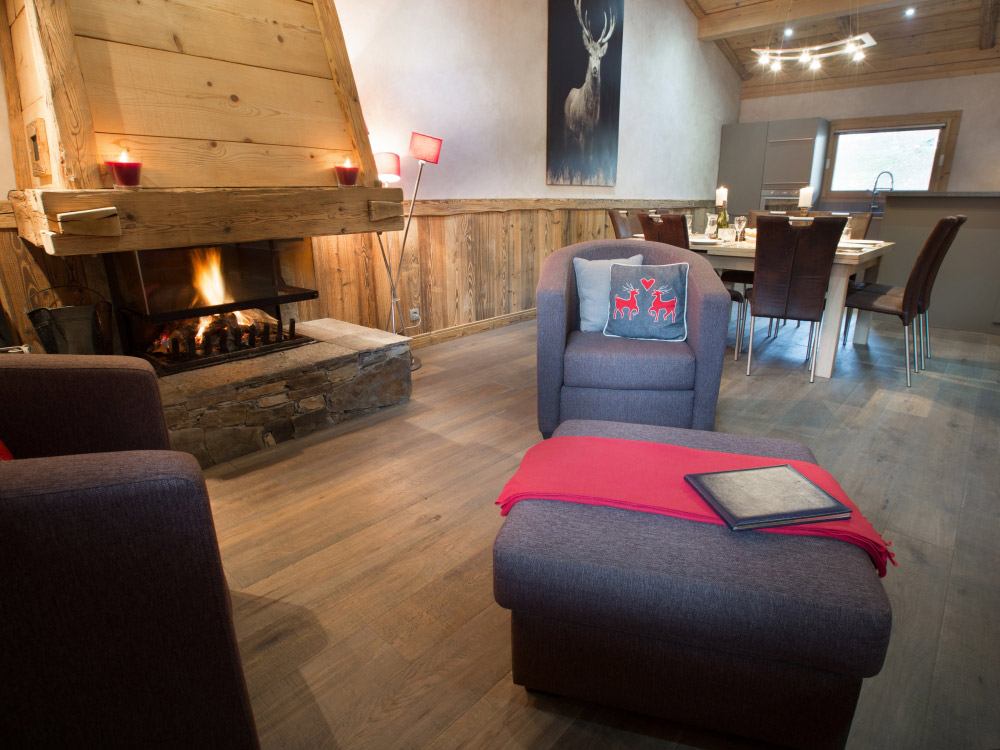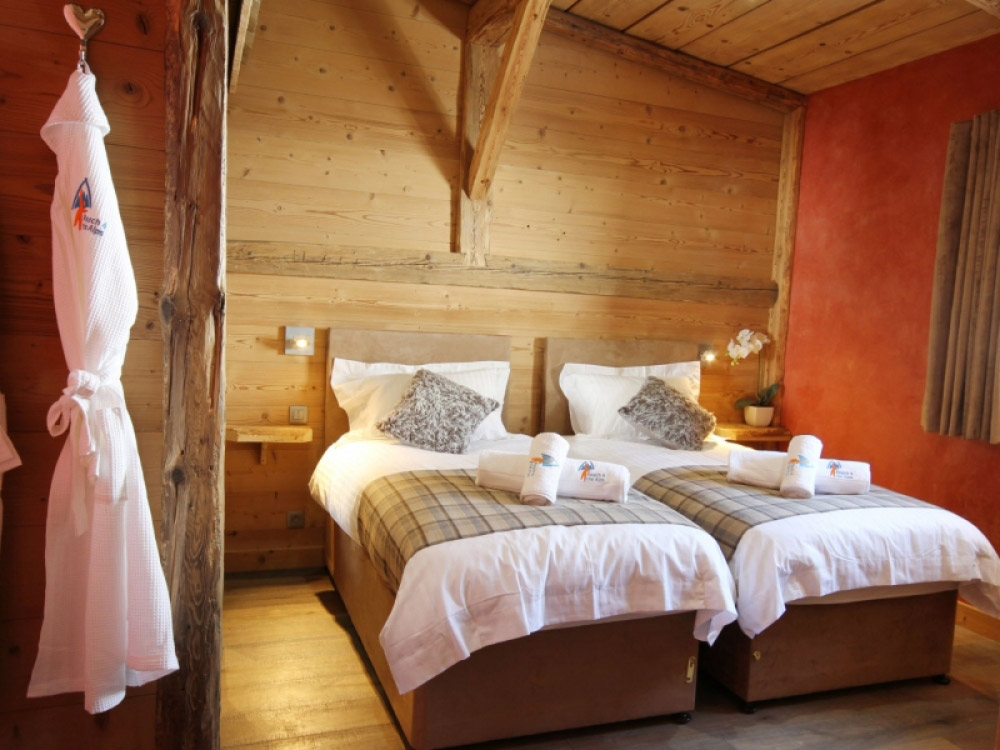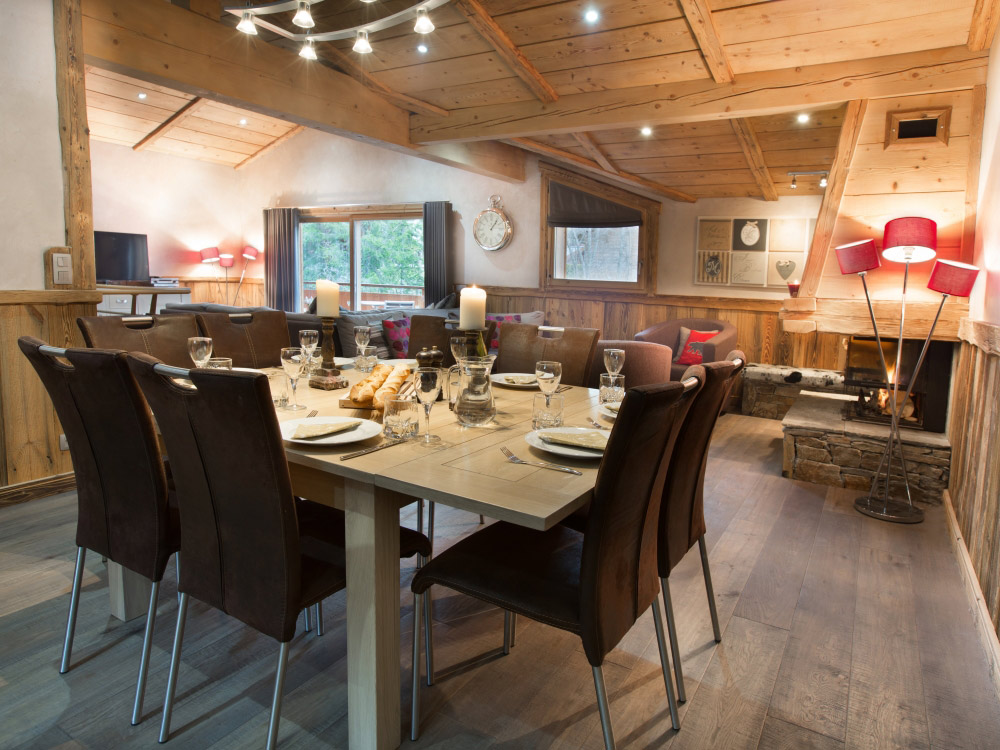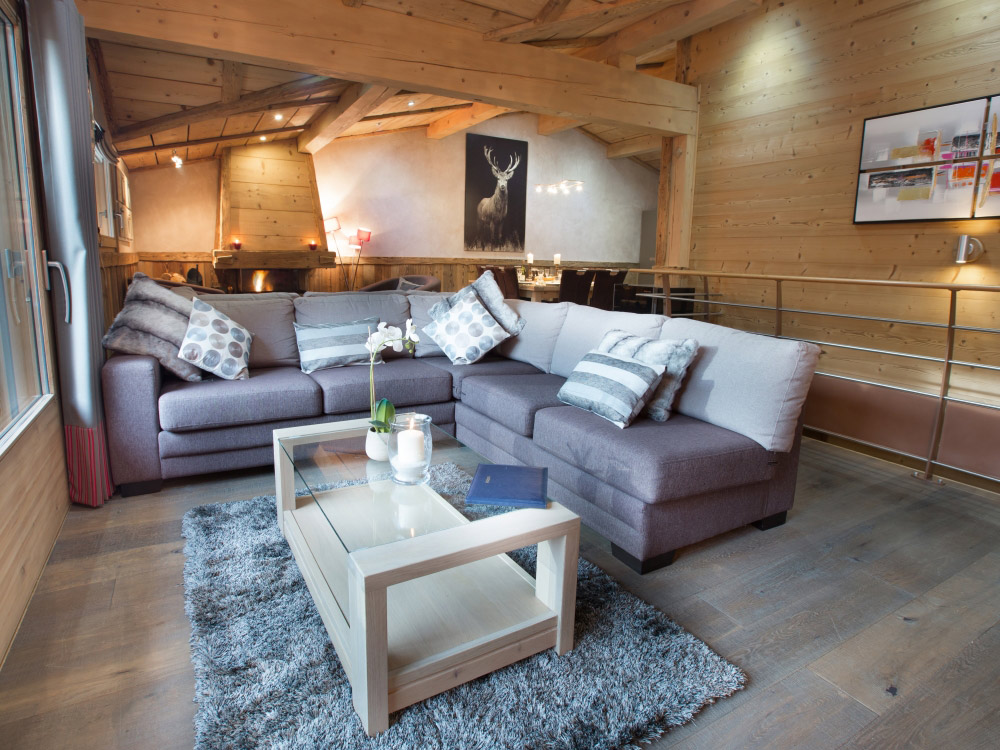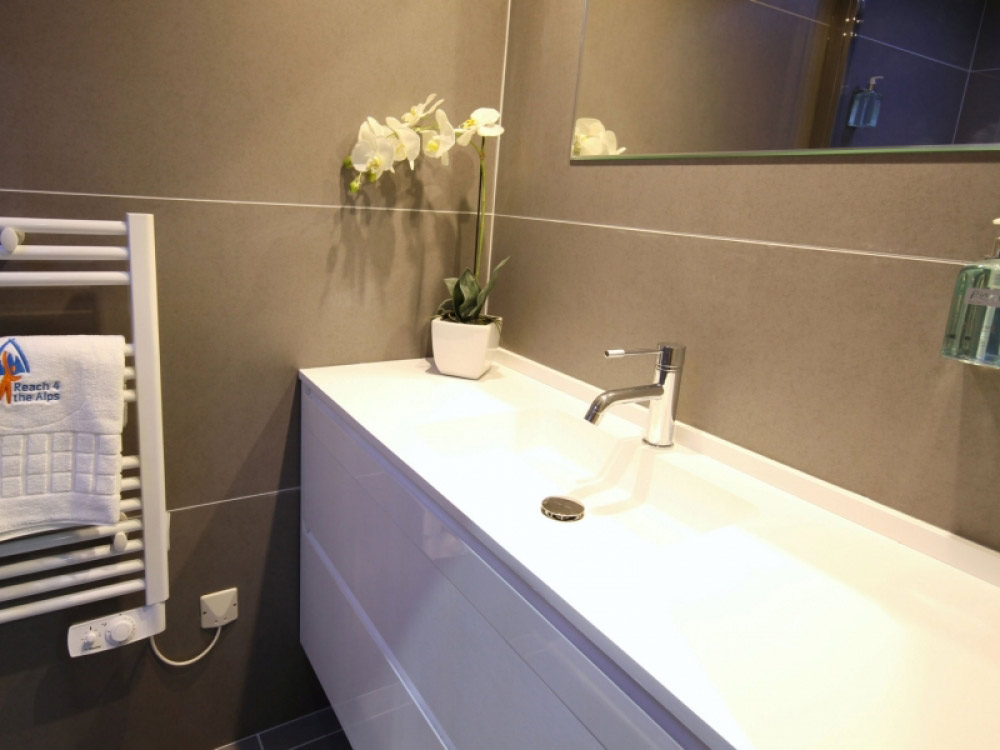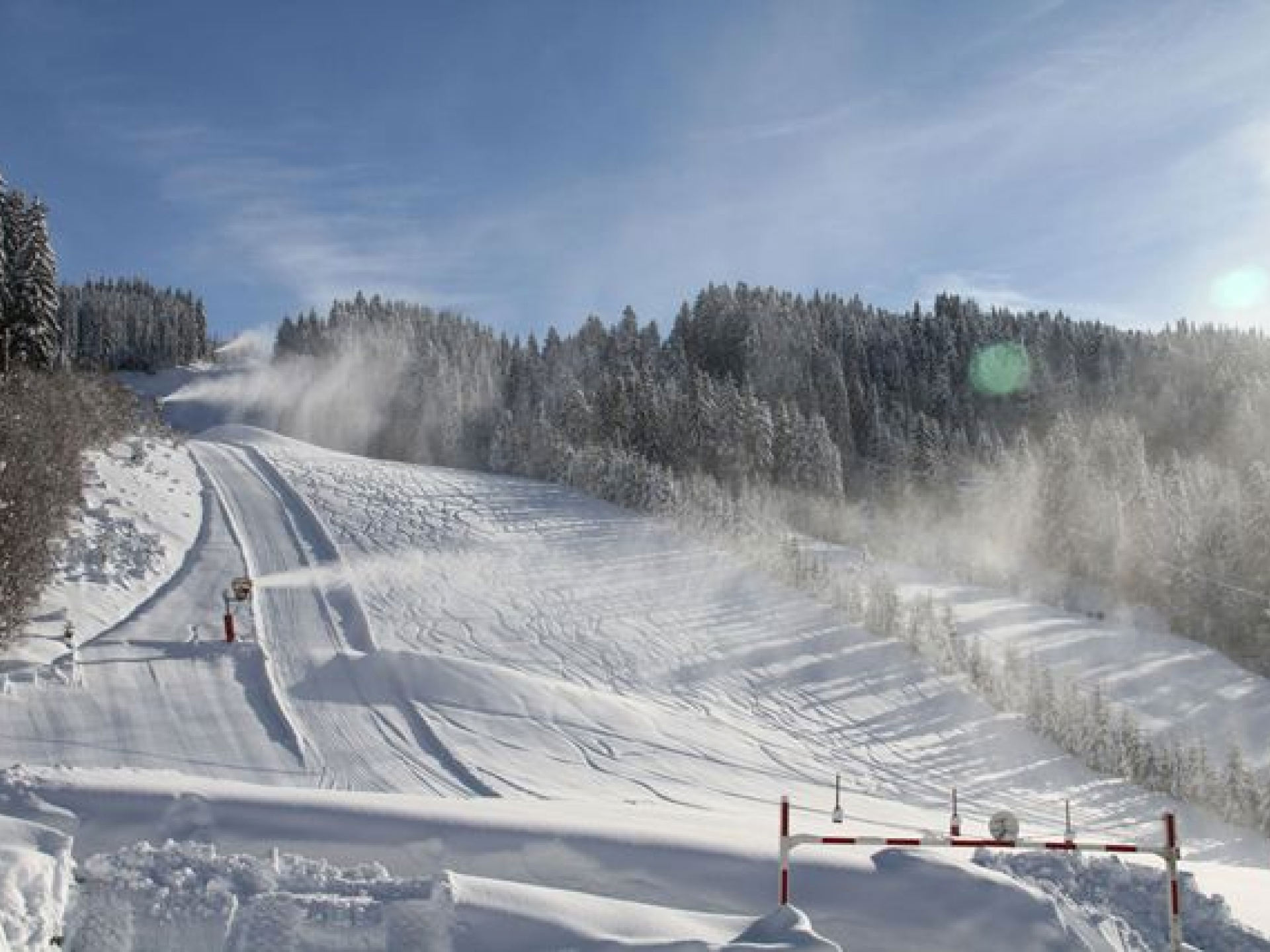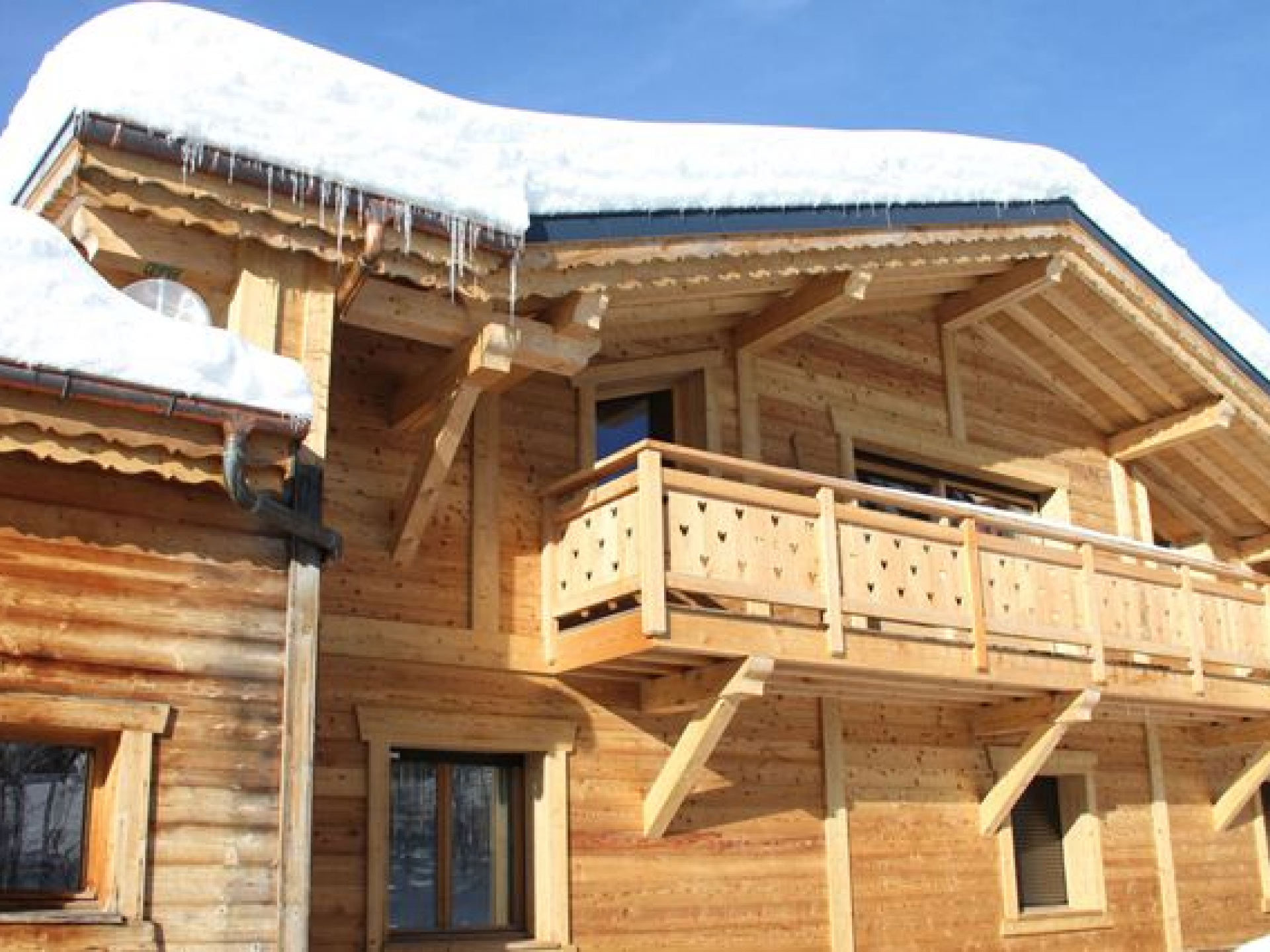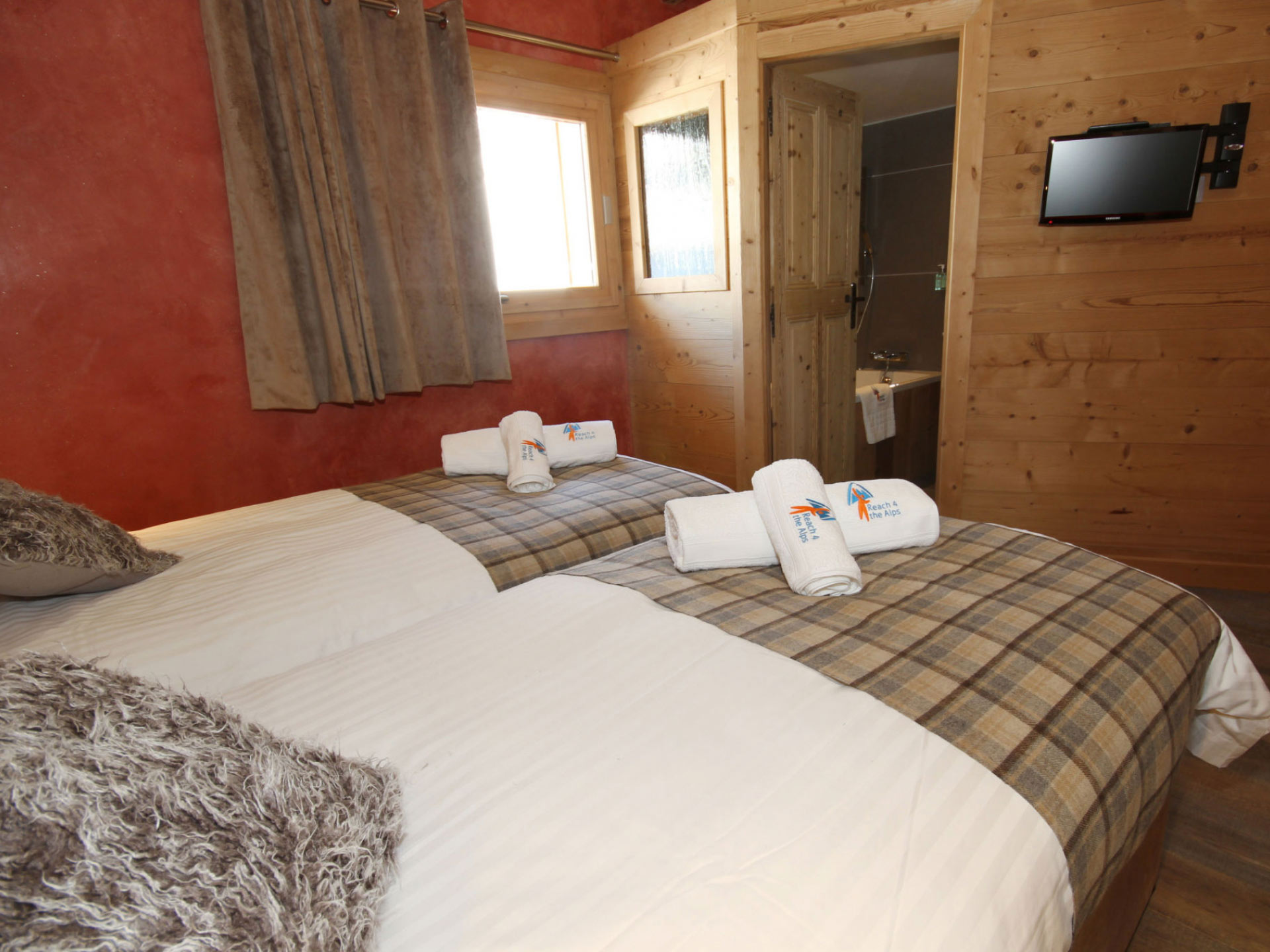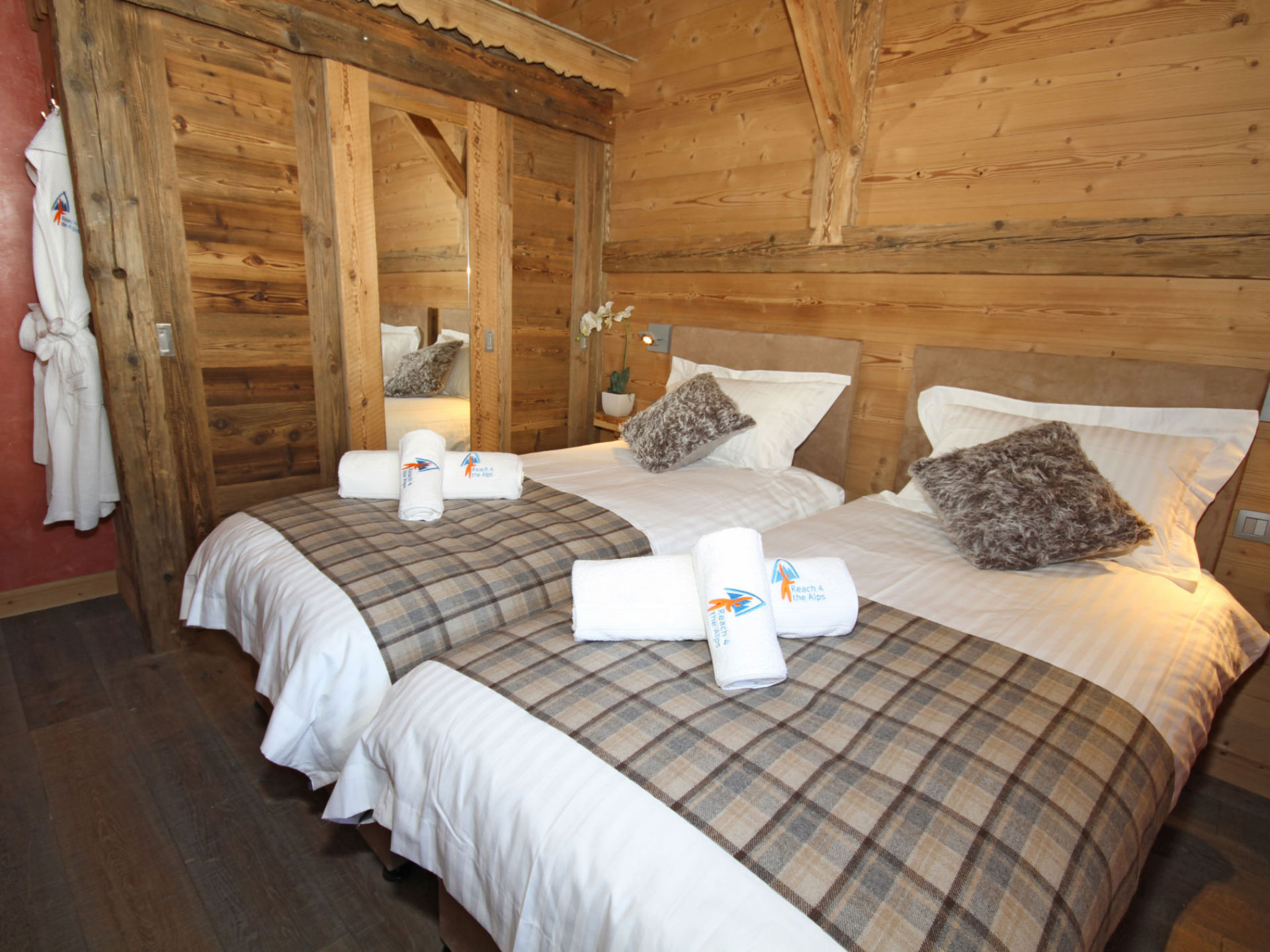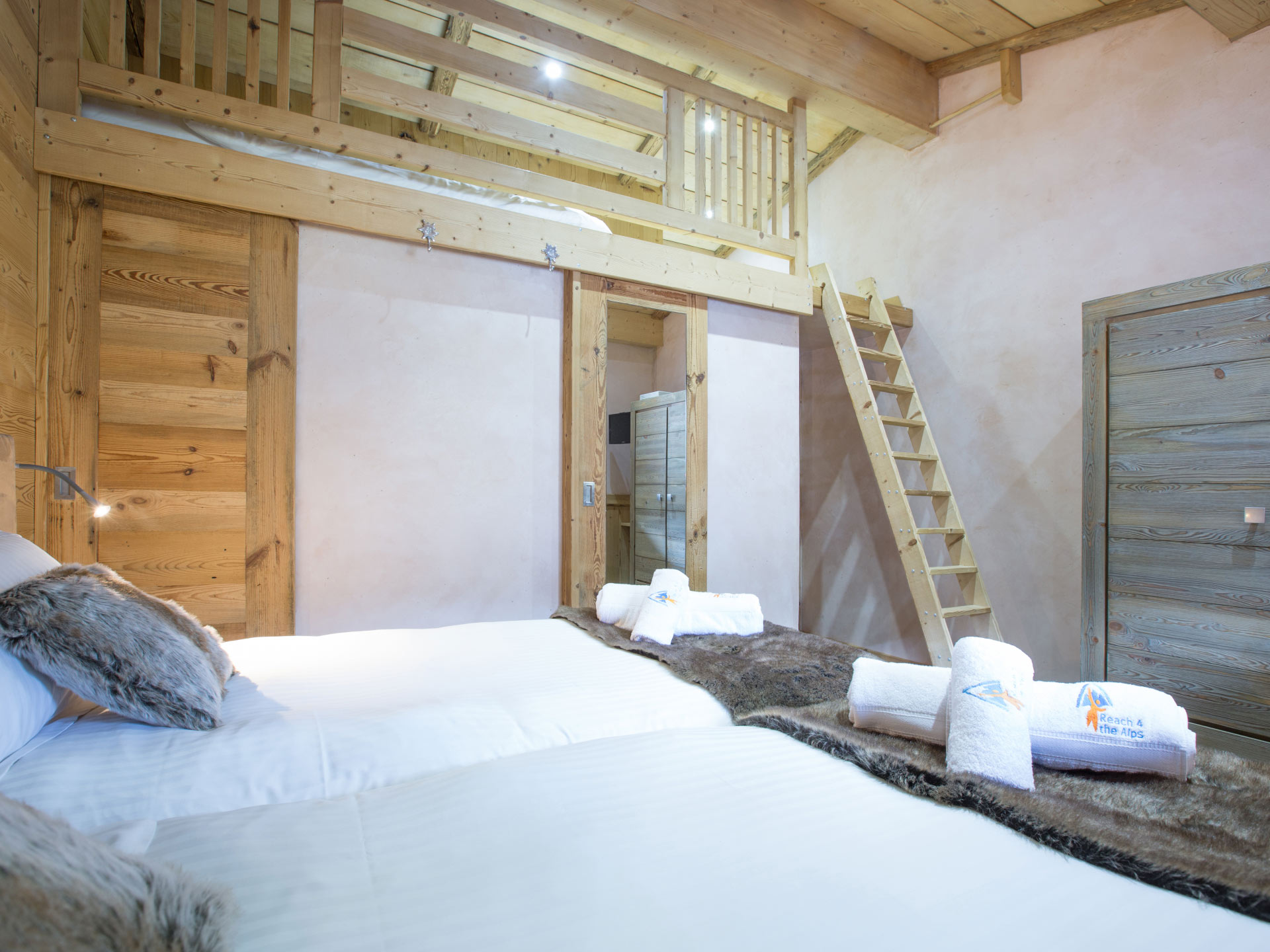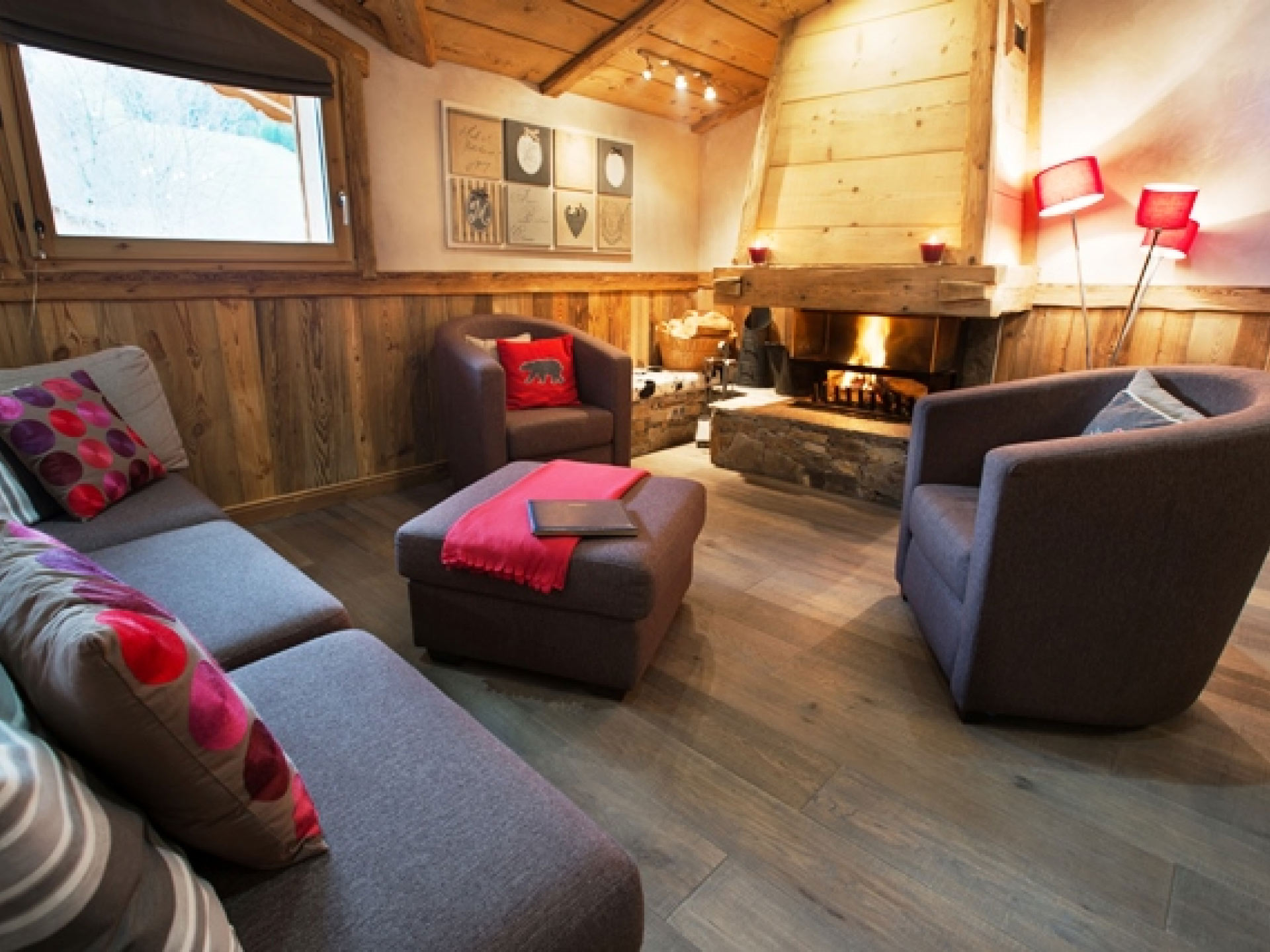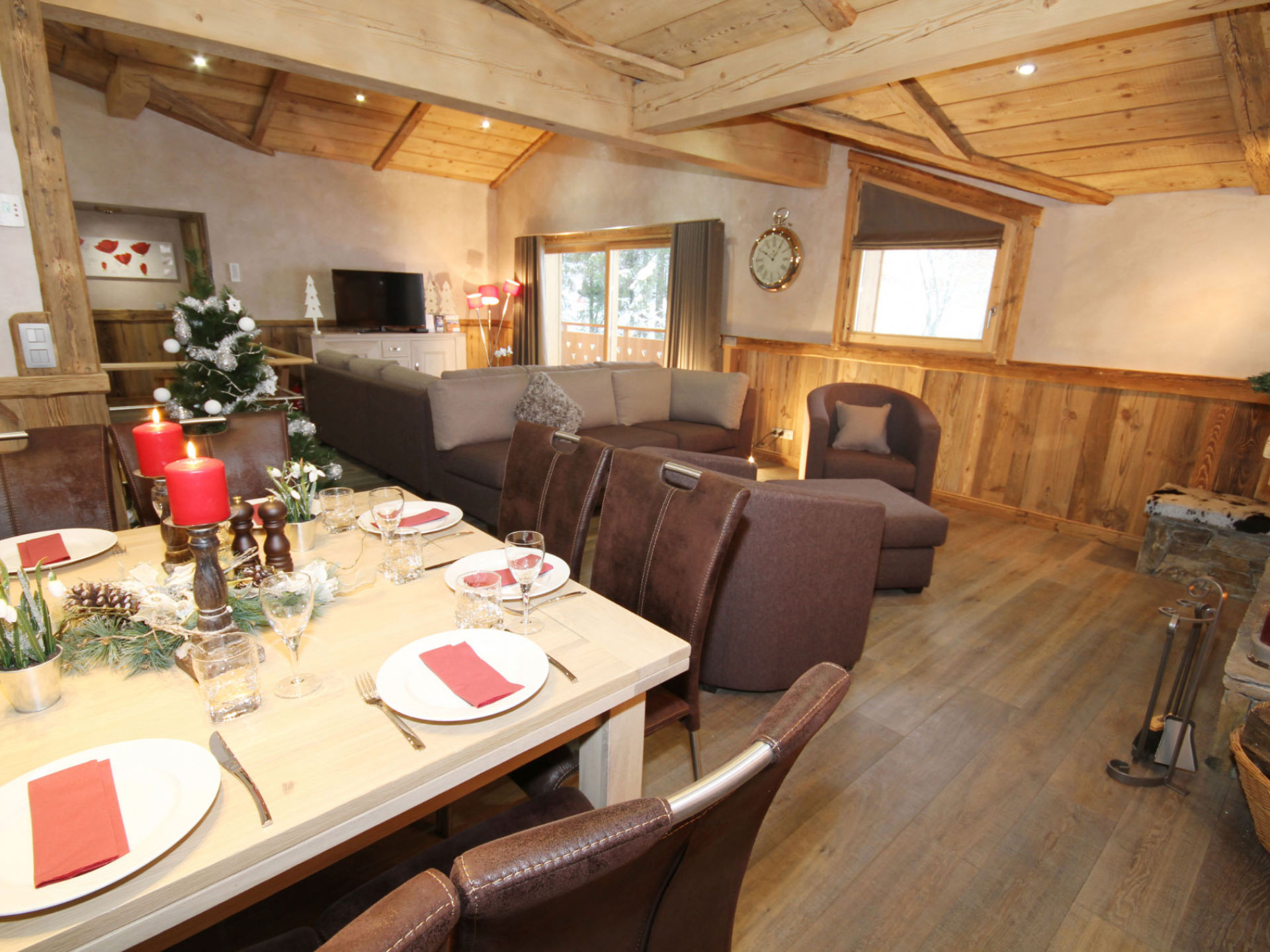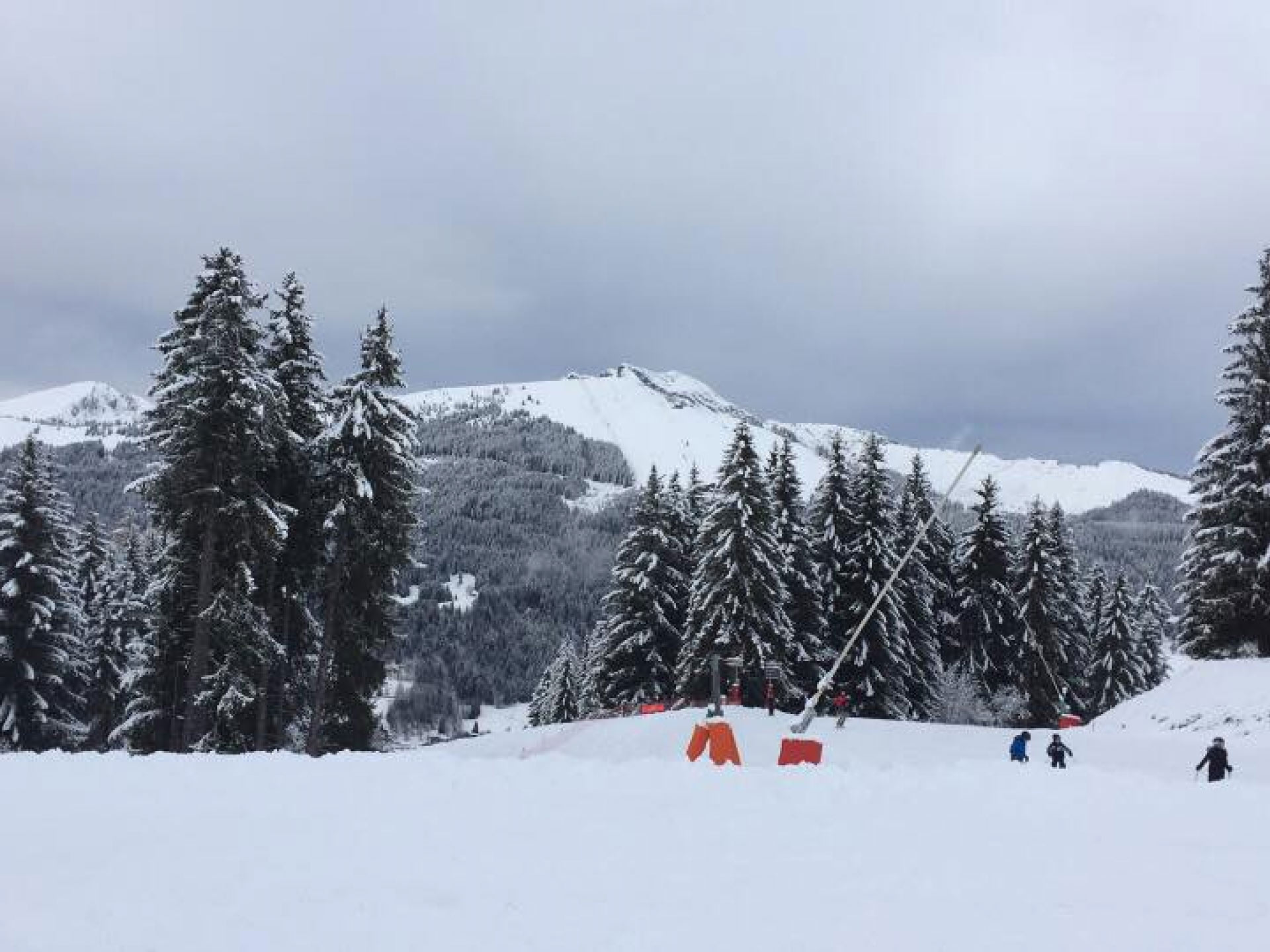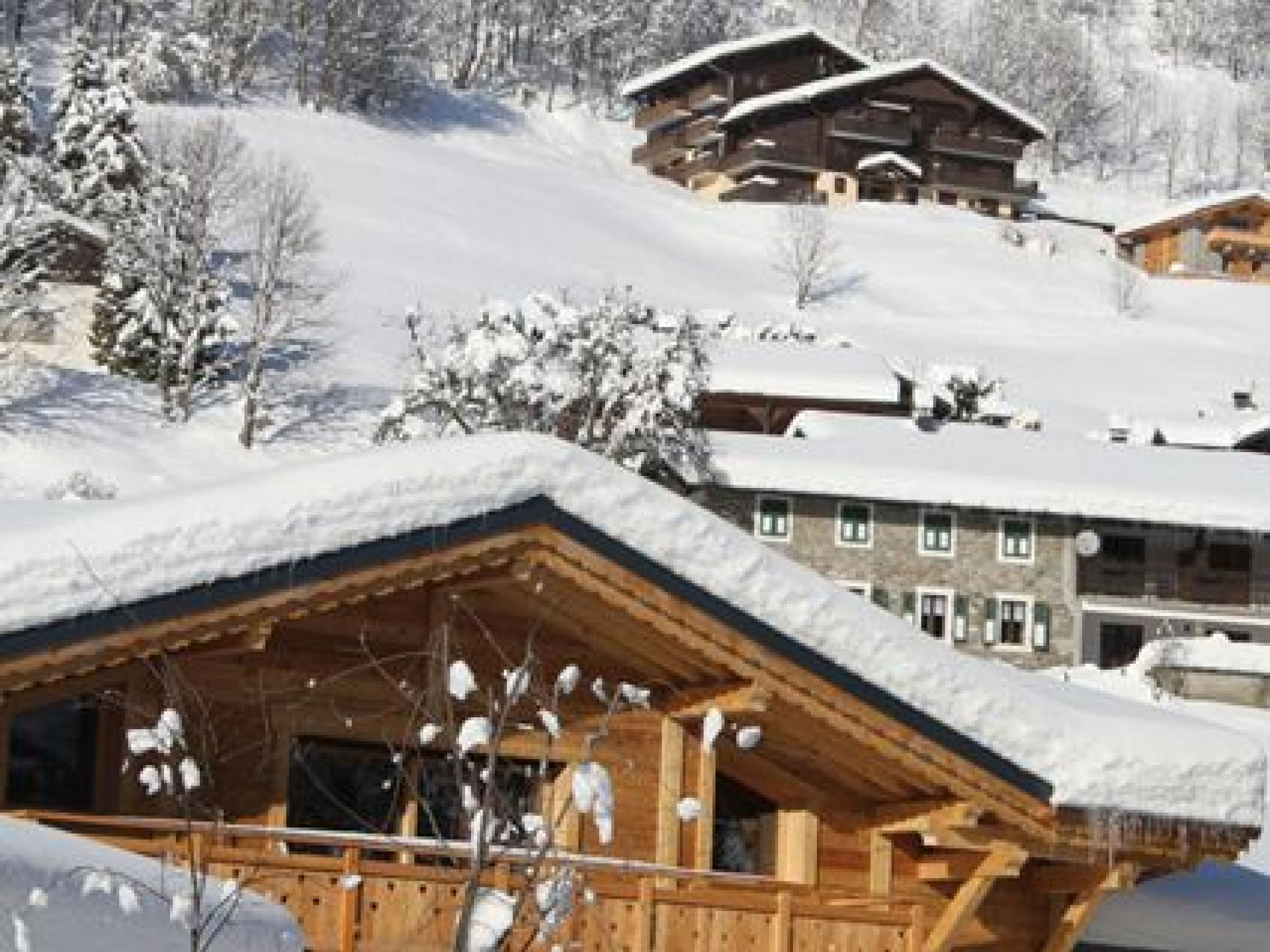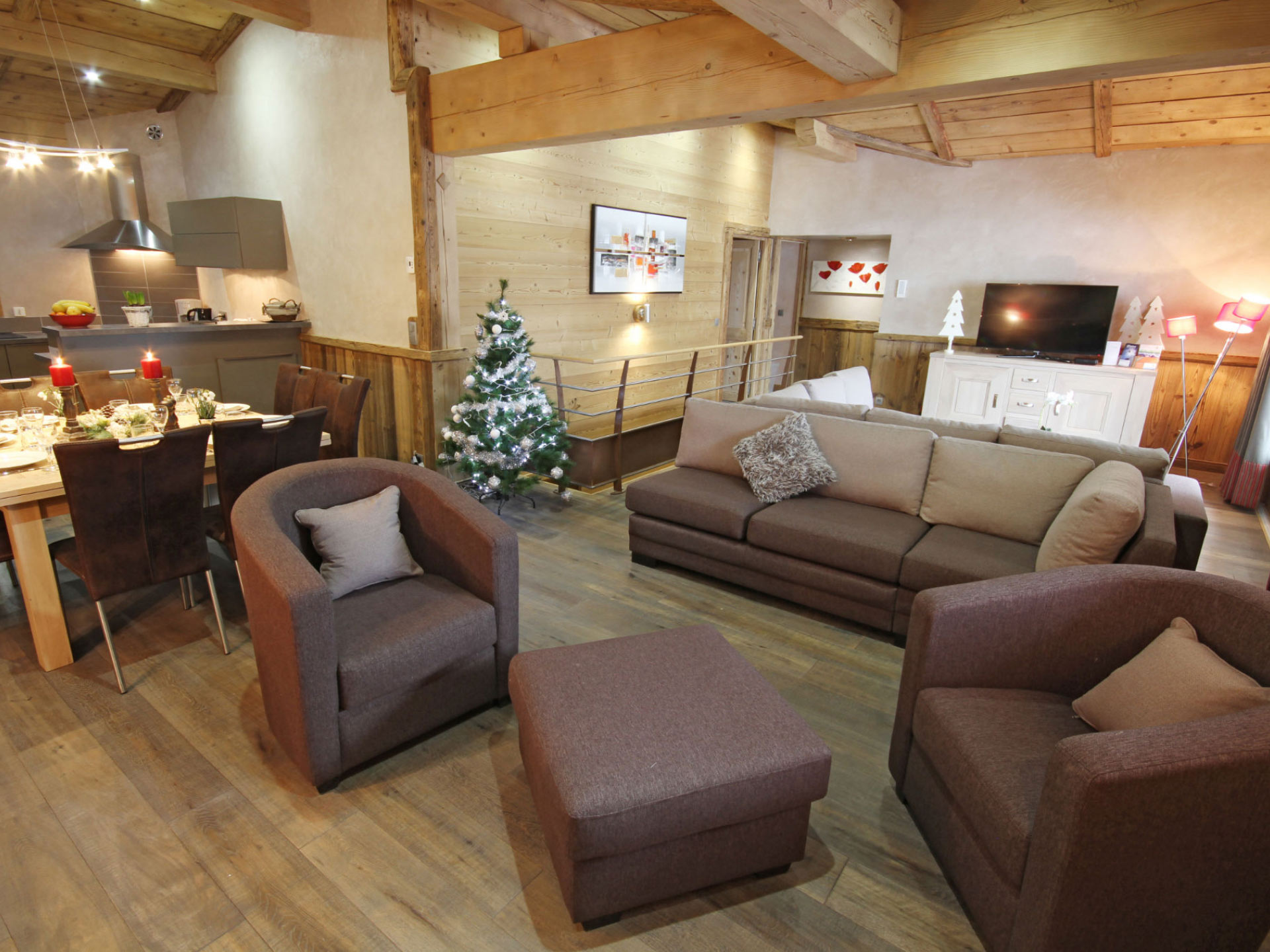 Special Offer
Easter breaks avaiable including 15% off adult lift passes and FREE lift passes for children under 12!!
€5,250 Chalet/Week - Catered
Valid from 02/10/2018 to 07/04/2019
Property Description
The chalet has three en suite bedrooms, two twin rooms and 1 twin room with mezzanine (sleeps 2-4). The single beds in the twin rooms can all be joined together to make into a king size double beds.

Ceiling to floor windows make the chalet bright and airy & the open plan dining/sitting room is spacious with a fully equipped kitchen . The lounge has comfy sofas surrounding the open log fire together with flat screen TV and DVD as well as Sky TV & free WIFI internet. French doors lead out onto a large balcony overlooking the pistes of Les Perrieres and La Turche. The chalet can be booked by one party only.
Location
There is a footbridge over the river that provides DIRECT access from the chalet to the foot of the Perrieres ski slope. The main bars, restaurants and shops of Les Gets are a comfortable 10 minute walk away.
Facilities
2 en suite twin rooms
1 en suite twin room with mezzanine (sleeps 2-4)
Open log fire
Direct access to ski slopes
10 minute walk to centre
Morning drop offs & afternoon pick ups at nursery slopes for beginners/children
Phenomenal view overlooking the piste

House Rules
No outdoor shoes in chalet
No smoking
Property Video
Message to Owner

Send an enquiry or booking request directly to this property advertiser, to ensure you receive their reply check the spam filters on your email settings.

Pricing Type: Catered Per Chalet Per Week

| | | | | | | | |
| --- | --- | --- | --- | --- | --- | --- | --- |
| Start | End | Catered Per Chalet Per Week | Short break | Self Catered, sole occupancy, per week | Catered per person per week | catered per person per night | |
| 13 Jan 19 | 20 Jan 19 | €4150 | n/a | n/a | n/a | n/a | |
| 20 Jan 19 | 27 Jan 19 | €4500 | n/a | n/a | n/a | n/a | |
| 27 Jan 19 | 03 Feb 19 | €4750 | n/a | n/a | n/a | n/a | |
| 03 Feb 19 | 10 Feb 19 | €4750 | n/a | n/a | n/a | n/a | |
| 10 Feb 19 | 17 Feb 19 | €6500 | n/a | n/a | n/a | n/a | |
| 17 Feb 19 | 24 Feb 19 | n/a | n/a | n/a | n/a | n/a | |
| 24 Feb 19 | 03 Mar 19 | €4950 | n/a | n/a | n/a | n/a | |
| 03 Mar 19 | 10 Mar 19 | €4950 | n/a | n/a | n/a | n/a | |
| 10 Mar 19 | 17 Mar 19 | €4950 | n/a | n/a | n/a | n/a | |
| 17 Mar 19 | 24 Mar 19 | €4150 | n/a | n/a | n/a | n/a | |
| 24 Mar 19 | 31 Mar 19 | €4150 | n/a | n/a | n/a | n/a | |
| 31 Mar 19 | 07 Apr 19 | €4950 | n/a | n/a | n/a | n/a | Book |
| 07 Apr 19 | 14 Apr 19 | n/a | n/a | n/a | €500 | €75 | |
| 25 May 19 | 01 Jun 19 | n/a | n/a | €900 | n/a | n/a | Book |
| 01 Jun 19 | 08 Jun 19 | n/a | n/a | €900 | n/a | n/a | Book |
| 08 Jun 19 | 15 Jun 19 | n/a | n/a | €900 | n/a | n/a | Book |
| 15 Jun 19 | 22 Jun 19 | n/a | n/a | €900 | n/a | n/a | Book |
| 22 Jun 19 | 29 Jun 19 | n/a | n/a | €1200 | n/a | n/a | Book |
| 29 Jun 19 | 06 Jul 19 | n/a | n/a | €1200 | n/a | n/a | Book |
| 06 Jul 19 | 13 Jul 19 | n/a | n/a | €1200 | n/a | n/a | Book |
| 13 Jul 19 | 20 Jul 19 | n/a | n/a | n/a | n/a | n/a | |
| 20 Jul 19 | 27 Jul 19 | n/a | n/a | n/a | n/a | n/a | |
| 27 Jul 19 | 03 Aug 19 | n/a | n/a | €1300 | n/a | n/a | Book |
| 03 Aug 19 | 10 Aug 19 | n/a | n/a | €1300 | n/a | n/a | Book |
| 10 Aug 19 | 17 Aug 19 | n/a | n/a | €1300 | n/a | n/a | Book |
| 17 Aug 19 | 24 Aug 19 | n/a | n/a | €1300 | n/a | n/a | |
| 24 Aug 19 | 31 Aug 19 | n/a | n/a | €1200 | n/a | n/a | |
| 31 Aug 19 | 07 Sep 19 | n/a | n/a | €900 | n/a | n/a | Enquire |
| 07 Sep 19 | 14 Sep 19 | n/a | n/a | €900 | n/a | n/a | Book |
| 14 Sep 19 | 21 Sep 19 | n/a | n/a | €900 | n/a | n/a | Book |