Resort height:
1500m, 4921ft
---
Verbier is the main resort of the Four Valleys' ski area, which includes Thyon, Veysonnaz and Nendaz. It is a very popular and world class resort and is known for attracting the rich and famous. While it has slopes to suit all levels, it is best suited for the more confident and adventurous skier and snowboarder. There are, however, 3 areas specifically for beginners which have gentle slopes and one has a children's area with a 120m magic carpet. The slopes of Verbier are snow sure and the scenery is fantastic with views at the top reaching as far as the Matterhorn and Mont Blanc.
Non-skiers will find plenty to do off mountain with activities like husky sledging, snow and ice carting, ice hockey, ice skating and a sports gym offering Pilates, yoga, spin and boxercise.
---
Sion Airport:
1 hour
Geneva Airport:
2 hour 30 min
Zurich Airport:
3 hours
We've partnered with Ongosa, who recommend and book the best snowsports instructors and guides in Verbier for you.
It's quick, easy and at no additional cost.
---
Prices from:
| | | | |
| --- | --- | --- | --- |
| | Adult | Junior/Senior | Child |
| 1 day | CHF 70 | CHF 60 | CHF 35 |
| 6 day | CHF 357 | CHF 303 | CHF 179 |
---
Verbier has an extensive range of restaurants all over town and a few on the mountain, where you can enjoy a fantastic meal after a hard day on the slopes. From fine dining, traditional food to pizza, you will find something to satisfy and excite you. While prices tend to be high in Verbier, there is still good value to be found.
---
Verbier is known for some of the best partying in the Alps and its Après scene is arguably the best in the world with the odd chance of bumping into the rich and famous. There is plenty of choice available if you want to really let your hair down, have a cocktail or two and dance the night away, or if it's a quiet drink you would prefer there are some lovely places with squishy sofas, waitress service and the chance of an audible conversation.
---
Swiss mountains aren't just for winter, there is a wealth of activities on offer in Verbier for the whole family to enjoy in Summer. Hire a bike and go for a scenic ride on one of the numerous trails in Verbier Bike Park, (for the not so strong cyclists you can hire out an electrical bike and ride the mountain without breaking a sweat), take advantage of the many hiking trails and enjoy the breath taking views of the mountain, have a round of golf, paraglide or just relax and sunbathe at the outdoor pool at the sport centre (known as Verbier Beach). The resort is also home to various festivals and events from the famous Classical Music Festival to the International Horse Jumping event, Jumping Verbier.
---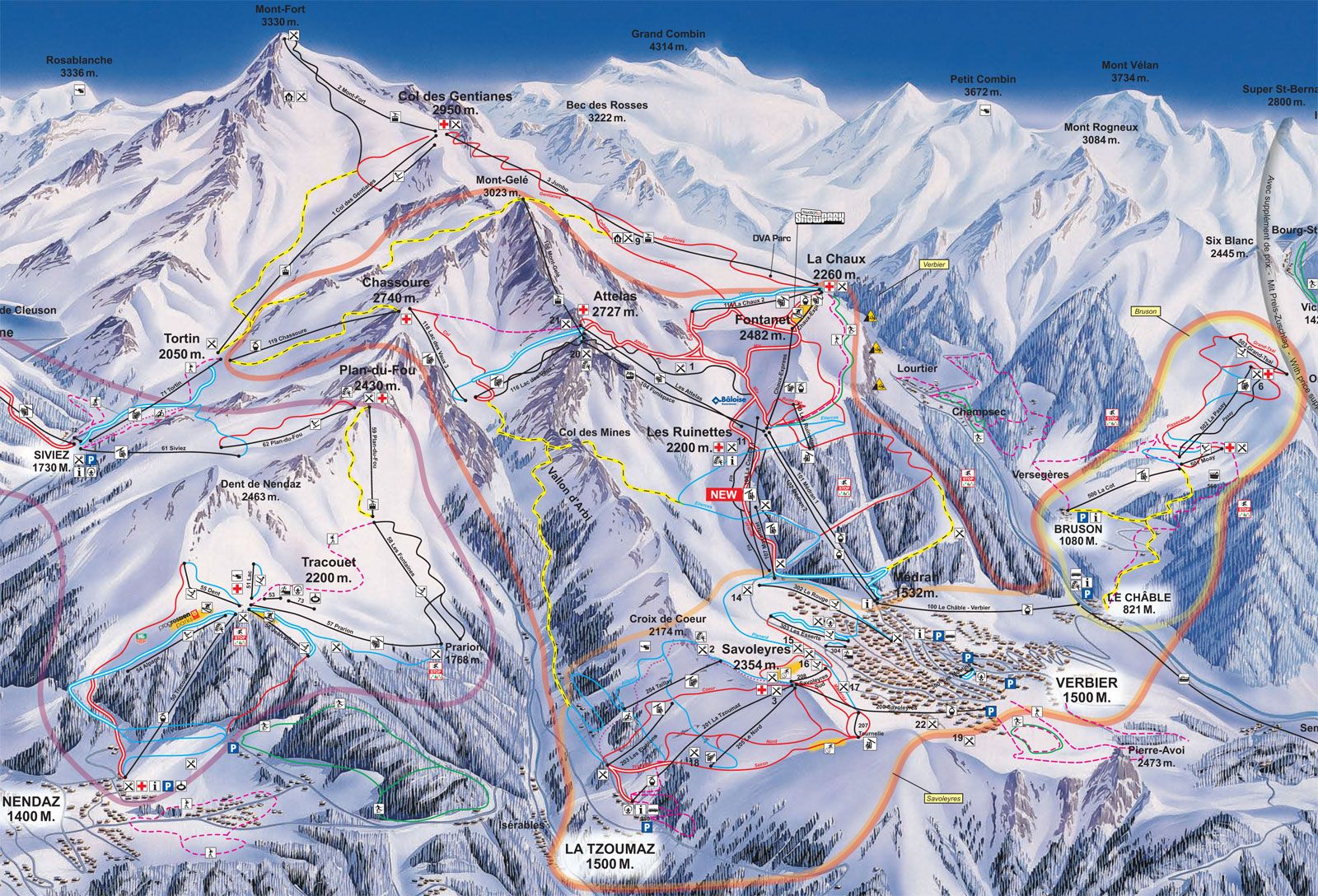 Array
(
    [pid] => 32932
    [property] => Pegase
    [country] => Switzerland
    [region] => The Four Valleys (Valais)
    [resort] => Verbier
    [short_description] => Stylish, spacious and located next to the Moulins nursery slopes, ensuring that Chalet Pegase is a perfect choice for families and small groups
    [luxury_short_description] => 
    [bedrooms] => 3
    [sleeps] => 6
    [bathrooms] => 3
    [luxury] => No
    [luxury_edit] => No
    [catered] => Yes
    [self_catering] => Yes
    [spa] => NOVALUE
    [flights_included] => No
)

Array
(
    [pid] => 32933
    [property] => Darbay
    [country] => Switzerland
    [region] => The Four Valleys (Valais)
    [resort] => Verbier
    [short_description] => Chalet Darbay is a wonderful free-standing chalet located in the heart of Verbier, only 100m from the Medran Lift Station and Place Centrale
    [luxury_short_description] => 
    [bedrooms] => 3
    [sleeps] => 6
    [bathrooms] => 3
    [luxury] => No
    [luxury_edit] => No
    [catered] => Yes
    [self_catering] => Yes
    [spa] => NOVALUE
    [flights_included] => No
)

Array
(
    [pid] => 32935
    [property] => Cimerose
    [country] => Switzerland
    [region] => The Four Valleys (Valais)
    [resort] => Verbier
    [short_description] => The Cimerose is a contemporary ground floor apartment, furnished to a very high standard and boasting an enviable central location.
    [luxury_short_description] => 
    [bedrooms] => 4
    [sleeps] => 8
    [bathrooms] => 4
    [luxury] => No
    [luxury_edit] => No
    [catered] => Yes
    [self_catering] => Yes
    [spa] => NOVALUE
    [flights_included] => No
)

Array
(
    [pid] => 32934
    [property] => Skye
    [country] => Switzerland
    [region] => The Four Valleys (Valais)
    [resort] => Verbier
    [short_description] => A spacious apartment chalet, with an enviable location, that comfortably sleeps 10 guests in 5 en-suite bedrooms.
    [luxury_short_description] => 
    [bedrooms] => 5
    [sleeps] => 10
    [bathrooms] => 5
    [luxury] => No
    [luxury_edit] => No
    [catered] => Yes
    [self_catering] => No
    [spa] => NOVALUE
    [flights_included] => No
)

Array
(
    [pid] => 32936
    [property] => Laineux
    [country] => Switzerland
    [region] => The Four Valleys (Valais)
    [resort] => Verbier
    [short_description] => Laineux is a modern penthouse apartment, just a short walk from all the local facilities and amenities, with free access to the residents pool
    [luxury_short_description] => 
    [bedrooms] => 5
    [sleeps] => 10
    [bathrooms] => 4
    [luxury] => No
    [luxury_edit] => No
    [catered] => Yes
    [self_catering] => No
    [spa] => NOVALUE
    [flights_included] => No
)

Array
(
    [pid] => 32952
    [property] => Katarina
    [country] => Switzerland
    [region] => The Four Valleys (Valais)
    [resort] => Verbier
    [short_description] => Katarina is a lovely freestanding chalet in its own quiet grounds set amongst some of the most exclusive chalets in Verbier.
    [luxury_short_description] => 
    [bedrooms] => 5
    [sleeps] => 10
    [bathrooms] => 3
    [luxury] => No
    [luxury_edit] => No
    [catered] => Yes
    [self_catering] => No
    [spa] => NOVALUE
    [flights_included] => No
)