Val Gardena is a valley in the Italian Dolomites, and is home to three ski resorts: Selva, Santa Cristina and Ortisei. The region has an interesting history, formerly a part of Austria and so is home to many German-speakers as well as to Ladin-speakers, the region's local language. The resort is in keeping with the traditional style of the Tyrol region, with pretty buildings and churches. As for the skiing, the area is part of the Sella Ronda circuit, which has much to offer skiers of all abilities. Nearby resorts include Canazei and Alta Badia, and the nearest airport is Verona (2hr45mins away). To read more on skiing in Val Gardena, follow the link. Read more...
As with all the resorts on the Sella Ronda circuit, there's a huge area to get stuck into: 433km of piste is served by 179 lifts, and 90% of this is covered by snowmaking giving you a snow-sure guarantee on your holiday. And all of this is set against the stunning Dolomite scenery. Further, Val Gardena is well positioned to some of the more interesting skiing available on the circuit, including two race courses that snake through the woods and down into the valley. For those looking to learn to ski in Val Gardena, there's a good selection of nursery runs and ski schools, and when you're ready to progress there is a huge amount that is accessible to intermediate skiers. Snowboarders in Val Gardena have a number of excellent snowparks to choose from, as well as some wide rolling pistes.
If you're looking for cross-country skiing in Val Gardena then there are 115km of trails to cover.
Val Gardena, a traditional region in the Dolomites, has great skiing, snowboarding and much more to keep you entertained!
Tastefully designed, the diversity of accommodation in Val Gardena means that whether you're looking for an individual, group or family ski holiday there's something for you. Catered chalets in Val Gardena give you a great foundation for a relaxing holiday with nothing to worry about once you've taken your skis off. And there's the added convenience that many of the properties have ski-in/ski-out locations!
And off the slopes there's plenty to keep you entertained, including a number of restaurants and bars (with a vibrant apres-ski scene) as well as non-skiing activities that include museums and ice hockey.
Array
(
    [pid] => 30361
    [property] => Chalet Zirm
    [country] => Italy
    [region] => The Dolomites
    [resort] => Val Gardena
    [short_description] => 3 seperate floors. Perfect to come with a large group, but have your privacy as well. Beautiful view
    [luxury_short_description] => 
    [bedrooms] => 5
    [sleeps] => 13
    [bathrooms] => 5
    [luxury] => No
    [luxury_edit] => No
    [catered] => Yes
    [self_catering] => No
    [spa] => NOVALUE
    [flights_included] => No-but can help arrange
)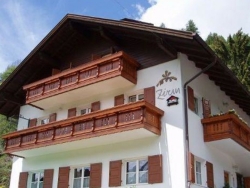 View More
FMA30361
Val Gardena, The Dolomites, Italy
3 seperate floors. Perfect to come with a large group, but have your privacy as well. Beautiful view
Array
(
    [pid] => 33222
    [property] => Chalet Selva Panorama
    [country] => Italy
    [region] => The Dolomites
    [resort] => Val Gardena
    [short_description] => Located in the beautiful village centre, Chalet Selva Panorama provides your perfect winter escape in the Dolomites
    [luxury_short_description] => 
    [bedrooms] => 9
    [sleeps] => 20
    [bathrooms] => 9
    [luxury] => No
    [luxury_edit] => No
    [catered] => Yes
    [self_catering] => No
    [spa] => NOVALUE
    [flights_included] => No
)

View More
FMA33222
Val Gardena, The Dolomites, Italy
Located in the beautiful village centre, Chalet Selva Panorama provides your perfect winter escape in the Dolomites