ChaletFinder: Best Resorts For Beginners
La Rosière
Smaller and quieter than neighbouring resorts of Val d'Isere , Tignes and Les Arcs, La Rosiére is a great option for beginners setting out for their first time on the slopes. Quieter slopes mean shorter lift queues, fewer unwanted distractions and more space on the pistes to progress those snowplough turns. La Rosière is especially popular among young families wanting to introduce their children to skiing for the first time. Runs specially designed for children – including The Saint Bernards Run which has tunnels for the kids to ski through, ensure the young ones are entertained while they learn technique in a controlled and safe environment.
For the adult beginners, La Rosière ski area has four free ski lifts and 'Lutin's magic carpet' which is open every day and enables beginners to practice and build confidence without the need for a costly lift-pass.
The attraction of a skiing holiday is of course not only about mastering the sport itself, but also the mountain vistas and atmosphere on and off the slopes. In La Rosière, the Village Igloo bar comes highly recommended for a well-deserved post-ski glass of champagne while you take in the stunning views from the outdoor terrace.
"La Rosière is one of the best beginner areas in France… it has prime south-facing slopes, so make sure to pack your sunglasses and sun cream! " Ongosa Ski Instructor.
Meribel
Oh how we love Meribel, there are eight free ski lifts for beginners to take advantage of – four within the Altiport and Rond Point areas and four in Mottaret. These free areas will allow you to develop core skills, technique and build up a confidence with an Ongosa recommended ski instructor without the additional cost of a lift pass. Free beginner lifts mean less money on lift-passes and more on ski lessons. Win, Win.
It is possible to ski all of the Three Valleys on green runs, however, if you have mastered the runs off the eight free lifts and have a hunger for more, we recommend starting with a single valley lift pass. This will give you access to plenty of additional terrain within the Meribel Valley and is cheaper.
"We recommend that you focus on mastering the basics at the start of the holiday, on the free slopes with a qualified instructor  before considering a single valley lift pass. And then when you're ready to purchase a lift pass, some of the most beginner-friendly slopes are shown on the back of it, so start with these." Ongosa Ski Instructor, Meribel.
Val Thorens
Val Thorens joins Courchevel and Meribel to form the huge Three Valleys ski area, where 1,500 of the best ski instructors live, ski and work.
The Rond Point des Pistes in Val Thorens is set up with complete beginners in mind, with magic carpet lifts and gentle nursery slopes enabling learners the chance to familiarise themselves with their skis, sliding a few metres at a time. The next stage is likely to be the Deux Lacs chairlift and the main green run, Deux Lacs which weaves its way back to Campagnols. We recommend staying in Temples du Soleil, at the foot of the slopes. It's a five-minute walk from your ski school meeting point in The Rond Point Des Pistes and a great spot for easy access to slopeside shops and restaurants – including Alpen Art which is a local's favourite.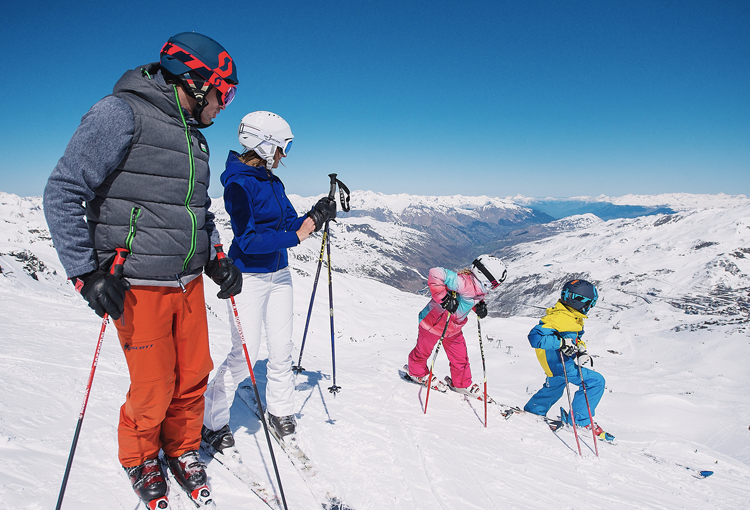 Alpe d'Huez
Alpe D'Huez, France is home to a great range of nursery slopes, with twelve green runs alone to try out. So it comes as no surprise that Alpe d'Huez is one of the most popular beginner friendly resorts in the Alps. Many of the green runs are also very easy to access, which ticks the ever important convenience box for skiers and boarders of all abilities…
Staying close to the nursery slopes will ensure you have more time to focus on your skiing, and less time carrying your equipment from one spot to another.
"If you stay in the Quartier des Bergers you're less than a two-minute walk to the lifts and ski schools, with the slopes quite literally on your doorstep. The beginner lift pass '1ère Glisse' and free base lifts which connect the gentle rolling 'ski tranquille' zones provide great value calm slopes to build confidence on." Ongosa Ski Instructor, Alpe d'Huez.
Check out all our properties in the above resorts to make your first ski holiday memorable, and don't forget to book you ski lessons with Ongosa!