La Rosiere; a delightful resort at 1850m
La Rosiere is a modestly sized & peaceful resort of attractive chalets, sunny slopes and lovely piste-side cafes. It leaves being a party town to it's neighbours of Val d'Isere & Les Arcs and yet boasts an international ski area through it's connection with the Italian resort of La Thuile.
T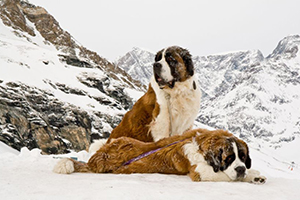 he resort we find today has it's beginnings in 1950s, La Rosiere was constructed at the location of an traditional pasture farming hamlet, the last stop before climbing through the Little St Bernard Pass and over the border to Italy. The pass climbs from Bourg-Saint-Maurice at 840m and reaches La Rosiere & it's nearby satellite village of Les Eucherts the height of 1850m. The pass continues up to it's saddle at 2188m, the border with Italy and the centre of the Espace San Bernardo ski area. A Napoleonic fort stands watch over the pass, a striking sight on the peak above as you ride the chairlifts below. The region is famous for it'¢s Saint Bernard mountain dogs, the loveable, barrel toting canines bred to assist in mountain rescue. As far as we can tell the Saint Bernard hasn't performed a rescue since 1955 but you'll find there's a visitors centre just above La Rosiere where you can meet these sizeable but gentle dogs.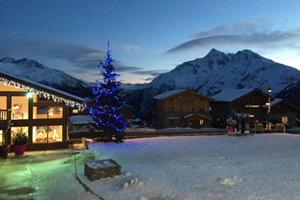 As a resort La Rosiere, although small, lacks for nothing with a decent range of good value ski shops, bars, cafes & restaurants. Les Eucherts is a village connected to La Rosiere by a lit & sheltered path of around 800m through the trees. It's almost like a miniture of La Rosiere with a range of shops, bars & restaurants but a fewer of each to choose from. In my visit to the resort, I stayed in Les Eucherts and found popping between the village & the town easy enough to access the attractions of both in the evenings. You can find entertainment, bowling, ice skating & activities going on in the evenings along with a range of bars but it's not a party resort. I found lots to say about the skiing, food (there was one restaurant in particular) & places to stay in La Rosiere.
Ski
La Rosiere offers a big, varied ski area with plenty of sunshine, some great off piste opportunities, a Napoleonic fort, St Bernard Dogs, great piste-side restaurants and the added dimension of the connection to La Thuile in Italy.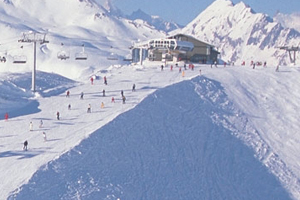 Skiing or snowboarding in La Rosiere nearly always takes place above 1800m where snow conditions are very reliable, the highest pistes take you up to 2640m. There are some big runs to be had with the longest taking you through 11km horizontally & over 1km vertically, enough to burn even seasoned thighs. The lifts are generally modern & fairly rapid and cope well with the traffic, there is queuing in peak weeks but rarely of the intolerable kind. Mostly skiers and snowboarders find the Espace San Bernardo peaceful & spacious, I certainly found myself alone with my piste quite a few times.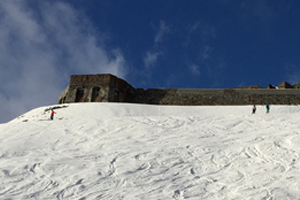 The resort delivers a great range of pistes with plenty of blues & reds for intermediate skiers and particularly good provision for beginners. There are a range of good value ski schools available in La Rosiere & Les Eucherts and a dedicated green run area served by 3 free ski lifts. It's a great place for starting off on snow whether you be six or sixty! Experts will have to hunt for their thrills. Black runs can be found and one or two are quite tough indeed with a maximum incline of over 70% but the best fun is more or less unique to La Rosiere. Due to legal reasons I don't fully understand La Rosiere is one of the few centres of heli-skiing in France. This is based on it's proximity & close links with La Thuile. It seems one can only embark from Italy if they're to heliski in France. La Rosiere offers a perfect heli-skiing zone in the rolling powdery bowls below Mont Miravidi at 3068m. If you'd like a sense of this experience, try this video of the Miravidi Heli Ski Run
In summary La Rosiere is a peaceful & sunny ski experience to be enjoyed by skiers and snowboarders of all levels with plenty for all but the most extreme. Why not have a look at the hi-res piste map in the tabs below?
Food
In the villages of La Rosiere & Les Eucherts you'll find a range of restaurants, cafes & bars serving food for most tastes & budgets.
You'll find several cheap & cheerful "burgers and fries" style cafes in the main shopping areas. I found myself in the Les Eucherts bar/cafe, Le Flocon quite frequently and found they offer a good balance of quality & value for money & a lovely spot to sit and look out over the Tarentaise valley though Le Flocon is by no means alone in offering a spectacular view. Those looking for more traditional, local cuisine will find several nice restaurants. La Grange serves a blend of local dishes with influences from the French Savoyard tradition and Italian Aosta Valley, there at least 5 or 6 other restaurants serving traditional cuisine and one complete gem. Le Genepi is a special dining experience, a cut above the rest in La Rosiere for it serves simply outstanding food. The chef is a master of the traditional cooking styles of the region and yet has fashioned an innovative & creative menu with it's roots in tradition but with a modern flare. For a very special dining experience, relaxed, cosy, down-to-earth but exceptional, Le Genepi will not disappoint.
Food & drink on the pistes
Being a dogmatic snow loving young man, I spend nearly all of the day out on the pistes, stopping only briefly & rarely even in bad weather. As such I'm sure I've missed some of the best features of the lovely piste-side retreats. Of the piste-side lodges I sampled, all were reasonably priced & very comfortable, there were a few blistering blizzards in my time on the pistes & many a log fire returned my soggy bits to comfort. My favourite was L'Angitel on a blue run above La Rosiere, the fire was warm, the staff were swift and friendly, the beer was good. They have an hilarious little dog whose antics amused me enormously!
In Summary
La Rosiere is not the capital of fine dining in French skiing, though Le Genepi could hold it's own in any resort. The food, like the resort offers a wide enough variety for all, great value for money and benefits from the blending of Italian & French traditions.
Accommodation
La Rosiere & Les Eucherts have a great range of accommodation options but are especially well furnished with ski chalets. There are hotels ranging from two starts to four are generally found in the village centres (with a few exceptions), there are very few hi-rise blocks in the village centres and only a couple on the outskirts. The rest of La Rosiere & Les Eucherts is peppered with ski chalets.
Some of the chalets are available from large tour operators like Ski World who have recently followed independent companies to La Rosiere. Many more are privately owned and used as holiday homes, I enjoyed friendly chat with a German on the chairlift who told me that quite a few Germans prize the resort as one of the best as an Alpine home from home. Neighbours La Plagne, Les Arcs & Val d'Isere are well known to the British & have a large British contingent amongst their chalet businesses. Lesser known resorts like La Rosiere have been "scouted" by only some British companies looking to bring "hidden gem" resorts to the British skiing public. As such there are a good few chalets of La Rosiere & Les Eucherts run by independent British operators.
The foremost of these is Mountain Heaven
They're are an independent family run chalet business & recently a runner up in the recent Best Ski Tour Operator 2012 awards organised by ATOUT France. Their focus is providing sensible, quality ski holidays for a competitive price. They've been operating in La Rosiere for years, they list their reasons for loving La Rosiere on their resort page: Mountain Heaven on La Rosiere.

You'll find 7 Mountain Heaven Chalets section-chalets to choose from. Five catered and two self catered. They're all in ideal locations for the shops & lifts of the Les Eucherts village. A smart move as the lift in Les Eucherts was less busy & gave me quicker access to the Italian side of things. Their chalets range from comfortable to very comfortable indeed and come with all the service & consideration you'd expect from holidays costing a fair bit more.
The resort caters for all abilities with wide open uncrowded pistes in La Rosiere to enjoy the scenery and sunshine. To practice your turns, once you've found your ski legs, you can tackle the challenging Italian slopes with the majestic Mont Blanc as your backdrop. Nick; Owner, MountainHeaven