Le Grand Massif: It's Too Big To Miss
There are a number of necessary details to consider to make a great ski holiday: ski area and lift system, easy access to resort, accommodation on offer. And Le Grand Massif, often overlooked and underrated, scores highly on all of these.
It is easy to make the case for skiing and snowboarding opportunities in Le Grand Massif. It is the fourth largest ski area in France. This means you've got 265km of piste to work your way through, served by 69 lifts. And there's something here for everyone: beginners have a range of ski schools to choose from and they can then hone their skills on nursery slopes served by free lifts. More experience skiers have an array of blues and reds as well as excellent off-piste that should be explored with a guide. Boarders in Le Grand Massif are sure to enjoy the variety on offer and true powder-heads will no doubt head off-piste. All this is served by an increasingly modernised lift system, which helps you beat the queues.
Le Grand Massif is a great destination for a skiing holiday from the UK given how easily it can be accessed. If you've decided to drive to this year's skiing holiday, then you need look no further than Le Grand Massif. The four resorts in the region (Samoens, Morillon, Flaine and Les Carroz) are each just seven and a half hours away once you've crossed the channel. And if you're flying, Geneva airport is just an hour away, making it a great option for a short-break ski holiday.
With four resorts in Le Grand Massif, there is accommodation to meet every possible holiday requirement. Whether you're looking for a catered or self-catered holiday, whether you're skiing on your own or with friends and family, there's something to suit your needs. In general, the accommodation in Flaine, which is by far the highest settlement of the four at 1600m, is functional, with apartment blocks common. The other resorts are further down in the valley and have more alpine charm, with many chalets built in the traditional style.
For a holiday that ticks all the boxes outlined above and comes with heaps of alpine charm, why not head to Morillon? Dating back to the 16th century, the village is attractively traditional, with many old-style chalets offering both catered and self-catered possibilities. Being located down in the valley is no hindrance as there is a network of cable-cars and chairlifts to take you quickly up to Morillon 1100 (a small resort with ski-in/ski-out accommodation as well as basic amenities and a bar/restaurant) and then beyond to the entirety of Le Grand Massif. And at the end of the day, Samoens is easily accessible for bars, restaurants and a range of non-skiing daytime activities.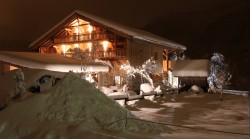 If you're interested in a luxury hotel in Morillon's relaxed and family-friendly surroundings, check out the Reves de Montagne chalet. Catered holidays in this converted farmhouse give you everything you need to unwind after tackling all Le Grand Massif has to offer, including a hot tub under the stars.