20 super cool things to do in Courchevel!
As if the three valleys didn't have enough on offer with it's awesome ski area, here is an amazing bucket list of fun things to do in and around Courchevel to have the best ski holiday ever, compiled by our friends at Ski Magic.
If you're young at heart or just young (!) then this is the list for you.
10 Cool things to do on your skis or snowboard…
1. Family Park FREE (with Courchevel Valley lift pass)
Whether you're watching or partaking the family park has lots of things to keep you amused from the skicross to the kickers there is something for everyone to have a go at and you can finish off your visit with a run through Wood Park, with lots of boxes on the left and fun natural bumps in the trees to the right.
2. Indiens Piste FREE (with Courchevel Valley Lift Pass)
This Native American themed area is tucked away in the trees in among the lovely wide open blues of Courchevel Moriond.  Take a peek in a teepee and try on a headdress or have your face painted, toast a marshmallow or cosy up with a tea and for just €10-€20 you can even have a go at firing a real bow and arrow with Grey Wolf!
3. Big Air Bag
If you're not so sure on tackling the kickers in the family park then why not try out the Big Air Bag!  Located in the Family park at the bottom of the large kicker you can hit the kicker on your skis, snowboard or even a large inner tube and try your best tricks whilst landing safely on a huge cushion filled with air!
4. The Tyrolienne Zip Wire, Val Thorens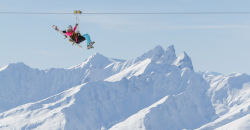 The worlds highest zip wire is in Val Thorens at 3230m altitude and 250m from the ground!  Fly at 100kmph in just 2 minutes!!!  The cost is €50 but if you're over 8 years old it's certainly something not to miss!!!
5. Verdons by Night FREE (with Courchevel Valley Lift Pass)
If a full day on the mountain isn't enough, every Wednesday from 6-8pm you can try skiing on the floodlit Verdons piste and the family park!  The restaurants of Verdons and Chalet de Pierres are open for a tipple and on some weeks of the season there is a DJ playing and a fantastic fire work display!
6. Paraglide around the peaks
Contrary to what you may think paragliding is a breath taking and relaxing experience.  Tandem paragliding allows you to see the mountains and spectacular views whilst in the safe hands of an experienced pilot.  Ski off the mountain above La Tania and fly over the forests to land in Le Praz.
7. Yeti Park Meribel FREE (with 3 Valleys lift pass)
One for the younger skiers, the yeti park has a fun slalom, tunnels with weird noises, horns to blow and bells to whack! New for this year will be a zip wire and igloos to hide in, maybe a few adults might like to sneak in too as it sounds fun!
8. Go on a Ski Safari FREE (with 3 Valleys lift pass)
If you feel like getting wild then head on over to Meribel and go on safari!  Moon wild near the Blanchot piste has life sized animals hidden in the woods and you can spot them as you fly by!
9. Spot a ski jumper FREE (with Courchevel Valley lift pass)
If you've always wanted to watch some Eddie the Eagle hopefuls then head down to Le Praz via the Muretts red run and you will go past the famous ski jumps.  The jumps were constructed in 1992 for the winter olympics and on weekends and Wednesday afternoons you can see the next olympic hopefuls flying through the air in practice!
10. Courchevel Aventure
Up in Courchevel 1850 a plethora of on snow thrills and spills can be at your finger tips!  Drive a snowmobile or piste basher or try out the 'mutliglisse' which allows you to slide around on a whole host of unusual things: airboards, trotiskis (scooter type thing) and a snakeglisse where you make a long caterpillar of sliding people!!  Sounds like fun!
10 equally as cool things to do away from the slopes…
11. Aquamotion
This place has it all!  A lovely warm pool, outside area with a lazy river and slides and a large area for the tots.  But that's not all, you can also try your hand at surfing, take an aquafit class or just relax with a treatment in the spa!
12. Climbing
There are two options for the climbers amongst you, Aquamotion has a great climbing centre with a kiddie specific area with special ropes that mean no belaying necessary.  There is also a wall and parcours with Tarzan swing located in Le Forum, Courchevel 1850 which opens once the lifts have closed.
13. Snowshoeing FREE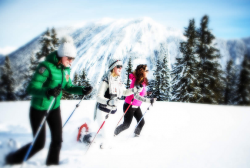 Don your snowboots, hire some snowshoes and get back to nature on the trails in the woods.  Follow the tracks of deer, hares, foxes and wild boar.  Guided tours are available too or you can just explore this magical winter wonderland on your own.
14. Ice Skating
Le Forum, Courchevel 1850 has an ice rink open every afternoon.  It is the perfect place to take the children and even those as young as 3 are welcome along whilst you push them around in a little trolley!
15. 200m of descent on a sledge FREE (with Courchevel Valley lift pass)
Wrap up safe and warm (boots, salopettes & helmets!) and head to Courchevel Village on the bus. Hire a sledge, take the gondola up and you'll pop out in La Croisette in 1850. Leave the building (by the lower stairs) and cross the road to the Tovets chairlift. You'll find a toboggan run which twists and turns through the trees to bring you back to Courchevel Village. Take the gondola back up and repeat!
16. Bumboarding FREE
For a gentler introduction to sledging, there's a 'bumboarding' area at the foot of La Tania's slopes, which fills up with bumboarders after the lifts shut. Embrace your inner child and join them! (Or watch from the Chrome Bar with a vin chaud…)
17. Eat a Fondue
It wouldn't be right if you went home from the mountains without a cheese belly!  There are plenty of restaurants to choose from to indulge in one of our cheesey local dishes!  Dip cubes of baguette into a cheesey fondue and enjoy a yummy charcuterie on the side, be warned, those that leave the bread behind in the cheesey soup may be forced to run around the table naked as tradition dictates!  A Raclette will seem like the most cheese you have seen in your life but once you get scraping it onto boiled potatoes, salamis and ham you won't be able to stop…
18. Soft Play FREE
Ideal for children up to around 5, there is an indoor play centre under the Croisette building in 1850. Hop off the bus, turn right and you'll find it. Combine with a trip up on the bubble (ideal for encouraging smaller children to nod off!) and a hot chocolate.
19. Fireworks and torchlit descents FREE
February sees the skies light up as there are various firework displays (usually on Thursdays) to watch as part of the International Pyrotechnic Festival.  The fantastic displays are free and what a perfect way to spend the evening with a hot chocolate or a vin chaud!  Just wrap up warm!
20. Build a snowman FREE
With enough snow to build an army of snowmen it would be a shame not to perfect your snowman making skills in one of the snowiest places on earth!  Why stop there?  Get creative, a colony of penguins, herd of wildebeast?
If Courchevel or the 3 valleys sounds like the ideal place for your winter break then get in touch with us at ChaletFinder and we can help you find the perfect place to stay.  Don't forget to take a look at the Ski Magic properties in La Tania to get a head start!