---
---
Grandvalira is a resort located in Andorra which covers the skiable areas of two of Andorra's seven provinces. It was founded back in 2003 when two of the Pyrenees' oldest resorts, Pas de la Casa-Grau Roig and Soldeu-El Tarter, joined together. This fusion gave rise to the largest resort in the Pyrenees and one of the largest in Europe with 210 km of ski run spread over a total of 128 slopes of all different levels.
Its commitment to constant investment has been recognized by international bodies, and it has hosted such events as the 2012 Women's Skiing World Cup and the trials for the 2012 and 2013 Speed Skiing World Cup - placing Grandvalira firmly as one of the top resorts on an international scale.
Grandvalira is the best place you can imagine, a paradise for ski in Andorra. Organise your snow holidays, weekends and breaks, and enjoy an unforgettable experience.
---
Airport Barcelona (BCN): 2 hours 45 minutes
Airport Girona (GRO): 2 hours 30 minutes
Airport Carcassonne (CCF): 2 hours 55 minutes
Airport Toulouse (TLS): 2 hours 24 minutes
---
Soldeu is just one of seven linked sectors which make up the vast Grandvalira ski area, offering 210km of pistes under one ski pass. The lift system in Grandvalira is modern and efficient, allowing you easy access across all seven sectors with a Grandvalira lift pass.
Grandvalira Lift Pass Prices
Duration
Adult
(18-64)
Junior
(12-17)
Child
(6-11)
Morning
€30
€30
€30
Afternoon
€38.50
€33.50
€28.50
1 Day
€51
(RRP €52)
€45.50
(RRP €46.50)
€34.50
(RRP €35.50)
2 Days
€95.40
(RRP €97.40)
€87
(RRP €89)
€63.60
(RRP €65.60)
3 Days
€143.10
(RRP €146.10)
€130.50
(RRP €133.50)
€95.40
(RRP €98.40)
4 Days
€190.80
(RRP €194.80)
€174
(RRP €178)
€127.20
(RRP €131.20)
5 Days
€228
(RRP €233)
€204.50
(RRP €209.50)
€151.50
(RRP €156.50)
6 Days
€273.60
(RRP €279.60)
€245.40
(RRP €251.40)
€181.80
(RRP €187.80)
+ Days
€45.60
(RRP €46.60)
€40.90
(RRP €41.90)
€30.30
(RRP €31.30)
Please note: These are the official prices as published by Grandvalira. No responsibility is accepted by ChaltFinder for any errors, or if Grandvalira make any updates to pricing or availability.
---
Soldeu has a fantastic selection of restaurants to choose from, offering a wide choice of international dishes, as well as some local Catalan cuisine which is definitely worth trying.
---
Soldeu has a good selection of bars and pubs to choose from, catering for a variety of tastes and nationalities. You will find most of the Soldeu bars on the main road in the centre of the village, but you should also venture up the small street that runs behind the Hotel Himalaia as there are a handful of interesting bars and restaurants located here too. El Tarter is a lot quieter with just a small number of bars dotted around, mainly towards the bottom of the slopes.
---
In the summer discover the amazing landscapes that are hidden under the snow during the ski season. More than 90% of Andorra is made up of forests and nature parks, where you can enjoy adventure sports, cultural routes and much more!
---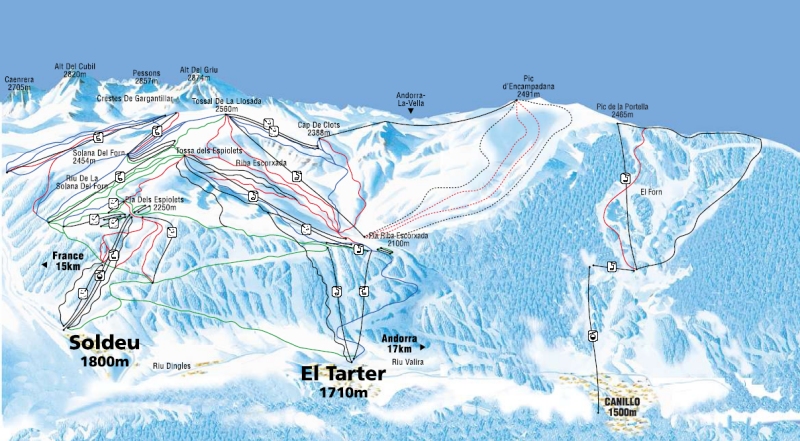 Array
(
    [pid] => 31791
    [po_id] => 2324
    [property] => Chalet Hotel Peretol
    [country] => Andorra
    [region] => Grandvalira
    [resort] => Soldeu
    [short_description] => Ski-in/out chalet with a freestyle park on the doorstep! 11 en-suite bedrooms and lounge with log fire, bar and large dining area and apres-ski bar. 
    [luxury_short_description] => 
    [bedrooms] => 11
    [sleeps] => 29
    [bathrooms] => 11
    [luxury] => No
    [luxury_edit] => No
    [catered] => Yes
    [self_catering] => No
    [spa] => NOVALUE
    [flights_included] => No-but can help arrange
)

Covid
Policy
View More
FMA31791
Soldeu, Grandvalira, Andorra
Ski-in/out chalet with a freestyle park on the doorstep! 11 en-suite bedrooms and lounge with log fire, bar and large dining area and apres-ski bar.