---
Grandvalira is a resort located in Andorra which covers the skiable areas of two of Andorra's seven provinces. It was founded back in 2003 when two of the Pyrenees' oldest resorts, Pas de la Casa-Grau Roig and Soldeu-El Tarter, joined together. This fusion gave rise to the largest resort in the Pyrenees and one of the largest in Europe with 210 km of ski run spread over a total of 118 slopes of all different levels.
Its commitment to constant investment has been recognized by international bodies, and it has hosted such events as the 2012 Women's Skiing World Cup and the trials for the 2012 and 2013 Speed Skiing World Cup - placing Grandvalira firmly as one of the top resorts on an international scale.
Grandvalira is the best place you can imagine, a paradise for ski in Andorra. Organise your snow holidays, weekends and breaks, and enjoy an unforgettable experience.
---
Airport Barcelona (BCN), Spain
Approx 2 hours 45 minutes
Airport Girona (GRO), Spain
Approx 2 hours 30 minutes
Airport Carcassonne (CCF), France
Approx 2 hours 55 minutes
Airport Toulouse (TLS), France
Approx 2 hours 24 minutes
---
MULTI-DAY PASSES
ADULT

JUNIOR

(12-17YRS)

CHILD (6-11YRS)
2 days
92,40 €
84 €
61,60 €
3 days
138,60 €
126 €
92,40 €
4 days
184,80 €
168 €
123,20 €
5 days
220,50 €
197 €
146,50 €
6 days
264,60 €
236,40 €
175,80 €
7 days or more (per day)
44,10 €
39,40 €
29,30 €
3 days' skiing over 5 days
145,20 €
134,10 €
100,20 €
5 days' skiing over 7 days
231 €
210 €
154 €
7 days' skiing over 10 days
323,40 €
294 €
215,60 €
---
Restaurant La Cabana-Espiolets Located near the entrance to the Soldeu gondola at the foot of Golf Soldeu with easy access to Bike Park Soldeu. Espiolets offers an spacious terrace where visitors can enjoy an aperitif and choose from a wide range of menu items to enjoy in the open air.
La Tofana In this restaurant you can enjoy typical dishes as "antipasti", fresh pasta made at home with an extensive variety of sauces, also a pizzas menu. The proposal is a tour through the Italian culture.
Fat Alberts Bar and Restaraunt We have a huge a la carte menu. Children's menu available. All our food is freshly made so we can help even the fussiest client. We do two sittings at our busy periods to fit everyone in! we have a great banquet menu for groups larger than 10.

---
Soldeu has a good selection of bars and pubs to choose from, catering for a variety of tastes and nationalities. You will find most of the Soldeu bars on the main road in the centre of the village, but you should also venture up the small street that runs behind the Hotel Himalaia as there are a handful of interesting bars and restaurants located here too. El Tarter is a lot quieter with just a small number of bars dotted around, mainly towards the bottom of the slopes.
---
In the summer discover the amazing landscapes that are hidden under the snow during the ski season. More than 90% of Andorra is made up of forests and nature parks, where you can enjoy adventure sports, cultural routes and much more!
Here are 12 reasons that'll help you make up your mind to spend an unforgettable summer in the mountains. Regain your energy, surrounded by your friends or family, amidst breathtaking landscapes. Could there possibly be a better option?
---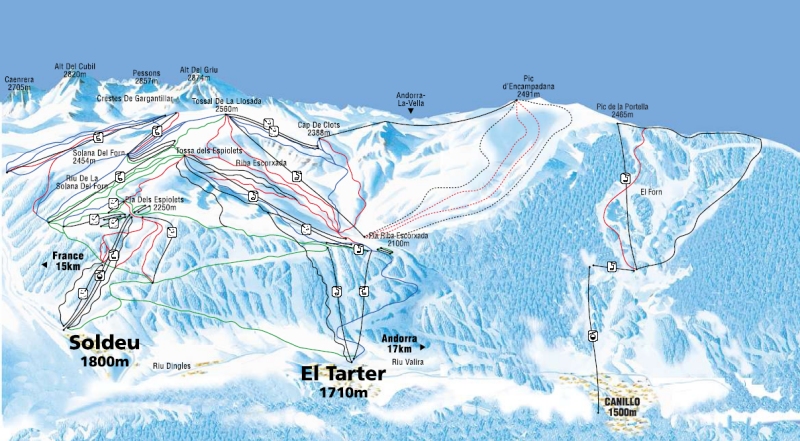 Array
(
    [pid] => 33757
    [property] => Piolets Soldeu Centre - 4*
    [country] => Andorra
    [region] => Grandvalira
    [resort] => Soldeu
    [short_description] => Hotel Piolets is a great value 4* hotel in the very centre of Soldeu Village. 
    [luxury_short_description] => 
    [bedrooms] => 
    [sleeps] => 2
    [bathrooms] => 
    [luxury] => No
    [luxury_edit] => No
    [catered] => No
    [self_catering] => No
    [spa] => Yes
    [flights_included] => NOVALUE
)

Array
(
    [pid] => 33771
    [property] => Sport Hotel
    [country] => Andorra
    [region] => Grandvalira
    [resort] => Soldeu
    [short_description] => Set in spectacular scenery, the Sport Hotel is a place to relax and enjoy yourself with all the services needed to make your stay unforgettable.
    [luxury_short_description] => 
    [bedrooms] => 1
    [sleeps] => 2
    [bathrooms] => 1
    [luxury] => No
    [luxury_edit] => No
    [catered] => No
    [self_catering] => No
    [spa] => Yes
    [flights_included] => NOVALUE
)

Array
(
    [pid] => 33756
    [property] => Himalaia Soldeu
    [country] => Andorra
    [region] => Grandvalira
    [resort] => Soldeu
    [short_description] => The Himalaia Soldeu has a prime location in the centre of the village of Soldeu and is a great base for families and groups of friends.
    [luxury_short_description] => 
    [bedrooms] => 
    [sleeps] => 4
    [bathrooms] => 
    [luxury] => No
    [luxury_edit] => No
    [catered] => No
    [self_catering] => No
    [spa] => Yes
    [flights_included] => NOVALUE
)

Array
(
    [pid] => 33770
    [property] => Piolets Park & Spa
    [country] => Andorra
    [region] => Grandvalira
    [resort] => Soldeu
    [short_description] => The Hotel Piolets Park & Spa combined modern style with traditional mountain feel and an attention to detail and service that is second to none. 
    [luxury_short_description] => 
    [bedrooms] => 1
    [sleeps] => 4
    [bathrooms] => 
    [luxury] => No
    [luxury_edit] => No
    [catered] => No
    [self_catering] => No
    [spa] => Yes
    [flights_included] => NOVALUE
)

Array
(
    [pid] => 33848
    [property] => SKI CHALET RESIDENCES Penthouse 
    [country] => Andorra
    [region] => Grandvalira
    [resort] => Soldeu
    [short_description] => Perfectly located close to the cable car in Soldeu, the mountain residences are 4 and 5 star quality accommodation with amazing views piste views.

    [luxury_short_description] => 
    [bedrooms] => 3
    [sleeps] => 10
    [bathrooms] => 2
    [luxury] => No
    [luxury_edit] => No
    [catered] => No
    [self_catering] => Yes
    [spa] => NOVALUE
    [flights_included] => No-but can help arrange
)

Array
(
    [pid] => 33758
    [property] => Chalet Font - Soldeu
    [country] => Andorra
    [region] => Grandvalira
    [resort] => Soldeu
    [short_description] => Chalet Font is one of Soldeu's traditional buildings that provides a warm and cosy base for a family or friends ski holiday.
    [luxury_short_description] => 
    [bedrooms] => 7
    [sleeps] => 14
    [bathrooms] => 7
    [luxury] => No
    [luxury_edit] => No
    [catered] => No
    [self_catering] => Yes
    [spa] => NOVALUE
    [flights_included] => NOVALUE
)

Array
(
    [pid] => 31791
    [property] => Chalet Hotel Peretol
    [country] => Andorra
    [region] => Grandvalira
    [resort] => Soldeu
    [short_description] => Ski-in/out chalet with a freestyle park on the doorstep! 10 en-suite bedrooms and lounge with log fire, bar and large dining area and apres-ski bar
    [luxury_short_description] => 
    [bedrooms] => 11
    [sleeps] => 29
    [bathrooms] => 11
    [luxury] => No
    [luxury_edit] => No
    [catered] => Yes
    [self_catering] => No
    [spa] => NOVALUE
    [flights_included] => No-but can help arrange
)