---
Arinsal & Pal are two ski areas which are now connected together after heavy investment in the lift system giving a total of 63 kms of pistes. The resort of Arinsal is the more famous and popular place to stay due to it's level of accommodation, restaurants and bars. It is a superb resort for beginners and low intermediates featuring gentle slopes and a fantastic ski school.
Arinsal is the perfect choice for families and couples especially beginners and once you find your feet you can head over on the cable car to Pal to test some of the scenic tree lined runs Pal has to offer.
Resort Altitude 1450m - Skiing from 1550m to 2560m - 7 green slopes/16 blue slopes/17 red slopes/4 black slopes - Snow Cannon coverage: 45% - 2 Freeride areas
---
Airports
Barcelona: 212km
Girona: 211km
Reus: 200km
---
Book through Ski Andorra Holidays to receive discounts with advanced purchase.
Adults aged 16+
Children aged 6 to 15 years inclusive
Free Child pass (baby) under 6 years.
Those staying in Arinsal or La Massana - lift pass includes ski areas of Arinsal and Pal.
Lift passes are valid from 3 to 14 days when
---
Arinsal has a wide range of restaurants and bars for everyone. From local Catalan specialities, Argentinian steakhouses, Mexican and oriental food it has it all and you will be spoiled for choice.
---
There is a lively apres scene off the slopes too with lots of fun bars to meet up and socialise with your fellow skiers after a day on the slopes and to top it off the prices are great too!
---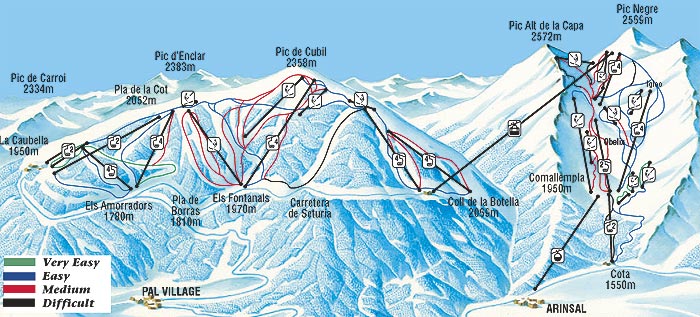 Array
(
    [pid] => 33753
    [property] => Hotel Xalet Verdu
    [country] => Andorra
    [region] => Vallnord
    [resort] => Arinsal
    [short_description] => The Hotel Xalet Verdu has become a firm favorite in the village of Arinsal and attracts a huge amount of repeat guests returning year after year.
    [luxury_short_description] => 
    [bedrooms] => 
    [sleeps] => 2
    [bathrooms] => 
    [luxury] => No
    [luxury_edit] => No
    [catered] => No
    [self_catering] => No
    [spa] => NOVALUE
    [flights_included] => NOVALUE
)

Array
(
    [pid] => 33754
    [property] => Aparthotel Sant Andreu
    [country] => Andorra
    [region] => Vallnord
    [resort] => Arinsal
    [short_description] => The Sant Andreu has been under new management for two seasons and has become a real favourite place to stay for families and groups of friends. 
    [luxury_short_description] => 
    [bedrooms] => 
    [sleeps] => 2
    [bathrooms] => 
    [luxury] => No
    [luxury_edit] => No
    [catered] => No
    [self_catering] => Yes
    [spa] => NOVALUE
    [flights_included] => NOVALUE
)

Array
(
    [pid] => 33752
    [property] => Hotel Sant Gothard
    [country] => Andorra
    [region] => Vallnord
    [resort] => Arinsal
    [short_description] => The Hotel Sant Gothard is one of Arinsal's most established hotels offering traditional standards and service and exceptional value for money.
    [luxury_short_description] => 
    [bedrooms] => 
    [sleeps] => 4
    [bathrooms] => 
    [luxury] => No
    [luxury_edit] => No
    [catered] => No
    [self_catering] => No
    [spa] => NOVALUE
    [flights_included] => NOVALUE
)

Array
(
    [pid] => 33755
    [property] => Hotel Princesa Parc - 4*
    [country] => Andorra
    [region] => Vallnord
    [resort] => Arinsal
    [short_description] => The Hotel Princesa Parc is the flag ship of the Arinsal village. A prestigious 4* hotel with excellent facilities and renowned for customer service.
    [luxury_short_description] => 
    [bedrooms] => 
    [sleeps] => 4
    [bathrooms] => 
    [luxury] => No
    [luxury_edit] => No
    [catered] => No
    [self_catering] => No
    [spa] => Yes
    [flights_included] => NOVALUE
)

Array
(
    [pid] => 33765
    [property] => Ushuaia Mountain Hotel
    [country] => Andorra
    [region] => Vallnord
    [resort] => Arinsal
    [short_description] => The brand new Ushuaia Mountain Hotel is an exciting new beginning and concept for the village of Arinsal (Vallnord).  
    [luxury_short_description] => 
    [bedrooms] => 1
    [sleeps] => 4
    [bathrooms] => 
    [luxury] => No
    [luxury_edit] => No
    [catered] => No
    [self_catering] => No
    [spa] => NOVALUE
    [flights_included] => NOVALUE
)