The perfect location in La Plagne
Guest blog by Alpine365 – The perfect location in La Plagne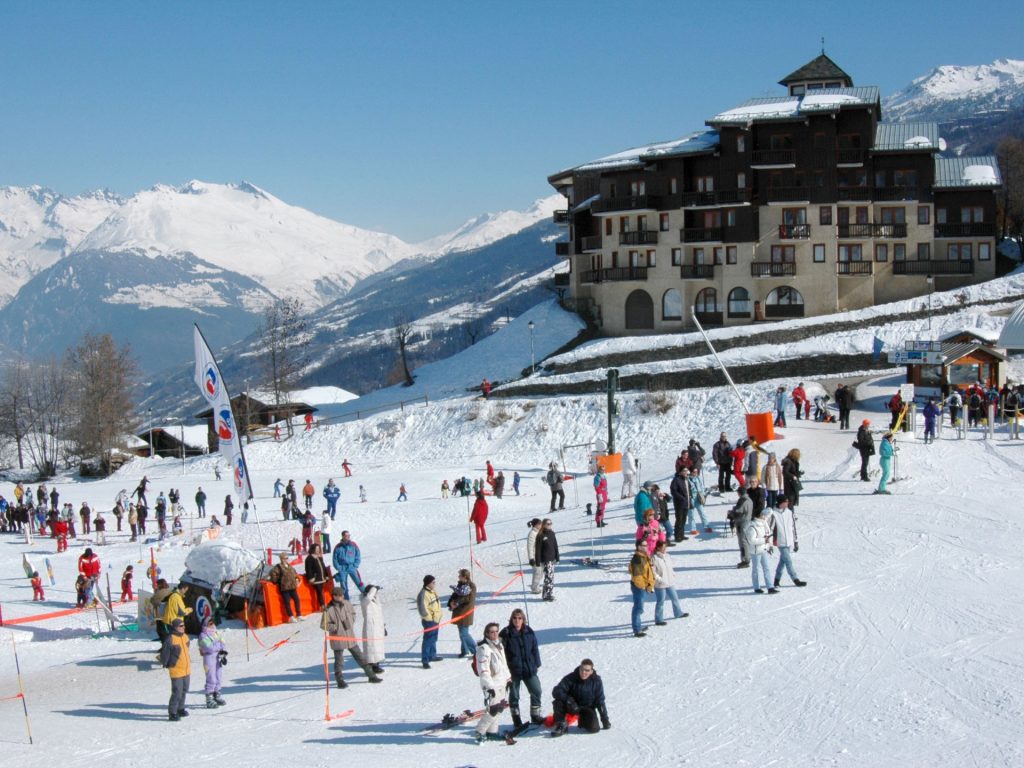 Whilst La Plagne is one of the most well-known ski resorts in France, it's perhaps less well known that La Plagne is in fact made up of 11 different resort "villages". One of these is the pretty village of Montchavin Les Coches. 
A relatively unspoilt location in La Plagne, Montchavin Les Coches is an original mountain farming village, so the design is a far cry from the more typical 60s apartment blocks of much of the rest of La Plagne. It's a hidden gem that many skiers love to return to year after year.  
If that sounds of interest, then here are 7 great reasons to consider Montchavin Les Coches for your next ski holiday. 
1. The perfect location in La Plagne if you want the best access to all the skiing
La Plagne is linked to the popular French ski resort, Les Arcs, and together they make up the wider ski area of the Paradiski, boasting 425kms of marked pistes.
La Plagne and Les Arcs are linked by the Vanoise Express, the world's largest double-decker cable car. And the La Plagne end of the cable car is located in Montchavin Les Coches – meaning it's exactly in the middle of this huge ski area. So whether you fancy the 225kms of skiing in La Plagne, or the hitting the 200kms in Les Arcs, they're right at your fingertips (or should we say ski tips!?) 
Even for an advanced skier it can take around 3-4 hours to ski from one end of the Paradiski to the next, so being in the middle is real advantage, and that's exactly what Montchavin Les Coches offers.
2. Loads of high pistes mean snowsure skiing
Over 70% of the slops in the Paradiski are above 2,000m, which means we are guaranteed snow, regardless of the weather – and we even have two glaciers to boot. It's mid-Jun as I write this, and some of the mountain biking trails that were due to open this weekend have been delayed – because of too much snow! (But if you like mountain biking, don't forget to check out reason number 7!)
3.You can take the train here
The rise in take-up of electric cars goes to show how environmental concerns about travel are becoming more and more important to everyone. And undoubtedly one of the most environmental ways to travel is by train. There is a train station less that 10mins from Montchavin Les Coches, so if you are looking for a green, yet easy, way to travel to the alps, then Montchavin Les Coches could be the answer! There are direct trains from London to our valley during the ski season, and if the timings don't suit, you can take the Eurostar to Paris, and it's one change to get the train to our mountains. That's great for you – but it's great for our mountains too!
4. A traditional village feel
Montchavin is an original alpine village with cobbled streets, complete with cows in chalets during the winter, and chickens roaming the streets in summer. Because it is devoid of the larger tour operators and only has a handful of independent chalet companies with pretty chocolate-box chalets and apartments, it's the perfect resort to choose. 
5. Great for families
Montchavin Les Coches has gained the coveted French accreditation "Famille Plus" meaning there lots to do if you're travelling with kids. Of course, we have ski school for the little 'uns, but there are plenty of other activities too – an ice rink, a cinema, husky rides, an indoor swimming pool and spa, snow-shoe walking etc. Oh, and the village centres are car-free too – ideal for stress-free family trips!
6. Magical skiing on tree-lined pistes
Montchavin Les Coches is nestled amongst north-facing pines, with various pistes snaking their way down through the trees. During the inclement weather (and sadly we can't promise you bluebird days every day!) the best skiing is found between the trees, where the visibility's better, and there's better protection from any biting winds. And this is available right on your doorstep in Montchavin Les Coches, unlike in many of the other villages of La Plagne.
In addition, lots of skiers from other parts of La Plagne or Les Arcs tend to simply "pass through" on their way around the resort, meaning our pistes are often also super-quiet. The "Coches" red run is a true hidden gem in the trees, and even during busy weeks it's not unusual to ski this without seeing another soul. 
7. Loads to do in the summer if your alpine itch needs scratching outside of winter
Ok, this isn't really a reason come skiing here! But the Alps are becoming more and more popular in the summer, particularly if your idea of a holiday extends beyond a trashy novel in front of the pool. Try mountain biking, either using the lifts to take some of the strain, or renting an e-bike on some of the new e-bike ready trails (complete with charging points). There's "accrobranching" between the trees, with zip-lines for the more adventurous, and smaller tree-based fun for kids as little as 2. There are e-scooters to give your bottom a break from that e-bike saddle. Or what about archery, including a "shoot the zombie" zone – true! Plus paragliding, white water rafting, an outdoor ice rink, tennis, climbing, yoga, even chess! And did we mention the outdoor pool with slides? So yes, you can still get to read your trashy novel by the pool – there really is something for everyone in the summer at Montchavin Les Coches.
About Alpine365:
Now in their 13th year, they offer gorgeous, home-from-home chalets; gourmet food prepared by professional chefs; luxury hot tubs; one of the largest ski resorts in the world; and a truly personal service from all the Alpine365 team.