Chamonix: the Heart of Alpine Adventure
A resort and a valley, Chamonix is a skiing destination like no other: steeped in mountaineering history as the base camp for parties exploring Mont Blanc, host to the first Winter Olympics in 1924 and home to unique skiing conditions loved for over a century.
Chamonix, in the Rhône-Alpes region in south-eastern France, has been a major tourist destination for more than one hundred years. Already growing in popularity in the late 19th century, its role as host for the first Winter Olympics in 1924 boosted Chamonix as an international tourist spot. Climbers from all over the world have flocked to this area to conquer Mont Blanc and visit the booming town centre and the challenging pistes.
The town sits in the same valley as the resorts of Argentière, Les Houches, St Gervais, Megève and Les Contamines. Many visitors choose to explore the whole valley, seeking out the best powder and discovering famous pistes, such as the Kandahar in Les Houches. Chamonix itself has a series of lifts interspersed throughout the town. There are pistes on both sides of the valley and lifts at Brévant and Flégère which allow visitors onto varied pistes up to an altitude of 2525m. The beautiful village of Argentière lies just a five minute drive away, where high altitude snow-sure skiing can be found. The Grand Montets cable car attains an altitude of 3,300m and presents a choice of two black runs, Les Pylônes and Point de Vue.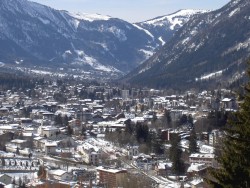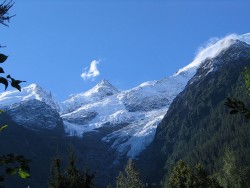 Chamonix boasts a great wealth of activities which are enjoyed by thousands all year round. During the winter, visitors can take part in dog sledding, cross-country skiing, paragliding, Ski Joering and ice skating, as well as the incredible viewpoint near Argentière. In addition to the skiing, Chamonix is a centre for mountaineering, walking, mountain biking, parasailing, road cycling and many other challenging sports.
The town centre has been shaped by Chamonix's history, with architecture influenced by la Belle Époque ('the Beautiful Era'), a period in Europe characterised by optimism, cultural innovations and regional peace. Few ski resorts were built in this age of peace and optimism, making Chamonix one of a kind. The architecture of many hotels, chalets and shops was influenced by the fashions of Victorian Britain, adding to the uniqueness of Chamonix.
With plenty of shops, cafes, bars and restaurants, there are attractions and activities for all tastes. Families and party animals alike find Chamonix town perfectly amenable to their needs. The streets are friendly for families and yet there are also popular nightspots like L'amnesia which stay open until dawn.
The Chamonix resort best suits those who plan their skiing and wish to hunt for the best experiences and challenges. It's not a 'breeze' to ski at Chamonix and it's not always the most convenient – ski buses are often necessary to get to the lift of choice each morning. Those that love Chamonix thrive on planning the next day's excursion and there is always another adventure to be had and more boundaries to be pushed.