---
Bansko is Bulgaria's premier ski resort - it has the largest ski area, has a great deal of historical significance and has a real working mountain-town feel. Plus, it's very easygoing on the wallet.

What sets Bansko aside from its Balkan neighbours is the selection of fantastic hotels (mostly built in the last 15 years or so) that wouldn't look out of place in some of the world's most prestigious resorts - here is the chance to soak up some seriously affordable luxury. This is the best resort for snow making in Bulgaria too, with plenty of snow cannons on hand to top up the slopes throughout the season if the weather isn't on our side.


---
Airport Sofia (SOF)
1 hour 45 minutes
Airport Plodiv (PDV)
2 hours 40 minutes
---
---
Euphoria Bar & Grill it has a very big variety of food, good staff and plenty of space to sit and eat outside. It is very well suited for big groups as well as single families. They also offer pizza slices that you can order on the go, if you just want a quick bite to eat.
Steak House Lazur The menu is perfect if you're in the mood for beers with your food. Nothing goes down better with a beer than steaks and Mexican food and they have some nice starters.
But if you wanted something traditionally Bulgarian take a look at the link below.
Traditional Bulgarian Restaurants
---
Apres ski in Bansko is great there are lots of small bars competing for your business with drink at a very reasonable price compared with the Alps.
If you are looking for an earthy, traditional Bulgarian night out, these bars are located around Ploshtad Varazhdane in the old part of town. The Baryakova Tavern being the most popular.
---
July and August in Bansko can be hot – it's hit 30 degrees a lot here this year. It's a lot cooler than some of the other areas of Bulgaria where it's regularly been 40 degrees. The vast majority of the activities in Bansko are outdoor and it's a glorious place for anything outdoors.
Check out this article on what to do in Bansko in the summer.
---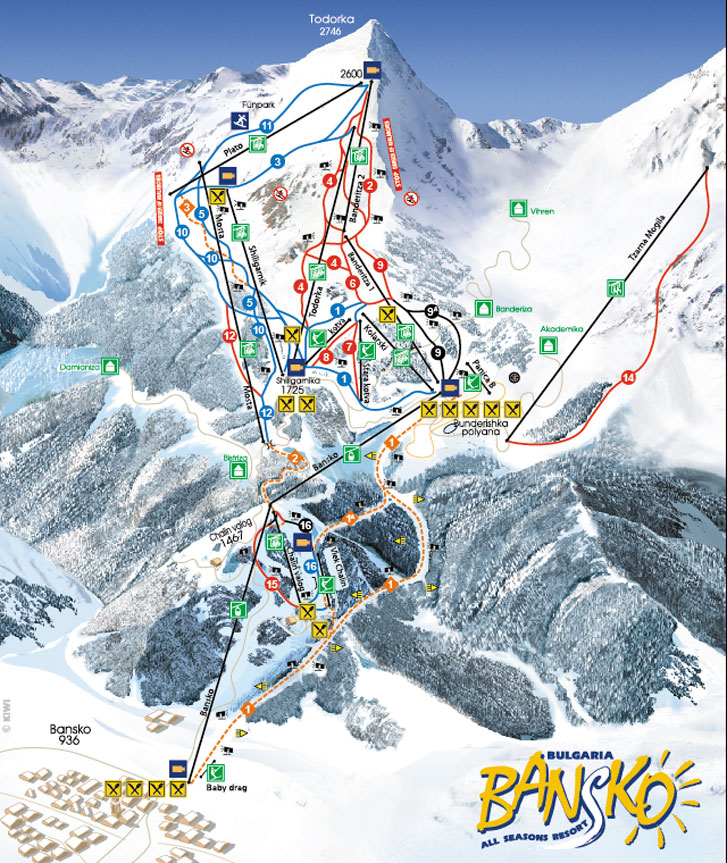 Array
(
    [pid] => 33853
    [property] => Snowflake Lodge
    [country] => Bulgaria
    [region] => Pirin
    [resort] => Bansko
    [short_description] => Beautiful new catered lodge ready and waiting for your arrival. Exclusive use of the lodge with a shared hot tub and sauna. 
    [luxury_short_description] => 
    [bedrooms] => 4
    [sleeps] => 8
    [bathrooms] => 4
    [luxury] => No
    [luxury_edit] => No
    [catered] => Yes
    [self_catering] => Yes
    [spa] => Yes
    [flights_included] => No
)

Array
(
    [pid] => 32986
    [property] => Snomads Eco Chalet Supreme
    [country] => Bulgaria
    [region] => Pirin
    [resort] => Bansko
    [short_description] => Cosy eco retreat run by a friendly British team, delivering local organic feasts with a very unique twist.
    [luxury_short_description] => 
    [bedrooms] => 4
    [sleeps] => 10
    [bathrooms] => 4
    [luxury] => No
    [luxury_edit] => No
    [catered] => Yes
    [self_catering] => No
    [spa] => Yes
    [flights_included] => No-but can help arrange
)

Array
(
    [pid] => 32638
    [property] => Georgi's House
    [country] => Bulgaria
    [region] => Pirin
    [resort] => Bansko
    [short_description] => Close about 100 meters to the lifts and great value for money Chalet Georgi's House is ideal for a small group of family or friends. 
    [luxury_short_description] => 
    [bedrooms] => 5
    [sleeps] => 12
    [bathrooms] => 5
    [luxury] => No
    [luxury_edit] => No
    [catered] => Yes
    [self_catering] => No
    [spa] => NOVALUE
    [flights_included] => NOVALUE
)

Array
(
    [pid] => 29509
    [property] => Chalet Jora - Total Chalets 
    [country] => Bulgaria
    [region] => Pirin
    [resort] => Bansko
    [short_description] => **2019 Certificate of Excellence**
Exclusive use, British hosts. Central location and close to gondola. Airport transfers included, fully catered. 
    [luxury_short_description] => 
    [bedrooms] => 5
    [sleeps] => 14
    [bathrooms] => 4
    [luxury] => No
    [luxury_edit] => No
    [catered] => Yes
    [self_catering] => No
    [spa] => Yes
    [flights_included] => No-but can help arrange
)

Array
(
    [pid] => 33852
    [property] => Snowflake Chalet
    [country] => Bulgaria
    [region] => Pirin
    [resort] => Bansko
    [short_description] => Fancy a cheeky winter holiday? Look no further! 
Beautiful catered chalet with hot tub, log fire, private en-suite bedrooms and amazing food.
    [luxury_short_description] => 
    [bedrooms] => 7
    [sleeps] => 14
    [bathrooms] => 9
    [luxury] => No
    [luxury_edit] => No
    [catered] => Yes
    [self_catering] => No
    [spa] => Yes
    [flights_included] => No
)

Array
(
    [pid] => 28204
    [property] => Devonshire Lodge
    [country] => Bulgaria
    [region] => Pirin
    [resort] => Bansko
    [short_description] => Stunning, luxurious, British owner-run chalet. Fully catered.  Amazing 10 person outdoor hot tub. Airport transfers included.  Great location.  
    [luxury_short_description] => 
    [bedrooms] => 5
    [sleeps] => 16
    [bathrooms] => 5
    [luxury] => No
    [luxury_edit] => No
    [catered] => Yes
    [self_catering] => No
    [spa] => Yes
    [flights_included] => No
)

Array
(
    [pid] => 31053
    [property] => Chalet Mila - Total Chalets 
    [country] => Bulgaria
    [region] => Pirin
    [resort] => Bansko
    [short_description] => *2020 Travellers Choice Award!* Charming catered ski chalet with British hosts. Included - airport transfers, unlimited wine/beer, free spa use!
    [luxury_short_description] => 
    [bedrooms] => 8
    [sleeps] => 18
    [bathrooms] => 9
    [luxury] => No
    [luxury_edit] => No
    [catered] => Yes
    [self_catering] => No
    [spa] => Yes
    [flights_included] => No-but can help arrange
)

Array
(
    [pid] => 32660
    [property] => Chalet Garibaldi - Total Chalets 
    [country] => Bulgaria
    [region] => Pirin
    [resort] => Bansko
    [short_description] => *2019 Certificate of Excellence*
Large fully catered chalet with British hosts. Airport transfers incl, unlimited beer/wine, free spa use! Sleeps 20 
    [luxury_short_description] => 
    [bedrooms] => 8
    [sleeps] => 20
    [bathrooms] => 8
    [luxury] => No
    [luxury_edit] => No
    [catered] => Yes
    [self_catering] => No
    [spa] => Yes
    [flights_included] => No
)

Array
(
    [pid] => 32516
    [property] => Snow Pine Chalet
    [country] => Bulgaria
    [region] => Pirin
    [resort] => Bansko
    [short_description] =>  Snow Pine Chalet is on the doorstep of the best Ski Resort in Bulgaria. We are open all year round! We have our own onsite ski & board rental shack!
    [luxury_short_description] => 
    [bedrooms] => 9
    [sleeps] => 21
    [bathrooms] => 9
    [luxury] => No
    [luxury_edit] => No
    [catered] => Yes
    [self_catering] => Yes
    [spa] => Yes
    [flights_included] => Yes
)

Array
(
    [pid] => 31141
    [property] => Snomads Eco Chalet Diana-Ross
    [country] => Bulgaria
    [region] => Pirin
    [resort] => Bansko
    [short_description] => Homely eco-retreat run by a British team, delivering local organic feasts with a unique twist. All rooms ensuite. Sauna & hot tub. Transfers incl.
    [luxury_short_description] => 
    [bedrooms] => 10
    [sleeps] => 25
    [bathrooms] => 10
    [luxury] => No
    [luxury_edit] => No
    [catered] => Yes
    [self_catering] => No
    [spa] => Yes
    [flights_included] => No
)