---
---
Bansko is Bulgaria's premier ski resort - it has the largest ski area, has a great deal of historical significance and has a real working mountain-town feel. Plus, it's very easygoing on the wallet.

What sets Bansko aside from its Balkan neighbours is the selection of fantastic hotels (mostly built in the last 15 years or so) that wouldn't look out of place in some of the world's most prestigious resorts - here is the chance to soak up some seriously affordable luxury. This is the best resort for snow making in Bulgaria too, with plenty of snow cannons on hand to top up the slopes throughout the season if the weather isn't on our side.


---
Airport Sofia (SOF)
1 hour 45 minutes
Airport Plodiv (PDV)
2 hours 40 minutes
---
Adults
Students and retirees (up to 75 y.o.)
Kids from 7 to 12 y.o.
Kids under 7 y.o., retirees over 75 y.o.
Drag lift - bottom station (1 day)
BGN 10
BGN 10
BGN 10
BGN 1
Gondola lift (round trip)
BGN 26
BGN 22
BGN 17
BGN 1
1/2 day
(after 12:30)
BGN 43
BGN 38
BGN 30
BGN 1
1 day
BGN 56
BGN 50
BGN 38
BGN 1
2 days
BGN 107
BGN 97
BGN 66
BGN 2
3 days
BGN 162
BGN 146
BGN 94
BGN 3
4 days
BGN 214
BGN 193
BGN 115
BGN 4
5 days
BGN 269
BGN 240
BGN 134
BGN 5
6 days
BGN 320
BGN 288
BGN 158
BGN 6
9 days
BGN 480
BGN 432
BGN 210
BGN 9
13 days
BGN 672
BGN 603
BGN 313
BGN 13
Bansko Twenty
BGN 900
BGN 850
BGN 800
BGN 20
Seasonal Ski Pass
BGN 1500
BGN 1400
BGN 1300
BGN 100
Gondola lift ticket
for people with disabilities
(two-way)
BGN 1
Gondola lift ticket
for people accompanying people with disabilities / only in case a document for such assistance provided
(two-way)
BGN 1
Please note: Lift pass prices are subject to change. Please call resort for updates.
---
Restaurants in Bansko offer several local specialties. In this mountainous region in Southwest Bulgaria, the food is hearty and many of the dishes are made from traditional recipes!
---
Apres ski in Bansko is great there are lots of small bars competing for your business with drink at a very reasonable price compared with the Alps. If you are looking for an earthy, traditional Bulgarian night out, there are plenty of bars located around Ploshtad Varazhdane in the old part of town.
---
July and August in Bansko can be hot – reaching on average around 30 degrees. It's a lot cooler than some of the other areas of Bulgaria where it can reach 40 degrees. The vast majority of the activities in Bansko are outdoor and it's a glorious place for anything outdoors.
---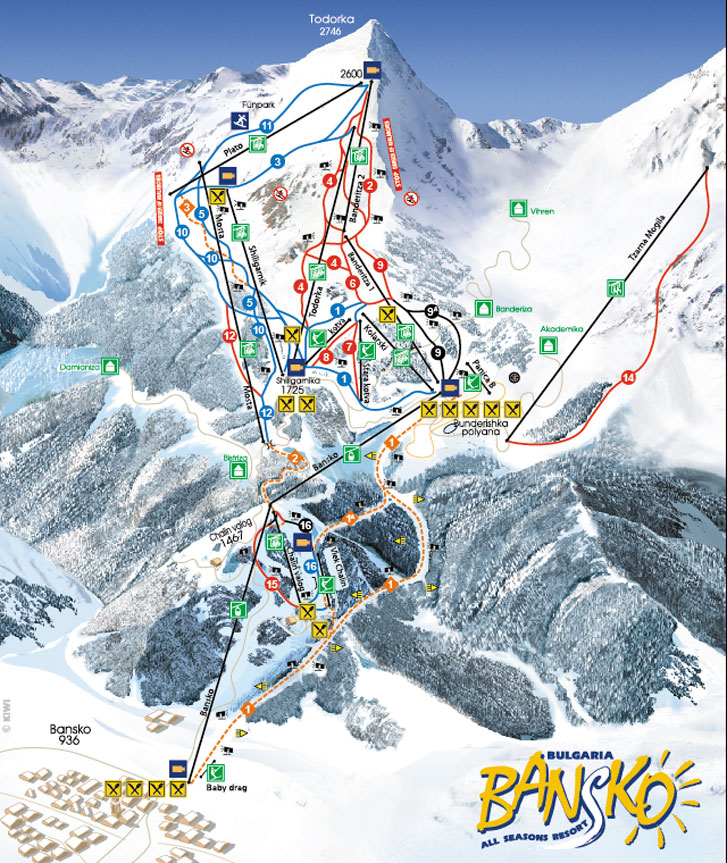 Array
(
    [pid] => 32638
    [po_id] => 3406
    [property] => Georgi's House
    [country] => Bulgaria
    [region] => Pirin
    [resort] => Bansko
    [short_description] => Close about 100 meters to the lifts and great value for money Chalet Georgi's House is ideal for a small group of family or friends. 
    [luxury_short_description] => 
    [bedrooms] => 5
    [sleeps] => 12
    [bathrooms] => 5
    [luxury] => No
    [luxury_edit] => No
    [catered] => Yes
    [self_catering] => No
    [spa] => NOVALUE
    [flights_included] => NOVALUE
)

Array
(
    [pid] => 29509
    [po_id] => 2324
    [property] => Chalet Jora - Total Chalets 
    [country] => Bulgaria
    [region] => Pirin
    [resort] => Bansko
    [short_description] => **2019 Certificate of Excellence**
Exclusive use, British hosts. Central location and close to gondola. Airport transfers included, fully catered. 
    [luxury_short_description] => 
    [bedrooms] => 5
    [sleeps] => 14
    [bathrooms] => 4
    [luxury] => No
    [luxury_edit] => No
    [catered] => Yes
    [self_catering] => No
    [spa] => Yes
    [flights_included] => No-but can help arrange
)

Array
(
    [pid] => 28204
    [po_id] => 1658
    [property] => Devonshire Lodge
    [country] => Bulgaria
    [region] => Pirin
    [resort] => Bansko
    [short_description] => Stunning, luxurious, British owner-run chalet. Fully catered.  Amazing 10 person outdoor hot tub. Airport transfers included.  Great location.  
    [luxury_short_description] => 
    [bedrooms] => 5
    [sleeps] => 16
    [bathrooms] => 5
    [luxury] => No
    [luxury_edit] => No
    [catered] => Yes
    [self_catering] => No
    [spa] => Yes
    [flights_included] => No
)

Array
(
    [pid] => 31053
    [po_id] => 2324
    [property] => Chalet Mila - Total Chalets 
    [country] => Bulgaria
    [region] => Pirin
    [resort] => Bansko
    [short_description] => *2020 Travellers Choice Award!* Charming catered ski chalet with British hosts. Included - airport transfers, unlimited wine/beer, free spa use!
    [luxury_short_description] => 
    [bedrooms] => 8
    [sleeps] => 18
    [bathrooms] => 9
    [luxury] => No
    [luxury_edit] => No
    [catered] => Yes
    [self_catering] => No
    [spa] => Yes
    [flights_included] => No-but can help arrange
)

Array
(
    [pid] => 32660
    [po_id] => 2324
    [property] => Chalet Garibaldi - Total Chalets 
    [country] => Bulgaria
    [region] => Pirin
    [resort] => Bansko
    [short_description] => *2020 Travelers Choice Award*
Large fully catered chalet with British hosts. Airport transfers incl, unlimited beer/wine, free spa use! Sleeps 20 
    [luxury_short_description] => 
    [bedrooms] => 8
    [sleeps] => 20
    [bathrooms] => 8
    [luxury] => No
    [luxury_edit] => No
    [catered] => Yes
    [self_catering] => No
    [spa] => Yes
    [flights_included] => No
)

Array
(
    [pid] => 32516
    [po_id] => 3346
    [property] => Snow Pine Chalet
    [country] => Bulgaria
    [region] => Pirin
    [resort] => Bansko
    [short_description] =>  Snow Pine Chalet is on the doorstep of the best Ski Resort in Bulgaria. We are open all year round! We have our own onsite ski & board rental shack!
    [luxury_short_description] => 
    [bedrooms] => 9
    [sleeps] => 21
    [bathrooms] => 9
    [luxury] => No
    [luxury_edit] => No
    [catered] => Yes
    [self_catering] => Yes
    [spa] => Yes
    [flights_included] => Yes
)

Array
(
    [pid] => 31287
    [po_id] => 3041
    [property] => Valentina Heights Chalet Bansko 
    [country] => Bulgaria
    [region] => Pirin
    [resort] => Bansko
    [short_description] => Confortable chalet very close to lifts and apre-ski . Catered, Transfers, Half board, Unlimited drinks, Private Spa Included. Excellent guest reviews
    [luxury_short_description] => 
    [bedrooms] => 24
    [sleeps] => 48
    [bathrooms] => 24
    [luxury] => No
    [luxury_edit] => No
    [catered] => Yes
    [self_catering] => Yes
    [spa] => Yes
    [flights_included] => No
)