---
---
Courchevel is a world class ski resort and part of the famous Three Valleys ski domain, where you have access to 600km of pistes. It's a place where luxury really does mean luxury. Everything about Courchevel is high-end, from the perfectly groomed pistes and state-of-the-art lifts, to the seven Michelin starred restaurants, exclusive hotels and chalets, and stylish boutiques
---
Geneva Airport - 3 hours  Apprx.
Lyon Airport - 3 hours  Apprx.
Chambery Airport -90 Minutes Apprx.
Grenoble Airport - 2 hours Apr
---
There are two main types of 'Courchevel Ski Area' passes - The 3 Valleys Pass (full area) and the Courchevel Valley Pass. The 3 Valleys Pass is more expensive and more comprehensive, covering the whole domain including Courchevel, Meribel & Val Thorens. The Courchevel Valley Pass covers the whole of the Courchevel Valley but no further and is probably the best option for beginners. Most skiers buy the six day 3 Valleys pass, as this allows you to explore many more pistes, mountain restaurants & bars and the neighbouring resorts without having to worry if you've 'crossed a border'!
---
In Courchevel the general rule is that the higher the altitude of a restaurant, the higher the bill – and prices can reach eye-popping levels in Courchevel 1850. However, food standards also reach lofty heights – this resort is swimming in restaurants with Michelin stars, seven at the last count. There are good restaurants lower down the mountain too. At Courchevel Le Praz (aka 1300) La Cave des Lys is an atmospheric, vaulted wine bar serving tasty tapas-style snacks, and the main lift base at Courchevel Moriond (1650) also has some affordable options. On the mountain, La Tania makes a good choice for a cheaper lunch stop.
---
Whether it's a quiet drink, a sophisticated cocktail or the chance to dance the night away in one of their many trendy clubs, there is plenty to choose from in Courchevel.
---
Courchevel merits its reputation as a prime location for luxury skiing holidays, with snow not fully melting until April/May on the upper slopes. However, when winter ends, the summer party kicks off and a whole range of outdoor activities come into their own. Rock climbing, hot-air ballooning and mountain biking are among the most popular activities.

Archery, Badminton, Basketball, Beach Activities, Bowling Canoeing, / Kayaking Canyoning, Cinema, Cycling, Farm Visits, Fishing, Football, Geocaching, Glacier, walking, Golf Gym, / Fitness centers, Helicopter tours, Horse-riding, Hydro-speeding, Ice-skating, / Hockey, Indoor climbing, Light Aircraft / Microlight Flights, Mountaineering, Nature Reserves & Parks, Orienteering, Paintballing, Paragliding / Parapenting, Segway, Shopping, Sky-diving & parachuting, Spas & massages, Squash, Swimming, Tennis, Tree-top / Forest adventures, Walking & Hiking, Waterskiing & Wakeboarding, Watersports, Yoga.
---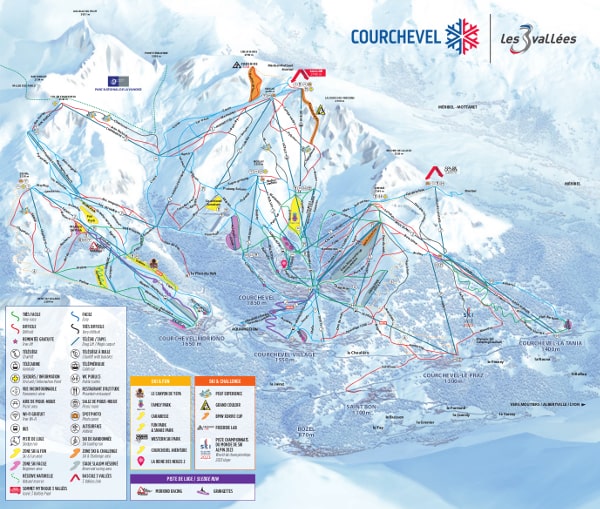 Array
(
    [pid] => 34093
    [po_id] => 1166
    [property] => Chalet Dharkoum Lama
    [country] => France
    [region] => Three Valleys
    [resort] => Courchevel
    [short_description] => Chalet Dharkoum Lama is virtually ski in ski out, just across the road from the beautiful tree-lined Bellecote piste
    [luxury_short_description] => 
    [bedrooms] => 4
    [sleeps] => 7
    [bathrooms] => 
    [luxury] => No
    [luxury_edit] => No
    [catered] => Yes
    [self_catering] => Yes
    [spa] => NOVALUE
    [flights_included] => No
)

Array
(
    [pid] => 29647
    [po_id] => 2410
    [property] => Chalet Rosiere***
    [country] => France
    [region] => Three Valleys
    [resort] => Courchevel
    [short_description] => A fully equipped, self catering chalet that comfortably sleeps 8 adults in the heart of Courchevel, just 3 minutes walking to the ski lifts.
    [luxury_short_description] => 
    [bedrooms] => 4
    [sleeps] => 8
    [bathrooms] => 4
    [luxury] => No
    [luxury_edit] => No
    [catered] => No
    [self_catering] => Yes
    [spa] => NOVALUE
    [flights_included] => No
)

Array
(
    [pid] => 32901
    [po_id] => 350
    [property] => Chalet Loup Blanc
    [country] => France
    [region] => Three Valleys
    [resort] => Courchevel
    [short_description] => Unwind in style in this flagship chalet with swimming pool, steam room and stunning interior. Short stroll to Le Praz gondola and charming village. 
    [luxury_short_description] => 
    [bedrooms] => 5
    [sleeps] => 10
    [bathrooms] => 5
    [luxury] => No
    [luxury_edit] => No
    [catered] => Yes
    [self_catering] => No
    [spa] => NOVALUE
    [flights_included] => NOVALUE
)

Array
(
    [pid] => 34097
    [po_id] => 1166
    [property] => Chalet Kohu 
    [country] => France
    [region] => Three Valleys
    [resort] => Courchevel
    [short_description] => Chalet Kohu is a charming freestanding stone and wood-clad chalet, just a 5-7 walk from the centre of Courchevel Moriond.
    [luxury_short_description] => 
    [bedrooms] => 5
    [sleeps] => 11
    [bathrooms] => 5
    [luxury] => No
    [luxury_edit] => No
    [catered] => Yes
    [self_catering] => Yes
    [spa] => NOVALUE
    [flights_included] => No
)

Array
(
    [pid] => 28410
    [po_id] => 1750
    [property] => Chalet d'Ambrumenil
    [country] => France
    [region] => Three Valleys
    [resort] => Courchevel
    [short_description] => Chalet d'Ambrumenil is a 200 year old converted farmhouse in the old part of Courchevel, just 30m from the piste.
    [luxury_short_description] => 
    [bedrooms] => 5
    [sleeps] => 12
    [bathrooms] => 5
    [luxury] => No
    [luxury_edit] => No
    [catered] => Yes
    [self_catering] => No
    [spa] => NOVALUE
    [flights_included] => No-but can help arrange
)

Array
(
    [pid] => 33833
    [po_id] => 1189
    [property] => Chalet Margaux
    [country] => France
    [region] => Three Valleys
    [resort] => Courchevel
    [short_description] => 
    [luxury_short_description] => SKI IN/SKI OUT LUXURY AT THE HEART OF COURCHEVEL 1850
    [bedrooms] => 7
    [sleeps] => 12
    [bathrooms] => 7
    [luxury] => Yes
    [luxury_edit] => Completed
    [catered] => Yes
    [self_catering] => Yes
    [spa] => Yes
    [flights_included] => No
)

Array
(
    [pid] => 33820
    [po_id] => 3510
    [property] => Hotel De La Loze
    [country] => France
    [region] => Three Valleys
    [resort] => Courchevel
    [short_description] => The Hotel de La Loze is a traditional chalet-style hotel located in a superb central location in Courchevel 1850. The hotel is reminiscent of a...
    [luxury_short_description] => 
    [bedrooms] => 6
    [sleeps] => 13
    [bathrooms] => 5
    [luxury] => No
    [luxury_edit] => No
    [catered] => Yes
    [self_catering] => No
    [spa] => Yes
    [flights_included] => No
)

Array
(
    [pid] => 33819
    [po_id] => 3510
    [property] => Hotel New Solarium
    [country] => France
    [region] => Three Valleys
    [resort] => Courchevel
    [short_description] => Located in the heart of Jardin Alpin with an exceptional view over the valley and the village, the Hotel New Solarium offers direct access to the...
    [luxury_short_description] => 
    [bedrooms] => 7
    [sleeps] => 14
    [bathrooms] => 7
    [luxury] => No
    [luxury_edit] => No
    [catered] => Yes
    [self_catering] => No
    [spa] => Yes
    [flights_included] => No
)

Array
(
    [pid] => 33783
    [po_id] => 3510
    [property] => Fahrenheit Seven Courchevel
    [country] => France
    [region] => Three Valleys
    [resort] => Courchevel
    [short_description] => Occupying a fantastic ski-in ski-out position in Courchevel 1650, the newly renovated Fahrenheit Seven Courchevel is the sister hotel to the...
    [luxury_short_description] => 
    [bedrooms] => 6
    [sleeps] => 16
    [bathrooms] => 5
    [luxury] => No
    [luxury_edit] => No
    [catered] => Yes
    [self_catering] => No
    [spa] => Yes
    [flights_included] => No
)