---
Resort height:
1850m, 6069ft
---
Les Menuires is one of the four key resorts that make up the Three Valleys. Together with Courchevel, Méribel and Val Thorens its 650 kilometres of piste claims to be the largest lift-linked system in the world. Les Menuires sits in the Belleville Valley with Val Thorens, the region's highest skiing. The smaller village of St Martin de Belleville proudly boasts of 240 kilometres of skiing and boarding.
---
Airport name:
Chambery Airport - 1 hr 55 mins
Geneva Airport - 2 hrs 30 minutes
Grenoble Airport - 2 hrs 25 mins
Lyon Airport - 2 hrs 25 mins
Eurostar:
Yes
---
Ski Pass Info:
Les Menuires Ski Passes
FAMILY 6- 13 Days - 2 adults + 2 juniors (5-17 years) - 1048€/pax.
TRIBU 6 - 13 Days - 1250€/pax.
DUO 6 - 13 Days - 1270€/pers.
---
Les Menuires is a child and family orientated resort, nightlife is not a priority to a lot of people, although there are plenty of restaurants that cater for those who want a night off from the stove in their chalets and apartments. Eating out can range from takeaway pizza shops in La Croisette to the gastronomic attempts that are served up in Reberty.
---
Les Menuires does not have a reputation for lively après ski but there are a few dozen bars or restaurant-bars spread through the resort including some that are usually lively.
---
For a summer holiday packed both with excitement and relaxation choose Les Menuires
Enjoy both big and small adventures, whether away on your own, with your family, as a couple or with friends? Walking, mountain biking or just relaxing, Les Menuires provides the perfect setting to enjoy every aspect of the mountains.
Sport and Nature Activities in Les Menuires : Sport holidays. Les Menuires is the perfect place for nature and sporting holidays, well being and summer holidays. Enjoy a sporty holiday in Les Menuires : tennis, archery, donkey rides, trampolining, elastic jump…
There are a number of shops in Les Menuires which are open throughout the summer period where you will find equipment which will help you get the most out of your holiday : mountain bike hire, mountain bikes with baby seats, mountaineering equipment, baby carrier backpacks.
Disabled people can access the paths with cross country wheelchairs or in a joëlette. Information at the Guides' Office (equipment provided).
Lifts will be running open on alternating days around Les Menuires and Saint Martin de Belleville.
---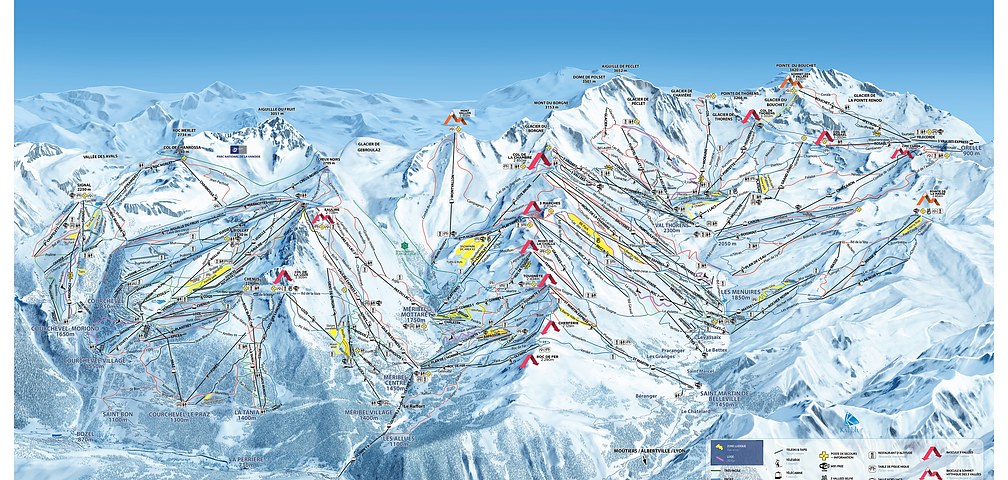 Array
(
    [pid] => 33734
    [po_id] => 3660
    [property] => Chalets Lacuzon
    [country] => France
    [region] => Three Valleys
    [resort] => Les Menuires
    [short_description] => Beautiful ski chalets Lacuzon with hot tub and sauna, 150m to lift, sleeping up to 14
    [luxury_short_description] => 
    [bedrooms] => 6
    [sleeps] => 14
    [bathrooms] => 6
    [luxury] => No
    [luxury_edit] => No
    [catered] => No
    [self_catering] => Yes
    [spa] => Yes
    [flights_included] => No
)

Array
(
    [pid] => 33792
    [po_id] => 3741
    [property] => SILVERCHALET
    [country] => France
    [region] => Three Valleys
    [resort] => Les Menuires
    [short_description] => High-End Comfort Chalet - 15 Guests - Sauna & Hot Tub.
    [luxury_short_description] => 
    [bedrooms] => 8
    [sleeps] => 15
    [bathrooms] => 7
    [luxury] => No
    [luxury_edit] => No
    [catered] => No
    [self_catering] => Yes
    [spa] => Yes
    [flights_included] => No
)

Array
(
    [pid] => 34005
    [po_id] => 6536
    [property] => Chalet Vithos 
    [country] => France
    [region] => Three Valleys
    [resort] => Les Menuires
    [short_description] => Ski in ski out chalet, sleeps 12, 6 bedrooms all en-suite, fully catered or B&B options available. 
    [luxury_short_description] => 
    [bedrooms] => 6
    [sleeps] => 15
    [bathrooms] => 
    [luxury] => No
    [luxury_edit] => No
    [catered] => No
    [self_catering] => No
    [spa] => Yes
    [flights_included] => NOVALUE
)

Array
(
    [pid] => 32583
    [po_id] => 2954
    [property] => Chalet Purple
    [country] => France
    [region] => Three Valleys
    [resort] => Les Menuires
    [short_description] => 
    [luxury_short_description] => Located in the heart of the Three Valleys, Chalet Purple is a nest of confort and offers a perfect access to the largest ski area in the world.
    [bedrooms] => 8
    [sleeps] => 17
    [bathrooms] => 8
    [luxury] => Yes
    [luxury_edit] => Completed
    [catered] => Yes
    [self_catering] => Yes
    [spa] => Yes
    [flights_included] => No
)

Array
(
    [pid] => 32478
    [po_id] => 2954
    [property] => Chalet Rainbow
    [country] => France
    [region] => Three Valleys
    [resort] => Les Menuires
    [short_description] => 280m² Chalet for 18 people with hot tub, sauna, cinema room and direct ski-in ski-out access in the heart of the Three Valleys.
    [luxury_short_description] => 
    [bedrooms] => 8
    [sleeps] => 18
    [bathrooms] => 7
    [luxury] => No
    [luxury_edit] => No
    [catered] => Yes
    [self_catering] => Yes
    [spa] => Yes
    [flights_included] => NOVALUE
)

Array
(
    [pid] => 31255
    [po_id] => 2954
    [property] => Yellow Chalet
    [country] => France
    [region] => Three Valleys
    [resort] => Les Menuires
    [short_description] => Chalet Yellow is a family chalet in the traditional village of le Bettaix. It can host up to 20 persons.
    [luxury_short_description] => 
    [bedrooms] => 8
    [sleeps] => 20
    [bathrooms] => 7
    [luxury] => No
    [luxury_edit] => No
    [catered] => Yes
    [self_catering] => Yes
    [spa] => Yes
    [flights_included] => NOVALUE
)