---
Resort height:
1820m, 5971ft
---
Livigno is a great all round resort which suits everyone whether you are a novice or expert freeride lover. It's snow record and climate is second to none and it enjoys a long season from the end of November to the beginning of May with many powder days to enjoy. Freestyle lovers are in their element with the Mottolino snowpark and The Beach Carosello as well as numerous smaller freestyle miniparks.
The tax free status makes it a popular resort for shopping and the pedestrian centre is full of designer outlets and duty free shops. With over 100 bars and a very lively apres ski scene straight off the slopes you will be spoiled for choice.
---
Innsbruck (Austria): 180 km
Bergamo (Italy): 196 km
Friedrichshafen (Germany): 211 km
Zurich (Switzerland): 218 km
Milan/Linate (Italy): 222 km
Milan/Malpensa (Italy): 250 km
Verona (Italy): 238 km
Munich (Germany): 309 km
Tirano train station (connect from Milan): 70km
---
Livigno Ski Pass or Alta Valtellina Area Pass
---
Eating out is a delight and all with reasonable prices, even on the mountain.
---
Livigno has around 150 bars – more than any other ski resort in the world! With plenty of venues to choose from you'll be spoiled for choice. The numerous bars and pubs are spread out along the main valley road.
---
Biking, trekking, running, golf, water sports at altitude…there are plenty of summer activities in Livigno to keep the who family entertained.
---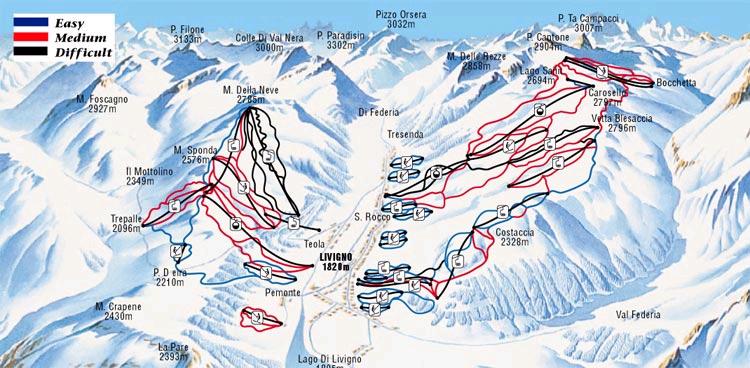 Array
(
    [pid] => 33717
    [po_id] => 3624
    [property] => Hotel Alpen Village
    [country] => Italy
    [region] => Lombardy
    [resort] => Livigno
    [short_description] => Accommodation is in seven connected chalets, each catering for two to five people.
    [luxury_short_description] => 
    [bedrooms] => 1
    [sleeps] => 2
    [bathrooms] => 1
    [luxury] => No
    [luxury_edit] => No
    [catered] => No
    [self_catering] => No
    [spa] => Yes
    [flights_included] => No
)

Array
(
    [pid] => 33716
    [po_id] => 3624
    [property] => Chalet Living
    [country] => Italy
    [region] => Lombardy
    [resort] => Livigno
    [short_description] => Chalet Living comprises three charming apartment next door to one another, ideally located close to Livigno centre with easy access to the gondola.
    [luxury_short_description] => 
    [bedrooms] => 2
    [sleeps] => 6
    [bathrooms] => 1
    [luxury] => No
    [luxury_edit] => No
    [catered] => No
    [self_catering] => Yes
    [spa] => NOVALUE
    [flights_included] => No
)

Array
(
    [pid] => 33718
    [po_id] => 3624
    [property] => Chalet Paul
    [country] => Italy
    [region] => Lombardy
    [resort] => Livigno
    [short_description] => Superb new apartments just 150 metres from the Mottolino gondola featuring both one and two bedroom accommodation.
    [luxury_short_description] => 
    [bedrooms] => 2
    [sleeps] => 6
    [bathrooms] => 1
    [luxury] => No
    [luxury_edit] => No
    [catered] => No
    [self_catering] => Yes
    [spa] => NOVALUE
    [flights_included] => No
)

Array
(
    [pid] => 33735
    [po_id] => 3624
    [property] => Apartments Bormolini
    [country] => Italy
    [region] => Lombardy
    [resort] => Livigno
    [short_description] => These apartments offer a great base in the San Rocco area close to lift. Superb choice for families.
    [luxury_short_description] => 
    [bedrooms] => 2
    [sleeps] => 6
    [bathrooms] => 
    [luxury] => No
    [luxury_edit] => No
    [catered] => No
    [self_catering] => Yes
    [spa] => NOVALUE
    [flights_included] => No
)

Array
(
    [pid] => 33746
    [po_id] => 3624
    [property] => Isola Apartments
    [country] => Italy
    [region] => Lombardy
    [resort] => Livigno
    [short_description] => These modern 4 Star apartments are superbly located in the centre of Livigno offering a high standard of accommodation.
    [luxury_short_description] => 
    [bedrooms] => 2
    [sleeps] => 6
    [bathrooms] => 2
    [luxury] => No
    [luxury_edit] => No
    [catered] => No
    [self_catering] => Yes
    [spa] => NOVALUE
    [flights_included] => No
)

Array
(
    [pid] => 33704
    [po_id] => 3624
    [property] => Chalet Picchio
    [country] => Italy
    [region] => Lombardy
    [resort] => Livigno
    [short_description] => These modern spacious four star apartments are just 150 metres from the resort centre.
    [luxury_short_description] => 
    [bedrooms] => 3
    [sleeps] => 8
    [bathrooms] => 2
    [luxury] => No
    [luxury_edit] => No
    [catered] => No
    [self_catering] => Yes
    [spa] => NOVALUE
    [flights_included] => No
)

Array
(
    [pid] => 33727
    [po_id] => 3624
    [property] => Chalet Stevan
    [country] => Italy
    [region] => Lombardy
    [resort] => Livigno
    [short_description] => Fantastic for families. These are great apartments for those wanting a good location for both skiing and restaurants.
    [luxury_short_description] => 
    [bedrooms] => 5
    [sleeps] => 14
    [bathrooms] => 4
    [luxury] => No
    [luxury_edit] => No
    [catered] => No
    [self_catering] => Yes
    [spa] => NOVALUE
    [flights_included] => No
)

Array
(
    [pid] => 33709
    [po_id] => 3624
    [property] => Chalet Rin Star
    [country] => Italy
    [region] => Lombardy
    [resort] => Livigno
    [short_description] => Large, spacious three bedroom apartment, Ski in/ Ski out with free onsite parking.
    [luxury_short_description] => 
    [bedrooms] => 7
    [sleeps] => 18
    [bathrooms] => 5
    [luxury] => No
    [luxury_edit] => No
    [catered] => No
    [self_catering] => Yes
    [spa] => Yes
    [flights_included] => NOVALUE
)

Array
(
    [pid] => 33872
    [po_id] => 3624
    [property] => Chalet Beatrice
    [country] => Italy
    [region] => Lombardy
    [resort] => Livigno
    [short_description] => Set in a peaceful area of the village yet only a 5 minute walk to the centre. These modern apartments come with a well equipped kitchenette, dining ta
    [luxury_short_description] => 
    [bedrooms] => 7
    [sleeps] => 21
    [bathrooms] => 6
    [luxury] => No
    [luxury_edit] => No
    [catered] => No
    [self_catering] => Yes
    [spa] => NOVALUE
    [flights_included] => No-but can help arrange
)