In the last decade or so, Poland has made a name for itself on the European ski scene for its family-friendly skiing and uncrowded slopes, but mostly for its affordability. From flights to accommodation, lift passes and transfers all of which will cost you just a fraction of what it would in other popular ski resorts such as Austria and France. Read more...
Here at Chaletfinder, we are delighted to offer some fantastic ski chalets in Poland, including the countries first ever eco chalet. You can stay in the very best accommodation, with the highest standards of service and comfort, but with the added benefit of it being sustainable ski accommodation. With its rich history, timber-built lodges, charming little cottages and modern developments, Poland is a rather mesmerising place. So, if you're looking for ski chalets in Poland, simply take a look at our collection of ski accommodation or fill in our online enquiry form if you are having any trouble finding the right ski chalets.
Reasons to Consider Poland for Your Next Ski Trip
Poland is a great alternative skiing destination for anyone looking to escape to the alps. What's more, is that most of the winter sports are in the south, meaning that you can combine your ski trip with a visit to one of Poland's most beautiful cities, Krakow. The countries top ski resorts are mostly located around two hours south of Krakow, in the southern part of the Podhale region at the foot of the Tatra Mountains and boarding the Czech Republic and Slovakia. Resorts such as Zakopane have become increasing popular for its skiing and is also known as the "Winter Capital of Poland". Zakopane caters for all skiers of all abilities and has direct access to 16 individual pistes, served by 20 ski lifts. In the winter, thousands arrive in the resort to ski, especially from December through to February. The best snow conditions are between January and the late end of April. During the summer months Zakopane has plenty of great activities on offer and places to visit. Spend the day hiking in the Tatra Mountains or take a dip in a thermal pool. You can also go kayaking or rafting through Dunajec Gorge or visit the towns local market, galleries, and museums. Chaletfinder are now firmly established as one of the premier suppliers of ski lodges and chalets throughout Europe and we are adding Poland ski chalets to our portfolio all the time. For a skiing experience like no other, take a look around our website for a great selection of Poland ski chalets, or fill in our online enquiry form if you are having any trouble finding the right ski chalets. Poland is emerging as one of our most popular destinations - make sure you don't miss out!
Array
(
    [pid] => 34006
    [po_id] => 2965
    [property] => Snomads Eco Chalet Stardust
    [country] => Poland
    [region] => Tatras Mountains
    [resort] => Zakopane
    [short_description] => Poland's first catered eco chalet: Chalet Stardust
    [luxury_short_description] => 
    [bedrooms] => 4
    [sleeps] => 12
    [bathrooms] => 4
    [luxury] => No
    [luxury_edit] => No
    [catered] => Yes
    [self_catering] => No
    [spa] => NOVALUE
    [flights_included] => No-but can help arrange
)

Covid
Policy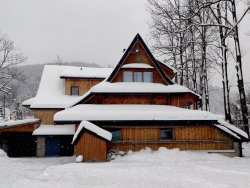 View More
FMA34006
Zakopane, Tatras Mountains, Poland
Poland's first catered eco chalet: Chalet Stardust