Andorra is undoubtedly one of ChaletFinder's best loved destinations and this is hardly surprising considering our excellent selection of ski chalets and ski lodges. Read more...
Andorra is particularly impressive due to an unparalleled mix of luxury and budget ski accommodation. With an abundance of ski hotels in Andorra, coupled with mile after mile of great skiing and snowboarding, Andorra is the perfect ski destination for families or groups of any size or skiing ability. ChaletFinder is one of the UK's premier ski chalet booking agents and we boast an incredible array of ski chalets and hotels. Andorra, France and Switzerland are just some of the great locations to pick from here at ChaletFinder.
Why you Should be Looking for Ski Chalets in Andorra
Use ChaletFinder to discover your perfect ski holiday in Andorra, your family & friends will be in for a treat on the very best slopes that the Eastern Pyrenees have to offer. With many phenomenal resorts to meet your every need when snowboarding or skiing in Andorra, including the much loved Arinsal, Encamp & Soldeu. Andorra has quickly established itself as one of the world's top ski destinations and with over 250km of piste there is something for everyone of all abilities. With ski accommodation located in some of the most picturesque and breathtaking backdrops & perfectly located to take full advantage of this vast ski network, ChaletFinder is a vital tool. Choosing from catered, self catered and luxury chalets in Andorra is now made easy for you thanks to the wide range of properties ChaletFinder offers. Still need to be convinced? Here's why a ski holiday in Andorra might be right for you:
Accessibility - Ski chalets in Andorra are among the most accessible for holidaymakers in the UK & Europe with chalets in Arinsal, Encamp & Soldeu located a short drive from airports in Perpignon, Toulouse or Barcelona.
Diversity - Ski slopes in Andorra are amongst the most diverse in Europe, not to mention the affordable ski hotels in Andorra make this destination one which can fulfil the dreams of any holidaymaker without breaking the bank!
Enjoyment - Regular visitors will know just how varied and challenging the slopes can be. No matter if you are looking for a relaxing break or a vibrant nightlife, there is a ski chalet in Andorra to suit all your needs.
We have found the perfect ski accommodation for thousands of satisfied customers so why not let ChaletFinder be your first port of call when looking for ski chalets in Andorra. Skiing in Andorra will offer an experience unrivalled by any other and if you're looking for a luxury, self catered or catered chalet in Andorra then let ChaletFinder do the hard work and find the perfect ski accommodation for your high standards.
ChaletFinder has ski chalets in all major Andorran ski resorts - simply look through our website and you'll be blown away by our range of Andorran ski chalets. If you can't find what you're looking for, just give us a call on +44 7585 861023 or fill in our online enquiry form and we'll get back to you.
Array
(
    [pid] => 31791
    [po_id] => 2324
    [property] => Chalet Hotel Peretol
    [country] => Andorra
    [region] => Grandvalira
    [resort] => Soldeu
    [short_description] => Ski-in/out chalet-hotel with a freestyle park on the doorstep! 11 en-suite bedrooms and lounge with log fire, apres-ski bar & restaurant/dining area.
    [luxury_short_description] => 
    [bedrooms] => 11
    [sleeps] => 32
    [bathrooms] => 11
    [luxury] => No
    [luxury_edit] => No
    [catered] => Yes
    [self_catering] => No
    [spa] => NOVALUE
    [flights_included] => No-but can help arrange
)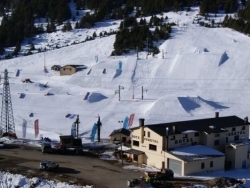 View More
FMA31791
Soldeu, Grandvalira, Andorra
Ski-in/out chalet-hotel with a freestyle park on the doorstep! 11 en-suite bedrooms and lounge with log fire, apres-ski bar & restaurant/dining area.
Array
(
    [pid] => 30771
    [po_id] => 2755
    [property] => Nordic
    [country] => Andorra
    [region] => Grandvalira
    [resort] => El Tarter
    [short_description] => The Nordic is a traditional style hotel located a minutes walk from El Tarter gondola
    [luxury_short_description] => 
    [bedrooms] => 120
    [sleeps] => 300
    [bathrooms] => 120
    [luxury] => No
    [luxury_edit] => No
    [catered] => Yes
    [self_catering] => No
    [spa] => Yes
    [flights_included] => Yes
)

View More
FMA30771
El Tarter, Grandvalira, Andorra
The Nordic is a traditional style hotel located a minutes walk from El Tarter gondola