---
Resort height:
1034m, 3392ft
---
Grindelwald is one of the world's classic resorts with a ski history that dates back to the early 1880s.
Grindelwald is part of the Jungfrau Region ski area with access to 591km of downhill skiing, with 131 marked pistes, served by a total of 66 ski lifts. With ski lifts as high as 2,950m, skiing and snowboarding is assured throughout the season.
Away from the slopes there are plenty of indoor activities, including a local museum, games rooms, indoor rope park, ice skating and curling rink, public pool, sauna and steam baths.
---
Zürich airport: 3 hours
Basel airport: 3 hours
Geneva airport: 4 hours
Calais: approximately 10 hours driving (548 miles)
---
Day ticket
Main season
| Adults | Youth | Children |
| --- | --- | --- |
| SFr. 69,- | SFr. 62,- | SFr. 34,- |
| approx. € 64,- | approx. € 58,- | approx. € 32,- |
---
There is an excellent choice of over 60 restaurants in Grindelwald. From Swiss, Italian, Indian, Chinese, Japanese, fast food or gourmet - there is definitely something for everyone.
---
Whether you are looking for a pub crawl, happy hour, or dancing the night away, there are plenty of après-ski spots and nightlife options in Grindelwal.
---
There are a wide range of activities on offer in the summer, from 18-hole mini golf, with glorious views of the mountains, hiking, mountaineering, climbing, mountain biking and so much more!
---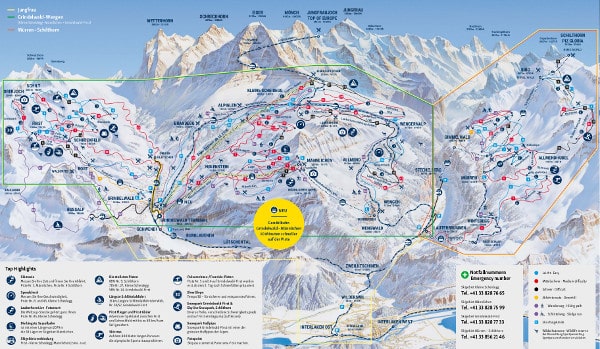 Array
(
    [pid] => 33979
    [po_id] => 3510
    [property] => Silbersee 4.5
    [country] => Switzerland
    [region] => Jungfrau
    [resort] => Grindelwald
    [short_description] => Silbersee is a bright and spacious top floor apartment just moments from the centre Grindelwald. 
    [luxury_short_description] => 
    [bedrooms] => 
    [sleeps] => 
    [bathrooms] => 
    [luxury] => No
    [luxury_edit] => No
    [catered] => No
    [self_catering] => No
    [spa] => NOVALUE
    [flights_included] => NOVALUE
)

Array
(
    [pid] => 33980
    [po_id] => 3510
    [property] => Alpha
    [country] => Switzerland
    [region] => Jungfrau
    [resort] => Grindelwald
    [short_description] => A 4* apartment 400m from the Mannlichen Ski Area in Grindelwald, sleeping up to 6 guests. 
    [luxury_short_description] => 
    [bedrooms] => 
    [sleeps] => 
    [bathrooms] => 
    [luxury] => No
    [luxury_edit] => No
    [catered] => No
    [self_catering] => Yes
    [spa] => NOVALUE
    [flights_included] => NOVALUE
)

Array
(
    [pid] => 33985
    [po_id] => 3510
    [property] => Fortuna 3.5
    [country] => Switzerland
    [region] => Jungfrau
    [resort] => Grindelwald
    [short_description] => Fortuna 3.5 is a  luxurious two-bedroom apartment within a traditional chalet-style residence, offering wonderful views from the terrace. 
    [luxury_short_description] => 
    [bedrooms] => 2
    [sleeps] => 4
    [bathrooms] => 1
    [luxury] => No
    [luxury_edit] => No
    [catered] => No
    [self_catering] => Yes
    [spa] => NOVALUE
    [flights_included] => NOVALUE
)

Array
(
    [pid] => 33989
    [po_id] => 3510
    [property] => Stotzhalten 2.5
    [country] => Switzerland
    [region] => Jungfrau
    [resort] => Grindelwald
    [short_description] => Stotzhalten 2.5 is a newly constructed chalet-style apartment with traditional Swiss architecture.
    [luxury_short_description] => 
    [bedrooms] => 1
    [sleeps] => 4
    [bathrooms] => 1
    [luxury] => No
    [luxury_edit] => No
    [catered] => No
    [self_catering] => Yes
    [spa] => NOVALUE
    [flights_included] => NOVALUE
)

Array
(
    [pid] => 33972
    [po_id] => 3510
    [property] => Bachli
    [country] => Switzerland
    [region] => Jungfrau
    [resort] => Grindelwald
    [short_description] => This bright and modern south-facing apartment is just 10 minutes from the centre of Grindelwald. 
    [luxury_short_description] => 
    [bedrooms] => 3
    [sleeps] => 6
    [bathrooms] => 
    [luxury] => No
    [luxury_edit] => No
    [catered] => No
    [self_catering] => Yes
    [spa] => NOVALUE
    [flights_included] => NOVALUE
)

Array
(
    [pid] => 33978
    [po_id] => 3510
    [property] => Stotzhalten EG
    [country] => Switzerland
    [region] => Jungfrau
    [resort] => Grindelwald
    [short_description] => Stotlzhalten is a newly built apartment in the centre of Grindelwald offering the perfect home away from home. 
    [luxury_short_description] => 
    [bedrooms] => 2
    [sleeps] => 6
    [bathrooms] => 2
    [luxury] => No
    [luxury_edit] => No
    [catered] => No
    [self_catering] => Yes
    [spa] => NOVALUE
    [flights_included] => NOVALUE
)

Array
(
    [pid] => 33981
    [po_id] => 3510
    [property] => Atlanta
    [country] => Switzerland
    [region] => Jungfrau
    [resort] => Grindelwald
    [short_description] => With a traditional exterior, this modern apartment offers the ideal base for your alpine experience in Grindelwald. 
    [luxury_short_description] => 
    [bedrooms] => 3
    [sleeps] => 6
    [bathrooms] => 
    [luxury] => No
    [luxury_edit] => No
    [catered] => No
    [self_catering] => Yes
    [spa] => NOVALUE
    [flights_included] => NOVALUE
)

Array
(
    [pid] => 33982
    [po_id] => 3510
    [property] => Bareggblick
    [country] => Switzerland
    [region] => Jungfrau
    [resort] => Grindelwald
    [short_description] => This stunning 5* top floor apartment has easy access to the centre of Grindelwald village and local amenities.
    [luxury_short_description] => 
    [bedrooms] => 3
    [sleeps] => 6
    [bathrooms] => 2
    [luxury] => No
    [luxury_edit] => No
    [catered] => No
    [self_catering] => Yes
    [spa] => NOVALUE
    [flights_included] => NOVALUE
)

Array
(
    [pid] => 33983
    [po_id] => 3510
    [property] => Brunnen
    [country] => Switzerland
    [region] => Jungfrau
    [resort] => Grindelwald
    [short_description] => Located within a traditional chalet, this top floor apartment offers breathtaking views out across the valley.
    [luxury_short_description] => 
    [bedrooms] => 3
    [sleeps] => 6
    [bathrooms] => 3
    [luxury] => No
    [luxury_edit] => No
    [catered] => No
    [self_catering] => Yes
    [spa] => NOVALUE
    [flights_included] => NOVALUE
)

Array
(
    [pid] => 33984
    [po_id] => 3510
    [property] => Chamonix
    [country] => Switzerland
    [region] => Jungfrau
    [resort] => Grindelwald
    [short_description] => This 4-star apartment offers a peaceful escape from the normal hustle and bustle of a ski resort, located in a hillside location. 
    [luxury_short_description] => 
    [bedrooms] => 3
    [sleeps] => 6
    [bathrooms] => 2
    [luxury] => No
    [luxury_edit] => No
    [catered] => No
    [self_catering] => Yes
    [spa] => NOVALUE
    [flights_included] => NOVALUE
)