Resort height:
3068m, 10065ft
---
Heavenly is located on the California-Nevada border and is one of 15 ski areas in The Lake Tahoe Ski Resort. It is the region's largest mountain resort and has the highest slopes at over 3000m. It is spread across 4800 acres and even though it is high, (average snowfall is approximately 910cm annually) it takes no chances with snow cover and has the largest snow-making system on the West Coast. Heavenly has a scenic setting with incredible views of Lake Tahoe and almost all Heavenly's slopes are cut through forest, but in many areas the forest isn't particularly dense so there is excellent tree skiing. The resort is perfect for beginners, intermediates, experts and snowboarders.
---
Reno Airport:
92km - 1 hour 30 mins
Sacremento Airport:
194km - 2 hours and 30 mins
Ski School
Ski Hire
---
Popular Lift Pass Information (Prices from)
| | | | |
| --- | --- | --- | --- |
| | Adult | Senior/Teenager | Child |
| 1 day | $124 | $102 | $68 |
| 4 day | $480 | $392 | $264 |
---
Whether you are seeking a quick snack or an evening of sumptuous food and wine, the restaurants in Heavenly Village will certainly satisfy your cravings. Most restaurants have incredible views of the glittering Lake Tahoe. There are plenty of restaurants to suit all budgets and palates and they range from contemporary American to Hawaiian and Asian to Italian and German, plus there are several award-winning steakhouses and seafood restaurants.
---
Heavenly is known for its unrivaled après scene. With its round-the-clock entertainment and casinos, it certainly knows how to create a high-altitude party scene. Enjoy an end-of-the day blowout with DJ's, dancing and go-go girls in their knee-high fur boots, happy hour, drinks specials, evening cruises and late-night clubs before heading to the Nevada side of Lake Tahoe to chill in the casino and play blackjack, keno, poker, slots or table games. Heavenly is perfect for any party animal looking for a good time.
---
Heavenly, Lake Tahoe isn't just appealing to those who wish to ski during the winter, there is a wide range of summer activities for visitors to enjoy too. Try summer tubing where you breeze down a thrilling 500ft long hill without snow or water (there is a special mini tube track for children to enjoy), take a scenic 2.4mile ride up the Heavenly Mountain with stunning panoramic views of Lake Tahoe, take an exhilarating ride on the Ridge Rider mountain coaster as it coasts through forest and natural rock formations, scramble up the man made climbing wall or zoom down the Blue Streak Zip line or just forget all that and relax while enjoying the stunning views.
---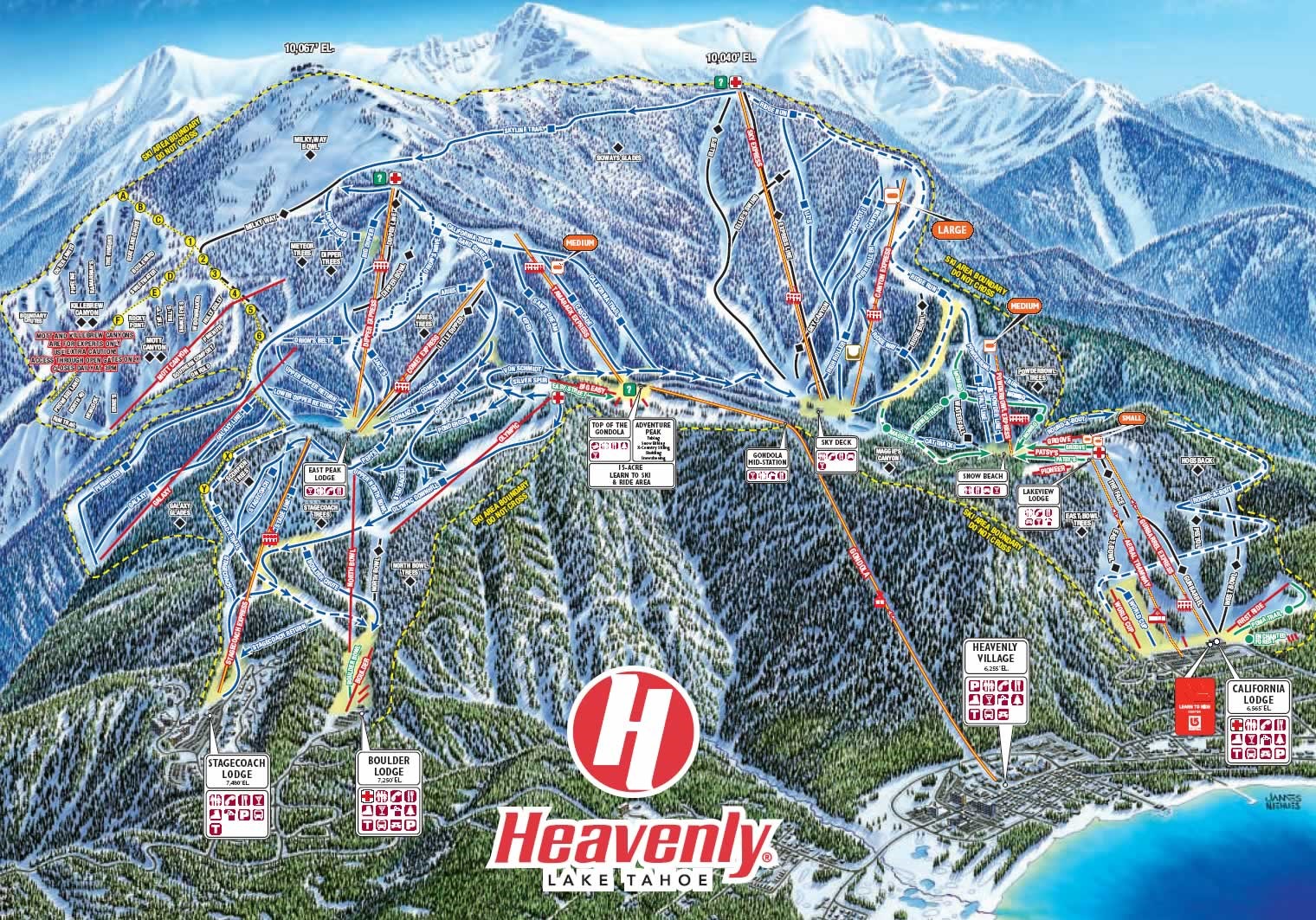 Array
(
    [pid] => 33537
    [property] => Aston Lakeland Village - Studio Apartment for 2
    [country] => USA
    [region] => Lake Tahoe
    [resort] => Heavenly
    [short_description] => Aston Lakeland Village offers a cosy and inviting environment with stunning views over the beautiful Lake Tahoe and the Sierra Nevada mountains. 
    [luxury_short_description] => 
    [bedrooms] => 1
    [sleeps] => 2
    [bathrooms] => 1
    [luxury] => No
    [luxury_edit] => No
    [catered] => No
    [self_catering] => Yes
    [spa] => Yes
    [flights_included] => NOVALUE
)

Array
(
    [pid] => 33538
    [property] => Aston Lakeland Village  - Studio + Loft Apartment for 4
    [country] => USA
    [region] => Lake Tahoe
    [resort] => Heavenly
    [short_description] => Cosy Studio + Loft Apartment with access to the stunning views over the beautiful Lake Tahoe and the Sierra Nevada mountains.
    [luxury_short_description] => 
    [bedrooms] => 1
    [sleeps] => 4
    [bathrooms] => 1
    [luxury] => No
    [luxury_edit] => No
    [catered] => No
    [self_catering] => Yes
    [spa] => Yes
    [flights_included] => NOVALUE
)

Array
(
    [pid] => 33539
    [property] => Aston Lakeland Village - One Bedroom Apartment for 4
    [country] => USA
    [region] => Lake Tahoe
    [resort] => Heavenly
    [short_description] => Lovely and inviting one bedroom apartment with access to the stunning views over the beautiful Lake Tahoe.
    [luxury_short_description] => 
    [bedrooms] => 1
    [sleeps] => 4
    [bathrooms] => 1
    [luxury] => No
    [luxury_edit] => No
    [catered] => No
    [self_catering] => Yes
    [spa] => Yes
    [flights_included] => NOVALUE
)

Array
(
    [pid] => 33540
    [property] => Aston Lakeland Village - One Bedroom and Loft Apartment for 4
    [country] => USA
    [region] => Lake Tahoe
    [resort] => Heavenly
    [short_description] => Two cosy one bedroom and loft apartments with fantastic facilities and stunning views.
    [luxury_short_description] => 
    [bedrooms] => 1
    [sleeps] => 4
    [bathrooms] => 1
    [luxury] => No
    [luxury_edit] => No
    [catered] => No
    [self_catering] => Yes
    [spa] => Yes
    [flights_included] => NOVALUE
)

Array
(
    [pid] => 33541
    [property] => Aston Lakeland Village - Two bedroom + Loft Apartments
    [country] => USA
    [region] => Lake Tahoe
    [resort] => Heavenly
    [short_description] => 2 cosy and inviting two bedroom and Loft Apartments that are spacious and have access to the stunning views of the Sierra Nevada mountains.
    [luxury_short_description] => 
    [bedrooms] => 2
    [sleeps] => 8
    [bathrooms] => 2
    [luxury] => No
    [luxury_edit] => No
    [catered] => No
    [self_catering] => Yes
    [spa] => Yes
    [flights_included] => NOVALUE
)

Array
(
    [pid] => 33542
    [property] => Aston Lakeland Village - Three bedroom and Loft Apartment with Lakeview
    [country] => USA
    [region] => Lake Tahoe
    [resort] => Heavenly
    [short_description] => Cosy 3 bedroom and loft apartment with stunning lake views over Lake Tahoe.
    [luxury_short_description] => 
    [bedrooms] => 3
    [sleeps] => 10
    [bathrooms] => 2
    [luxury] => No
    [luxury_edit] => No
    [catered] => No
    [self_catering] => Yes
    [spa] => Yes
    [flights_included] => NOVALUE
)

Array
(
    [pid] => 33543
    [property] => Aston Lakeland Village  - Four bedroom and Loft Apartment
    [country] => USA
    [region] => Lake Tahoe
    [resort] => Heavenly
    [short_description] => Aston Lakeland Village offers a cosy and inviting environment with stunning views over the beautiful Lake Tahoe and the Sierra Nevada mountains. 
    [luxury_short_description] => 
    [bedrooms] => 4
    [sleeps] => 12
    [bathrooms] => 3
    [luxury] => No
    [luxury_edit] => No
    [catered] => No
    [self_catering] => Yes
    [spa] => Yes
    [flights_included] => NOVALUE
)

Array
(
    [pid] => 33544
    [property] => Aston Lakeland Village - Four bedroom and Loft Apartments with Lakeview
    [country] => USA
    [region] => Lake Tahoe
    [resort] => Heavenly
    [short_description] => Two large and spacious 4 bedroom and loft apartments with gorgeous lake views over Lake Tahoe.
    [luxury_short_description] => 
    [bedrooms] => 4
    [sleeps] => 12
    [bathrooms] => 3
    [luxury] => No
    [luxury_edit] => No
    [catered] => No
    [self_catering] => Yes
    [spa] => Yes
    [flights_included] => NOVALUE
)