Self-isolation Spicy Butternut Soup|Reach4thealps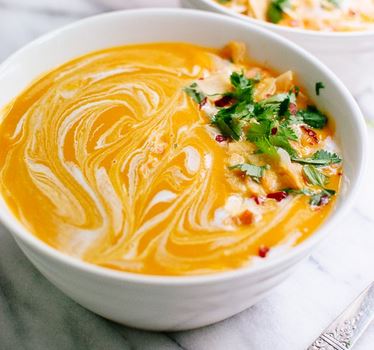 Everyone is experiencing challenging times at the moment…. And we're not sure about you, but keeping everyone fed seems to be the secret to keeping everyone happy!
At home with our children and running our family business, means we want quick, super tasty and simple meals, that we can encourage our children to make with us! So, we thought you might appreciate some inspiration from our family kitchen to yours.
With store cupboard staples and some lovely vegetables, this Spicy Butternut Soup served with pumpkin seeds & coconut milk was one of our most popular starters on the Reach 4 the Alps menu this winter!
Serves 6.
Ingredients:
1 medium butternut squash
2 medium onions
A thumb sized piece of ginger (about 50g)
1 level tbsp ground cumin
1 level tbsp ground coriander
2 tbsp oil
750ml vegetable stock
200ml coconut milk
1tsp chilli powder (or more if you like it hotter)
1 lime to serve
Pumpkin seeds for garnish
Method
1. Cut the squash in half, deseed & place cut edge down and roast in the oven on 180c for about 45 mins or until soft so that you can easily scoop out the flesh.
2. Dice the onion & place with ginger, cumin, coriander & some oil in a large saucepan and saute until soft.
3. Add the squash, stock, coconut milk & chilli powder. Season then bring to the boil & simmer for 30 mins.
4. Blitz in a food processor or blender. Add more stock if its too thick. Put back in the pan & heat, season to taste – add extra chilli if you like.
5. Toast the pumpkin seeds in a frying pan.
6. Serve the soup with toasted pumpkin seeds, a drizzle of coconut milk and a squeeze of lime.
Bio
Reach4thealps is owned and run by Gina and Marcus Ewart. Both from Scotland, they were lucky enough to learn to ski as kids in Glenshee (Gina) and Cairngorms (Marcus) and still to this day argue over which resort is best!
Gina did a ski season in Chamonix cooking when she was 20 and caught the ski bug and love for the mountains. While they both had "proper" jobs they always missed the mountains and continually talked about moving to the Alps. They ended up working their first season together in Morzine and fell in love with the Portes Du Soleil area. The company name was dreamed up in All Bar one in Leicester Square, London with a group of friends and Reach4thealps was launched in summer 2002. They welcomed the first guests to Chalet Sol Re in December 2002 after lots of DIY, curtain making and trips to Ikea!
They successfully ran Chalet Sol Re for 2 years and then started to expand little by little and in the 16 years since have grown to having a portfolio of 7 catered and 6 self-catered properties in Morzine. Their focus is on high quality chalets, mature and professional staff, amazing food and attention to detail meaning that Reach4thealps has a huge number of repeat guests which definitely gives it a personal and home from home feel.