Blog / Uncategorized / Need a lift? Up to Date Information on the Tignes and Val d'Isere Lift Passes for Winter 2017
Need a lift? Up to Date Information on the Tignes and Val d'Isere Lift Passes for Winter 2017
Another fantastic guest blog from one of our owners, Ski Bonjour.  It's really great to be able to share all the insider information our owners have to make sure you make the best choices and have the best time on your holiday!  Read on before you buy your lift pass for Tignes or Val d'Isere.
The Tignes & Val d'Isère lift passes are covered under the vast Espace Killy ski region which stretches from Tignes les Brévières right over to Le Fornet in Val d'Isère with an altitude range from 1550m to 3456m at the top of the Grande Motte cable car.  This ski region offers over 300km of piste with varied terrain which provides for both beginners and extreme skiers & snowboarders alike.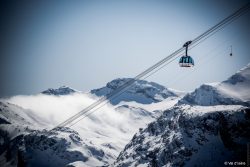 Your Val d'Isère and Tignes ski pass 'Espace Killy' will connect you to 154 slopes via 79 ski lifts which include chairlifts, gondolas, cable cars, funiculars, drag lifts and magic carpets.   Here's some vital resort information:
Altitude:
 1550m – 3456m
Number of slopes:

20

Easy

68

Medium

40

Difficult

26

Very difficult

Total Number of runs:
 154
Number of lifts:
 79
Kms of piste:
 300km
Hectares:
10,000
Glaciers:
2
Snow Cannons
900
The resorts of Tignes & Val d'Isère have created brand new apps so that you can check out the piste and ski lift openings, weather forecast and webcams at your finger tips.  Download them via your app store or visit www.valdisere.com or www.tignes.net.  You can also stay connected with free wifi hotspots thanks to the ski area and mountain restaurants – just look out for 'Tignes neospot' & 'Val-free-wifi' in your wifi settings.
Tignes & Val d'Isère 'Espace Killy' ski region map
Types of lift pass & deals
There is a ski pass that suits everyone for all ages, ability and pedestrians.  Most chalet companies can pre-order the Espace Killy passes for you so that they are ready for you to collect at the chalet so you don't waste a moment on your first day of skiing.
Adult
The age considered to be adult is from age 14-64 inclusive.
Senior & Child
Children aged 5-13 and Seniors aged 65-74 are entitled to a discounted pass rate.
Tignes / Val d'Isère
Days
Adult (Age 14 to 64)
Child / Senior (age 5-13 or 65-74)
Espace Killy (whole area)

3

€145.50

€116.50

4

€194.00

€155.50

5

€242.50

€194.00

6

€278.00

€222.50

7

€324.00

€259.50

8

€334.00

€267.50

9

€360.00

€288.00

10

€400.00

€320.00
Under 5s & Over 74s!
The biggest perk is when you're up to 4 years old or 75+ as you will get a free pass!  Proof of age will be required and a photo may be requested.
Family pass
A family pass offers a child rate to all family members for 6 or 7 days only.  There must be at least one/two adults and two/three (or more) children either school age or up to the age of 21 if they are students in full time education.  Everyone must be from the same family and proof of age and student identification may be required.
Family Pass
Days
2 adults and 2 children (both age 5-13)
2 adults and 2 children (age 5-13 and 14-17)
2 adults and 2 children (both age 14-17)
2 adults and 3 children (all age 5-13)
Espace Killy family pass

6

€890.00

€890.00

€890.00

€1112.50

7

€1038.00

€1038.00

€1038.00

€1297.50
Pedestrians
There are also pedestrian passes available to purchase in resort for those wishing to make the most of the mountains without skiing.
| | | |
| --- | --- | --- |
| | Adult(Age 14 to 64) | Reduced(age 5-13 or 65-74) |
| 1 return trip | €15.00 | €7.50 |
| 1 day | €20.00 | €16.50 |
Tignes only lift pass
The lift pass ticket system seems to have changed this year in that you can only get the local area pass in resort with either a day or half day option.
Days
Adult (Age 14 to 64)
Child / Senior (age 5-13 or 65-74)
Tignes only

1/2

€38.50

€31.00

1

€47.00

€38.00
What's included?
Free swimming and ice skating!
The Espace Killy lift pass allows you free access to the swimming pool of the Aquacentre Le Lagon in Tignes or at the Centre Aquasportif in Val d'Isère.
It also includes free ice skating in Tignes or Val d'Isère including the loan of skates.
Terms & conditions apply and access is allowed for each valid day of your ski pass (6 day ski pass = 6 days access to the swimming pool and ice rink).  Your lift pass must be valid for 2 to 15 days.
Carré Neige
You can add an optional piste insurance to your Espace Killy ski pass which is known as Carré Neige (this is recommended in addition to your holiday insurance).   Information about the insurance and what Carré Neige covers can be found here.
| | |
| --- | --- |
| Rate per day | €2.80 |
| 8 to 15 days | €22.40 |
| Family rate per person per day* | €2.50 |
| Family rate per person from 8 to 15 days* | €20.00 |
*Rate available if all the family members subscribe to the insurance Carré Neige.
Free Bus
There is also a free ski bus which runs throughout the day and into the evening.  There are two main bus routes in resort.  Firstly, in Val d'Isère there is a circular loop connecting La Daille through Val d'Isère to Le Fornet and back.  Secondly in Tignes there is a bus loop from Les Boisses, through Tignes le Lac to Val Claret and back and a Le Lavachet loop round Tignes le Lac.  It's a great service giving a good connection between the villages at both resorts.  Guests staying in Tignes les Brévières can access this bus route via the pedestrian chairlift to Le Boisses.
Freestyle & Snowparks
The ski region benefits from two snow parks as well as three boardercross courses for beginners and experts.  The Val park is at the foot of the Marmots chair and has a great range of kickers and 25 rails with lines for different standards.  There is a popular half pipe and airbag located in Val Claret
Suggested Rules of Conduct
Respect for others

All slope users must behave in a manner that does not endanger or interfere with others, either by their conduct or equipment.

Speed and conduct

All slope users must adapt their speed and conduct to their individual capability as well as snow and weather conditions and other users on the slopes.

Choice of trajectory

The higher slope user must choose their trajectory – an appropriate route down the slope that does not interfere with other slope users.

Overtaking

Skiers may overtake from any direction but always allowing sufficient space for the person being overtaken to continue in their trajectory.

Merging, Entering & Crossing Slopes

When slopes merge slope users much check both uphill and downhill when entering or crossing slopes and ensure they don't endanger themselves or others.

Stopping

All slope users must avoid stopping in narrow places or areas with restricted visibility.  If a slope users fall they must try to move to the side of the slope as quickly as possible.

Walking up or downhill

Any slope user on foot must keep to the side of the slope and ensure that they or their equipment does not endanger others.

Observation of information & signs

All slope users must take into account slope, snow and weather conditions and must comply with info given on signs at all times.

Assistance

Any person causing or witnessing an accident should offer assistance by raising the alarm and assist the ski patrol if required.

Identification

Any person causing or witnessing an accident must make themselves known  to the ski patrol.