---
---
It is right on the huge Portes du Soleil circuit, very close to the Swiss border. It has two separate sectors of slopes, one linked to its French neighbour - high, purpose-built Avoriaz - and the other linked to two resorts in Switzerland: Morgins (which is on the Portes du Soleil circuit) and Torgon (which is not on the circuit). A few kilometres down the valley is rustic La Chapelle-d'Abondance, with lifts into the Torgon slopes. Recent upgrades linking its two slopes by chairlifts rather than just buses alongside a new blue piste down to those lifts from the Super-Chatel sector.
---
Geneva airport
1.5 hours
Sion airport
1 hour
---
Adult

Children 5-15 years

Teenagers 16-19 and Senior 65 years

Happy Ski
15 Hours

17,20 €

12,90€

15,50 €

5 Hours(3)

37,00 €

27,70 €

33,30 €

1 Day

43,00 €

32,30 €

38,70 €

2 Days

85,60 €

64,20 €

77,00 €
---
When you think of a ski holiday of course the first thing that comes to mind is beautiful fresh white snow, sunshine, whizzing around on freshly groomed pistes… heaven! And for many of us the next exciting thought is the amazing mountain food – consisting of mainly…. cheese, cheese and more cheese! There's a huge choice of restaurants in Chatel, both on and off the slopes, so you'll have plenty to choose from!
---
Although not widely known as a place for wild nights, the village is home to half-a-dozen lively pubs and plenty of more relaxed night spots too.
---
Enjoy summer in the Alps where the temperatures can be as hot as the Mediterranean. The Alps offer more than you could ever imagine in the summer months. The sights to see and the activities to explore are for every one of all ages whether you are a thrill seeker who thrives on the adrenalin of mountain biking, white water rafting etc, or a person who enjoys a more relaxed break, taking in mountain walks, reading, painting the fantastic scenery.
---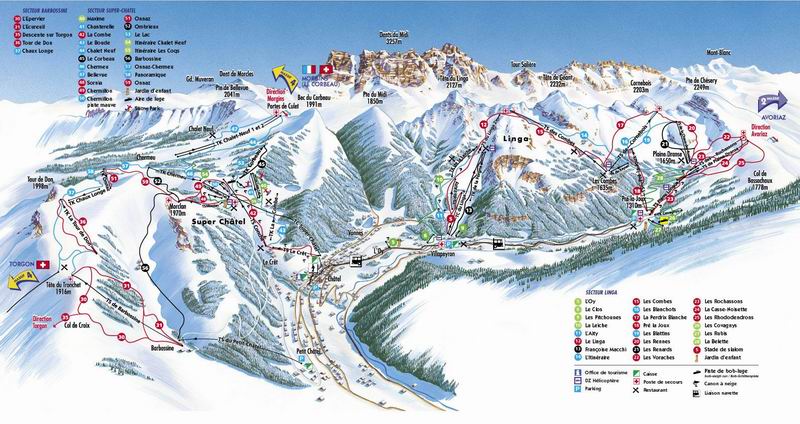 Array
(
    [pid] => 34068
    [po_id] => 6590
    [property] => Chalet Beau Soleil
    [country] => France
    [region] => Portes du Soleil 
    [resort] => Chatel
    [short_description] => Service-orientated large chalet with hot tub, free transfers, great views, table-tennis, bar billiards, darts, internet, TV, great linked area
    [luxury_short_description] => 
    [bedrooms] => 
    [sleeps] => 
    [bathrooms] => 
    [luxury] => No
    [luxury_edit] => No
    [catered] => Yes
    [self_catering] => No
    [spa] => Yes
    [flights_included] => NOVALUE
)

Array
(
    [pid] => 32681
    [po_id] => 3423
    [property] => Chalet Isobel
    [country] => France
    [region] => Portes du Soleil
    [resort] => Chatel
    [short_description] => Stunning luxury chalet. Sleeps 8. Close to Linga lifts + slopes.  Log fire and hot-tub
    [luxury_short_description] => 
    [bedrooms] => 4
    [sleeps] => 8
    [bathrooms] => 4
    [luxury] => No
    [luxury_edit] => No
    [catered] => No
    [self_catering] => Yes
    [spa] => Yes
    [flights_included] => No
)

Array
(
    [pid] => 31382
    [po_id] => 3084
    [property] => Chalet Blanc
    [country] => France
    [region] => Portes du Soleil
    [resort] => Chatel
    [short_description] => 
    [luxury_short_description] => 5 large en suite bedrooms sleeping up to 14 guests. Lounge with open fire, dining for up to 18, wrap around terrace terrace with outdoor hot-tub.
    [bedrooms] => 5
    [sleeps] => 14
    [bathrooms] => 6
    [luxury] => Yes
    [luxury_edit] => Completed
    [catered] => No
    [self_catering] => Yes
    [spa] => Yes
    [flights_included] => No
)

Array
(
    [pid] => 32620
    [po_id] => 3387
    [property] => La Grange au Merle
    [country] => France
    [region] => Portes du Soleil
    [resort] => Chatel
    [short_description] => Located at the heart of the vast Portes du Soleil, this luxury Savoyard farm offers exceptional food, wine & service. Private chauffeur to/from lifts.
    [luxury_short_description] => 
    [bedrooms] => 6
    [sleeps] => 14
    [bathrooms] => 6
    [luxury] => No
    [luxury_edit] => No
    [catered] => Yes
    [self_catering] => No
    [spa] => Yes
    [flights_included] => NOVALUE
)