---
---
Situated at the entrance of the Vallée des Belleville, at 1450 m, this small village has a high chance of making you want to stay. Don't hesitate. In addition to its unique charm, Saint Martin is an integral part of the 3 Vallées ski area. The joy of a traditional savoyard village combined with the pleasure of fantastic skiing.

Saint Martin de Belleville is an alternative for ski lovers who are looking for an authentic village, off the main track. There is no noisy discotheque, but the cosy softness of our childhood Christmas villages. You are in another world, but all the choices and facilities are available.
---
Geneva Airport - 2.5 hours apprx.
Chambery Airport - 1.5 hours apprx.
Lyon Airport - 3 hours apprx.
Grenoble Airport - 3 hours apprx.
---
The 3 Vallées ski pass gives you access to the following resorts: Courchevel, Méribel, Mottaret, Brides-les Bains, Les Menuires, Saint Martin de Belleville, Val Thorens and Orelle.
This ski pass is available for:

- Duration: from 4 consecutive hours to 21 days, to the whole season.
- Age categories: children under 5, children between 5-12, adults between 13 – 64, senior citizens between 65 –74, and over 75s.
---
For a small village, there are a lot of restaurant options in St Martin. Spend your days skiing in the fresh air of the Three Valleys and work up an appetite for local cheeses, Savoyard wines and local specialities such as flaky fera fish and mini blueberry tarts.
---
Despite its reputation for rather low-key night life, St Martin de Belleville does have more than a dozen bars too choose from, several of them open to 2am.
---
Saint Martin de Belleville and its twenty-two hamlets along the valley offer all the traditional charm of Savoie. In the middle of forests and pastures, these villages, thats good to live in, are the expression of a rich natural and architectural heritage.

Troughout the summer, a program of sports and cultural events enables every one to walk in a protected nature, taste your ability on a mountain bike, take part in tennis competitions, or in art workshop, painting on silk or jewellery design.
---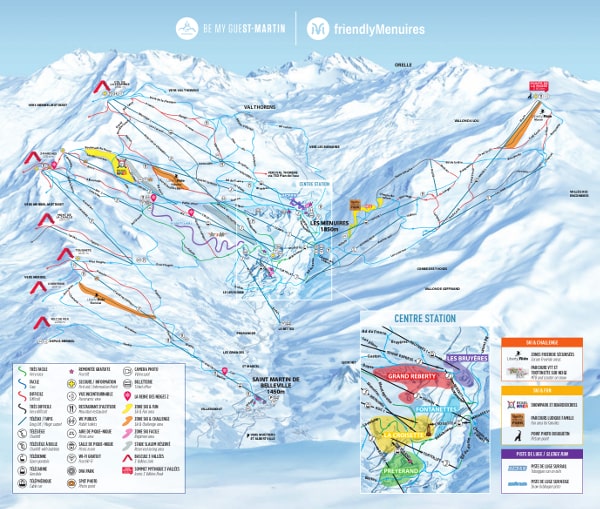 Array
(
    [pid] => 32436
    [po_id] => 2840
    [property] => Chalet Fruitière - Bernardie
    [country] => France
    [region] => Three Valleys
    [resort] => St Martin de Belleville
    [short_description] => Lovely ski-in ski-out apartment with log-fire & access onto sun terrace with mountain views. 
    [luxury_short_description] => 
    [bedrooms] => 3
    [sleeps] => 6
    [bathrooms] => 2
    [luxury] => No
    [luxury_edit] => No
    [catered] => No
    [self_catering] => Yes
    [spa] => NOVALUE
    [flights_included] => NOVALUE
)

Array
(
    [pid] => 33063
    [po_id] => 2840
    [property] => Apartment Iris - Chalet Alice Velut  
    [country] => France
    [region] => Three Valleys
    [resort] => St Martin de Belleville
    [short_description] => 5 charming chalet apartments situated in the village centre of St Martin de Belleville. Each sleeps between 4 - 9 people. Book separate or together!
    [luxury_short_description] => 
    [bedrooms] => 2
    [sleeps] => 6
    [bathrooms] => 1
    [luxury] => No
    [luxury_edit] => No
    [catered] => No
    [self_catering] => Yes
    [spa] => NOVALUE
    [flights_included] => NOVALUE
)

Array
(
    [pid] => 33066
    [po_id] => 2840
    [property] => Apartment Perce Neige - Chalet Alice Velut 
    [country] => France
    [region] => Three Valleys
    [resort] => St Martin de Belleville
    [short_description] => 5 charming chalet apartments situated in the village centre of St Martin de Belleville, sleeping 6 people - Book separate or together!
    [luxury_short_description] => 
    [bedrooms] => 3
    [sleeps] => 6
    [bathrooms] => 2
    [luxury] => No
    [luxury_edit] => No
    [catered] => No
    [self_catering] => Yes
    [spa] => NOVALUE
    [flights_included] => NOVALUE
)

Array
(
    [pid] => 33261
    [po_id] => 2840
    [property] => Chalets Prestige
    [country] => France
    [region] => Three Valleys
    [resort] => St Martin de Belleville
    [short_description] => Newly renovated self catered apartments in St Martin de Belleville. Ski in ski out, Sauna, 4 bedroom en-suite, sleep 8. 
    [luxury_short_description] => 
    [bedrooms] => 4
    [sleeps] => 8
    [bathrooms] => 4
    [luxury] => No
    [luxury_edit] => No
    [catered] => No
    [self_catering] => Yes
    [spa] => NOVALUE
    [flights_included] => NOVALUE
)

Array
(
    [pid] => 33414
    [po_id] => 2840
    [property] => Le Coeur Blanc
    [country] => France
    [region] => Three Valleys
    [resort] => St Martin de Belleville
    [short_description] => One of our most luxurious self-catered ski chalets situated within a couple of minutes walk from the village slope in St Martin de Belleville!
    [luxury_short_description] => One of our most luxurious self-catered ski chalets situated within a couple of minutes walk from the village slope in St Martin de Belleville!
    [bedrooms] => 4
    [sleeps] => 8
    [bathrooms] => 4
    [luxury] => Yes
    [luxury_edit] => Completed
    [catered] => No
    [self_catering] => Yes
    [spa] => NOVALUE
    [flights_included] => No
)

Array
(
    [pid] => 32434
    [po_id] => 2840
    [property] => Chalet Fruitière - Camarine
    [country] => France
    [region] => Three Valleys
    [resort] => St Martin de Belleville
    [short_description] => SKI-IN/OUT location in an IDYLLIC ski village. 
Less than 25 meters to gondola, ski shops, ski schools, a handful of restaurants & bars & supermarket
    [luxury_short_description] => 
    [bedrooms] => 5
    [sleeps] => 10
    [bathrooms] => 5
    [luxury] => No
    [luxury_edit] => No
    [catered] => No
    [self_catering] => Yes
    [spa] => NOVALUE
    [flights_included] => No
)

Array
(
    [pid] => 32764
    [po_id] => 2840
    [property] => Chalet St Peres
    [country] => France
    [region] => Three Valleys
    [resort] => St Martin de Belleville
    [short_description] => 
    [luxury_short_description] => - Ski In Ski Out
- Luxury facilities including spa baths & hammam steam shower
- Well equipped & spacious Alpine kitchen
- Spacious lounge 
    [bedrooms] => 5
    [sleeps] => 10
    [bathrooms] => 4
    [luxury] => Yes
    [luxury_edit] => Completed
    [catered] => No
    [self_catering] => Yes
    [spa] => Yes
    [flights_included] => No
)

Array
(
    [pid] => 34045
    [po_id] => 2840
    [property] => Chalet Astilla
    [country] => France
    [region] => Three Valleys
    [resort] => St Martin de Belleville
    [short_description] => 
    [luxury_short_description] => Sleeping up to 10 people in a dreamy 195m2 of space, Chalet Astilla is the perfect getaway for a large family or group of friends. 
    [bedrooms] => 5
    [sleeps] => 10
    [bathrooms] => 5
    [luxury] => Yes
    [luxury_edit] => Completed
    [catered] => No
    [self_catering] => Yes
    [spa] => Yes
    [flights_included] => NOVALUE
)

Array
(
    [pid] => 33995
    [po_id] => 2840
    [property] => Chalet Polaris
    [country] => France
    [region] => Three Valleys
    [resort] => St Martin de Belleville
    [short_description] => Chalet Polaris is a beautifully appointed 5 bedroom chalet with gorgeous, spacious ensuite bathrooms.
    [luxury_short_description] => 
    [bedrooms] => 5
    [sleeps] => 11
    [bathrooms] => 5
    [luxury] => No
    [luxury_edit] => No
    [catered] => No
    [self_catering] => Yes
    [spa] => NOVALUE
    [flights_included] => No
)

Array
(
    [pid] => 32435
    [po_id] => 2840
    [property] => Chalet Fruitière - Astragle
    [country] => France
    [region] => Three Valleys
    [resort] => St Martin de Belleville
    [short_description] => - 5 bedrooms, 5 bathrooms
- spacious open-plan kitchen, dining and living area
- real log fire
- large sun terrace with mountain views
    [luxury_short_description] => Chalet Fruitière Astragle has been newly renovated - Inside and out! This luxury 5 bedroom chalet apartment has a fantastic ski-in ski-out location!
    [bedrooms] => 5
    [sleeps] => 12
    [bathrooms] => 5
    [luxury] => Yes
    [luxury_edit] => Completed
    [catered] => No
    [self_catering] => Yes
    [spa] => NOVALUE
    [flights_included] => NOVALUE
)