---
Resort height:
1400m, 4593ft
---
Meribel is central to the Trois Vallees. To the east are the resorts of Courchevel and La Tania, and to the west, Val Thorens. Along with Meribel these areas all combine to make one of the largest linked ski areas in the world, offering more than 335 marked runs (over 600km of pistes), which are all connected via the summits and offer more than 62000 vertical metres of skiing for experts, beginners and families. Meribel has 2 snow parks, 130km of cross-country trails and 2kms of toboggan runs and offers a snow guarantee of over 85% above 1800m.
As well as extensive slopes, Meribel offers superb location, a very lively après-ski scene and complete enjoyment for all, regardless of your ski level and offers an extensive range of activities for families with children and every kind of snow sport known from tobogganing and snowboarding to freeride and ice skating.
---
Chambery:
1 hour 15 mins
Grenoble:
2 hours
Lyon:
2 hours
---
Popular 3 Valleys Ski Pass Information - Prices in Euros
Adult

13-64yr

Child

5-12yr

Senior

65-74yr

Duo

2 pers. pp

Tribu

3 pers. pp

Family

Min 4pers. pp

6 day

306

244,80
275,40
296
291
244,80
---
Regardless of where you are staying in Meribel there is a complete variety of restaurants to choose from. Whether you are looking for traditional, local food or fancy a pizza or burger there is plenty of choice to suit your taste or budget.
---
Meribel has a lively après ski scene with most bars in the resort centre and around the Rond Point British-run and usually packed with partying youth. Whether you fancy stand-up comedy, live music, DJ or a more relaxed evening, Meribel has something to suit everybody. There are plenty of drinks promotions, late night/early morning dancing and even a bar with an English Pub atmosphere.
---
Although Meribel is best known for alpine skiing and snowboarding, there is just as much to do during the summer months too. Whether you are looking for a family holiday or you are a thrill seeker looking for a bit of adventure, there is something in Meribel to suit everybody. For a more relaxed holiday, Meribel boasts a great 18-hole golf course with stunning views which any keen golfer will love. Try the excellent driving range or take lessons with a qualified pro. If you are looking to do something a bit more energetic why don't you try walking or hiking and enjoy the fresh mountain air and beautiful scenery on offer whether you just want a leisurely stroll or a much longer hike. Meribel has an active Aero club which offers lots of fun activities if you are interested in flying. Take flying lessons or take advantage of a flying tour over the magical Three Valleys or the towering Mont Blanc. There are plenty of children's workshops available too which range from making kites and gliders to astronomy workshops.
Thrill seekers can also go hot air ballooning, go on a helicopter tour, try white water rafting, canoe rafting, hydrospeed, canyoning, mountain biking and much, much more.
---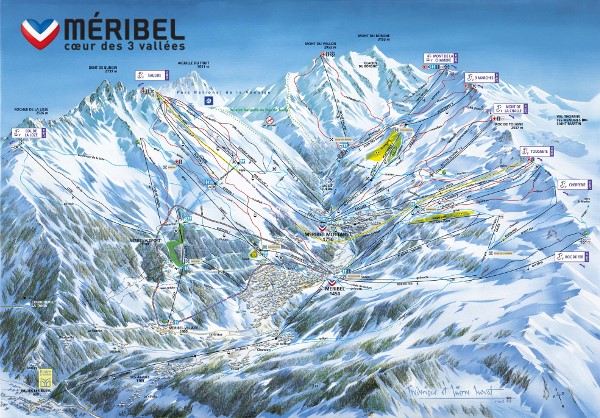 Array
(
    [pid] => 26926
    [po_id] => 1025
    [property] => Chalet Lapin
    [country] => France
    [region] => Three Valleys
    [resort] => Meribel
    [short_description] => Chalet Lapin is a lovely 6 person chalet in the centre of Meribel, the perfect base for a family or small group of friends. Great value!
    [luxury_short_description] => 
    [bedrooms] => 3
    [sleeps] => 6
    [bathrooms] => 3
    [luxury] => No
    [luxury_edit] => No
    [catered] => Yes
    [self_catering] => Yes
    [spa] => NOVALUE
    [flights_included] => No
)

Array
(
    [pid] => 29124
    [po_id] => 1025
    [property] => Chalet Etoile
    [country] => France
    [region] => Three Valleys
    [resort] => Meribel
    [short_description] => Family sized chalet only 50m from lift and piste as well as bars, restaurants and shops! Located in Meribel Village.
    [luxury_short_description] => 
    [bedrooms] => 3
    [sleeps] => 6
    [bathrooms] => 2
    [luxury] => No
    [luxury_edit] => No
    [catered] => Yes
    [self_catering] => No
    [spa] => NOVALUE
    [flights_included] => No-but can help arrange
)

Array
(
    [pid] => 27581
    [po_id] => 1025
    [property] => Chalet de La Boulangerie
    [country] => France
    [region] => Three Valleys
    [resort] => Meribel
    [short_description] => 20m from the lift and slopes, roaring fire, beautiful, hugely popular chalet in Meribel Village centre
    [luxury_short_description] => 
    [bedrooms] => 4
    [sleeps] => 8
    [bathrooms] => 4
    [luxury] => No
    [luxury_edit] => No
    [catered] => Yes
    [self_catering] => Yes
    [spa] => NOVALUE
    [flights_included] => No-but can help arrange
)

Array
(
    [pid] => 29149
    [po_id] => 1025
    [property] => Chalet Epena
    [country] => France
    [region] => Three Valleys
    [resort] => Meribel
    [short_description] => Beautiful, sociable chalet in Meribel Centre - close to the piste as well as bars and restaurants
    [luxury_short_description] => 
    [bedrooms] => 4
    [sleeps] => 8
    [bathrooms] => 4
    [luxury] => No
    [luxury_edit] => No
    [catered] => Yes
    [self_catering] => No
    [spa] => NOVALUE
    [flights_included] => No-but can help arrange
)

Array
(
    [pid] => 29812
    [po_id] => 1025
    [property] => Chalet Brenettes
    [country] => France
    [region] => Three Valleys
    [resort] => Meribel
    [short_description] => Beautiful and hugely popular chalet! Large living area, open fire and all four bedrooms en-suite.
    [luxury_short_description] => 
    [bedrooms] => 4
    [sleeps] => 8
    [bathrooms] => 4
    [luxury] => No
    [luxury_edit] => No
    [catered] => Yes
    [self_catering] => No
    [spa] => Yes
    [flights_included] => No-but can help arrange
)

Array
(
    [pid] => 30614
    [po_id] => 1025
    [property] => Chalet Victoire
    [country] => France
    [region] => Three valleys
    [resort] => Meribel
    [short_description] => Chalet Victoire is located in Meribel Village, sleeps 8, 4 bedroom, log fire and sauna.
    [luxury_short_description] => 
    [bedrooms] => 4
    [sleeps] => 8
    [bathrooms] => 4
    [luxury] => No
    [luxury_edit] => No
    [catered] => Yes
    [self_catering] => Yes
    [spa] => NOVALUE
    [flights_included] => No
)

Array
(
    [pid] => 30871
    [po_id] => 1216
    [property] => Chalet Bouchot *****
    [country] => France
    [region] => Three Valleys
    [resort] => Meribel
    [short_description] => Chalet Bouchot sleeps 8 in a quiet area of Meribel centre. The chalet is only ten minute walk to the bars and shops!
    [luxury_short_description] => 
    [bedrooms] => 4
    [sleeps] => 8
    [bathrooms] => 4
    [luxury] => No
    [luxury_edit] => No
    [catered] => No
    [self_catering] => Yes
    [spa] => Yes
    [flights_included] => No-but can help arrange
)

Array
(
    [pid] => 32923
    [po_id] => 2985
    [property] => Chalet Lagopede
    [country] => France
    [region] => Three Valleys
    [resort] => Meribel
    [short_description] => Chalet Lagopede is a fantastic cosy traditional chalet. 
4 lovely bedrooms, ideal for small groups or two families
    [luxury_short_description] => 
    [bedrooms] => 4
    [sleeps] => 8
    [bathrooms] => 4
    [luxury] => No
    [luxury_edit] => No
    [catered] => Yes
    [self_catering] => Yes
    [spa] => Yes
    [flights_included] => No
)

Array
(
    [pid] => 33712
    [po_id] => 1025
    [property] => Chalet Chamois
    [country] => France
    [region] => Three Valleys
    [resort] => Meribel 
    [short_description] => Luxurious chalet with 4 twin en-suite bedrooms, shared spa facilities and wonderful open plan living space located in central Meribel.
    [luxury_short_description] => 
    [bedrooms] => 4
    [sleeps] => 8
    [bathrooms] => 4
    [luxury] => No
    [luxury_edit] => No
    [catered] => No
    [self_catering] => No
    [spa] => Yes
    [flights_included] => No
)

Array
(
    [pid] => 31112
    [po_id] => 349
    [property] => Chalet Quatre Meules
    [country] => France
    [region] => Three Valleys
    [resort] => Meribel
    [short_description] => Chalet Quatre Meules is perfect if you are looking for a chalet close to Meribel centre and La Chaudanne lift station.
    [luxury_short_description] => 
    [bedrooms] => 4
    [sleeps] => 9
    [bathrooms] => 4
    [luxury] => No
    [luxury_edit] => No
    [catered] => Yes
    [self_catering] => No
    [spa] => NOVALUE
    [flights_included] => No
)