---
Resort height:
1172m, 3845ft
---
Les Gets is a small, friendly resort that offers a good mix of slopes in its own right. However, Les Gets is part of the Portes du Soleil ski area (in the Haute Savoie region) which is huge. This will keep everyone happy and you can village hop for lunch. In total, there are over 650 km of piste to explore. However, it must be noted that this area lies on the fringe of the Alps at a lower elevation than most resorts. As a consequence, snow cannot be guaranteed and the season is somewhat shorter. The town is partly car free and traditional in style. There are plenty of places to eat and drink and the party can continue late into the night, if desired.
---
Berne (BRN)
2 hr 30 mins
Chambery (CMF)
1 hr 30 mins
Dole–Jura (DLE)
3 hr
Grenoble (GNB)
2 hr 10 mins
Geneva (GVA)
1 hr 10 mins
---
LES GETS/MORZINE' local area pass
ADULT
CHILDREN (5 to 15 years)

SENIOR (65-74 years)

YOUNG (16-19 years)

5 hours
33 €
25 €
28 €
1 day
37 €
28 €
32 €
2-5 days
36 € per day
27 € per day
31 € per day
6 days +
34 € per day
26 € per day
29 € per day
6 days
204 €
156 €
174 €
---
Les Gets has approximately 36 restaurants, snack bars and takeaways in the village, plus another 20 mountain restaurants.Many Les Gets restaurants serve local specialities of fondue, tartiflette, raclette, pierrade and berthoud. Most of these hearty, winter food dishes use lots of cheese and potato.
---
Les Gets isn't renowned as a party resort but it does have a surprising number of civilised après-ski venues considering it is a small ski resort.
---
Les Gets hosts many mountain biking events. There are two distinct downhill mountain bike areas, one on each side of the village. The downhill mountain bike run on Mt Chéry has been used in the Mountain Bike World Cups and in the Mountain Bike World Championships.
The popular resort year long is also home to an 18-hole golf course 5,264 metres (17,270 ft) long, which overlooks Mont Blanc.
In the summer, there are all kinds of evening activities in the centre of town, ranging from discos to the "Pot de Bienvenue" (a welcome drink) on a Monday evening. A lot of emphasis is given to children's entertainment, such as wooden games set out in the street, street performers and a carousel. Live bands regularly perform on the semi-permanent stage in the centre of the village, attracting both locals and tourists.
---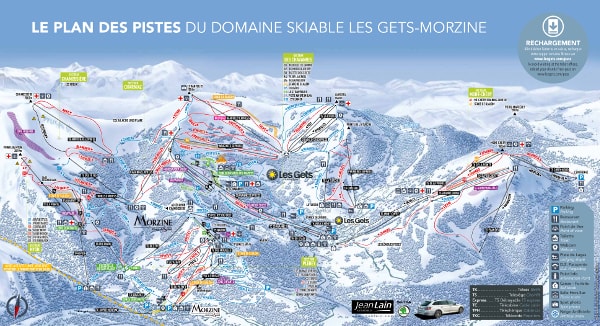 Array
(
    [pid] => 29330
    [po_id] => 2415
    [property] => Le Mazot at Perdu
    [country] => France
    [region] => Portes du Soleil
    [resort] => Les Gets
    [short_description] => A secluded hideaway in Les Gets, 100m from the Chavannes lift - luxury accomodation for 2 guests
    [luxury_short_description] => An antique mountain refuge, renovated into a perfect alpine retreat for two, with sleigh bed, roll top bath and private hot tub.
    [bedrooms] => 1
    [sleeps] => 2
    [bathrooms] => 1
    [luxury] => Yes
    [luxury_edit] => Completed
    [catered] => No
    [self_catering] => No
    [spa] => Yes
    [flights_included] => No
)

Array
(
    [pid] => 33885
    [po_id] => 3531
    [property] => Petite Corniche
    [country] => France
    [region] => Portes du Soleil 
    [resort] => Les Gets
    [short_description] => Petite Corniche is the perfect tiny mountain hideaway. It can be booked on its own, or as extra accommodation for neighbouring Grande Corniche.
    [luxury_short_description] => 
    [bedrooms] => 1
    [sleeps] => 2
    [bathrooms] => 2
    [luxury] => No
    [luxury_edit] => No
    [catered] => No
    [self_catering] => Yes
    [spa] => NOVALUE
    [flights_included] => NOVALUE
)

Array
(
    [pid] => 27608
    [po_id] => 1323
    [property] => Chalet Nouveau
    [country] => France
    [region] => Portes du Soleil
    [resort] => Les Gets
    [short_description] => A large 3 bedroom, self catered chalet for 6/7 people, within walking distance of Les Gets.
    [luxury_short_description] => 
    [bedrooms] => 3
    [sleeps] => 7
    [bathrooms] => 3
    [luxury] => No
    [luxury_edit] => No
    [catered] => No
    [self_catering] => Yes
    [spa] => NOVALUE
    [flights_included] => No
)

Array
(
    [pid] => 32885
    [po_id] => 3442
    [property] => Chalet 345
    [country] => France
    [region] => Portes du Soleil 
    [resort] => Les Gets
    [short_description] => Chalet 345 is a luxury self catered chalet - unrivalled southerly views over the enchanting French ski resort, Les Gets. Only 5 mins walk from lift.
    [luxury_short_description] => 
    [bedrooms] => 5
    [sleeps] => 10
    [bathrooms] => 3
    [luxury] => No
    [luxury_edit] => No
    [catered] => Yes
    [self_catering] => Yes
    [spa] => NOVALUE
    [flights_included] => No
)

Array
(
    [pid] => 33883
    [po_id] => 3531
    [property] => Urban Corniche
    [country] => France
    [region] => Portes du Soleil 
    [resort] => Les Gets
    [short_description] => Set in the heart of Les Gets, this stunning penthouse offers luxury accommodation for those looking for a self-catered holiday with a difference.
    [luxury_short_description] => 
    [bedrooms] => 5
    [sleeps] => 10
    [bathrooms] => 7
    [luxury] => No
    [luxury_edit] => No
    [catered] => No
    [self_catering] => Yes
    [spa] => Yes
    [flights_included] => NOVALUE
)

Array
(
    [pid] => 33884
    [po_id] => 3531
    [property] => Aviemore
    [country] => France
    [region] => Portes du Soleil 
    [resort] => Les Gets
    [short_description] => Set just above Les Gets and backing on to the pistes, Aviemore is perfectly situated for both winter and summer holidays.
    [luxury_short_description] => 
    [bedrooms] => 4
    [sleeps] => 10
    [bathrooms] => 4
    [luxury] => No
    [luxury_edit] => No
    [catered] => No
    [self_catering] => Yes
    [spa] => Yes
    [flights_included] => NOVALUE
)

Array
(
    [pid] => 34079
    [po_id] => 6610
    [property] => Chalet Samasta
    [country] => France
    [region] => Portes du Soleil 
    [resort] => Les Gets
    [short_description] => A unique chalet experience in one of the most exclusive locations in the area. Ski, trek and explore the mountains just a few steps from the backyard.
    [luxury_short_description] => 
    [bedrooms] => 5
    [sleeps] => 10
    [bathrooms] => 6
    [luxury] => No
    [luxury_edit] => No
    [catered] => Yes
    [self_catering] => Yes
    [spa] => NOVALUE
    [flights_included] => NOVALUE
)

Array
(
    [pid] => 33880
    [po_id] => 3531
    [property] => Le Coin Perdu
    [country] => France
    [region] => Portes du Soleil 
    [resort] => Les Gets
    [short_description] => Le Coin Perdu is an exceptional penthouse in the centre of Les Gets with direct access to the Portes du Soleil's most exclusive new day spa.
    [luxury_short_description] => 
    [bedrooms] => 5
    [sleeps] => 11
    [bathrooms] => 5
    [luxury] => No
    [luxury_edit] => No
    [catered] => No
    [self_catering] => Yes
    [spa] => Yes
    [flights_included] => NOVALUE
)

Array
(
    [pid] => 28564
    [po_id] => 2415
    [property] => Chalet Perdu
    [country] => France
    [region] => Portes du Soleil
    [resort] => Les Gets
    [short_description] => Just one minute from the Chavannes lifts, pistes and ski schools, right in the heart of Les Gets, hot tub and apres ski cabin! Sleeps 10 + 2 children 
    [luxury_short_description] => A luxurious and picturesque catered & self-catered chalet for up to 12 in Les Gets offering ski-in/ski-out convenience, incredible food and fantastic service
    [bedrooms] => 5
    [sleeps] => 12
    [bathrooms] => 5
    [luxury] => No
    [luxury_edit] => No
    [catered] => No
    [self_catering] => Yes
    [spa] => Yes
    [flights_included] => No
)

Array
(
    [pid] => 28900
    [po_id] => 1406
    [property] => Chalet Aventure
    [country] => France
    [region] => Portes du Soleil
    [resort] => Les Gets
    [short_description] => Chalet Aventure Sleeps 14 people, offers fantastic food, a hot tub and a ski in/ ski out location.
    [luxury_short_description] => 
    [bedrooms] => 4
    [sleeps] => 14
    [bathrooms] => 5
    [luxury] => No
    [luxury_edit] => No
    [catered] => Yes
    [self_catering] => No
    [spa] => Yes
    [flights_included] => No
)